I would like to welcome Kimberly Lewis to The Avid Reader today. Thanks for stopping by Kimberly Lewis. Please be sure and check out Kimberly Lewis's novel Zane. Check out my interview with Kimberly Lewis and an excerpt of Zane.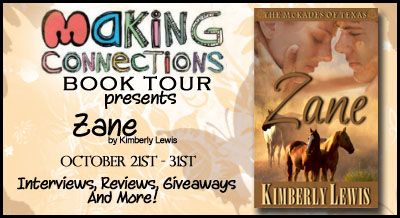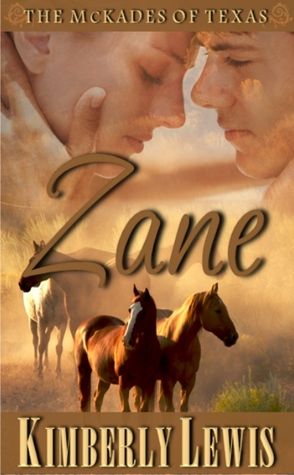 Book Title: Zane
Author: Kimberly Lewis
Series Title: The McKades of Texas
Book Number in Series: #1
Genre: Western Contemporary Romance
Book Content: Curse words used throughout entire novel, mild violence and some sexual situations (not recommended for readers under the age of 18)
PURCHASE

Zane
*Zane is currently only available in ebook format*
SYNOPSIS

Zane
Kellan Anderson is in hillbilly hell-or at least that's what it feels like. After enduring endless accounts of abuse from her now ex-boyfriend, Kellan makes a run for her life and finds herself in cowboy country. Leaving her fancy clothes and expensive lifestyle behind her, she trades in her high heels for cowboy boots and changes her name to Andi Ford. With her painful past threatening to catch up with her, hiding out in this small town seems easy enough - until one blonde hair, blue eyed cowboy steps in the picture.
Zane McKade has sworn off women, determining that they are all liars and cheats-including the new waitress at the local bar. After a rather unpleasant first encounter with the beautiful brunette, Zane's radar is set to high as he believes this woman is not who she claims to be. When his intimidation methods fail to break through Andi's barrier he decides to turn on the charm to get her to tell the truth. But Zane's plan begins to backfire as the more time he spends charming Andi, the more he finds himself breaking his own rules and falling for her.
EXCERPT

Zane
Kellan saw the man coming her way and a nervous feeling began to grow in the pit of her stomach. She hadn't noticed it when he rode up, but he was incredibly good looking. The man had to be a least six two, with long muscular legs leading up to narrow hips that angled into a very masculine upper body. He looked like an athlete. He looked…solid. And although his pale blue shirt was soaked with sweat, it somehow added to his overall appeal. He stopped at her table and glared at her. Only then did she realize that this man was not coming over for friendly chit-chat and her mood shifted.
"Is that your red sports car out there?" Zane asked, tilting his head and jerking his thumb towards the parking lot.
"Yes," Kellan told him. What's it to you? She stared up at him, waiting for him to continue. But when he just stared back, his deep blue eyes shooting daggers at her, she decided enough was enough. "Is there something I can help you with?"
Zane's jaw flexed. "You could have four miles ago."
"What?" She was utterly confused as to what mileage had to do with his apparent anger towards her.
"I don't look familiar to you?" He stared at her, his eyebrows coming together in frustration.
She looked the man over from head to toe. "No, I'm sorry you don't."
Zane let out an exasperated sigh. "How about now?" He raised his arms above his head and waved them just like he had done when he was trying to flag her down.
He looked completely ridiculous and she fought back the urge to laugh at him. But the more she looked at him she realized that he did look strangely familiar. Oh my… He was the man on the side of the road next to the pickup truck just outside of town.
"Oh," Kellan said. "Yes, I do remember you now. I'm sorry I didn't recognize you with your shirt on." She loaded her voice with sarcasm and crossed her arms over her chest. If he was going to have an attitude with her, then she was going to give it right back.
Zane's eyes narrowed. "Well, would you care to explain why you just blew past me like that?"
Kellan laughed, quietly as to not draw attention. "Why did I blow past you? Hmm, let me think. Um, maybe it has to do with the fact that you were partially naked and in the middle of nowhere."
Well damn. He hadn't thought about that. He'd been all riled up thinking that some guy just ignored him. Now, thinking about it from her perspective, he could see why she didn't pull over to help him. As it was though, his built up anger from everything that had transpired today got the best of him and he continued with his rant.
"I was not half naked," he said, his voice low as he briefly glanced around the room to see if anyone could hear them speaking.
"Look, cowboy." She said the word as though it were an insult and not an affirmation of what he obviously was. "I'm sorry you're having a bad day, but don't come over here and take it out on me. I had a good reason for not stopping earlier and I'm not going to apologize for looking after my own safety. You could've been a murderer for all I knew."
Zane knew that he should just man up and walk away, but he just couldn't do that now after her snarky "cowboy" remark. Why'd she have to go and say it like that anyway?
"Look, princess," he said with the same tone she had used. "This ain't Hollywood. Take your sunglasses off. You're inside and you look like a damn fool."
Kellan's jaw fell in disbelief.
Zane smiled, feeling triumphant that he got in the last word. He turned and started to walk away from her.
"Screw you, cowboy!" she yelled after him, saying the word exactly as she had before. "And that horse you rode in on."
And-Whoops!-now everyone in the diner had turned to look at them. Zane turned around to face her with amusement on his face. "Very original, princess."
INTERVIEW

Kimberly Lewis
The Avid Reader: What inspired you to write Zane?
Kimberly Lewis: I had just finished writing my first western contemporary romance, When the Heart Falls, and I knew I wanted to keep writing and do more westerns. I love reading series and really wanted to make my next novel the first in its own. But I decided to put off the idea for a bit and expand my writing outside of the western genre to reach more readers. I started writing a contemporary romance about a school teacher, Jenna, who sort of gets herself involved in a bit of a love triangle with her father's wealthy associate's son, Nathan, and her childhood/best friend, Cole. I really liked the story but hit a bit of a road block with the plot, so it's now just sitting on my laptop, patiently waiting for the day I return to it :-) So after that, my mind started wandering and on a day that I was just in a really bad mood and feeling depressed I came up with the idea for Zane-sounds weird I know but let me explain. The idea came to me when I was contemplating on writing down my feelings (on that particular day as a way to vent) and then I got thinking about this character (Kellan/Andi) and her keeping a journal of her own. I started to think about why she would keep a journal and then the rest of the story just came in to place after that. After I thought about the characters (main and secondary) I decided that this was the family that I wanted my first series to revolve around-and The McKades of Texas was born.
The Avid Reader: When or at what age did you know you wanted to be a writer?
Kimberly Lewis: I knew I wanted to pursue writing seriously when I was 26. I had always loved writing but never dreamed I would actually have the opportunity to take it to the level where I would write a full length novel and publish it.
The Avid Reader: What is the earliest age you remember reading your first book?
Kimberly Lewis: Wow, you're really making me think hard with this question :-) The earliest I can remember would be in first grade when we had to read a book for an assignment. I think the only reason I remember that is because I had to do this during my family vacation to Disney World. We'd spend all day in the Magic Kingdom and then I had to come back to our rental house and do my homework. We took our trip in November and, in an effort to keep me up to date with my lessons, my parents asked my teacher to send my work with us. It was a nice thought and pretty smart thinking, but when I got back home from vacation I was way ahead of the class. LOL.
Now the first book, or books, I can remember reading for enjoyment would be the Sweet Valley High books, but I can't remember how old I was when I read them.
The Avid Reader: What genre of books do you enjoy reading?
Kimberly Lewis: I really love romance novels and my favorites are westerns (of course!). I do read outside of the romance genre but very rarely. The only books I can think of offhand that I've read that weren't romance are the Harry Potter ones.
The Avid Reader: What is your favorite book?
Kimberly Lewis: Gosh, this is a hard one. I have so many books that I LOVE and it's really hard to pinpoint which one would be my favorite. If I have to pick one I'm going to go with the first contemporary romance I ever read and that would be Infamous by Suzanne Brockmann. There is so much going on in that novel and it really kept me interested from beginning to end. I love books where I can see it play out in my head like a movie and this book is one of those.
The Avid Reader: You know I think we all have a favorite author. Who is your favorite author and why?
Kimberly Lewis: This one is easy. I really adore Joanne Kennedy's western romances. Her novels are full of life, with main characters that you really fall in love with and want nothing but the best outcome for them. She creates these secondary characters that really add that extra bit of support and comic relief that brings some lightness to her stories. Plus, the woman really knows how to write one heck of a sexy cowboy.
The Avid Reader: If you could travel back in time here on earth to any place or time. Where would you go and why?
Kimberly Lewis: I really think I'd like to visit the old west. I'm into the whole western romance thing and since I get to experience the contemporary world of that genre, I think it'd be cool to experience the historical world. But not for too long because I'd have a panic attack without today's modern conveniences and technology. LOL.
The Avid Reader: When writing a book do you find that writing comes easy for you or is it a difficult task?
Kimberly Lewis: Both. Sometimes I get on a roll and just write and write until I realize it's 4am and I've gotten no sleep and am going to have to take care of my family in three hours :-) And other times I will sit there and stare at my laptop screen, waiting for the next sentence to come to me. When that happens I usually take a break and if the creative juices start flowing I'll go back and start writing. If they don't I just call it a day and pick up where I left off another time. You can't force creativity.
The Avid Reader: Do you have any little fuzzy friends? Like a dog or a cat? Or any pets?
Kimberly Lewis: We do have a dog but she is far from fuzzy. LOL. Her name is Deja and she's our nine year old red Doberman Pinscher. She is honestly the best dog I have ever had and you'd never know she was nine years old. She still acts like a puppy and people always mistake her for being around the age of three.
The Avid Reader: What is your "to die for", favorite food/foods to eat?
Kimberly Lewis: I really like good old, down home foods. I'm from the country so chicken-n-dumplin's is my absolute favorite meal (slick, flat dumplings...not the biscuit kind). My favorite dessert is New York style cheesecake...but...Applebee's used to have this dessert called an Apple Chimmi-cheesecake (I'm sure I totally butchered the spelling of that). It's this ridiculously delicious concoction of a slice of cheesecake wrapped in a dough and deep-fried, then sprinkled with cinnamon sugar, topped with apple pie filling and a scoop of homemade vanilla ice cream on the side. Holy. Freakin'. Moly. My mouth is just watering thinking about it. LOL. But they don't make it anymore! If the owner of Applebee's just happens to read this interview I would really, really appreciate it you could bring that dessert back! The world is a much better place with Apple Chimmi-cheesecake :-)
The Avid Reader: Do you have any advice for anyone that would like to be an author?
Kimberly Lewis: There is so much advice to give to aspiring authors and I think the best advice I can give is to just never give up on your dream. Write what you want to write and how you want to write it. Each of us have a unique way of storytelling, so don't let someone's opinion of how you should do things get you down or discourage you from reaching your goal.
ABOUT THE AUTHOR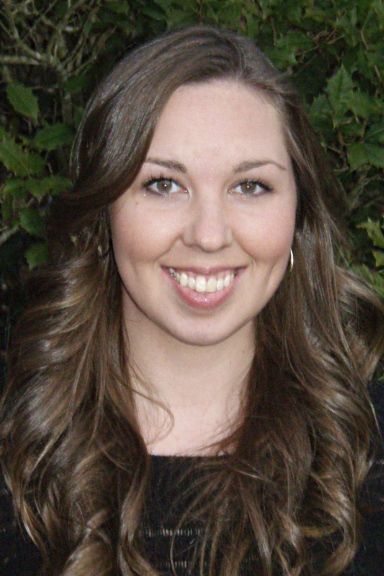 In November of 2011, author Kimberly Lewis stepped into the writing world with her first original western contemporary romance novel, When the Heart Falls.
Born and raised on the Eastern Shore of Maryland, this country girl at heart caught the creative bug at an early age, doing everything from drawing to writing short stories.
After the birth of her son, Kimberly found the inspiration to pick up a pen, or in this case a laptop, and began writing her first novel. Since then she has continued to write and credits her husband, Rob, and her wonderfully crazy family, who with their love and joking demeanor provide her with the ideas that inspire her novels.
In her spare time she enjoys reading, horseback riding, and spending time with her amazing family.
AUTHOR LINKS
Be sure and check out all the other stops on the tour.
TOUR SCHEDULE
Oct. 21 - J.A. - (interview)
Oct. 22 - Jamie Leigh Haden - (Interview, guest post, excerpt,Giveaways)
Oct. 23 - Sheri - Review
Oct. 24 - Debbie - Amethyst Eyes - (interview/guest post/review)
Oct. 25 - Alana - (Review)
Oct. 26 - Midu - (Excerpt/book promo)
Oct. 27 - Johanna - My Miscellaneous Bookshelf - (guest post & excerpt and giveaway)
Oct. 28 - Dina - (Guest Post)
29 - Nancy - The Avid Reader - (excerpt and interview)
Oct. 30 - Flora - (Excerpt)
Oct. 31 - Tana - (Review)