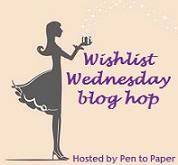 Wishlist Wednesday is a book blog hop where we will post about one book per week that has been on our wishlist for some time, or just added (it's entirely up to you), that we can't wait to get off the wishlist and onto our wonderful shelves.
Follow Pen to Paper as host of the meme.
Please consider adding the blog hop button to your blog somewhere, so others can find it easily and join in too! Help spread the word! The code will be at the bottom of the post under the linky.
Pick a book from your wishlist that you are dying to get to put on your shelves.
Do a post telling your readers about the book and why it's on your wishlist.
Add your blog to the linky at the bottom of the post on Pen to Paper.
Put a link back to pen to paper somewhere in your post.
Visit the other blogs and enjoy!
On My Wishlist
Title:
Revived
Author:
Cat Patrick
Kindle Edition:
Pages:
352
Published:
May 1st 2012
Publisher:
Little, Brown Books for Young Readers
Goodreads Synopsis
As a little girl, Daisy Appleby was killed in a school bus crash. Moments after the accident, she was brought back to life.
A secret government agency has developed a drug called Revive that can bring people back from the dead, and Daisy Appleby, a test subject, has been Revived five times in fifteen years. Daisy takes extraordinary risks, knowing that she can beat death, but each new death also means a new name, a new city, and a new life. When she meets Matt McKean, Daisy begins to question the moral implications of Revive, and as she discovers the agency's true goals, she realizes she's at the center of something much larger — and more sinister — than she ever imagined.
Why did I choose Revived for this weeks Wishlist Wednesday?
Revived sounds very intriguing to me. A secret government agency has developed a drug called Reveve. This drug brings people back from the dead. Dasiy Appleby, one of their test subjects has been brought back from the dead five times.
Look for Cat Patrick on the web
What is on your Wishlist Wednesday?