Hello and welcome to the Now & Forever Tour presented by Virtual Book Tour Cafe'. Please join me in welcoming Michelle Cornwell-Jordan to The Avid Reader today. Thanks for stopping by Michelle. Please be sure and check out Michelle's Novella Kindred book #2 in the A Night School Vampire Hunter Trilogy. Michelle is going to be letting us in on some secrets that she has that we don't know about her. Oh doesn't that sound like fun. We get to hear all about her secrets. Michelle also has a lot of goodies she is going to be giving away. So don't forget to check out the giveaway and find out what you could win. Please check out my review of Kindred.
Now & Forever Tour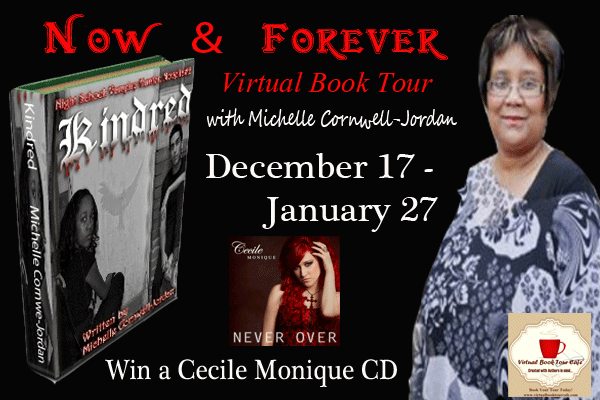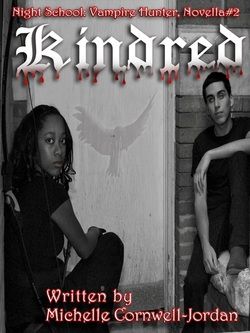 Book Title: Kindred
Author: Michelle Cornwell-Jordan
Series: A Night School Vampire Hunter Trilogy Novella#2
Published: 11/24/2012
Publisher: Michelle Cornwell-Jordan
Genre: YA Paranormal
BUY NOW LINK

Kindred
SYNOPSIS

Kindred
The Kindred is the second novella in The Night School Vampire Hunter Trilogy.
Angel and her friends at Ame Academy, a boarding school for preternatural and humans are back, and they are preparing for battle against the dark forces that kidnapped Angel's younger brother Jordan. Angel had recently discovered that she was a Hunter and that she alone has a special weapon against her enemies; her blood, which is discovered to be toxic to her enemies. Angel is prepared to use her training and all that is at her disposal in order to save Jordan, even if that means joining forces with the strange and mysterious Rafael, who at their first meeting, she recognized him as the boy she had dreamed about for weeks prior to his arrival at the school. Angel cannot shake the feeling that she knew Rafael before, and is hopelessly drawn to her extremely handsome fellow hunter.
Rafael frightens her, he hints of a secret; another time and another life lived.
Can love survive two lifetimes?
Events unfold that provides the answers to who Rafael really is and what they mean to one another; and along with these strange and blossoming emotions for Rafael, along with guilt and fear for her brothers safety; Angel discovers that she is more than just a Vampire Hunter, and that she plays a major role in a ancient prophecy, which she must fulfill by facing an a force so evil that survival is not promised.
But she will face the Dark One, Angel will sacrifice all, if it means saving all whom she loves.
Many questions are answered, but the drama is just beginning….
EXCERPT

Kindred
A thought came into my head and I turned, pinning Rafael with a please don't mess with me right now…or I'll rip your heart out stare. I said, "When we first met, you said we knew one another that you were with me when I was little, that we've always known one another…always…l-l-oved one another…" I quickly tuned out the others in the room, not wishing to focus on the reactions of the others…although I did catch the big smile from Elin; an incurable romantic it seemed. I knew this should have been a private conversation, but deep down I felt Rafael knew what was happening; I wanted to know what he knew…
He looked at me, with one of those intense, smoldering I'm a hot guy, and I really know what this look is doing to you stare…but I wasn't going to allow it to affect me. I simply held his gaze in a stable, strong manner…and hoped I didn't look like a deer in the headlights… he sighed and said, "Do you really want to talk about this here?" Rafael looked at me intently, leaning forward, resting his forearms on his knees…hands pressed together in the steeple formation that everyone uses to signify they are deep in thought.
I said quietly, "Yes." He looked at me again, and I swear, if he didn't stop looking at me that way, I would completely forget what we were talking about. He stood up, and crossed the room and came to stand in front of me-did I happen to mention how close he was? Well, enough that I felt a little uncomfortable, but I wouldn't step back, and I refocused. I needed to hear what he had to say.
"I knew you because I am ThunderKin; yes, I knew who you were and what this meant in the war coming Samhain…"
"Okay," I said trying to digest that here stood one of the legendary Thunderbirds…I saw how his eyes glowed, now appearing that unearthly golden hue; a worried expression passed over his features, and I wondered what worried him. I said, "And the rest about knowing me?"
"I knew you because…" he said as he reached out, placed his hand on the side of my face, and leaned in close, lips almost touching. He whispered, "I knew you because you are my destiny…my mate."
Really can you believe this?
GUEST BLOG
TEN THINGS YOU DID NOT KNOW
ABOUT MICHELLE CORNWELL-JORDAN
Hello, I thought I would take some time and just tell a few things about myself that you may have not known...and quite possibly would have never asked! LOL...Kidding and here we begin...
#1) Michelle has a wicked sense of humor??
Okay, Okay... I am not sure how true this might be, but in my own mind, I believe I can be pretty funny, with an understated dry wit:O) Yeah Right!
#2) Michelle is EXTREMELY Shy!
Yes, yes, it is true, I am a very shy person and well, let's just say that I have to work on being out in the public arena...but I am getting a little better
#3) Michelle is a secret Rocker!
Okay, well... I am not sure if this all that much of a secret! But what you might not have known was that my love of Rock music really birth, when I began writing the Night School series! But I have always loved music:)
#4) Michelle is afraid of the dark!
Um, wow...yeah, slightly embarrassing, but yes, I am afraid of the dark, and so-o-o- shall we move on??:)
#5) Michelle is a Cat Lady:)
Yes, I love the little fair weather fur balls! I have two, one is name Precious and the other is Bastet, named after the Egyptian goddess Bast... I love myths, legends and history too:)
#6) Michelle's favorite movie BESIDES the Twilight Saga was Moulin Rouge!
Yes, love a singing Ewan McGregor and Nicole Kidman!
#7) Michelle's Favorite Season is Fall
Yes, I love to snuggle up and feel all cozy
#8) Michelle prefers rain to a sunny day
Yes, I might not have that much agreement here, but it is the same as above, most days, rain makes me feel cozy
#9) Michelle's Birthday is the day AFTER Christmas
Yep, it is true, I was jipped as a kid a lot:) One present for Christmas, such as the doll, and the clothes the next day for my b-day...but hey, I'm not bitter...I'm not!:O) LOL No, my family was always wonderful, I really had all I could want as a child, for that I am grateful:)
#10) Michelle's daughter is her bestie friend,
Yep, I really, really love this kid!
There you have it! All you might never really wanted to know about me!:O)
But I'm glad to share it with you anyway:)
MY REVIEW

Kindred
The following review is my opinion and not a paid review. I received a free copy of the book from the author for an honest review.
In Kindred we pick up where Night School Vampire Hunter the first novella left off with Dasheen, whom everyone calls Angel is still looking for her little brother Jordan. Jordan had been taken by a gang of rogue vampires in the first book where he is in the process of being turned. Angel intends on finding him before the transformation is completed. She will do whatever it takes to get Jordan back even if that means she must die.
Angel is still writing everything in her blog like Ms. Griffin suggested she do to help her deal with everything that has happened in her life. Ms. Griffin actually suggested she keep a journal but Angel is a blogger and prefers blogging as opposed to writing. We also get to hear from Angel's friend Elin who also blogs because she saw that Angel was blogging. We also get to see things from Rafael's pov the guy that Angel has been having dreams about.
We find out more about who Rafael is and what is connection to Angel is. Angel finds out about her past and how she became to be who she is and how and why she is a vampire hunter. She finds out what she has flowing through her veins and what it will do to the vampires. It is one of the reason that she can kick vampire ass so well along with the karate lessons her Dad made her take when she was a child.
Rafael is a man who is very pleasing to look at and Angel can't even think straight when she looks at him. She swoons and nearly passes out just looking at him. Rafael has been protecting Angel all her life without her knowledge. Rafael has always loved Angel so much that he went against his own family and friends to keep her safe.
In Kindred we are introduced to a new species of preternatural world creatures called the Thunderkin. While most of the Thunderkin are nice there are some that are not and wants to rule over the humans. Angel and her friend must work together to fight the Thunderkin god and the rogue vampires. They must come up with a plan that will work to get Jordan away from the rogue vampire clan before it is too late. Will Angel and friends come up with a plan? Can they get to Jordan in time before his transformation is complete?
I really loved reading both books in the Night School Vampire Hunters novellas with the new species of preternatural creatures and the new twist on vampires. Michelle knows how to tell a story that will keep your adrenaline going and wanting to keep turning the pages because you just got to know what she has waiting for you around the next corner. Its like you sitting there waiting your all pumped up and you think ok ok I know whats coming next and them bam she hits you in the face with it. Then your like oh I wasn't excepting that to happen.
Do you like reading books about vampires? Would you like to read a book with a new twist on vampires? Do you like reading about new creatures in the paranormal world? If you are looking for something that is a little different from other books about vampires then I think you would probably like Michelle's Night School Vampire Hunters trilogy. Reading both of them would be time will spent. I know I have really loved reading them and can't wait to read the third book Redemption. I can't wait to find out more about Rafael and Angel's relationship or at least I hope they can and do end up together. I hope Angel can be with her brother Jordan again.
ABOUT THE AUTHOR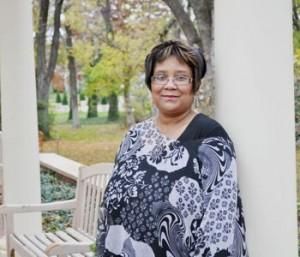 Michelle Cornwell-Jordan is a YA Paranormal Author.
Her titles: Reahket (Co-written with Author Danny Jones)
Michelle is also the author of the YA novella series Night School Vampire Hunter trilogy.
Series includes:
Night School Vampire Hunter novella #1 Released date March 2012
Kindred (A Night School Vampire Hunter Trilogy novella) #2 Released date November 2012
Redemption (A Night School Vampire Hunter Trilogy novella) #3 Released date spring 2013
Works -In-Progress
Chrysalis (Full Length) Released date spring 2013
Hunters Series novellas Released date summer 2013
Ame Academy's Paranormal novella series summer 2013
Michelle Cornwell-Jordan is also the producer of the online radio segment IndieReview Behind The Scenes, where she and her co-host Jamie B Musings interviews Indie Authors and Musicians.
CONTACT INFO
GIVEAWAY
a Rafflecopter giveaway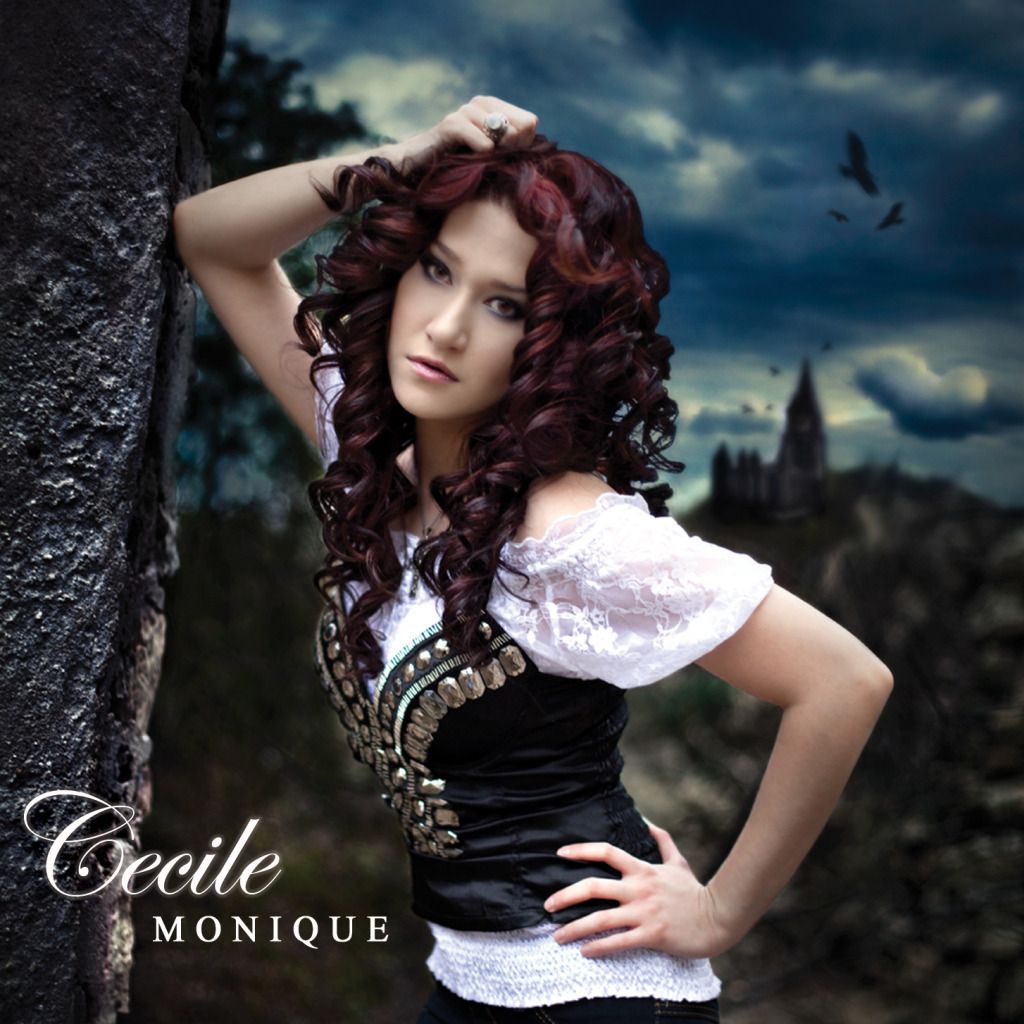 ABOUT THE ARTIST
Cecile Monique
With her powerful, yet angelic voice and unmistakable charisma, Cecile Monique is a multi-talented musical artist ready to make her mark on the international music scene. Cecile Monique is not only an accomplished vocalist; she is also a skilled writer, composer, and arranger of her own original music. Her years of formal classical vocal training provided the foundation, but her singular creativity... , diverse musical influences, and her fresh, youthful style have provided the fuel to create the distinctive fusion of rich, classically-influenced vocals with modern, innovative instrumentation that exist together in perfect harmony and have become Cecile Monique's signature, genre-bending sound.
In addition to her impressive musical talent, Cecile's cosmopolitan personality and multicultural roots (half European and half Hispanic) also broaden her appeal to an international audience; Cecile is fluent in several languages and has recorded and performed songs in English, Spanish, French, Italian, German, Czech, and Latin.
In 2010, Cecile Monique was awarded the prestigious FACTOR New Talent Award in support of her self-titled EP release featuring three of her original compositions, which was recorded at Metalworks Studios, Canada's #1 recording studio. With the launch of her new EP now available on iTunes worldwide, and a myriad of new projects on the horizon, Cecile Monique is a rising star poised to become an international phenomenon!
CONTACT CECILE MONIQUE
Cecile Monique Speaks about Kindred (A Night School Vampire Hunter Trilogy Novella)
Listen Now!
Listen To Immortal Beloved!