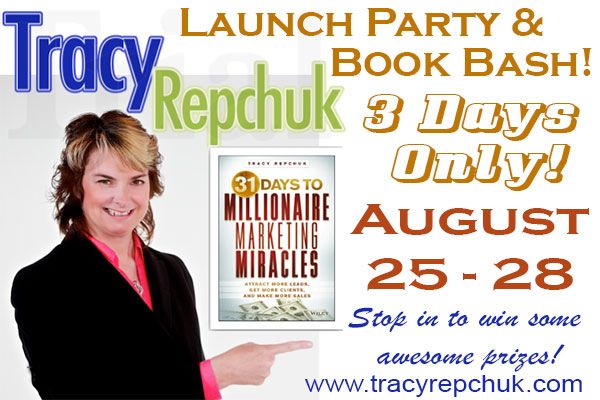 Genre: Self-Help, Business
Publisher: Wiley Publishing
Release Date: August 19, 2013
Book Description:
A marketing blueprint for attracting more leads, getting more clients and making more sales
31 Days to Millionaire Marketing Miracles is a breakthrough blueprint outlining the proven steps for successfully attracting more leads, getting more clients, and making more sales. Author Tracy Repchuk shows entrepreneurs, business owners, and opportunity-seekers what to do, when to do it, and the order in which it needs to be done to build an online marketing presence that is stable, predictable, and expandable. Whether you want to dominate your market globally or locally, this thirty-one-day guide allows you to take your product, service, or message, and turn it into a moneymaking machine.
Best Selling Author Tracy Repchuk is recognized as the Top Woman Speaker in the World for Internet Marketing and an entrepreneur in the IT and internet industry since 1985

Serves as a reference guide to newbies and entrepreneurs wanting to turn their passion into profits and accelerate business results
31 Days to Millionaire Marketing Miracles guides you along a proven path to profits and shows you an Internet marketing formula that will attract more leads, get more clients, and make more sales.
Excerpts:
"There are hundreds of blog services and some reside within specific niche areas, which may be better suited to your product. Simply go to Yahoo! or Google, and type "your niche" blogs and you'll have plenty of options to choose from.
When branding your identity, blogs can be a big part of the success for a full-scope campaign. As you may know when you are putting together a campaign for a product launch or company launch, there are a number of pieces for which you should start to lay the foundation. These originate from the four types of websites and their purpose."
Praise for 31 Days to Millionaire Marketing Miracles

:
"A step by step process that does not leave me scratching my head!"
~
Wayne R. Hagerty, Amazon Reviewer
"
This book has been a HUGE help in getting my business started and expanding it! Tracy is very up front and in your face. It is very refreshing and relieving especially after trying a TON of different programs and having nothing work."
~ Desiree P., Amazon Reviewer
"This is not just another internet marketing book! Tracy Repchuk's 31 Days to Millionaire Marketing Miracles is about how to create an online presence that is sustainable and built on practical business principles so you can dominate the internet, get your message out there, and attract the customers you need. Excellent!"
~ Sharon McRill, Amazon Reviewer


20 Fun Facts About Tracy Repchuk

1. I was born in Hamilton, Ontario Canada and now live in California

2. I am a fully ordained Reverend able to marry, bury, and christen

3. I spend 20 hours every week on personal development

4. I have 3 kids who graduated high school at the age of 16

5. I met my husband at a computer trade show in Toronto Canada 21 years ago

6. I have spoken in over 35 countries and one of the most interesting was Dubai

7. I have petted a cheetah, fed a giraffe and cuddled a Koala Bear (all with picture proof)

8. I use to spend my summers from the age of 5 in the UK with relatives

9 - I was a tom boy until I was 25

10 - I have skied in Switzerland and am still alive today

11 - I had double knee surgery from playing soccer at the age of 16

12 - I won MVP for basketball in my high school

13 - I was printed in the local newspapers and TV as a whiz kid when I started my software company at the age of 18

14 - I bought my first BMW when I was 20 years old

15 - I have never had a job - I have been an entrepreneur my whole life

16 - I completed my CMA accounting designation in 3.5 years versus 7

17 - I have appeared on National TV news stations 10 times in the past few months as a technology expert

18 - I played on 3 city teams in the same year - Basketball, Baseball and Soccer

19 - I had 3 kids born exactly a year apart in the same month

20 - I almost died twice
Tracy Repchuk is an internet marketing and social media strategist and speaker. She is a best selling author, and has been an entrepreneur since 1985 and has helped thousands of clients get their message out around the world. Tracy is an internationally acclaimed speaker and motivator in over 35 countries. She keeps audiences engaged with her ability to break down complex concepts and turn them into formula based success.
Tracy started her first software business at the age of 19 which still supports Fortune 100 companies. She has been nominated for awards such as Entrepreneur of the Year, Chamber of Commerce Business Woman of the Year, Coach of the Year and Stevie Awards for Business Mentor of the Year, received Provincial Volunteer and software development awards and has appeared in the International Who's Who in 7 categories.

She graduated in Business Computer Systems, and went on to receive a Certified Management Accountants designation. In 2007 Tracy won "New Internet Marketing Success of the Year" from the World Internet Summit and catapulted into success with her best selling book, speaking engagements, and extensive internet experience in web development, software integration and marketing since 1996.
Tracy specializes in online marketing campaigns that build a cohesive corporate or personal brand using an integrated web strategy that helps you attract more leads, get more clients and make more money. Her solutions are done with marketing and results in mind. In addition she has appeared on TV: ABC7, NBC, King5, 7 For Your Money, 4 On Your Side, WBZ, Report on Business Television, CTV news, USA Today, Radio, magazine, newspaper and her work has appeared in over 50 publications including 2 motivational movies.
Connect With Tracy Online: