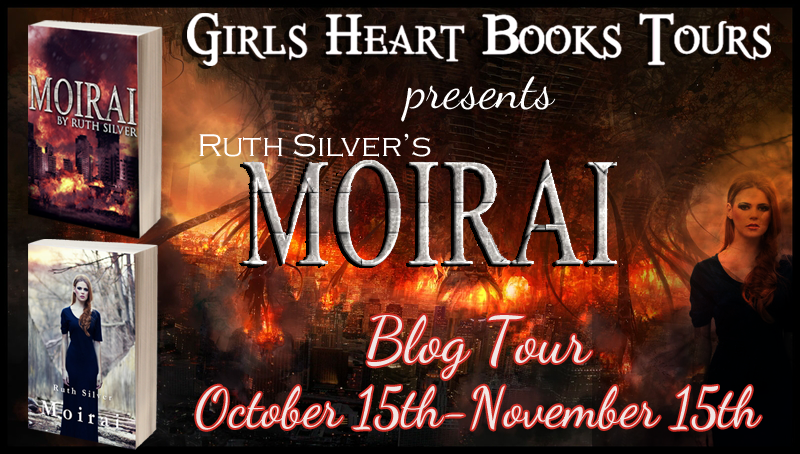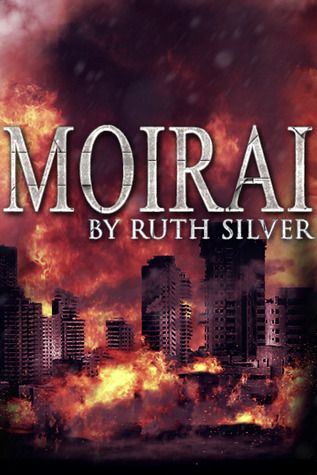 Title: Moirai
Series: Aberrant Trilogy # 2
By Ruth Silver
Publication Date: September 26th, 2013
Genre: YA Dystopian
Blurb:
Olivia has been on the run from the government of Cabal since the marriage ceremony. Finally settling in and finding herself a place to call home, in Shadow, Olivia and Joshua are preparing for the uprising that they and the rebel alliance have been planning for months.
With new abilities and special talents, from Mindonsiphan, Olivia learns that she can do more than most ordinary eighteen year olds. Learning both to hide and perfect her skills will be one of the biggest challenges she'll be forced to face.
A constant rollercoaster of emotion and adventure await Olivia and Joshua, as they embark on a journey to the rebel city of Torv, and what was once home, Genesis.
Goodreads | Kindle | Nook | Amazon Paperback | B & N Paperback
Excerpt:
My feet crunched on weeds as I pushed my way through the waist-high grasses towards the river. It was rare anyone ventured outside of Shadow. In most cases leaving wasn't permitted. Was I breaking the rules by being here? I didn't know the answer to that question and hoped I wouldn't find out. Bending down, my body hid among the grasses as I dipped my bare feet into the water. I shivered and grimaced, scrunching my nose from the sensation. As quick as my feet had dipped into the icy cold water, I pulled them out. With a slight splash I heard a rustling in the distance.
"Who's there?" My voice echoed as I stood. I wasn't afraid. Shadow was my home. Although I'd ventured from the town, it wasn't far. I glanced in the direction of Shadow and could barely make out the community. Perhaps I'd traveled further than I thought.
The grass shifted in the distance and I felt my heart skip a beat. My eyes widened as I quickly took off for town. I ran as fast as my legs would take me. Gasping for breath, I refused to slow down. Whether it was an animal or an outlaw, I wasn't waiting around to find out. Swiftly, I headed for Shadow. My knees lifted higher off the ground with each bare step I took. I didn't turn around but I could hear the pounding of weight against grass. Whoever or whatever was behind me wasn't small or light and they were gaining on me. I didn't have time to scream as I felt a large body coming down hard on top of me. My face slammed into the grass, scratching my cheek as I gasped for breath. "Help!" The words barely left my lips as my head lolled up from the ground; someone ripped at my hair and slammed me fast back into the grass. I bit my bottom lip, tasting dirt as I jammed my elbow behind me. I had to think fast. I'd spent months in Shadow training and now was the time to use it!
"Having fun yet?" the voice echoed into my ear. The whispered breath made me shudder. I didn't recognize the voice. Was I supposed to? I couldn't turn my head around, no matter how hard I tried.
Character Interview with Olivia:
The Avid Reader: What is it like living in a world where the government provides all of your needs for you? Like your home, clothes, food and whatever else you may need?
Olivia: For my first eighteen years, it was all I knew. Sure, I was aware of the dangerous Gravelands. You don't get the things that we consider necessities out there. Living in Genesis had its advantages, but there were expectations that you had to follow. They weren't necessarily easy things either. For instance, giving up your second born to the government.
The Avid Reader: How do you feel about babies being created in labs?
Olivia: I wish I'd been created in a lab, like the rest of civilization. At least then I wouldn't be chased by the government. Maybe I'm being unreasonable and ungrateful, but I would love to spend five minutes not worrying about being attacked.
The Avid Reader: What do you think about a couple only having permission to have one child?
Olivia: They're the lucky ones. If they were told to conceive a second child, the government would take the newborn away from the parents. Although there are some families that never have the opportunity to have any children in Genesis.
The Avid Reader: How do you feel about when a couple has more than one child and that second child is taken from the parents and given to another couple?
Olivia: It's terrible. Everyone in town knows what's going on. No one agrees with the system, but it works. It's how society functions. I always wonder what it feels like to be that mother, to know that in a few short months she'll have to hand over her child to the government. Just thinking about it, I feel awful.
The Avid Reader: How do you feel knowing that you were conceived and not created in a lab?
Olivia: It's confusing, upsetting, aggravating. I'm angry about it too. I wish I wasn't any different. I know others would think I'm selfish, and some people probably think I should have a child because I can. It should be my decision though.
The Avid Reader: How does it feel knowing that according to the government you were born illegally?
Olivia: It's absurd that my existence is illegal. I get what they're afraid of: me destroying the entire system. It's frightening not to know who you can trust.
The Avid Reader: I get the feeling you don't really like Cate all that well. Why?
Olivia: Cate and I don't always see eye-to-eye. She wasn't very welcoming when I came to Shadow. As part of their town, they required that Joshua and I had to pass a series of tests to move from recruit to soldier. Cate's talented and of course just watching her show me up with a bow and arrow didn't make me want to like her. Maybe a tinge of it was jealousy in the beginning. To make matters worse, during the training exercise, she decided to steal my clothes from the shower stall. She was acting childish and immature. I got stuck wrapping a shower curtain around myself. It was humiliating! I guess you can say I don't like her.
The Avid Reader: Do you think Chancellor Collins is ok? Is he someone you can truly trust with your life?
Olivia: It's hard for me to trust anyone after what I've been through. The only person I truly trust with my life is Joshua.
The Avid Reader: Is there anything from your life in Genesis besides your mother that you miss?
Olivia: I miss the simplicity of things. We should have a right to make choices and decide what we want to do with our lives but at the same time, having everything decided for you, it does make things easier.
The Avid Reader: What is your favorite thing to eat?
Olivia: Chocolate covered strawberries! They are divine.
The Avid Reader: Is there one thing that you love doing more than anything in the world?
Olivia: Reading.
The Avid Reader: I see that you love to read. What is your favorite book to read? Had you rather read a book that is true or a story that is made up, one that is not real?
Olivia: I prefer reading fantasy novels. Our world is filled with so many horrible stories, reading about them doesn't make me feel any better. I'd rather escape to some fantasy island or faraway land. I don't have a favorite story, but I do love the classics.
My Review:
I received a free copy of the book from the author for my honest opinion.
Olivia and Joshua live in a world where babies are created in a lab. But you know what Olivia is very special because she was not created in a lab she was conceived. When the government of Cabal in the town Genesis where they live find out the truth of Olivia's birth they have to go on the run. In their world being conceived and not created in their little labs is illegal. Olivia and Joshua leave their home town and end up in the town of Shadow.
In the town of Shadow Olivia and Joshua learn how to fight and to defend their selves in battle. They are in training so that they can fight for everyone's right to have a child of their own and to live their lives the way they want and not the way someone else tells them too. They are fighting for any couple who has more than one child that they can keep that child and not have to give it to another couple.
Moirai is written in a way that you can just picture all the little towns in your mind, the way that they are laid out and where each and every building is. The vehicles are all described so well that you can just see them running up and down the streets. The world in Moirai is written so you actually believe that it is real or it could be real.
Joshua and Olivia are two very smart and mature people for their age. Olivia just may be the only woman left in the world that can have a child on her own and not one that is not made in a lab. But they both know that this is not the time for them to be having any babies of their own. They could have a child just to say hey look at me I can have a child and you can't. But they are not like that. They are not the type of people to hurt someone or boast about anything. They are two humble people who care a great deal about other people and their feelings.
While Olivia is not ready to have a child of her own she still takes in a child; a little girl Adelaide that she finds in another town, a town that was attacked. Adelaide is a very sweet and loving little girl who takes to Olivia right away. Olivia may not have had a child of her own and never had any brothers or sisters to help take care of. Olivia had no idea how to take care of a child. She probably never was around any babies much less a small child and she still knew what to do. Yeah her motherly instinct just kicked right in. Adelaide wiggled her way right into Olivia's heart.
If you like to read dystopian books then the Aberrant series is one set of books you don't want to pass up. I loved reading the first book in the series Aberrant and I loved the second book Moirai even more. I can't wait to read the next book in the series Isaura. I want to know more about Olivia and Joshua and their lives together. Will they ever have a child of their own? What kind of event would that be for Olivia and Joshua? What would it be like for everyone else? If they had a child it would give everyone else hope.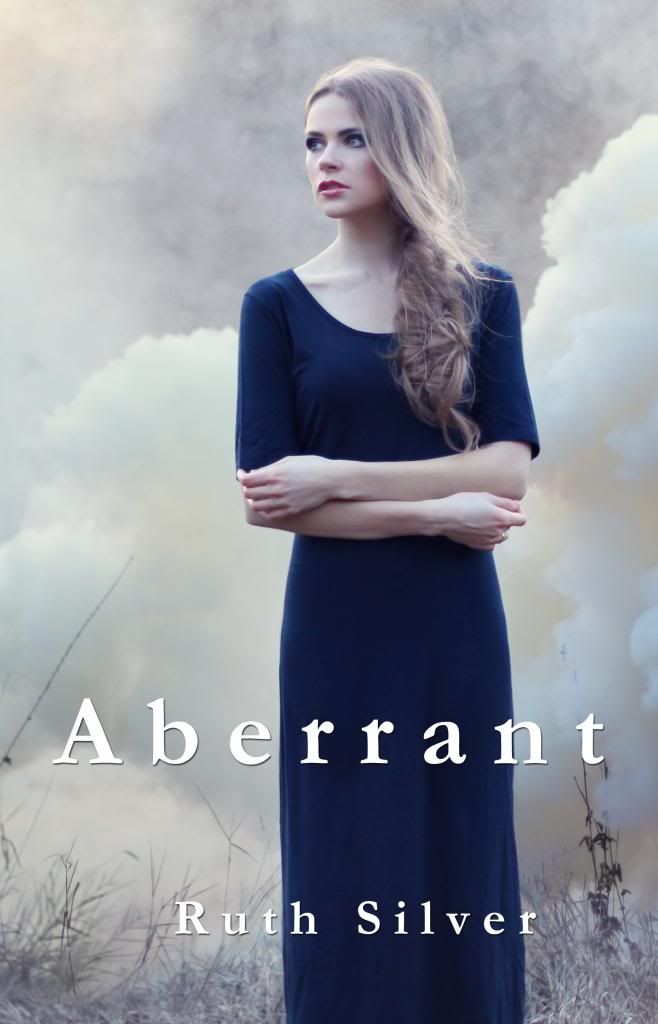 Title: Aberrant
Series: Aberrant Trilogy # 1
By Ruth Silver
Ebook Publication Date: April 17, 2013
Genre: YA Dystopian
Blurb:
In the future dystopian society of Cabal, the government instills equality for all and offers its citizens the perfect system. There is food, shelter and jobs for everyone. The one requirement is to follow the rules without question, including the government's match in marriage and "The Day of the Chosen", a lottery that randomly selects families to conceive children as natural means hasn't existed in generations. Following her eighteenth birthday, Olivia Parker accepts her requirement to marry her childhood best friend, Joshua Warren, and is eager to start her work assignment and new life when it all comes abruptly to an end as she's arrested and thrown in prison. The only crime committed, her existence. Olivia is unlike the rest of the world born not from "The Day of the Chosen." The truth haunts the government and puts her life in grave danger as one simple fact would destroy the perfect system.
With Joshua's help, Olivia breaks free of prison and is forced on the run. Together they set out to find the promised rebel town in search of a new home and new life together. Their situation seems less than promising as they reach the town of Haven. New rules and customs must be adhered to in order to stay. Leaving would mean most certain death in the large expanse of the Gravelands. Time is running out as the government mounts an attack to destroy Olivia and bury her secret with her. Thrown into a world unlike their own, they must quickly adapt to survive.
Goodreads | Kindle | Amazon Paperback | B & N Paperback | Nook
Excerpt:
We rounded the corner and my eyes caught sight of a line of young men stretching around council hall, extending for blocks. "What's going on over there?" I asked.
Landon's face perked up, a hint of a smile playing on his lips, "they're here for you, Olivia."
"Me?" I felt nervous and swallowed the bile rising in my throat.
Landon patted my back, as if he had the ability to reassure me. His touch was repulsive. I pulled away slightly from his grasp, my gaze still attached to the hundreds of young men lining up along the edge of the building and pushed back down into the street. "They're submitting their applications to date you."
"You're joking?" My eyes wide and mouth agape, I couldn't believe this was happening.
"This is because of Joshua yesterday, isn't it?" It had to be the reason they found it necessary to punish me.
Landon sighed. He seemed agitated with me, short-tempered. "We've told you, Olivia, you can't be with Joshua."
I rolled my eyes, "yes and you've also told me I have three years to decide. What's all this!" I gestured towards the young men as I pushed them aside to walk through the main entrance, they were in my way.
"Hey! No cutting in line," one of the young men yelled before his voice faltered off realizing I wasn't there to apply. "Are you Olivia?" His voice echoed against the building as he took another step, further inching towards the foyer.
"It's none of your damned business!" I shouted back, my eyes glaring as I knocked Landon hard with my elbow. I knew it wouldn't win me any brownie points but I didn't care. I was beyond pissed. My feet clanked over the marble flooring. In the center of the room a table had been set up where the young men were fast approaching, one after another. "You're wasting your time," I called back to the woman hosting the event as she recorded their information in an oversized book.
"This way," Landon escorted me away from the line of bachelors towards the open door.
"Please, come in," the older wiry-haired woman gestured us inside and shut the door promptly behind us. All the noise and commotion from the main foyer disappeared inside the room.
Read my review of Aberrant
About the Author: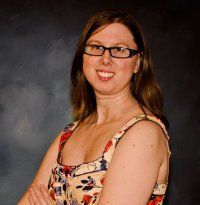 Ruth Silver attended Northern Illinois University and graduated with a Bachelor's in Communication in the spring of 2005. While in college, she spent much of her free time writing with friends she met online and penning her first novel, Deuces are Wild, which she self-published in 2004. Her favorite class was Creative Writing senior year where she often handed in assignments longer than the professor required because she loved to write and always wanted to finish her stories. Her love of writing led her on an adventure in 2007 to Melbourne, Australia. Silver enjoys reading, photography, traveling and most of all writing. She loves dystopian and fantasy young adult stories. Her debut novel published by Lazy Day Publishing, ABERRANT is scheduled for release April 2013. Ruth has been actively writing since she was a teenager. She currently resides in Plainfield, Illinois.
Blog | Facebook | Twitter | Amazon Author Page | Goodreads
Giveaway:
$10 Amazon Gift Card
a Rafflecopter giveaway