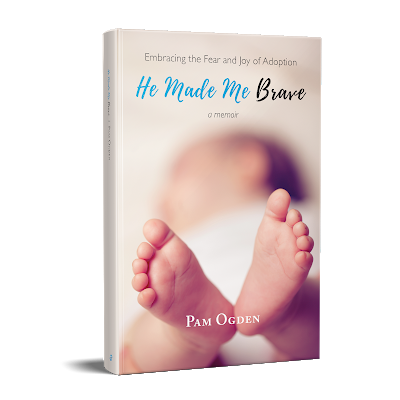 Non-Fiction - Parenting, Christian Living, Inspirational
Date Published:
June 14, 2018
This is not a fairy tale--but it does have suspense, humor, a quest, and a happy ending. When Jason and Pam Ogden decided to adopt a baby, they had no idea that their adoption process would stretch over a period of two years, and that their baby would be a toddler by the time they were able to bring him home. Taken straight from Pam's personal travel journal, He Made Me Brave chronicles the long-awaited emotional trip she and her husband took to South Korea to meet their new son. Through these powerful journal entries, you will:
· Experience Pam's fear, grief, anticipation, and joy as you read her private, honest thoughts.
· Discover the challenges faced by these adoptive parents as they started the bonding process.
· Be encouraged by God's sovereignty and power over anxiety.
He Made Me Brave is the touching memoir of a mother defying fear to be united with the little boy she had been dreaming of for two years, and an account of hope fulfilled.
Interview with Author Pam Ogden
As a writer, what would you choose as your mascot/avatar/spirit animal?
My spirit animal would be a wolf. I'm a loner: quiet and tending toward isolation but observant.
How many hours a day do you put into your writing?
I don't usually sit down and devote time to writing on a daily basis. I jot things down in my journal when inspiration strikes, and if I have a project, I will neglect all other duties until I finish. But I am constantly "writing" stories in my head, because I love to try to find meaning in everything.
Do you read your book reviews? If yes, do they affect what you write in the future?
I definitely read my book reviews! I love to hear whether or not readers can relate to my experiences. I can't say yet whether or not the reviews affect what I write, because this book was written for my own benefit, and was never intended to be published material. I am thrilled that other people have enjoyed it, though.
Do you leave hidden messages in your books that only a few people will find?
I don't know if I would call them "hidden messages" but because I write memoirs, there are definitely references that only people closely involved will remember or recognize.
Can you tell us a little bit about the characters in He Made Me Brave?
The characters in He Made Me Brave are myself, my husband and our son Hudson. Because it is a memoir from my point of view, it is my voice that you hear, though. The story is told through the filter of my anxiety and uncertainty. In this story, my husband is the unfailing support and companion, and my son is the little handsome stranger that we can't wait to meet.
Can you tell us a little bit about your next books or what you have planned for the future?
My hope is that our family will be matched with another baby soon, and I will have another adoption story to tell. The world of adoption is changing. It is getting more and more difficult for families to offer homes to the children who need them, and I want to do anything I can to raise awareness of the need and the challenges adoptive families face.
Do you allow yourself a certain number of hours to write or do you write as long as the words come?
I write for as long as I have something to say. I feel an urgency to capture thoughts, images, or beautiful phrases because as much as I intend to remember them later, I rarely do. I use a journal app on my phone, so it's available to me almost any time.
Do you have a certain number of words or pages you write per day?
I don't have any quota at all. Sometimes I fill several pages, and some days I miss altogether.
What inspires you to write?
Intense emotion usually inspires me to write. I'm a bit of an obsessive, and a strong feeling can change the color of my entire world for a while. These are often the best times for me to write because what I produce is so genuine and it comes so easily.
…Read fiction or non-fiction?
For the most part, I prefer well-written fiction over non-fiction because writing in "story" form tends to give the events the sense of meaning which I crave, but I can often get that same satisfaction from a personal memoir.
…Read series or stand-alone?
If I find an author who can move me with their descriptions, and leave me with a sense of significance, I will seek out everything I can find by that author. I love to get to know someone by looking at the world through their lens.
…Read Science fiction or horror?
I love science fiction. I scare myself enough with my own imagination. I don't need a horror book to do it for me.
…Read Stephen King or Dean Koontz
I grew up reading Stephen King. I remember being amazed that someone was capable of creating those characters and storylines.
…Read the book or watch the movie?
If the book exists, read it first. Then watch the movie.
…Read an ebook or paperback?
I love the feel of a brand new book with stiff pages and an unbroken spine, and I love the smell of an old book. Reading is a sensory experience for me, so I will always choose a paperback over an ebook.
…Be trapped alone for one month in a library with no computer or a room with a computer and Wi-Fi only?
Oh that's hard. I'm a slave to my social media accounts, but being cut off from the barrage of conflicting influences and given the freedom to indulge in great writing for a month would be delicious.
…Do a cross-country book store tour or blog tour online?
I'm about as far on the introvert end of the spectrum as one can get. I would happily choose to hide behind my computer screen and offer my honest answers digitally.
About the Author
Homeschool mom and pastor's wife Pam Ogden had dreamed of being a mom since she was a little girl. She and her husband wanted six children, but their plans were waylaid when high-risk pregnancies and premature births threatened their first four babies. In 2012, they adopted their son, and in 2017, they started the process to adopt one more child. Pam graduated with honors from George Fox University, receiving a Bachelor's degree in Writing and Literature, and a Master's degree in Counseling. Pam loves her small town life in Sweet Home, Oregon, with her husband, Jason, and their five children, Kelly, Luka, Ivan, Ember, and Hudson. Pam and Jason hope to add one more child soon.