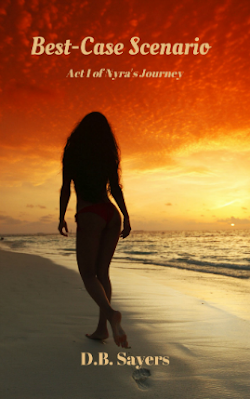 Best-Case Scenario, Act I of Nyra's Journey
Publisher: PhoenixPhyre
More than a year after graduating from college, Nyra is beginning to wonder when her life, professional and personal, gets started. Was it like this for her mother? She doubts it, but things were different, then. Nyra's reality is nothing like her mother's. Each generation confronts its own challenges.
Still, she's tired of feeling like she's wading through waist-deep wet cement. Buried somewhere deep in a future she can sense but not feel, Nyra can hear the siren's song of hope and hypothetical options whispering to her. She's so ready! But is the song she hears hope or just an illusion?
Best Case Scenario is the first act in Nyra Westensee's journey from student to self-aware, fully actualized woman.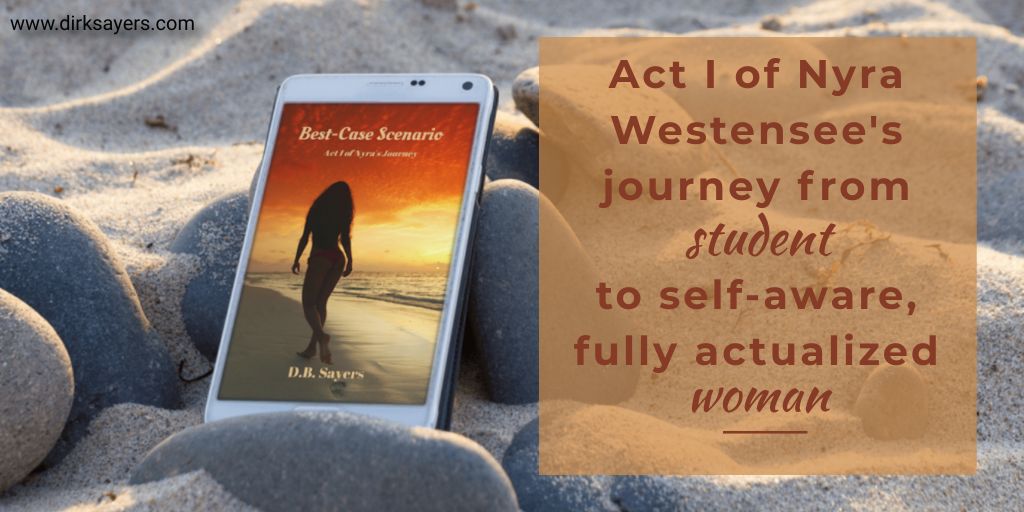 Interview with D.B. Sayers
For those interested in exploring the subject or theme of your book, where should they start?

Best-Case Scenario

opens with Nyra Westensee (our protagonist) confronted with a dilemma familiar to so many college graduates. Facing a mountain of student loan debt, she desperately needs a job. But not just

any

job. She wants a career position that

leads

somewhere while leaving space for "a life." But before Nyra's first day is over, the reader senses Nyra's professional identity may be the least of her issues. Deep seated uncertainties about her true identity may complicate not only her search for "a job," but for wholistic fulfillment.
How did you become involved with the subject or theme of your book?

It was a combination of things. Watching my daughter make that precarious leap from responsible teenager to autonomous adult was part of it. It's usually challenging, whoever we are, and

my daughter's growth was no exception. But later as a corporate trainer, I began noticing some of my students confronting things I hadn't had to deal with, personally. I started asking questions and what I learned from my management trainees became the basis for

Best-Case Scenario

. Eventually I wove elements of several stories into Nyra Westensee's, who became the protagonist of the series. She represents both the dilemma and the promise of the generation just beginning to assert itself in this unique time in our history.
What were your goals and intentions in this book, and how well do you feel you achieved them?

First and foremost, to tell an entertaining, evocative story about an interesting human in a series of challenging situations. As importantly, I wanted to offer an empathetic and hopeful look at the unique challenges confronting young people today, from the perspective of someone with more road in the rearview mirror. Having walked parallel but different paths searching for my own "true north," I remember vividly what it's like. What it's like, trying to navigate shifting paradigms while simultaneously sorting out the existential puzzles confounding most of us starting out.




With respect to how well I feel I've achieved my intent. Since this is a series, the jury's still out, I think. But I'm confident that

Best-Case Scenario

is an excellent start. The young people (men and women) in my critique group loved it and my editor (also in this age group) confirmed it was dead-on accurate. But I'm only half-way through

The Year of Maybe,

which is Act II of Nyra's journey, so Nyra (and I) have a long way to go yet.
Anything you would like to say to your readers and fans?

Thematically,

Best-Case Scenario

offers the kind of thoughtful hopefulness we need, today. Too often, times like these spawn pessimism, even cynicism. But it's precisely when things get rocky that we need to tap into our better selves. In the end, the difference between surviving and thriving is courage and attitude. In

Best-Case Scenario,

that's literally lesson one for Nyra and (hopefully) one of the prime takeaways most readers glean from this story.
What did you enjoy most about writing this book?

Trying to see the world through the lens of someone much younger than I. Replaying the upheavals of my own time (the 60s), the similarities are almost eerie, to include a lot of the same issues. It's encouraging to see the thoughtful engagement of young people today. I'm optimistic about the future and looking forward to finishing the next book in the series and starting Act III.
Can you tell us a little bit about your next books or what you have planned for the future?

I'm currently working on the sequel to

Best-Case Scenario, The Year of Maybe,

and I'm about halfway through the first draft. In it, Nyra's self-discovery accelerates exponentially as does her tolerance for risk. As she's testing her new-found limits, she gets herself in trouble, a couple of times. But in recovering from her missteps, she gains greater confidence and begins to realize who she is. I'm also waiting for

Eryinath-5,

the second volume in

the

Knolan Cycle

to come back from my editor. It continues the story of first contact between Earth and Knola begun in

Tier Zero.

Most importantlyl, it sets the stage for the upcoming war for Earth between the Knolans and their implacable enemy, the Valdrōsians.
How long have you been writing?

Most of my life, but I didn't publishmy first novel,

West of Tomorrow

, until 2015. I now have four volumes in print, with two more full-length novels on the way, both due out in 2021.
Can you tell us a little bit about the characters in Best-Case Scenario?

Nyra Westensee—

protagonist. Attractive, more so than she realizes. She focuses too much on her physical flaws, less for any objective reason than for lack of confidence. Matters aren't helped by her mother's uxorious fondness for Kip, her brother who is way too handsome for his own good, not to mention how easily everything seems to come, for him. It's given her a skewed view of her own competence.




Kip Westensee—

Nyra's older brother. She idolizes her effortlessly successful and sublimely confident sibling. Kip's example has always cast a shadow in which Nyra has been forced to live, often resentfully. She loves her brother and knows he has her back, but she hates how his example makes her feel "less than."




Corinn Westensee—

Nyra's mother fills her daughter with a mixture of admiration, pity and dread. Admiration at how she has provided for two children, despite precious little help from their father. Pity for all the bad breaks she has gotten, despite (as nearly as Nyra can tell), doing pretty much everything right. And dread because there's no missing how similar they are both in appearance and temperament. Nyra does

not

want to wind up like her mother, alone and hanging on most of her life by her fingernails and sheer determination.
If you could spend the day with one of the characters from Best-Case Scenario who would it be? Please tell us why you chose this particular character, where you would go and what you would do.

It would have to be a day with Corinn Westensee, but on a day she must relate productively to and cordially with her daughter. I think it would be instructive to watch them together, preferably working on a household project. While I'm fascinated by Nyra, how her mother has shaped her and continues to shape her offers significant clues to Nyra's liabilities and potential, as well as how she may evolve.
D.B. Sayers is a retired Marine Lieutenant Colonel and former corporate training manager turned full-time author and editor. You can follow his work, subscribe to
Dirk's Tribe,
retain him as an editor, or just drop in and say hi at, https://dirksayers.com/.
About the Author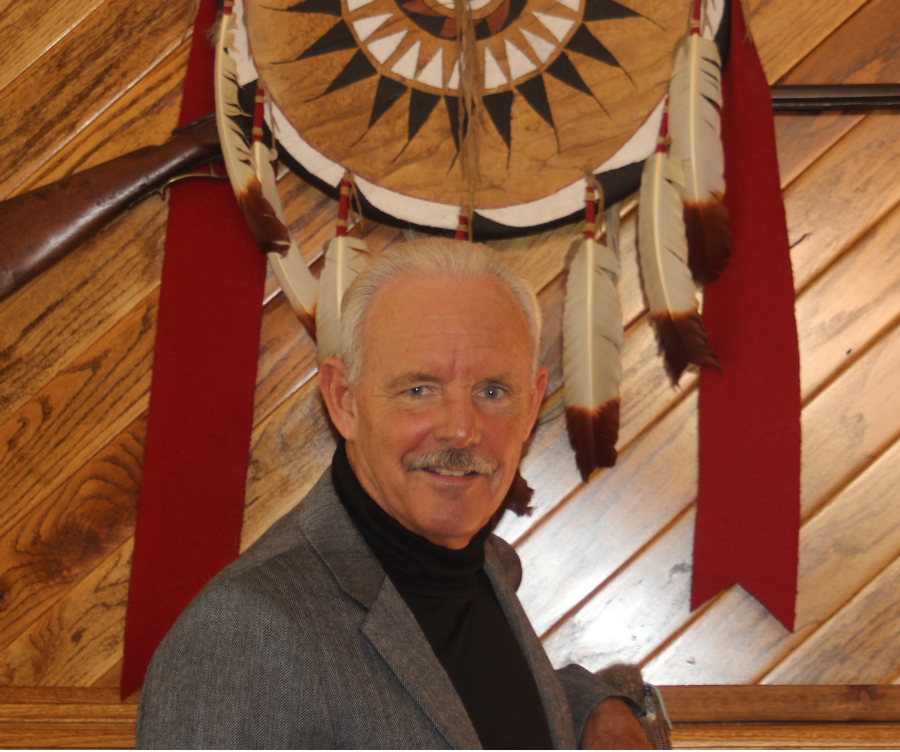 Dirk's path to authorship wasn't quite an accident, but almost. It's not that he didn't write. He did. But through two previous careers, first as a Marine officer and subsequently as a corporate trainer, Dirk started way more stories than he finished." But in the backwash of the 2008 financial meltdown, his employer filed for Chapter 11. Cordially invited to leave and not return, Dirk found himself out of work and excuses.
Since then, Dirk has published West of Tomorrow, Best-Case Scenario and a collection of short fiction entitled, Through the Windshield and Tier Zero, Volume I of The Knolan Cycle, all available from Amazon in Kindle and paperback formats. Works in progress include The Year of Maybe, sequel to Best-Case Scenario, and Eryinath-5, Volume II of the Knolan Cycle.