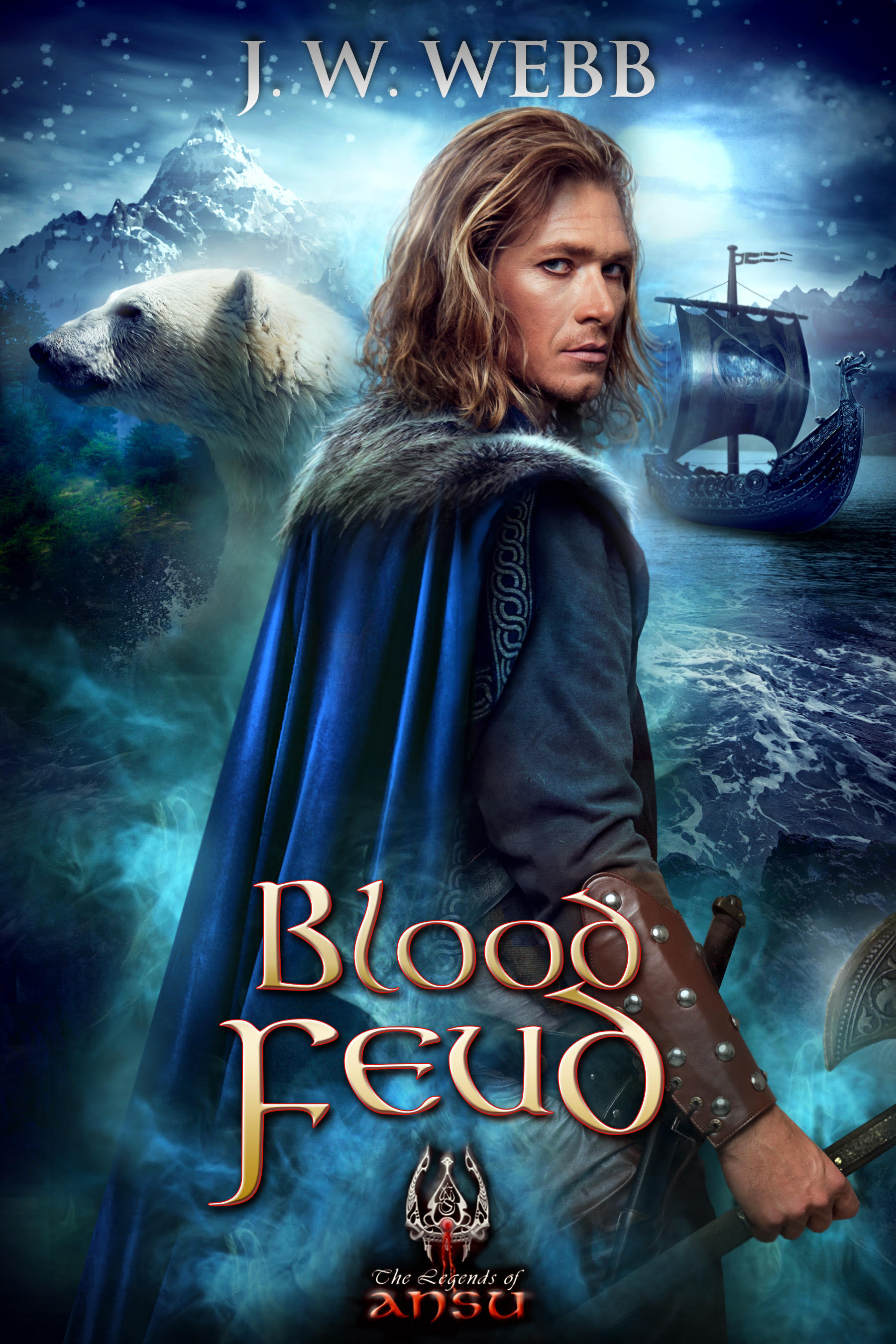 The Legends of Ansu (Book 9)
Date Published:
July 16, 2020
Jaran Saerk is an exile from the North, driven out of his homeland by a sorceress who killed his family. Now serving as a warrior in the armies of the Imperial Shen, he's never forgotten his vow to avenge his family and take back what is rightfully his.
Recently captured, Savarna hides a dark secret and doesn't plan on staying a slave for long. Once she's escaped, she'll slip inside the Golden Palace and kill the Empress of Shen. When she meets the exiled warrior from the North, she finally may have her chance.
Finvar the Droll is a retired thief who insists he can help Jaran in his revenge against the witch. But whose side is he really on?
With enemies surrounding them on all sides, the trio must unite to stay alive in a realm trapped between war and sorcery, and to take down the witch Sheega before she destroys them all.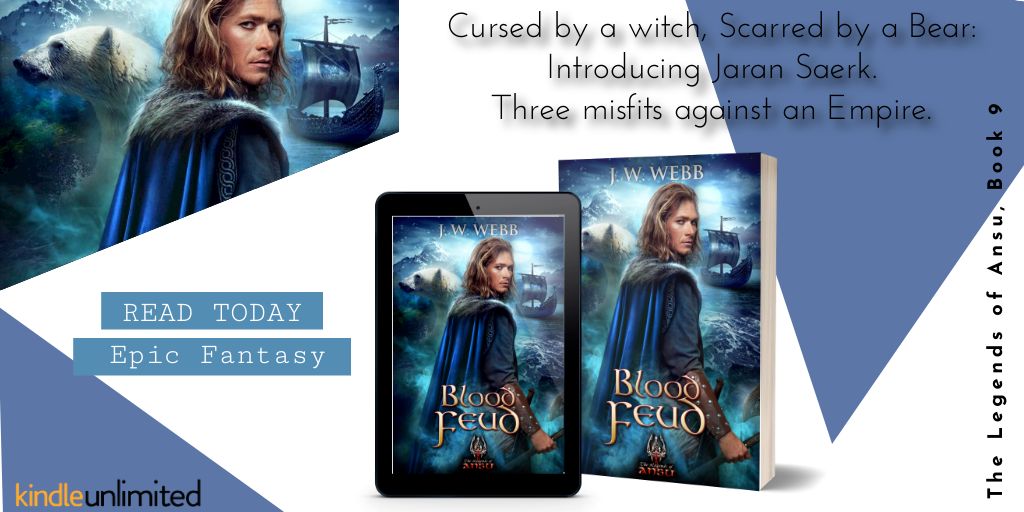 Interview with JW Webb
For those interested in exploring the subject or theme of your book, where should they start?
Blood Feud draws more from Norse Myth than the other books in my series, mostly Pseudo-Celtic. The book is an epic fantasy with an East meets West vibe. I like to think my world––Ansu––combines the mythic grandeur of JRR Tolkien with the Gritty Action of GRR Martin.
How did you become involved with the subject or theme of your book?
I've read fantasy novels for years and have a fascination with Dark Age Legends, and ancient history. That and a wild imagination resulted in my putting pen to paper and starting my ongoing series, Legends of Ansu.
What were your goals and intentions in this book, and how well do you feel you achieved them?
I wanted to pen an action-packed story with fun characters, set in Ansu, but 1000 years after the last book. That way, Blood Feud also works well as an introduction to the series. I'm happy with the result.
Anything you would like to say to your readers and fans?
Yep, I'm three quarters through the next one. The Giants' Dance will be available this December. I'm always looking for new ARC Readers for my Newsletter, The VIP Lounge. The other thing I always mention is the beautiful drawings that feature in the books––all by the late Tolkien Artist, Roger Garland.
What did you enjoy most about writing this book?
I like the interaction of the characters and their general bad behavior. I never know what they'll do next.
Can you tell us a little bit about your next books or what you have planned for the future?
The Giants' Dance takes off after the cliffhanger ending of Blood Feud. Then there's the concluding book in this trilogy, Shadow of the White Bear. That will be available next spring. After that, I'm writing the two follow-ups for The Emerald Queen––itself a sequel of sorts to The Glass Throne, the sixth novel featuring my badass protagonist, Corin an Fol.
How long have you been writing?
I started scribbling very badly with biro during the 1990s.
Can you tell us a little bit about the characters in Blood Feud
Blood Feud features four principal characters: Jaran Saerk legendary Northman fighting for Imperial Shen, who learns of his family's murder by a witch. Savarna, a shapeshifting hell-cat bent on vengeance. She and her lethal twin, Vian, are out to kill the Empress of Shen, who they hold responsible for their people's enslavement. Then there is Finvar, the joker of the pack. A former thief who befriends Jaran for reasons he won't divulge.
If you could spend the day with one of the characters from Blood Feud who would it be? Please tell us why you chose this particular character, where you would go and what you would do.
I could never do that––I'd have to fight them

About the Author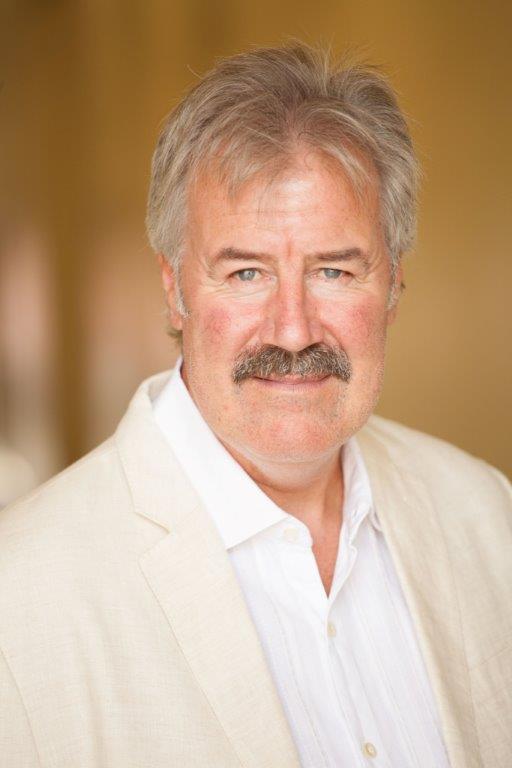 J. W. Webb is an English writer living in Georgia. Mostly he writes fantasy, though sometimes diverts in even stranger directions. His epic saga, The Legends of Ansu, blends the mystic grandeur of J.R.R. Tolkien with the gritty realism of George R.R. Martin. Webb's characters are three dimensional and flawed, their world a tapestry of vivid color and constant motion. All the books feature beautiful sketches by the late Tolkien illustrator, Roger Garland. When he's not writing, he spends his time in the garden or attending to the demands of his cat-overlords and dog companions.
Read FREE with Kindle Unlimited