Middle-Grade Fantasy
Date Published: 5/22/21
An innocent naiad. A wounded boy. An adventure that will change their lives forever.
Plip is a naiad of the Great Waterfall, destined to one day sing the songs that send rain out into the world.
Akino isn't destined for anything but trouble. His father long gone, his mother working on a plantation far away, he doesn't really belong in the village below the Waterfall. And the villagers don't let him forget it.
When Akino convinces Plip to travel down the mountain with him, for his own selfish purposes, he launches them into a world more dangerous than either of them could imagine. A world where people are not always what they seem and the rain does not fall evenly across the land.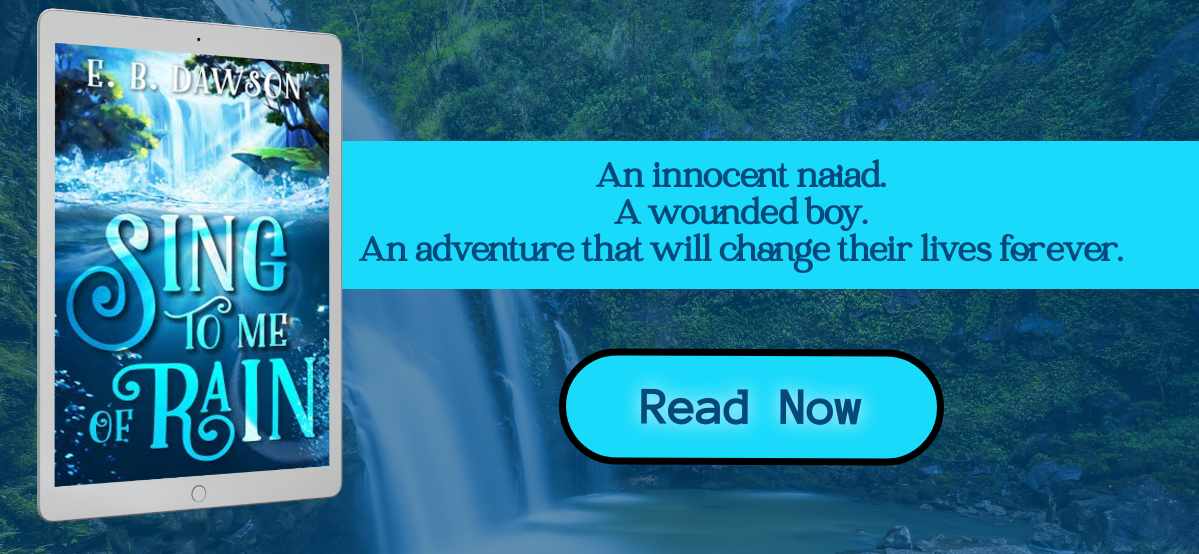 Interview with E.B. Dawson
For those interested in exploring the subject or theme of your book, where should they start?
Sing to Me of Rain is all about coming to terms with the injustice in the world and learning to use your gifts to ease the suffering of others. There is also a strong theme of redemption and forgiveness. The epigraph in the front of the book is a quote from The Silmarillion talking about how the waters of the earth bring messages to Ulmo. It so perfectly encapsulated the concept behind this story, I just had to use it!
How did you become involved with the subject or theme of your book?
It's always difficult to pinpoint exactly when separate ideas come together to form inspiration for a book. I have always been a little obsessed with rain. (There's actually a technical word for that, and it's pluviophile.) The last few years I've really been wrestling with the idea of suffering and evil and why some people's journeys on this earth look so different than others. I had been toying with the idea of writing a middle grade fantasy and had started saving inspirational images on pinterest for at least a year. Then in spring of 2019 I was house sitting for my aunt and uncle. Their house has a gorgeous view of the nearby lake and you can watch the storms roll in. That's when the waterfall naiads popped into my head and from there everything fell into place.
What were your goals and intentions in this book, and how well do you feel you achieved them?
I wanted this book to be a beautiful and wondrous escape along the lines of Peter Pan or The Chronicles of Narnia. I wanted the world to be rich and immersive, the message uplifting. I cannot say whether Sing to Me of Rain will resonate with as many readers as those classics, or stand the test of time in the way they have, but I know that I have created something unique and beautiful. And the response I have received so far from readers has been incredibly gratifying. One early reviewer compared it to a Studio Ghibli movie! (Mission accomplished)
Anything you would like to say to your readers and fans?
I am so incredibly excited for you all to experience this journey, which is quite unlike anything I have written before. I know the world has been a pretty stressful place as of late. Let this be your invitation to brew a cup of tea and escape into a beautiful world with softer edges.
What did you enjoy most about writing this book?
The world is so rich and vibrant from the Great Waterfall, to the blue sandalwood groves, to the Great Sand Plains, to the Ember Forest and the White Temple. It truly felt like going on vacation. I also really enjoyed the youth and innocence of our two main characters: Plip and Akino.
Can you tell us a little bit about your next books or what you have planned for the future?
Such a difficult question as my schedule has been rather upended this year. I am working on my first collaborative novel which is a desert fantasy with lots of mythological influence. I am also working on my first hard science fiction novel (as opposed to soft scifi). And I am toying with the idea of another book set in the same world as Sing to Me of Rain. If you're a fan of my other series or stand-alone books, then you should be pretty excited about some announcements coming this summer.
How long have you been writing?
I have been writing since I was eleven, but I didn't complete my first novel until I was eighteen.
Can you tell us a little bit about the characters in Sing to Me of Rain?
The two main characters are Plip and Akino. Plip is a young naiad. Her people are basically tiny, translucent mermaids who live in the Great Waterfall and help create the rain. She is a little too curious for her own good and more than a little naïve. But she is also extremely kind and compassionate. Akino, on the other hand, is an angry ten-year-old boy who has been hurt by the adults in his life. Despite their differences, they become fast friends. There are some really fun side characters in the book including a pretentious bird named Burung and a mysterious wanderer named Ujio.
If you could spend the day with one of the characters from Sing to Me of Rain who would it be? Please tell us why you chose this particular character, where you would go and what you would do.
Such a difficult question! I think I would have to choose to spend time at the White Temple with the monk Laughing Crane. We would drink tea on one of the temple porches and he would share his gentle wisdom with me, and then we would walk through the temple gardens, or perhaps work on one of the sand mandalas in the inner rooms. Sounds like an excellent retreat to me!
About the Author

E.B. Dawson was born out of time. Raised in the remote regions of a developing nation, traveling to America was as good as traveling thirty years into the future. Now she writes science fiction and fantasy to make sense of her unusual perspectives on life. Her stories acknowledge darkness, but empower and encourage people to keep on fighting, no matter how difficult their circumstances may be. She currently lives in Idaho with her family and her cat Maximus.
Contact Links
Purchase Links