Young Adult, Science Fiction, Urban Fantasy
Date Published: April 13, 2021
Publisher: Acorn Publishing
Orion City has been on lockdown for ten years. Courtney Spencer, a disillusioned barista doomed to live a "normal" life in a quarantined fishbowl, is certain she'll never see over the Wall again. Until one rainy evening, Courtney unintentionally befriends W, an eccentric customer who leaves a switchblade in the tip jar. The unexpected acquaintance soon opens the door to a frightening string of questions that flips everything she knows upside down. Stumbling into a world of secrets, lies, and disturbing truths, Courtney grapples with a burning temptation to look again at the Wall. Surrounded by citizens trained to ignore its looming shadow, Courtney no longer can. Intrigued and terrified to expand her world, Courtney finds herself toeing a knife's edge between the law and justice, learning quickly that the two are not always compatible. She wants to cling to her morals. She also wants to stay alive. But most of all, she wants to see a certain customer again, despite everything in her whispering W is dangerous. In a gritty urban clash of hope and fear, passion and survival, The Walls of Orion explores the edges of light, dark, and the gray in between.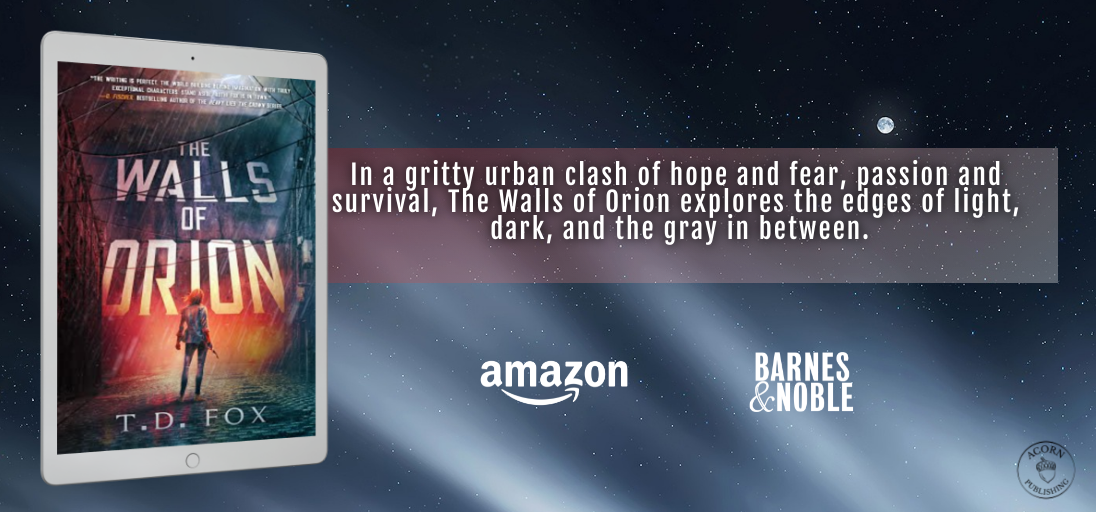 Interview with T.D. Fox
For those interested in exploring the subject or theme of your book, where should they start?

They should start with examining the places in life where they feel small; a problem or issue they cared about, or once cared about, but now feel too small or powerless to make a difference in. This book has fantasy elements and sci-fi fun, sure, but the core theme is actually about a person who grows from someone who's given up on making a change in her world to someone who's ready to fight for what they care about.
How did you become involved with the subject or theme of your book?

I started writing this book when I was in a pretty emotionally raw place, actually. Back in 2016, when I started writing The Walls of Orion, I was recovering from a several-month-long internship working with refugees from war zones. As a fresh-faced, idealistic young woman ready to tackle the pains of the world and try to heal some of it, I was quickly shell-shocked and disillusioned when I came face to face with some of the darkest sides of humanity. I wrote this book to process what I had gone through, but also ended up processing my own internalized struggle of "feeling too small to make a difference" in a world so much darker than I'd imagined.
What were your goals and intentions in this book, and how well do you feel you achieved them?

Honestly this book started out as a writing exercise with a friend. I made up a random city named after my favorite constellation, and we decided to make some superheroes and supervillains to fit into it and weave a fun story. I ended up taking that spark of an idea and running with it, because unbeknownst to me, my "origin story" of a young, disillusioned nobody who battles helplessness in a dark and broken world really resonated with something deep inside me. I ended up finishing the whole story, and changing the ending from the origin story of a villain to the origin of someone I hope all of us can relate to. Someone who tries, fails, and tries again to make a difference and do what's right, despite not having a clear black-and-white path to do so. So… my intentions changed as the book's main character did. I see, now, that my goal was to weave a ray of hope into a very dark society that ended up reflecting our own world way more than I intended.
Anything you would like to say to your readers and fans?

I already love you guys and super hope you are inspired and find something to take away from this story! I'd love to connect with you guys on social media and hear from you; my favorite thing about writing – what really drives me, actually – is hearing the reactions and thoughts of people who've been touched or affected by my writing. It really means a lot to know your reactions <3
What did you enjoy most about writing this book?

The freedom. Since I wasn't planning to publish this or have it go anywhere, I finally felt the freedom to write how I wanted to write. I could swear (I kept all my previous manuscripts clean of all cussing, lol), write about the darker edges of humanity that I'd never let myself explore before, and honestly process some of my own monsters and fears through a fictional lens. I cried at some points during the creation of this story. Courtney's relationship with her dad, in particular, was a big healing zone for me to write and process. Also, one element of her experience on Westside actually happened to me in real life, and that was therapeutic for me to write about. Seeing her grow from the shell-shocked, disillusioned college dropout who no longer felt like she could help people into a badass woman ready to fight for change by book 2… this was a storyline that reflected my own journey, unintentionally, while writing this novel. I'm really grateful for The Walls of Orion and its impact on my life, and I'm happy that it'll be the first book I release into the world.



Can you tell us a little bit about your next books or what you have planned for the future?

Well, right now I'm prepping concluding sequel to The Walls of Orion for publication in July, titled City of Loons. But I've been working on a saga since 2013 that I'm very excited about – I took a break from it for a bit while writing Walls, and now I'm almost done with 2 books out of 4, and I can't wait to share them with you guys! They're a much higher degree of fantasy than The Walls of Orion duology, with a lot of world building and folklore and pseudo-scientific magical elements woven together. The saga's titled Shadow Walkers, and it's about a race of super-humans that's been living under our noses since the dawn of time, and a girl with stolen memories who discovers she's a war hero… to a war she wished she hadn't won. This one explores the themes of prejudice, racism, war, family, and – of course – an enemies-to-lovers romance that I have way too much fun writing. ;)
How long have you been writing?

I wrote my first full-length novel at age twelve, and have written probably seven or eight fat books since. Walls was the first one I promised myself I'd try to publish, no matter how tempted I was to stick it on the shelf with the others and write something new. Publishing is daunting! I've been writing books and telling stories (with art and words) since I could hold a pen. My Mom has read every embarrassing thing I've ever written, and is a huge reason I'm still doing it today. She's my biggest inspiration and cheerleader.
Can you tell us a little bit about the characters in The Walls of Orion?

My main character: Courtney Spencer.

A medschool dropout turned barista who's only good grade now is her A+ in Survival 101. Her inner drive to help people is long gone when the only way to make it to tomorrow is to keep her head down, ignore the Wall's shadow, and hang onto her sanity with white knuckles. But Courtney's treacherous desire for change is going to threaten her A+ ...and maybe make her fail the class altogether. Turning a blind eye to injustice becomes impossible when facing it's the only thing that makes her feel alive.

My favorite character from my novel: W.

Real name unknown, occupation unknown, motives... unknown. An eccentric, unnerving customer who walks into Courtney's cafe one rainy day and drops a switchblade in the tip jar, W is by far the most off-the-wall character to write. (Which means the most fun!) Whether he's sitting in his shadowy corner booth thumbing through work reports from his questionable job, or cutting up solitaire cards to fold them into origami creatures, he's always got the eye of the baristas. Most don't like him, and prefer to keep their distance. But our MC doesn't have the instincts she probably should on this shady edge of town. The unlikely friendship that sparks between Courtney and the cafe's strangest customer triggers a downhill adventure that plunges both characters into a story they never imagined.

Side characters close to my heart: Jasper and Dina Jasper Wade:

a bright-eyed young cop spurred by heroic dreams and a high-functioning sense of justice. One of the only outsiders to move TO Orion City after a decade-long quarantine, Jasper isn't the most popular guy on the force. A rookie in more ways than one, he struggles to keep his head above water in a city that's long ago lost its idealism. When he meets Courtney after an "exciting" incident at the café, the two of them embark on a complicated shared journey won't leave either the same.

Dina Ramirez:

the spunky, slap-you-upside-the-head honest, tough cookie of a nurse who likes fancy manicures and dissecting cadavers. Courtney's best friend, she never lets her childhood buddy do anything stupid without her. Pint-sized, brave, and fiercely loyal, Dina is one of my favorite side characters in Orion City :)
If you could spend the day with one of the characters from The Walls of Orion, who would it be? Please tell us why you chose this particular character, where you would go and what you would do.

Honestly, I'd probably hang out with W. Hands down. He'd be a whirlwind and I just might die, but it would be too much fun to pass up. I'd take a stroll around downtown Orion City with him, and see what shenanigans he gets up to. I might just have to bring my pepper spray. Or a switchblade. His favorite places are the shadiest ones.



About the Author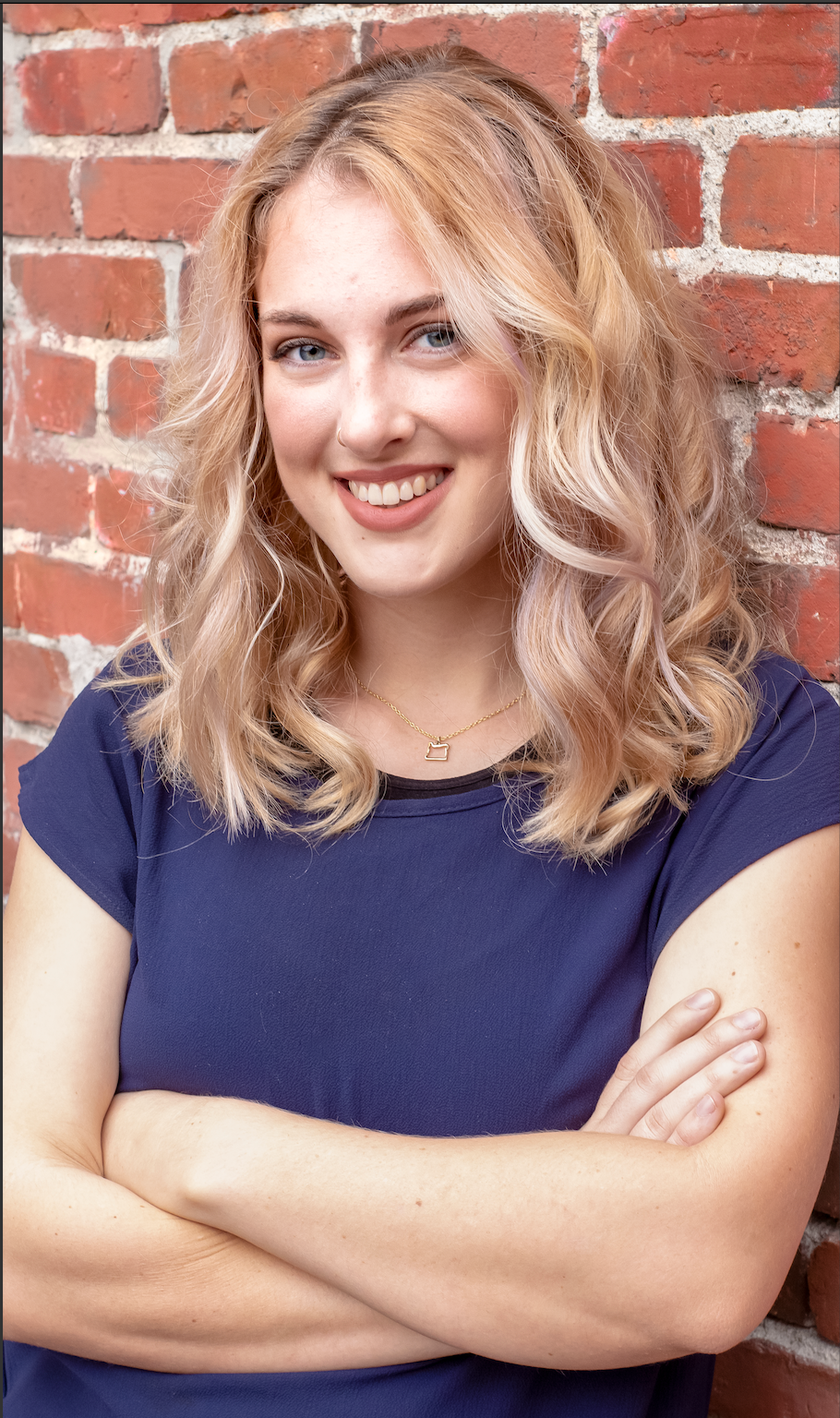 A world-romper from the Pacific Northwest who quite enjoys the label "crazy," T.D. Fox supplements a hyperactive imagination with real life shenanigans to add pizzazz to her storytelling endeavors.
Armed with a bachelor's degree in Intercultural Studies, her favorite stories to write usually involve a clash of worldviews, an unflinching reevaluation of one's own internal compass, and an embrace of the compelling unease that arises when vastly different worlds collide.
When not recklessly exploring inner-city alleyways during midnight thunderstorms in the States, she can be found exploring rainforests without enough bug spray somewhere along the equator.
Contact Links
Facebook: T.D. Fox
Twitter: @TDFoxAuthor
Instagram: @TDFoxAuthor
Purchase Link