Children's Mystery & Detectives Books
Date Published: December 14, 2021
This digital box set contains the first four mysteries in the Project Adventure children's books series.
Preteens Ethan and Matt are best friends and founders of the Project Adventure kid-detective agency. They are always looking for adventures, solving a good mystery, and making new friends. Together, they embark on exhilarating adventures that strengthen their friendship, courage, and social skills.
The Heart of the Island: Ethan and Matt head into their first great adventure to find a lost diamond, called The Heart of the Island. They must overcome their fears, escape the bullies chasing them, and face spooky bat-filled caves as they take on the quest to find the treasure.
Rumble at the Zoo: Ethan and Matt receive a call for help from the Skywalk Zoo. Recently, the animals at the Zoo have been taking turns in behaving weirdly and aggressively, scaring visitors away. The police are no help and if Lisa doesn't figure out why it's happening, the Zoo will be shut down and the animals put to sleep...
The Courtside Mystery: Ethan and Matt are looking forward to spending time at basketball camp, just playing. But as they arrive, they find out about a weird incident at a basketball game at their camp the week before. The police think it's just an accident, but the big rivalry between the two local basketball teams prompts the two friends to resume their solving mysteries activities.
The Scrapyard Shakedown: Ethan and Matt face freezing winter weather and sinister villains as they are tracing the shadowy figures lurking around the local scrapyard at the edge of town. The stakes are high and involve saving the dad of their new friend, Kalea.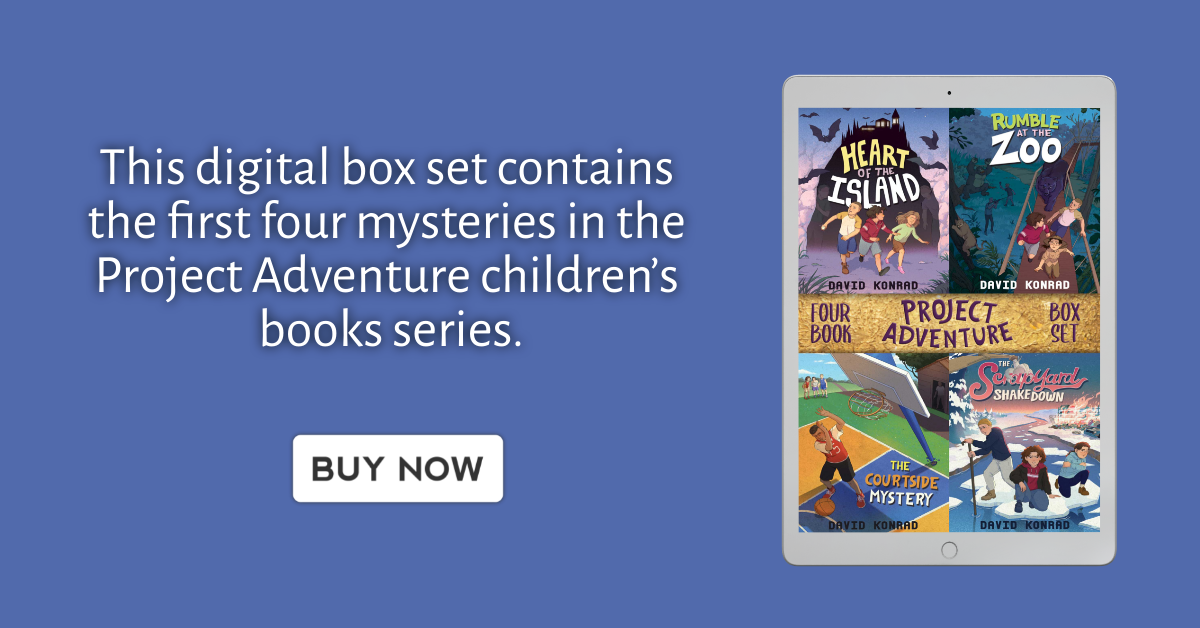 Interview with David Konrad
How did you become involved with the subject or theme of your book?

The Scrapyard Shakedown is book 4 of the Project Adventure series, and as such it follows the theme of adventure, courage, friendship and kids' curiosity, like all previous books. Apart from those, universal series themes, the more specific theme in this book is the environment protection and recycling, or at least I tried to involve these very contemporary and important themes into a children's adventure novel. The way I'm involved in all of this is through doing my part. By recycling and focusing on sustainable living, I am teaching my own kids how to be responsible for the future, and help protect our planet and our own society.
What were your goals and intentions in this book, and how well do you feel you achieved them?

As with the other books in the series, the main goal and intention is to entertain the young readers and take them on a fun, fast-paced adventure. Naturally, during the ride, the readers will learn about the importance of friendship, trust, acquiring new skills and more. With all that in mind, I believe that this novel has achieved most of the goals set, particularly when it comes to adventure and problem solving on the go.
What was the hardest part of writing this book?

The hardest part was, as always, finding the time and energy to actually write. Being a full-time dad of twin pre-school boys (at the time) is demanding, and takes a great deal of your time. And I am not a very organized person to begin with, so you can imagine how difficult it was for me to be disciplined and use the little windows of time I had to sit down and write.
What did you enjoy most about writing this book?

I really enjoyed how the story evolved, and how it got built up from a single scene, a single idea I had in my mind for quite a bit of time before I even started writing this book. My process of writing is very similar, or almost the same for every book. Sometimes I pick a theme I'd like to write about, like basketball in book 3, The Courtside Mystery, and sometimes I try to imagine a very cool, very dramatic, possibly pivotal scene and basically, build a story around it. The Scrapyard Shakedown is no exception, and it was the scene in which my three main protagonists float on a small sheet of ice that the entire novel was built on. For me, it was really cool to immerse myself into the scene, and feel what my heroes would have felt in that very moment.
Were there alternate endings you considered?

That's a good question, but the answer would have to be no. Maybe some other authors, depending on the genre, can do without knowing the ending as they write, that doesn't work for me. Knowing the ending is a key element to the story development for me, and it is one of the first things I focus on while plotting and outlining a book.
Can you share some stories about people you met while researching this book?

I am not sure whether it's good or bad, but I don't meet many people while doing research for my books. All of the "research" is done online, and my stories are aimed at a very young audience, so they don't require all that much of any detailed research or specific interviews.
What genre of books do you enjoy reading?

I enjoy reading thrillers (Lee Child, James Patterson) and historical fiction (Ken Follet, Dan Brown) and non-fiction (Malcolm Gladwell). Some fantasy series as well (George R.R. Martin, J.R.R Tolkien), but I couldn't find any others that would catch my attention after these two masterpieces.
Contact Links
Purchase Link