Date Published:
03/01/2019
Hitman. Husband. Daddy. Dead man?
Charley Fieldner has everything a man could want: a loving wife, a well-paying job, two great kids, and a beautiful home.
He also has a big secret.
Charley is a hitman with a huge complication—he is his own next target.
The background file contains the sort of details only someone very close to him could know. The suspect list is short but devastating, his wife, father, sister, and best friend. He always thought he could have it all, but the secrets, lies, and betrayals are piling up.
Charley needs time to unravel the mystery behind who wants him dead and why, but time is in short supply. Another killer took the contract. He now has a choice: roll over and die or fight for his life.
My Review:
WOW! I don't know what else to say but WOW! Hit Me is unlike any book I have read before. I mean when I read the summary and saw that it was about this guy who is a hitman and that his next target was himself I knew right then and there that this is one book that I had to read.
Charley Fieldner is a hitman who works for a company only known as the Agency. His only contact with the Agency is online. He gets all of his clients from their site. Just imagine the next time Charley signed in to find out that his next target was then imagine the surprise on his face when he saw his real name and his own face starring back at him.
His first thought was who wanted him dead. He then sat down and made a list of the people he thought wanted him dead. Why would anyone want to kill Charley he is a nice guy a loving father. husband, son, brother and a good friend. Charley knows that it had to be someone close to him with all the information they had on him.
Hit Me started out with action and never let up until the end. There was action with twists and turns on every page. Once I picked it up I couldn't put it down. I would like to read more about Charley and his life. The ending left me with some unanswered questions.
Hit Me is one book that I would definitely recommend to all fans of mystery and suspense. It has it all action, mystery, suspense with plenty twists and turns with well-hidden secrets that keeps you guessing from beginning to end.
About the Author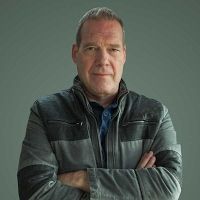 Peter Thompson grew up on the east side of Chicago, in the shadow of the steel mills where the air was sooty and smelled of sulfur. His life wasn't always so gritty, but the grit and realism finds its way into his thrillers. He has always loved stories of every kind, and one of his joys is finding a way to get inside character's heads, seeing the world as they see it and feeling their triumphs, pain, and fear. He visualizes his characters when he writes, and they are larger than life in the big screen of his imagination.
Before pursuing his passion and becoming a full-time author, he tried his hand at everything from factory work, breaking cement in a construction crew, running his own pizza shop, and he was a well-regarded presence in the mortgage industry for nearly thirty years. When he isn't writing, Peter loves, spicy food, live music, and exciting and thought-provoking books and movies. He is a fitness buff who loves to spend time with his grown sons and is looking forward to traveling the world and seeking adventures with his lovely partner.
To get in touch, find out more about future projects, please stop by authorpeterthompson.com. Sign up for his reading list to find out about new releases and receive free perks.