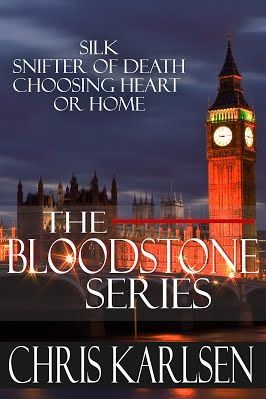 Date Published:
Feb. 21, 2019
Publisher: Books to Go Now
The set contains three stories centered around Victorian Detective Inspector Rudyard Bloodstone. In Silk, the first in the series and set in 1888, the same year as the Ripper murders, Detective Bloodstone is chasing his own serial killer. With little evidence to go on, his few leads bring him under political scrutiny when his investigation results in a clash with an influential Viscount.
Snifter of Death is book two in the series. When a rash of wealthy men who have nothing in common other than the cause of their deaths...arsenic poisoning, Rudyard and his partner struggle as every lead they have ends up a dead end. The tip they need comes from an unusual source and they must peel the layers of the case away to discover the revenge filled suspect.
Choosing Heart or Home is the one story in the set that doesn't have Rudyard working a criminal case. It is a warm-hearted romance set during Christmas 1889, he decides to go home to Wales to visit his family for the holidays and take the opportunity to introduce them to his lady love. As so often happens, things don't go as Rudyard envisioned.
Interview with Author Chris Karlsen
As a writer, what would you choose as your mascot/avatar/spirit animal?
An elephant. I love them for their devotion to fellow elephants, their memory, their intelligence, their empathy, and strength. I saw a beautiful video of a parade of elephants who came to the funeral of a man they called the Elephant Whisperer. He befriended the herd, watched over them and they "understood" his passing and mourned him.
How many hours a day do you put into your writing?
4-5 when possible on busy days when I have a lot of things to take care of I write for 3-4 hours. I try anyway
J
Do you read your book reviews? If yes, do they affect what you write in the future?
I do read reviews. Generally, they don't affect what I write. My stories come from an inspiration I see or feel. But if there's a character they responded to and wanted to see more of or a quality in the story they especially enjoyed, then I will keep that in mind. One of the most recent times I listened to the comments and changed the next story was when I wrote Snifter of Death, the sequel to Silk. Readers who had read my historical romances expected there to be more romance in my historical suspense. I did take notice and gave my protagonist, Detective Bloodstone a lady in his life.
Do you leave hidden messages in your books that only a few people will find?
I don't seek ways to include hidden messages. I understand GOT does this and I'm not adept at recognizing them in the show. I believe what you are shown in my characters is their true natures. Detective Bloodstone won the Victoria Cross (the English equivalent of the Medal of Honor). He never brags about it. To him, he doesn't think of himself as a hero. When asked, he just says he did what was necessary at the time. He's humble and honest and painfully astute. I like showing those qualities via his experiences and interactions with the other characters.
Can you tell us a little bit about the characters in The Bloodstone Series?
The Bloodstone Series is three books: Silk, Snifter of Death and Choosing Heart or Home. Rudyard Bloodstone, my Victorian detective in London is very candid and at times, blunt. That bluntness gets him in hot water at times. He's an excellent detective and good at seeing beyond the obvious, and recognizing the truth. He is the story's guide walking the fine line between the two extremes of London society at the time, the extreme poverty and the great wealth. Through him I try to show both those worlds, the beauty and the stark darkness.
His lady love, Honeysuckle Flowers is a music hall star. Actresses and female entertainers at the time had terrible reputations.
Honeysuckle is as fiercely independent as a woman could be given the environment. She's talented, clever, witty, and understands how she's perceived by some and handles her circumstance with aplomb. The support characters are from various walks of life and reflect the period. They are a cross-section of personalities. Some are funny, some nasty, others determined, and I love coloring Rudyard's world with them.
The last book I introduced Rudyard's brother, Will. I really like him as a character. He's strong-willed, a former Sergeant Major in the army and has that disciplined personality and he shares Rudyard's sense of humor. The brothers have a strong moral core and always strive to do what is honorable.
Can you tell us a little bit about your next books or what you have planned for the future?
I am currently writing book four in the Bloodstone series. Its working title is: A Venomous Love. Rudyard and his partner are working one of the most unusual robbery cases they've ever had. When the next robberies turn into a homicide and attempt homicide, the detectives must determine the motive for the sudden change in M.O. Nothing is as it appears.
Early last year I wrote a WW2 short story romance called Moonlight Serenade. I am considering doing another WW2 short story again. That's just a hazy thought in the back of my mind right now.
Choosing Heart or Home was a Christmas novella I wrote this past year and I might do another of those. That had Rudyard and Honeysuckle returning to Wales and his parents to celebrate the holidays.
Do you allow yourself a certain number of hours to write or do you write as long as the words come?
I will stretch it out until about the 5 hour mark, if the words are coming. But after that I quit and relax the rest of the evening to give my mind a break. I also want to share time with my husband who I tend to ignore when I am busy writing.
Do you have a certain number of words or pages you write per day?
No. Early on in my writing I tried to shoot for 5 pages a day. I usually failed and some days went more than that. I just give myself physical time limits now.
What inspires you to write?
Often it is a support character from one book that starts to stand out as I write and I realize how much I want to tell their story too. Sometimes, it is an event that I will use to bring the characters together. In my historical romances, there's a time travel element and all the knights were in the same big battle. In the Bloodstone Series, I am interested in the Victorian period and life in England then. As I am a retired police detective, I also have my own experiences to inspire aspects of Detective Bloodstone's world.
Would you rather
Read fiction or non-fiction?
Fiction (I do read non-fiction on a regular basis though for research)
Read series or stand-alone?
Series
Read Science fiction or horror?
I don't read much of either genre but the little I've read was mainly sci-fi
Read Stephen King or Dean Koontz
Dean Koontz
Read the book or watch the movie?
Both mainly. I love Bernard Cornwell's Saxon Tales series and really enjoy the Netflix production of the books. Same with Mike Connelly's Harry Bosch novels. Love them and the Amazon series. Game of Thrones, I just went with the show.
Read an ebook or paperback?
I do both but enjoy the tactile experience of turning the page of a real book.
Be trapped alone for one month in a library with no computer or a room with a computer and Wi-Fi only?
I'd take the computer and Wi-Fi as I figure I can still pull up historical info which will entertain me.
Do a cross-country book store tour or blog tour online?
Blog tour online as I feel I can reach more readers and have a better opportunity to chat with the blog's followers.
I was born and raised in Chicago. My father was a history professor and my mother was, and is, a voracious reader. I grew up with a love of history and books. My parents also love traveling, a passion they passed onto me. I wanted to see the places I read about, see the land and monuments from the time periods that fascinated me. I've had the good fortune to travel extensively throughout Europe, the Near East, and North Africa.
I am a retired police detective. I spent twenty-five years in law enforcement with two different agencies. My desire to write came in my early teens. After I retired, I decided to pursue that dream. I write three different series. My paranormal romance series is called, Knights in Time. My romantic thriller series is Dangerous Waters. The newest is The Bloodstone Series, which is historical suspense with romantic elements. Each series has different time periods, which I find fun to write.
I currently live in the Pacific Northwest with my husband and four wild and crazy rescue dogs.