Non Fiction / Self-Help / Motivational / Personal Development
Date Published:
19th of January 2020 (ebook) – Paperback
"A Truth About…" is a composition of 52 poems for nurturing your ever -growing soul. Exploring topic from mind, body and intuition to love, parenting and life goals, the book embraces the broad and wondrous spectrum of the human experience. Covering 52 keys areas of our life, this book provides one insight per week. A year of inspiring poetry.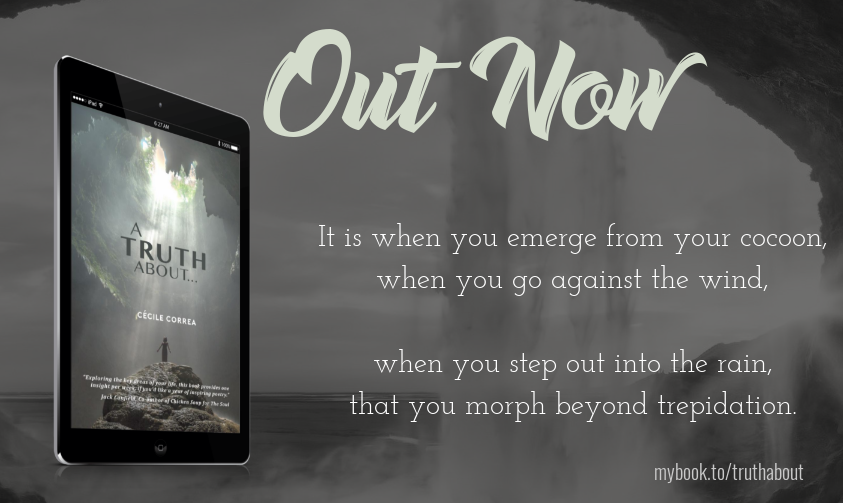 Interview with Cécile Correa
What was the hardest scene part from your book to write?
The most difficult part for me to write the book was the start of the book itself. Doubting your competences and thus doubting yourself make it hard for you to put your words down. So when I didn't feel inspired or doubtful I will always focus on my breathing for a few second until I feel a smile on my face and when it was easy and natural for me to smile then the content of the book simply would start to flow.
Why did you choose to write in your particular field or genre?
The reason why I had written my book was to empower myself and so I want my book to have on my readers, the same healing effect it had on my mind, spirit and soul. The search of happiness is found within us with the words we choose to think, feel and tell. So, my book somehow guides my readers to choose the right wording in order to achieve what they long for.
If you write in more than one genre, how do you balance them?
As for me, I don't think that at the present time I want to write anything else that self-help content. But if I were to write in any other genre, I would then make sure that I can still alight the message I want to convey to the world.
What did you enjoy most about writing this book?
What I love about writing my book, is that I would have some "A-ha moments". As sometimes as you write, it is like you are being channeled and your writing just flows. And when I would read what I have just written I would find for myself a solution or a new path to take, thanks to the content that has just been delivered. So even with your own words when you focus on finding the light in the darkness of a situation, you can find an optimistic and hopeful response to any matters.
What book that you have read has most influenced your life?
My favorite book is "The Prophet" by Khalil Gibran. This book has really impacted and influence my life and my book "A Truth About…". The Author of The Prophet alight specific areas of our life and explain how we should ponder on them and act upon them on a daily basis so we can manage this part of our life and get the best out of it.
Tell us a little about yourself? Perhaps something not many people know?
I have set myself a goal this year and it is to be on a raw food diet for a full year. I want to experience the benefits of eating fruits and vegetable only so my body can absorb all the enzymes and nutrients find in raw food. I have found some really yummy recipes, like raw pancakes, raw cheese and many more recipes that make it really easy to stick on this diet.
Can you tell us something about your book that is not in the summary?
The book is a discovery about oneself. It is about knowing that you can handle any negatives in many areas of your life. You only need to shift your focus on optimism in order to find the solution and the positive that can result from any situations. The solutions most of the time, can only be found when we look for it. Hope and belief that something better is possible is a light we can only switch on ourselves and follow with faith until we come out of the tunnel. The book help you find your path of happiness so you can enjoy this bliss that you deserve.