Short Story, Crime thriller & Romantic suspense
Date Published:
1st July 2020
Publisher: Happy London Press
He's gorgeous, cool and slick. Small wonder those wealthy American dames are falling over themselves to taste his flirtatious skills, just where it counts. Seduction is the name of his game, and he knows how to keep
a secret. Trouble is, our Gigolo is also a mischief maker, a man with a mission - to make a killing. So he's got a secret of his own. But, can he keep it that way?
Deliciously sensual, with a touch macabre, the opening tale, I am a gigolo contains ten startlingly original and provocative short stories, that you'll need to be brave to read at bedtime.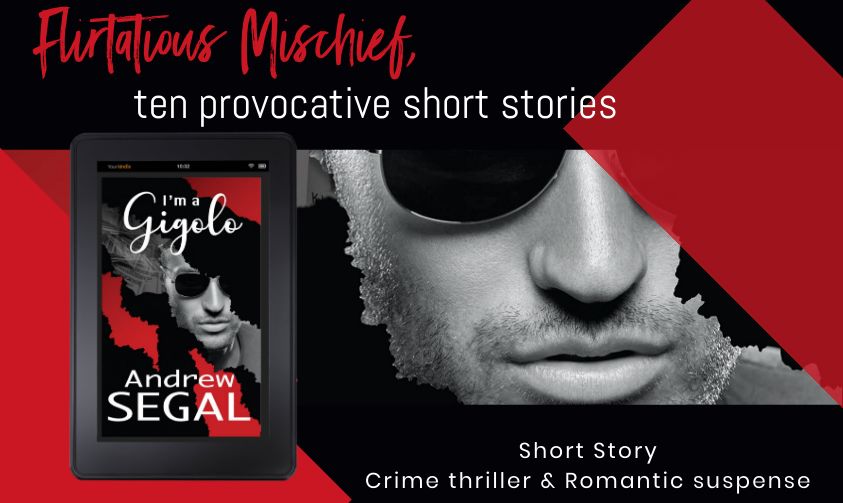 Interview with Andrew Segal
For those interested in exploring the subject or theme of your book, where should they start?
The theme of this book involves the unpredictability of people and events. It looks at the quirks, weaknesses and foibles of human nature and how individuals can behave in a manner entirely contrary to the general perceptions of whom and what they are or appear to be.
How did you become involved with the subject or theme of your book?
The subjects of the individual stories are all those that have presented themselves to me in one guise or another in my own experiences. The title story occured to me as a possible tale when I was in Cannes, many years ago and witnessed what appeared to be a lot of elderly men in expensive open cars being accompanied by striking young women, presumably not their daughters. There was a story here, and eventually I am a Gigolo saw the light of day. I explored the idea of a bet with the Devil in, The Devil's Game. Could he be beaten by a mere mortal? In The Knocking, the conflict and contrast of the interaction of humans and robots built to resemble humans, is looked at. Are Predators only found in the animal kingdom? Or do they live among us? Can a murder be conducted gently and over time without the victim being aware of what is happening? Endgame examines at that notion. Are we created in the image of our maker? In his own Image, harking back to the Old Testament, poses the question. For how long can the ghost of someone we've wronged come back to haunt us. We may find an answer through, Mrs Rosenfeld's Ghost. Death Zone Everest, explores the theme of survival against the odds. Endgame asks about the morality and practicality of marital fidelity. Beads of Blood takes a look at the theme of domestic abuse. The outcome in this and in all the stories should surprise the reader.
What were your goals and intentions in this book, and how well do you feel you achieved them?
My intentions in this book were to make my readers sit up and take note. I wanted to shock, to surprise, to amuse, to entertain and to make statements that I thought were both pertinent and would be appreciated and understood by all who picked up the volume.
Anything you would like to say to your readers and fans?
I hope you've enjoyed reading my quirky short stories. Do please feel free to make comments, good or bad. I'm always open to suggestions.
What did you enjoy most about writing this book?
I enjoyed the whole process of seeing an idea take wing and conclude in a manner that left me smiling. If it didn't work I would know when rereading a tale. In the case of a recently composed short story, whilst it said all I wanted to, in the end it hadn't worked as well as I wanted it to. It felt flat. I reread it several times, then the penny dropped. It merely required the addition of a single sentence to bring the whole thing together. People I asked to read it gave it a big thumbs up. Like a recipe for a delicious dish, you know it works if it tastes right.
Can you tell us a little bit about your next books or what you have planned for the future?
The planned follow up is another book of ten short stories to be called, I am a Contract Killer. Some years ago I found myself having unwittingly given a ride to just such a person. I was pretty shocked at the time when he explained his professional credentials to me, but later wondered if there was short story to be had, with me in the title role. Those who've read it say they'd never realised that one could actually feel sympathy for precisely that kind of an individual.
A further book of ten short stories is planned, to be entitled, Minor Aberrations, which some might say is an apt description of my brief tales.
A fourth book of ten, to be entitled, Promenade of Mirrors is also planned. All the stories for the four books in the set have already been written.
How long have you been writing?
I have been writing for about thirty years. Having never written anything before, an idea for a short story occured to me around about the time I met my wife, an avid reader, and she suggested I give it a go. The result went down well with her and also my daughter. As a result I joined a writers group and found my particular brand of writing very much in favour. To get a story just right can take many attempts. That first tale I wrote, about the relationship of a somewhat timid, single man and his pet cat had absolutely the wrong title. Several years later the correct title presented itself, and Cat and Mouse was the result. Other short stories followed, and then my first attempt at a full blown novel. The Hamilton Conspiracy, a thriller based in Hamilton, Bermuda, London, Paris, New York and Mauritius was published by American online publishers, was well received and recently reissued by my present publishers, Happy London Press. The Lyme Regis Murders, my first crime thriller, has had excellent reviews on both Amazon and Goodreads. A follow up, now completed, with the same principal players, The Black Candle Killings, is waiting in the wings. I'm about halfway through a third book in the series.
Can you tell us a little bit about the characters in, 'I'm a Gigolo.'
The character in the title story, I'm a Gigolo, is an apparently self assured man, a cynic who, believing he is Heaven's gift to the opposite sex, assumes no-one has recognised his major personal problem. He's both weak, and at the same time a man who covers his specific issues with self delusion. It works for him. Up to a point. In the end he is a relatively successful but utterly deluded fool.
In The Devil's Game, the principal character, a suave neat bearded gentleman called Bryce, a successful professional gambler, believes he can outwit the Devil in a wager involving his putting his own life on the line as the prize.
The Knocking has dear, harmless Granny Pickles, loved by all, but possibly not as harmless as we thought. She doesn't understand anything about lifelike robots built with artificial intelligence so that they can't be distinguished from real people. At least, we don't think she can.
Predators features a number of characters, including a brash, brutal businessman who believes a macho approach in business will always win the day, an inadequate big game hunter, out to impress his girlfriend, a cheetah struggling to feed her young and a gentle, quiet businessman who is nobody's fool. A man who believes you win by planning and stealth, not by force.
Killing me softly introduces a couple of friends enjoying a chat, while the husband of the hostess, unwell and upstairs in bed, is being quietly murdered by his bored wife.
In HIs Own Image, is a tale based upon the times of real life killer, Archie Clement, who, at just five feet tall and twenty years of age, rode with a bunch of outlaws headed by the murderous Bloody Bill Anderson in the latter part of the nineteenth century, and which gang included the notorious Frank and Jesse James. I've dramatised the actual events, places, people, final shoot-out and sequel. The end has been described to me by readers as, 'Metaphysical.'
Mrs Rosenfeld's Ghost, reminds me of an elderly neighbour who's life was plagued by loud music my brother and I played, oblivious to the disturbance we were creating. She came back, I suspect, to haunt me, after her death, for years afterwards.
Death Zone - Everest, is a tongue in cheek look a what happens if a climber gets into difficulties at twenty-six thousand feet or higher, and is unable to assist the rescuers in his party. The protocol on that mountain, is to leave the failing climber rather putting the lives of the others in jeopardy. The main character is not one to give up all that easily.
Endgame, dwells on the subject of infidelity. Statistically, it is reckoned, one in ten children born into an ongoing relationship, has been fathered by someone other than the male in that household. What happens next, if and when the man realises that not all, (perhaps not any?) of the children are his, is food for this little drama.
Finally, Beads of Blood, is based upon the theme of domestic violence. In eighty percent of cases, that's four out of five, the aggressor is male. In one case in five the dominant character is the female. Levels of aggression and methods of retribution can be entirely unpredictable.
If you could spend the day with one of the characters from 'I'm a Gigolo,' who would it be? Please tell us why you chose this particular character, where you would go and what you would do.
Roulette, sometimes called, The Devil's Game. If I were to choose one of the characters in my book, I'm a Gigolo, with whom to spend the day, it would to have be the professional gambler, Bryce, from The Devil's Game. He is a successful man who like all professionals of his ilk doesn't take reckless chances. But, I was once told by a similar career gambler, the credo of the betting person is, keep betting if you're losing, you've got to wait until your luck turns. But then, keep playing if you're winning; you must capitalize on your winning streak. For many amateurs the result is that they play until they've lost everything. However, even the level headed professional will occasionally go out on a limb, betting against the odds, betting against the obvious. In1987, the multi-millionaire financier, Sir James Goldsmith, advised by six independent investment analysts to massively increase his portfolio of stocks and shares in what was a rapidly rising bull market, ignored them all and going on his own gut feeling, sold everything, just before the stock market crash. Having got out, barely in time, and against all further advice, in a crippled economy, he bought everything back, just before the market recovered. The gamble made him into a billionaire.
I'd like to accompany Bryce on some of his forays to the tables to see, if possible, just how his mind works, what his thinking comprises and at close quarters, how cool, in fact, is he? I'm not a gambler, at least not where casinos are concerned, but I have my own ideas about what a bet with the Devil would consist of. Because much of Bryce's big wins are care of the Devil who has come to him in a series of dreams giving him hints on how and what to bet on, he's begun to believe the Devil might be on his side in this, a single matter requiring vast funds for his son's medical treatment. And so, perhaps lulled into a false sense of security Bryce's agrees to a final bet with the Devil, that we all have to die someday. If the Devil can show Bryce he can bring him back from the jaws of death, when he appears to have died, does that mean Bryce has won his bet, or has he lost? If I were with Bryce, and knew what he was about to commit to I would be moved to advise him And the advice would be simple. DON'T.
About the Author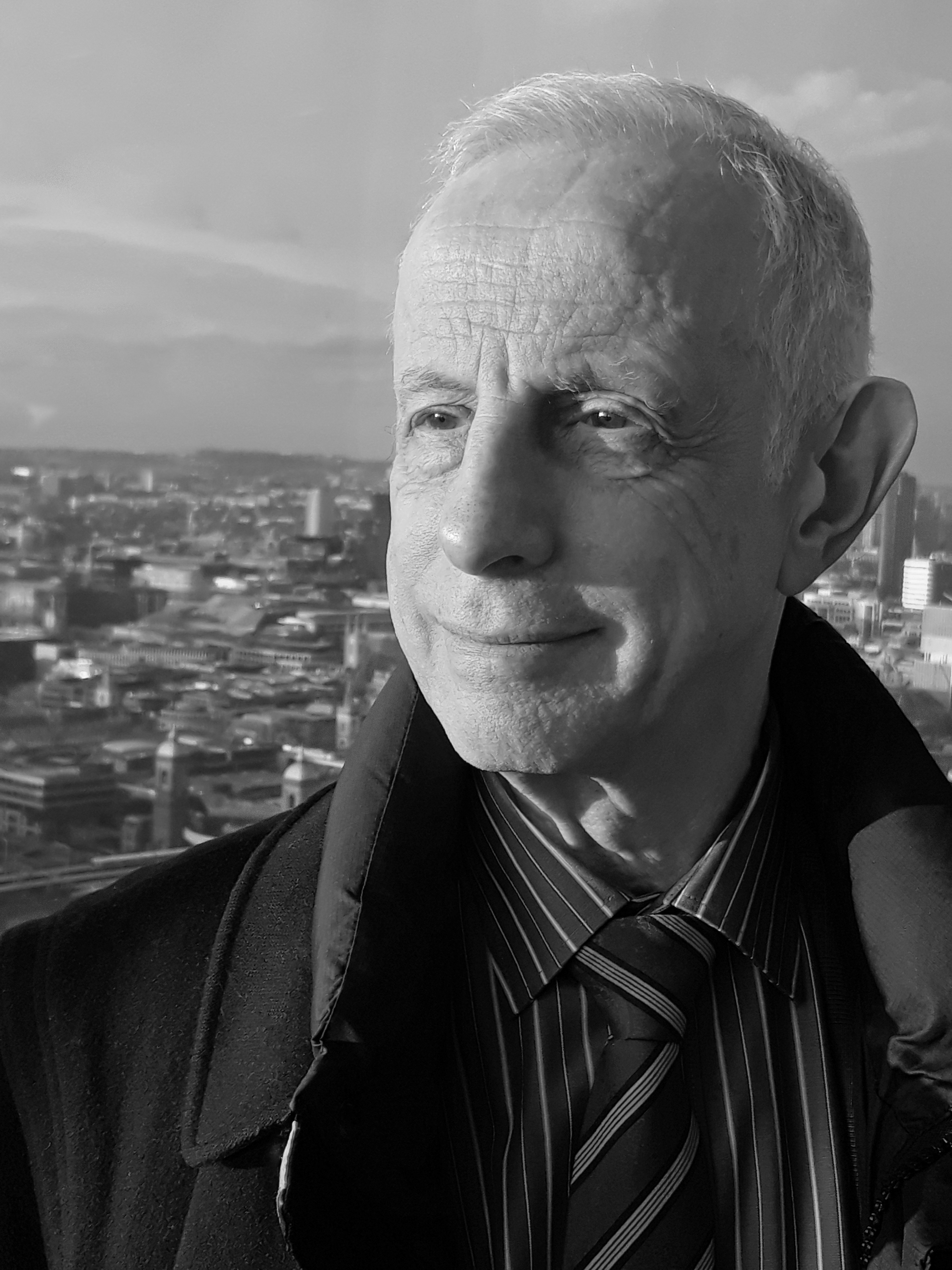 My inspirations have come from real people, events or situations that have presented themselves. Titles like, I am a Contract Killer, I am a Gigolo, Death Zone, License to Kill, are all based on my own lifetime experiences, questions asked, incidents occurring.
Let me be reassuring, thus-far, nobody has been murdered on my watch. But the notion gave rise to the impetus to write my first murder mystery, The Lyme Regis Murders. Could I make the jump after years of writing macabre short stories to a full length drama? That familiar beating in the gut, said, 'Yes, try it. Give it a go.'
And so to that cosy coastal town where nothing untoward ever happens. Or perhaps it does. The author seeks to shatter notions, change people's perceptions, spoil long held views. That was my intention in entering into the world of crime thrillers. I've found that 'nice' people are not always what they seem. The helpless can be transformed into the most dangerous, the most dangerous become the most harmless. It's all up to the writer and what they're hoping to achieve.
For me there have been 10 children's books, 4 books of short stories and so far, three novels, with a fourth in the mixer.
Whilst a short story might be written with a flurry of adrenalin in the space of a few hours, a book will need more than just a flash of creativity. It will need perseverance, discipline and dogged determination.
But then, isn't that what is required of every ambition?