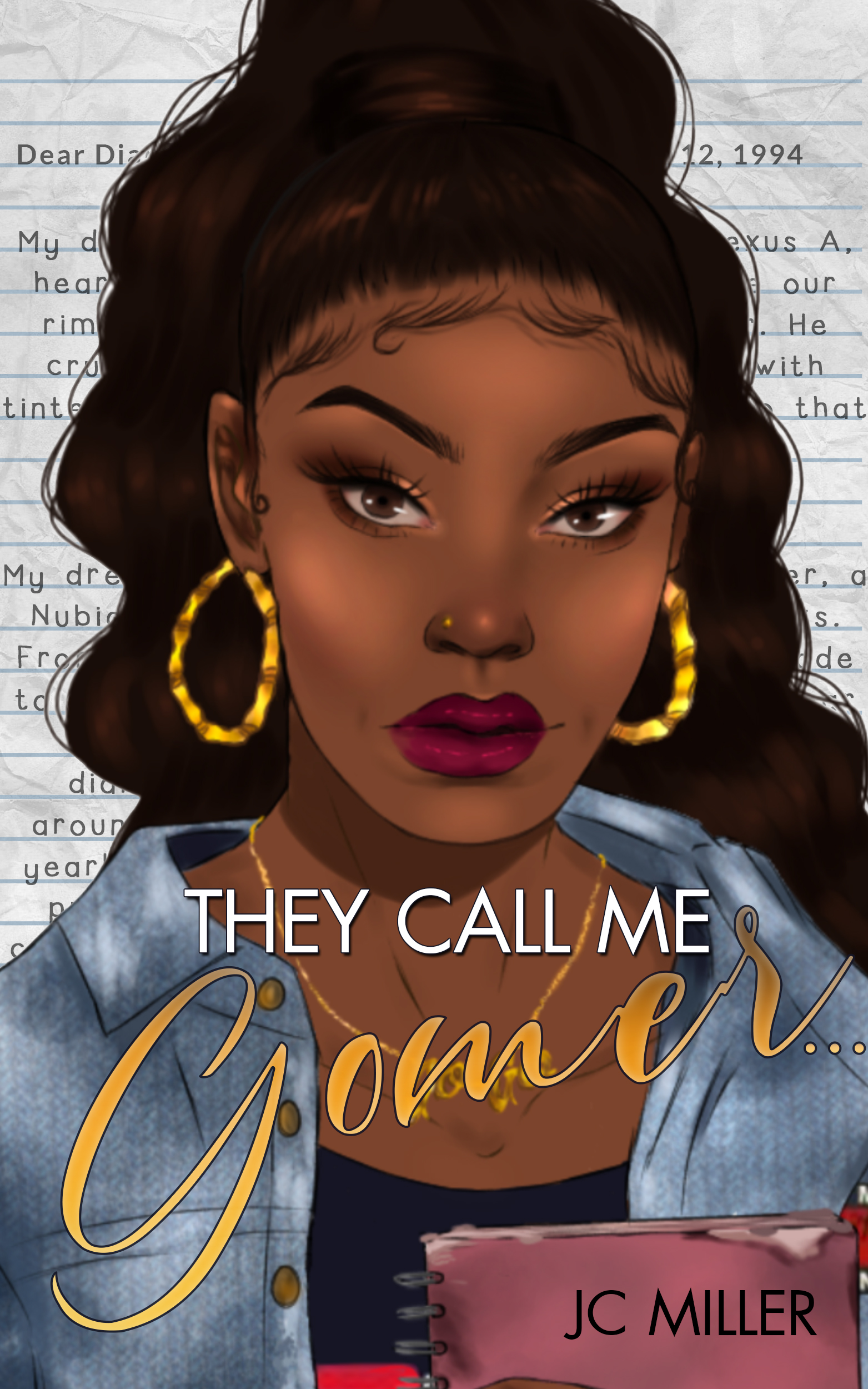 NA Urban Christian Fiction
Date Published: Release day Nov. 5th 2020
Publisher: Jess, Mo' Books LLC
"Dear Diary, On September 3, 1982, two things happened that I'll never forget: I acquired an older sister, and I fell in real love. But tell me, what does an eight-year-old know about love?"
For nearly a decade, Hosea Felix and Gomer Williams were inseparable. She loved him from the moment she laid eyes on him. Their friendship was iron-clad until temptation rocked Gomer to her core. Somewhere along the way, she fell for another guy and traded young love for instant pleasure. Not only is Jeri Cole fine—he is a bonafide gangsta, unattainable, and off-limits. Jeri was all Gomer could think about, and the only thing she thought she wanted. Despite her big sister already laying claim to him, not much could stop Gomer from clawing at the possibility of love and diva status. Getting with Jeri felt right...but at what cost?
Gomer never backed down. She is the original bad girl—ratchet, bougie, and insatiable. Feel like you wanna dislike her? Well, get in line.
They Call me Gomer… JC Miller's sophomore spin-off novel enthralls readers with a deeply woven, emotionally heart-tugging take on the Book of Hosea. By examining rape culture, drug addiction, family secrets, and the vulnerabilities of young Black girls in pursuit of fortune and fame, this contemporary tale gives those in search of a good dra-mance all the feelings!
She will chase after her lovers but not catch them; she will look for them but not find them. Then she will say, "I will go back to my husband as at first, for then I was better off than now.
Hosea 2:7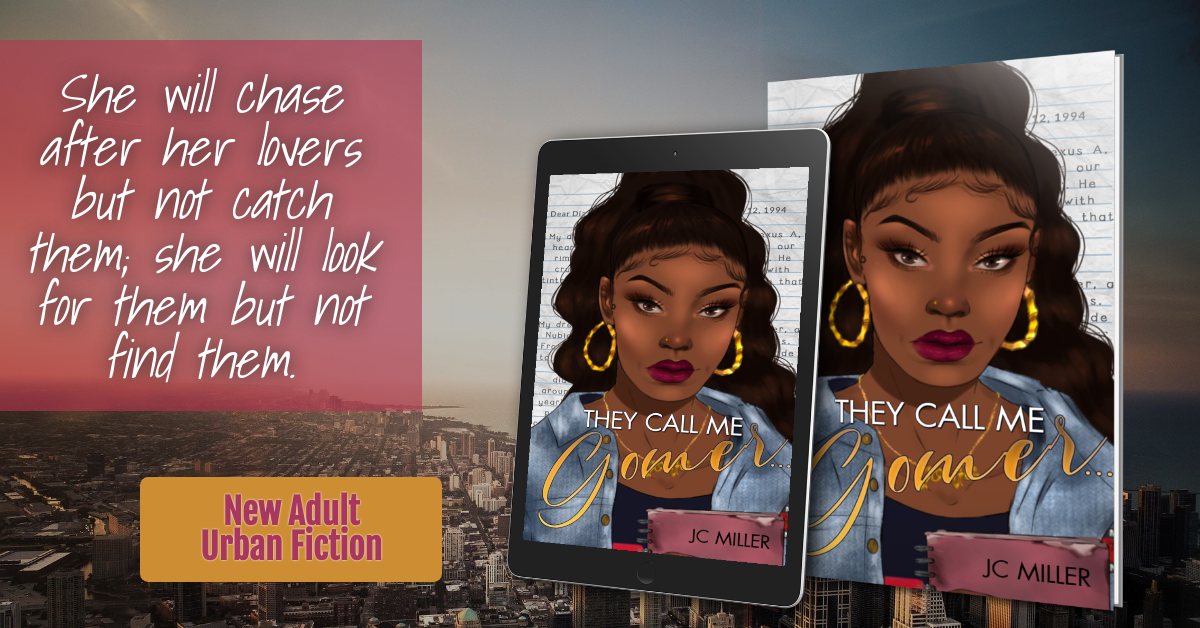 Interview with JC Miller
For
those interested in exploring the subject or theme of your book,
where should they start?
The Bible would be a great place to start exploring the characters and subjects in my books. All of my stories bring unsung biblical heroines into modern-day relationships and pit them against age-old problems.
How did you become involved with the subject or theme of your book?
I got involved with the theme of modernizing biblical accounts through bible study. In helping with my understanding of the bible, I envision how each person's situation would look like today. I also imagine the backstories that affect and build the characters.
What were your goals and intentions in this book, and how well do you feel you achieved them?
In this book, my goals and intentions are to help others see that everyone's walk is different-- yet remarkably the same. We all fall short of God's glorious standard, and He faithfully pursues us.
Anything you would like to say to your readers and fans?
Thank you for your continued support. I appreciate you. Please read my latest title with an open mind. The heart of the story is the same, although the characters reflect a modernized culture of broken people.
What did you enjoy most about writing this book?
Discovering the story as my spirit relates it. I'm one of those people who writes by the seat of my pants. I know what I want to write about, but the story unfolds itself. That always gives me a terrific rush. I ooh and ahh right along with everyone else.
Can you tell us a little bit about your next books or what you have planned for the future?
Currently, I am working on a modernized spin on the story of Mary Magdalene. Sex worker, saint, sinner, witness, wife, and entrepreneur, Magdalene had an extraordinary life. She also suffered from mental health issues, which I would like to explore in the upcoming novel--the stigma attached to mental illness and why women suffer in silence.
How long have you been writing?
I started writing in elementary school. I was one of those kids who folded or stapled sheets of paper together to form a book and wrote stories, along with detailed pictures, to give to anyone who would read them.
Can you tell us a little bit about the characters in They Call Me Gomer...?
Each character has a story within themself and portrays a biblical person and their account. The main character, Gomer, was developed from my first series, I Am Rahab: A Novel, where she was Rahab's precocious little sister. Both characters are biblical era prostitutes and carry all the drama of the said lifestyle. There are minor but significant supporting characters like Puah, Lydia, Silas, and Mary, who also maintain their biblical accounts in a modern-day format that expresses rich and subtle meanings.
If you could spend the day with one of the characters from They Call Me Gomer... who would it be? Please tell us why you chose this particular character, where you would go, and what you would do.
If I could spend the day with a character from the book, They Call me Gomer… I would pick young Rahab. We would revisit her childhood in Louisiana. It was a time of innocence where she was safe under her grandmother's care. Big Mama would cook delicious food for us, and we would run and play by the lake with her best friend Salmone--fishing. We would sleep under the stars, and I would try my best to convince her to believe in herself, her strength, and her God-given talents.
JC Miller lives in the scenic Pocono Mountains of Pennsylvania with her husband, children, and floppy-eared Bassador pup.
Raised by a single-mother in the Bronx, JC pulls from early experiences to showcase the soul of the ghetto through faith-based novels. She also dedicates much of her time uplifting women via her blog and creating content with partner MR Spain, through their publishing company, Jess, Mo' Books LLC.
On her days off, you can find JC whipping up her famous Red Velvet Cake and listening to songs from her impressive vinyl record collection.
Contact Links
Purchase Link