A Proven Leadership Playbook for Continuous Business Success
Non-fiction, Business Leadership, Corporate Marketing, Careers
Date Published: November 10, 2020
Publisher: Elite Online Publishing
As a leader, you don't know everything . . . and you never will.
As you level-up in your leadership trajectory, you're going to have to release some old stuff, even if you think that old stuff is what got you to where you are. Every new leadership opportunity you face—whether leading a new company or department, starting your own enterprise, or flexing your leadership muscles—is a chance to grow as a leader and as a human being.
This book outlines a world-class approach to leading a business, any business, to exceptional and sustained success. These are the same principles that we have used at the Houston Texans since inception, for more than twenty years. Through trial, error, and adjustment, these guiding principles have helped us deliver breakthrough financial results for our partners, a rewarding workplace experience for our teammates, tremendous customer loyalty, and a reputation as a committed caretaker of our community.
What you'll learn is that challenges are to be welcomed; they are the impetus for change, learning, and growth. But you must learn from the challenges. Follow the guidelines in this playbook and you'll have a reliable set of resources to meet each challenge head on.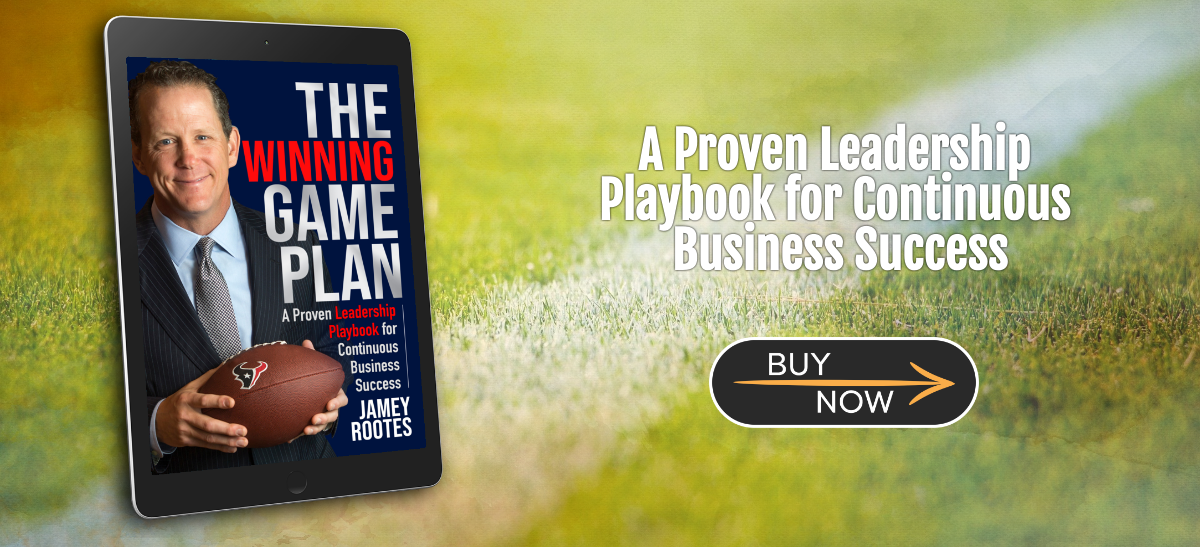 Interview with Jamey Rootes
What was the hardest scene from your book to write?

The story of moving my mom which coincided with the death of my hero Bob McNair.
Why did you choose to write in your particular field or genre?

I just wrote about my experiences.
What did you enjoy most about writing this book?

During COVID, it was cathartic to take a walk down memory lane.
What book that you have read has most influenced your life?

It is a tie between Man's search for Meaning by Viktor Frankl and The Road Less Traveled by M. Scott Peck.
Tell us a little about yourself? Perhaps something not many people know?

I am pretty public figure, so most folks know most folks know most things about me, but as an avid public speaker, most folks don't know that I still get nervous every single time.
Can you tell us something about your book that is not in the summary?

The proceeds benefit the Houston Texans Foundation. The rationale for writing it now (I always wanted to write a book, but never did) was a question from the EVP of the Atlanta Falcons- "Given your modest on field success, how have you guys been at the top of the charts from a business perspective?" This book is an attempt to answer that questions.
About the Author
Under Rootes' Management, the Texans extended their sellout game streak to 185 consecutive home games – a Houston NFL record. A testament to his development and dedication to the team's highly acclaimed customer service strategy and fan experience on game day.
Rootes' hands-on approach to all business functions of the club, including securing stadium-naming rights and sponsorship, coordinated radio and TV broadcasting relationships, engineered the club's successful ticket and suite sales campaigns, led the creation and launch of the team's identity.
During Rootes tenure, the Texans have earned many distinctions, including numerous "Crystal Awards" and most recently two American Business Awards for marketing excellence. J.D. Power & Associates recognized the team for providing the best fan experience in the NFL and even featured the Texans as a service success story in their book entitled "Satisfaction." The Texans were also recognized with Sports Business Journal's PRISM Award, which is given annually to the top major professional sports team based on business excellence criteria.
He also serves as President of Lone Star Sports & Entertainment (LSSE), a sports management agency associated with the Texans. LSSE has been a catalyst for some of Houston's most significant sporting events. LSSE created and now manages the Texas Bowl, Houston's annual college football bowl game, as well as the Texas Kickoff, an annual college football game. In addition to college football games, Rootes also oversees the production of many soccer games put on by LSSE such as COPA America in 2016, the Manchester Derby in 2017 and an International Champions Cup match between Real Madrid and Bayern Munich in 2019.
Rootes has been one of Houston's leading executives for more than two decades. Sports Business Journal twice selected Rootes as a member of its distinguished "Forty Under 40" list of leading sports executives, and in 2014 Rootes was named a finalist for Executive of the Year by the Stadium Business Awards. In 2019, Rootes was selected as one of Houston Business Journal's Most Admired CEOs and was selected in 2016 as the first-ever Houston Business Journal's Business Person of the Year after serving as chairman of the Greater Houston Partnership. Rootes served on the Super Bowl Host Committees in 2004 and 2017 and was also appointed deputy chairman of two public boards for Super Bowl LI. Rootes led the efforts in securing the Texans appearance on Monday Night Football in Mexico for the first time in NFL history and elevated Houston's visibility on an international scale.
Rootes maintains an active role in the community by serving on the Board of Directors of the Greater Houston Partnership and the United Way of Greater Houston. He also oversees the activities of the Houston Texans Foundation, whose mission is to be "Champions for Youth," which has donated more than $35 million since its inception in 2002 through annual fundraising events, disaster response programs, the team's United Way campaign and partnerships with nonprofit organizations on gameday.
Rootes has consistently been at the forefront of disaster recovery, most recently in response to COVID-19. Rootes is co-chairing the Greater Houston COVID-19 Recovery Fund, a first-ever partnership between the United Way of Greater Houston and the Greater Houston Community Foundation. The fund has raised over $14 million to support the most vulnerable families and individuals in the community. In 2017 following the devastation of Hurricane Harvey, Rootes worked with the league office, NFL teams, the United Way and others to raise funds for those affected by the storm. In total, all NFL-related entities donated over $50 million for Hurricane Harvey relief and recovery along the Texas Gulf Coast.
Prior to joining the Texans, Rootes helped to launch Major League Soccer as the president and general manager of the Columbus Crew. During his tenure, the Crew was consistently among the league's strongest teams both on and off the field, and Rootes was recognized as MLS's Executive of the Year in 1996 and Marketing Executive of the Year in 1999. Rootes helped lead the construction of Crew Stadium in 1999, which was the first stadium of its type in the United States. This facility earned distinction as America's Foremost Sports Facility of the Year and led to the development of numerous soccer-specific stadiums across the United States over the past decade, including BBVA Compass Stadium in Houston.
A native of Stone Mountain, GA, Rootes graduated Cum Laude from Clemson University's Calhoun Honors College. While attending Clemson, Rootes was a member of the Tigers' soccer team that captured two NCAA titles and he served as Student Body President. While earning a Master's of Business Administration (MBA) with honors at Indiana University, he served as an assistant soccer coach for the Hoosiers. Rootes previously held positions at IBM and Procter & Gamble before entering sports. He lives in West University with his wife, Melissa, and their children, Chris and Caroline.
Follow Jamey Rootes at:
www.linkedin.com/in/jameyrootes
Contact Links
Purchase Link