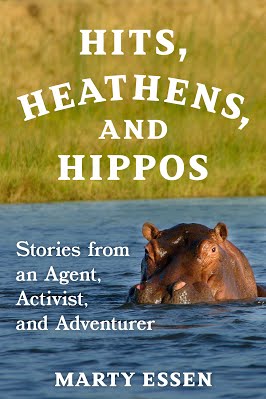 Stories from an Agent, Activist, and Adventurer
Memoir, humor, nature, music business
Date Published: February 28, 2021
Publisher: Encante Press, LLC
Be inspired, intrigued, and entertained!
Everyone has dreams of what they want to accomplish in life. Marty Essen's childhood dream of becoming a herpetologist gave way to his dream of becoming a popular DJ, which led to his dream of becoming a big-time talent manager, which morphed into the dream of becoming an in-demand author and college speaker. While he achieved most of his dreams at various levels, he also realized that he didn't necessarily have to reach the top to find success or happiness. Sometimes "almost" is close enough.
Hits, Heathens, and Hippos: Stories from an Agent, Activist, and Adventurer is a humorous and inspirational memoir that explores relationships and careers and how seemingly minor events can lead to life-changing results. Compelling stories have filled Marty's life, and he tells those stories in a conversational style that combines his talents as an award-winning author with his talents as the creator of a one-man stage show that he has performed at hundreds of colleges across the United States.
This is a must-read for anyone faced with an unexpected career change, worried about finding and keeping the partner of their dreams, forced to take on bullies (whether individual, political, or corporate), eager for ideas to make life more satisfying, or just in search of a fun-filled adventure.
REVIEWS
"A thoroughly absorbing and inherently fascinating account of a most unusual life lived out in a series of equally unusual circumstances."—Midwest Book Review
"With thought-provoking explorations into making peace with family members who adhere to differing religious values, tales of his time as a talent agent, and escapades with gigantic rainforest monitor lizards—there is much to enjoy in Marty Essen's memoir Hits, Heathens, and Hippos: Stories from an Agent, Activist, and Adventurer."—a 4/5 starred IndieReader-Approved title, reviewed by C.S. Holmes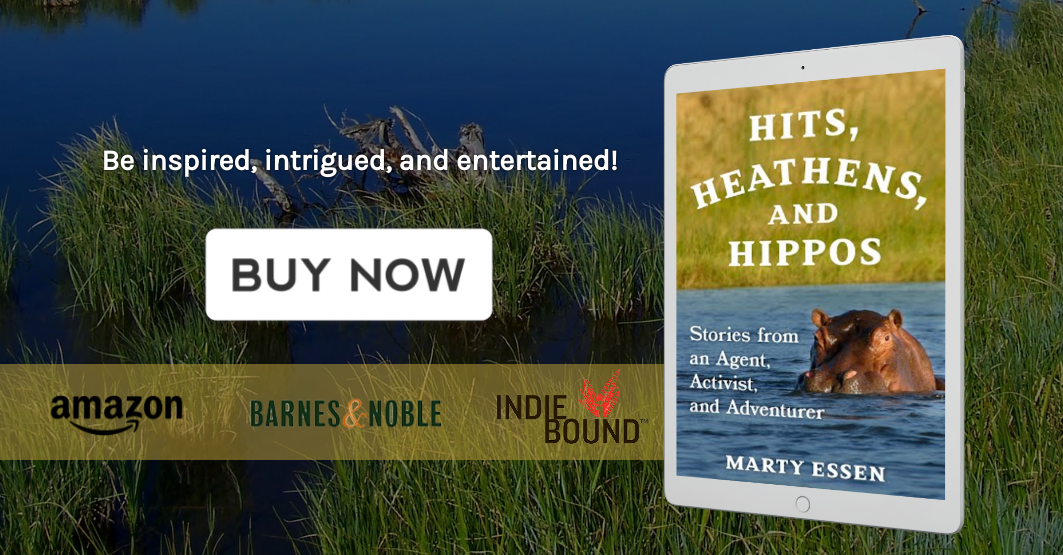 Interview with Marty Essen
What was the hardest scene from your book to write?

There are multiple scenes in the book that deal with my relationship with my father and his incessant pushing of his version of Christianity on me. I found it difficult to balance the destructiveness of his verbal abuse with the fact that he genuinely meant well.
Why did you choose to write in your particular field or genre?

I'm not the kind of writer who writes to the market. All six of my books have the liberal political theme of protecting the environment and human rights. I couldn't write unless I felt I was doing my part to make the world a better place—and encouraging others to do so as well.
If you write in more than one genre, how do you balance them?

I have written six books: three nonfiction and three fiction. I don't actually try to balance them. I just write the book that is ready to come out at that particular time.
What did you enjoy most about writing this book?

Since this is the story of my life as an agent, activist, and adventurer, I especially enjoyed all the memories that came rushing back as I wrote it.
What book that you have read has most influenced your life?

Running the Amazon by Joe Kane. It was that book that inspired me to visit the Amazon Rainforest and also inspired me to write about adventures in nature.
Tell us a little about yourself? Perhaps something not many people know?

I may be the only person on earth who has survived both a hippo attack (the hippo bit through my canoe and lifted me six feet into the air) and been stung by the world's most venomous insect. I was also Minnesota's youngest disc jockey and youngest talent agent.
Can you tell us something about your book that is not in the summary?

One chapter I think everyone will especially enjoy is my "Blood and Dogs" chapter, because I tell stories of the various rescue dogs I've had in my life—both the very good and the hilariously misbehaved.
About the Author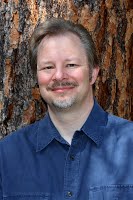 Marty Essen began writing professionally in the 1990s as a features writer for Gig Magazine. His first book, Cool Creatures, Hot Planet: Exploring the Seven Continents, won six national awards, and the Minneapolis Star-Tribune named it a "Top Ten Green Book." His second book, Endangered Edens: Exploring the Arctic National Wildlife Refuge, Costa Rica, the Everglades, and Puerto Rico, won four national awards. His novels, Time Is Irreverent, Time Is Irreverent 2: Jesus Christ, Not Again! and Time Is Irreverent 3: Gone for 16 Seconds are all Amazon #1 Best-Sellers in Political Humor. Hits, Heathens, and Hippos is Marty's sixth book, and like all of his books, it reflects his values of protecting human rights and the environment--and does so with a wry sense of humor. Marty is also a popular college speaker, who has performed the stage-show version of Cool Creatures, Hot Planet on hundreds of campuses in forty-five states.
Contact Links
Twitter @MartyEssen
Purchase Links