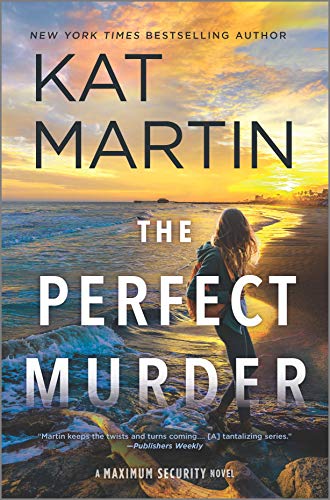 The Maximum Security Series, Book 4
Romantic Suspense
Publisher: HQN
Date Published: Jun 22, 2021
The eldest of the three wealthy Garrett brothers, Reese Garrett is in the middle of a major purchase for his multimillion-dollar oil and gas company, Garrett Resources. The Poseidon offshore drilling platform venture will greatly enhance the company's value.
But when Reese is on a trip out to see the rig, his helicopter crashes, leaving him hospitalized and two men dead. It's discovered the chopper was sabotaged, and Reese is determined to find out who's behind the crash—and whether he was the intended target. Then, when his lover, Kenzie, is accused of her ex-husband's murder—a man with a vested interest in the Poseidon deal—clues start pointing to a connection that puts Reese, Kenzie and her young son in the sights of a killer.
From the Texas heat to the Louisiana bayous, Reese and his brothers must track down the truth before the body count gets any higher.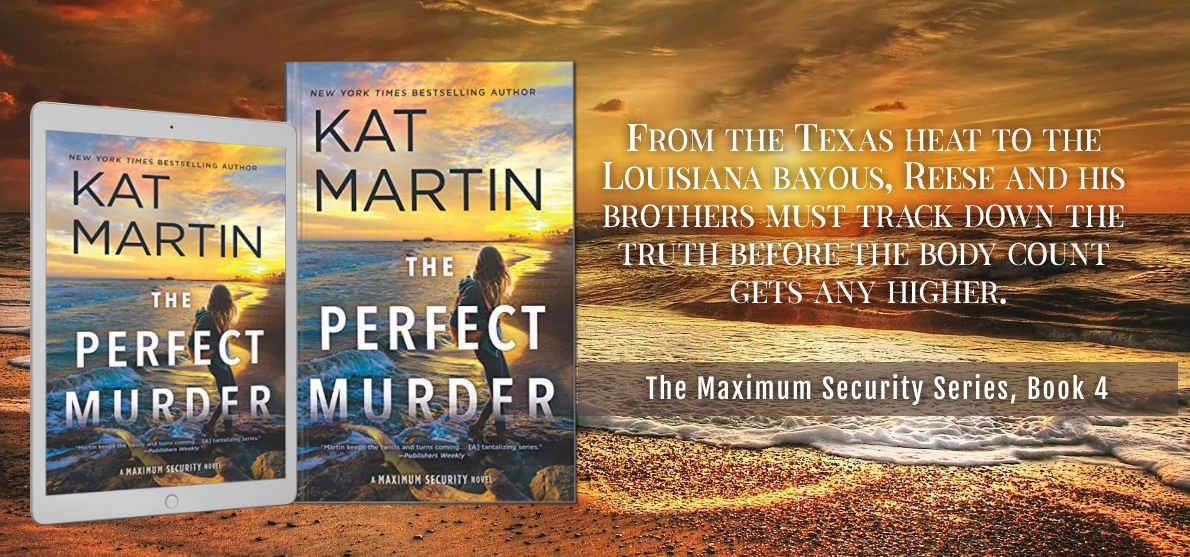 Interview with Kat Martin
For those interested in exploring the subject or theme of your book, where should they start?

The first page. I try to capture the reader from page one and keep him reading till the last page.
How did you become involved with the subject or theme of your book?

My Maximum Security series is based around 3 brothers. Reese Garrett, the 3rd brother, needed his own story. As CEO of Garrett Resources, a billion dollar oil and gas corporation, the plot needed to revolve around that industry. The danger involved in that business provided a great background for a Romantic Thriller.
What were your goals and intentions in this book, and how well do you feel you achieved them?

It is always my goal to write a novel that keeps people turning the pages until the very end. The action and suspense in this are high enough I feel I've achieved that goal.
Anything you would like to say to your readers and fans?

Thanks for your many years of support. I hope you like The Perfect Murder and if you haven't read the other books in my Maximum Security series, I hope you will look for them.



What did you enjoy most about writing this book?

This book was a challenge, which made it more work than fun. The enjoyment comes when readers are pleased with the book. Then all the hard work is worthwhile.
Can you tell us a little bit about your next books or what you have planned for the future?

Next up for me is a new series called Blood Ties. It begins with the Logan brothers, Kade, Gage, and Edge. The first book, The Last Goodnight, is set on the Logan ranch, 19,000 acres in Colorado. It revolves around the cold case murder of Kade's wife and the female detective who helps him solve it.
How long have you been writing?

Over 30 years. I've written more than 75 novels and I'm published in 20 foreign countries.




Can you tell us a little bit about the characters in The Perfect Murder?

Reese Garrett is a man who carries the weight of the world on his shoulders. He's CEO of a huge corporation, which gives him very little time for himself. McKenzie Haines is his recently hired executive assistant, a woman he highly respects and admires. Though he is attracted to Kenzie, Reese must ignore the attraction in order to maintain his professionalism. Kenzie, a single mother raising a 9 year-old son, needs the high-paying job so she too must ignore the attraction. How they resolve the problem under the stress of a murder investigation, makes for two interesting characters.
If you could spend the day with one of the characters from The Perfect Murder who would it be? Please tell us why you chose this particular character, where you would go and what you would do.

Since, like most women, I like handsome, smart, sophisticated men, I would spend the day with Reese. He could fly us from his Dallas office to Paris on the company jet for a romantic weekend. We might have to dodge a few bullets, but the price would be worth it.
About the Author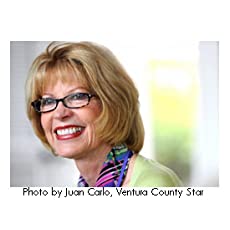 New York Times bestselling author Kat Martin is a graduate of the University of California at Santa Barbara where she majored in Anthropology and also studied History. Currently residing in Missoula, Montana with her Western-author husband, L. J. Martin, Kat has written sixty-five Historical and Contemporary Romantic Suspense novels. More than sixteen million copies of her books are in print and she has been published in twenty foreign countries. Kat is currently at work on her next Romantic Suspense.
Contact Links
Purchase Links