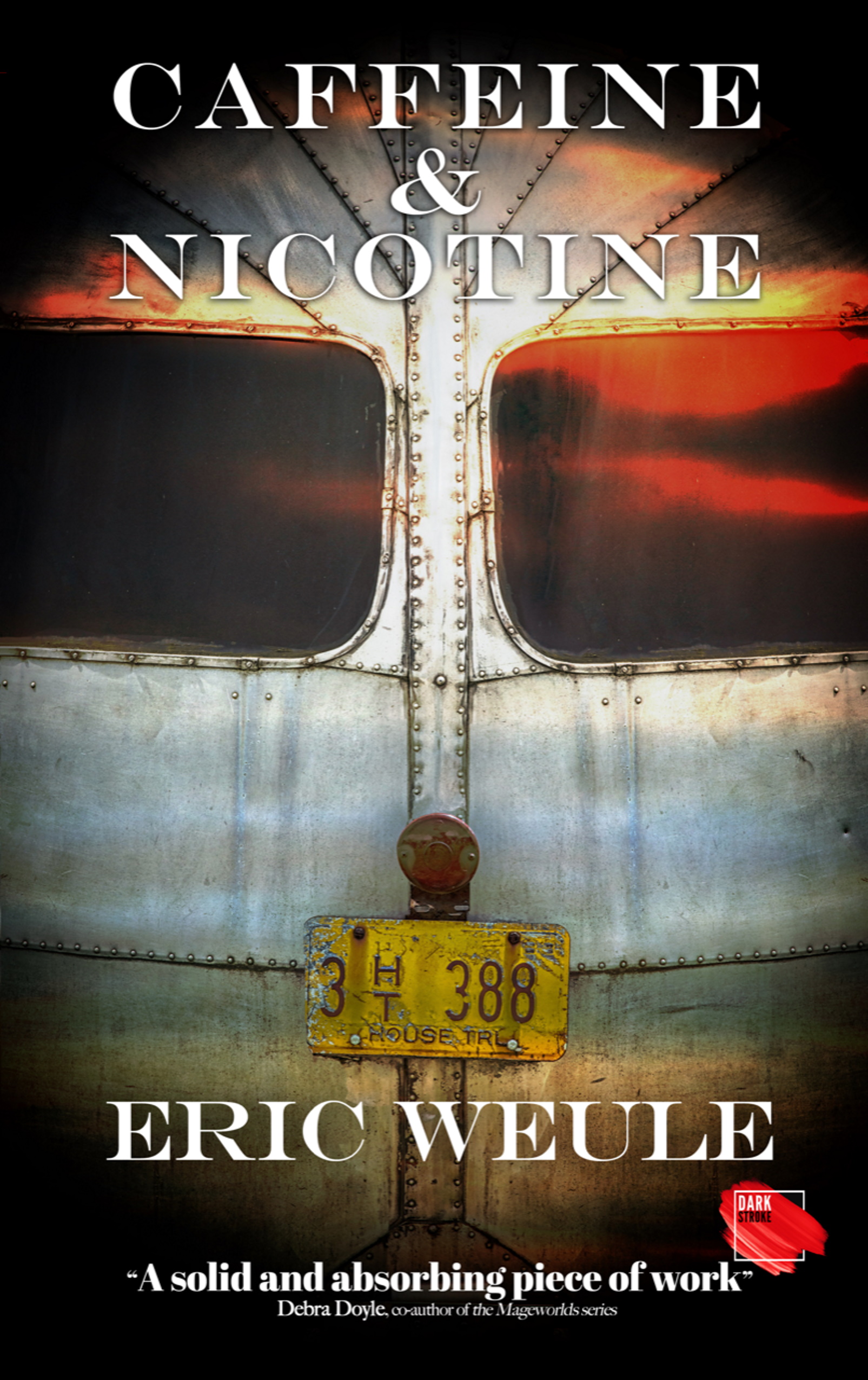 Mystery/Supernatural
Date Published: 11/10/2020
Publisher: Darkstroke
Kelly Jenks knows the dead boy is going to show him something awful. Jonathan is seven. He never wears shoes, and his feet are always clean. He cruises between this world and the next in a 1967 Cougar XR7. Jonathan has a message for Kelly: There is a faceless man preying on the city's homeless.
Jackie Carmichael hires Kelly to find an employee who has vanished. The case appears simple at first, but Kelly soon discovers that the missing girl is not who she seems. As Kelly attempts to separate the facts from the lies, Jonathan brings him another message: Jackie Carmichael is hiding something.
With the beaches, mansions, and dive bars of Orange County, CA as the backdrop, Caffeine & Nicotine is a dark and brutal look at what happens when the dead pass sentence.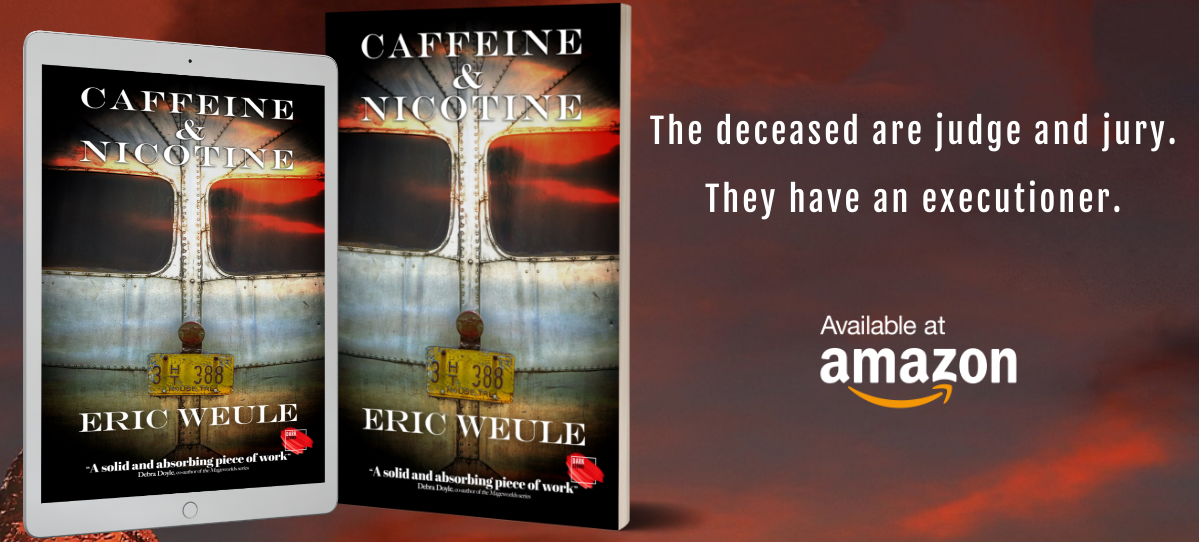 Interview with Eric Weule
For those interested in exploring the subject or theme of your book, where should they start?

I never set out to write a book about a particular subject or theme. One thing I've learned over the years, as a writer and a reader, is that each individual reader takes something different from a book. I love it when a reader focuses on an aspect of a book that I wrote with their own unique interpretation. With Caffeine & Nicotine, Jackie resonates with some readers, while others focus on Kelly. It's fascinating.

There are a number of issues that I touch on in Caffeine & Nicotine.

Homelessness is an issue that can be incredibly divisive. One of the reasons for this is a lack of understanding. The homeless population isn't just one easily defined group that can be dismissed by society. Mental illness, physical disability, and job loss are just the beginning of a list of reasons why an individual or entire family can find themselves on the streets. There are a number of non-profit organizations that provide some amazing programs to the homeless population. But like any government funded programs, there are opportunities for abuse.

The pollution of our oceans and beaches is another topic that comes up. Jackie is a crusader for cleaning up our world. Kelly has his own definition of pollution and methods for cleaning it up.
How did you become involved with the subject or theme of your book?

My views on homelessness have evolved over the years. My partner does a lot of work with homeless shelters, and she's spent a lot of time educating me about the different aspects of the issue.

I spend a lot of time at the beach and on the water. The amount of trash I see everyday makes me sad. We, as a society, have come a long way, but we have to do better.
What were your goals and intentions in this book, and how well do you feel you achieved them?

I didn't want the guy to save the girl. I wanted to create a strong, independent female character who can hold her own in a variety of different situations. I am proud of Jackie Carmichael, what she stands for and how she has built her life.
Anything you would like to say to your readers and fans?

If you have read one or more of my books, I would love to say, "Thank you!" Reading is in investment on several levels, the most valuable being time, so I appreciate every reader who chooses to spend time with one of my novels. If you've never read any of my work, Caffeine & Nicotine is a good one to start with.
What did you enjoy most about writing this book?

Slipping on my Kelly Jenks skin was a lot of fun. It had been six years since the last time I wrote about my brain damaged beach bum, and it was nice to get reacquainted with him.
Can you tell us a little bit about your next books or what you have planned for the future?

While Caffeine & Nicotine is intended to be a standalone novel, Kelly Jenks does have other stories to tell. The Interview is the first book with Kelly, and I am in the process of getting Job Training ready for a re-release. It is the second Kelly Jenks novel, and was originally published in 2014. New cover, some plot tweaks, and it will be re-published in May 2021. After that, The Gardener.
How long have you been writing?

I wrote my first short story in 1983 at the age of thirteen. I'll let you do the math on that.
Can you tell us a little bit about the characters in Caffeine & Nicotine?

Jackie Carmichael is a young woman who sets out to find a missing girl. She's headstrong, intelligent, and driven.

Kelly Jenks is a private investigator, with some ghosts, some brain damage, and a couple vices.

Together, they drink a lot of coffee, smoke a bunch of cigarettes, and clean up some trash.
If you could spend the day with one of the characters from Caffeine & Nicotine who would it be? Please tell us why you chose this particular character, where you would go and what you would do.

Sometimes characters pop into a story and I really have no idea where they came from. Brooklyn is one of those characters. I don't even know her last name. I could go for sitting on the pier and fishing with her. She seems super chill.
About The Author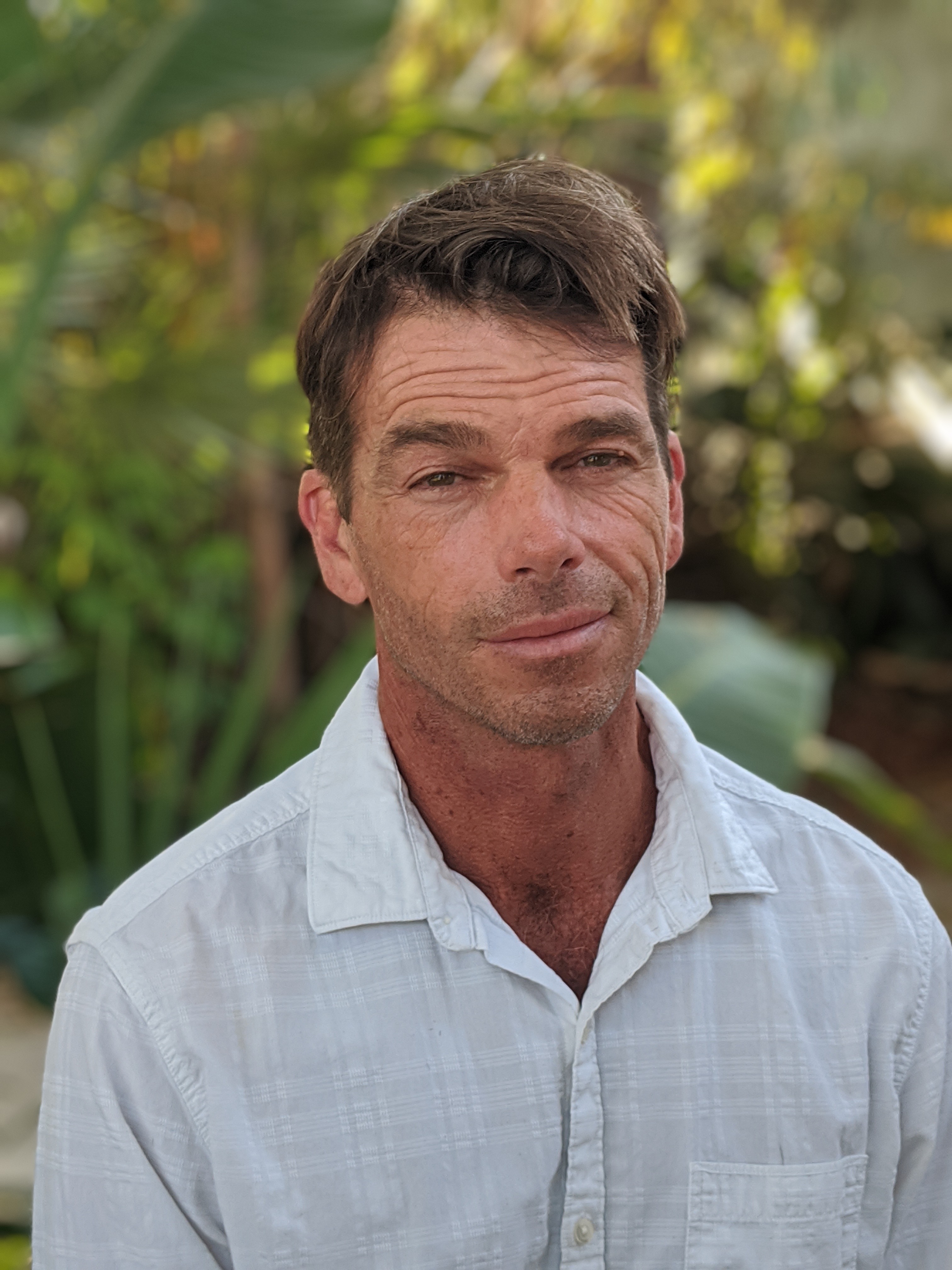 Eric Weule is the author of several novels. He lives in Southern California.
Caffeine & Nicotine
is a stand-alone novel, which features Kelly Jenks from
The Interview.
Contact Links
Purchase Link