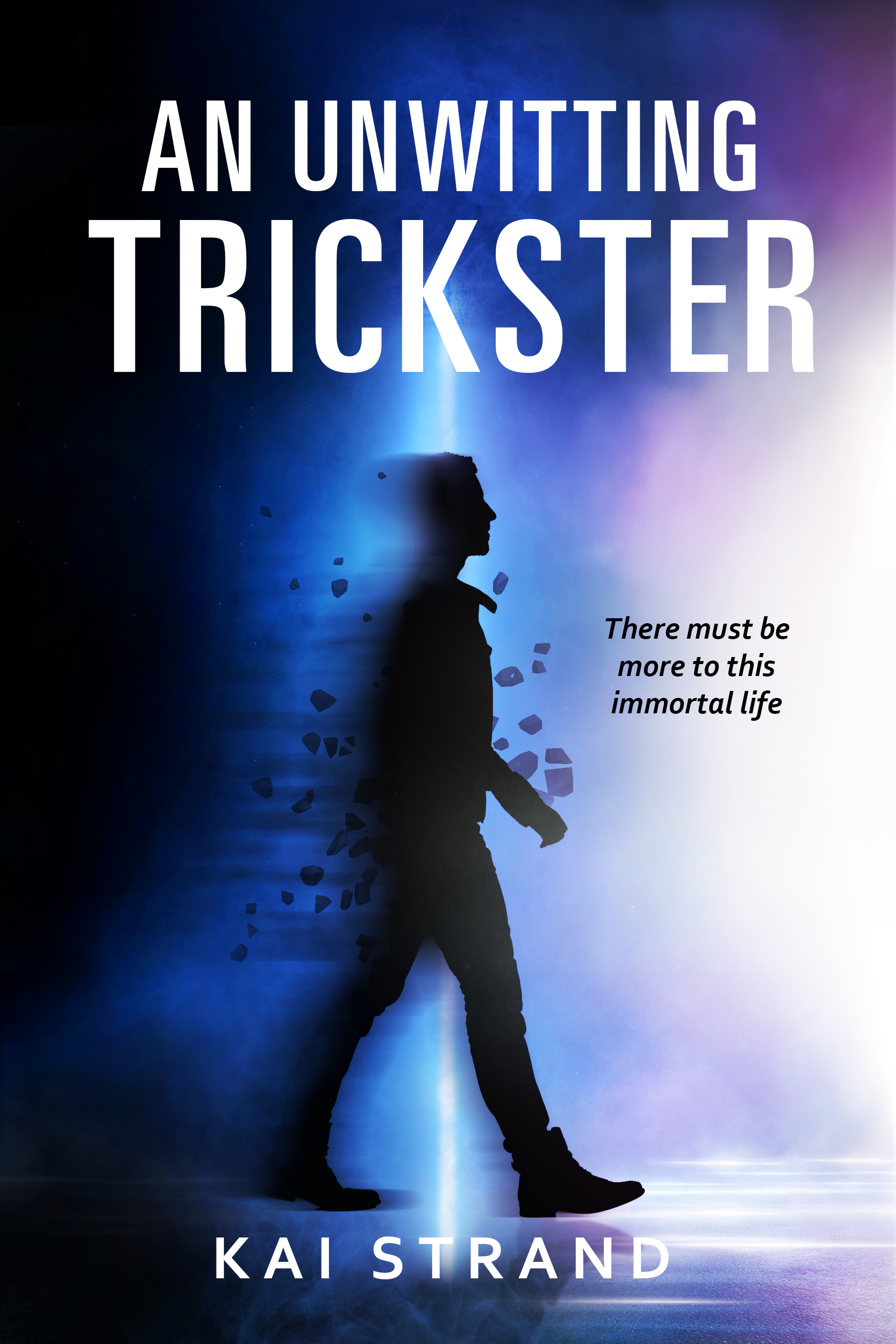 Young Adult Fantasy / Mythology
Date Published: 06-08-2021
Immortal Trickster, Luke, is starting a fresh life in a new-to-him seventeen-year-old body. With yet another lifespan stretched out in front of him, he's questioning what purpose his endless compulsion to play tricks serves.
Agnar, a Thor look-alike claiming to be his adoptive brother from the planet Asperian, appears to declare Luke has been away from home too long. One problem. Luke doesn't remember Agnar or living on another planet.
With more questions than answers, Luke cautiously agrees to accompany his "brother" back to Asperian, but the travel portal rejects him, leaving him behind to continue his mundane life of trickery. When interplanetary soldiers show up intent on killing him, he's forced into hiding and his list of unanswered questions grows.
Will Luke remain trapped on Earth forever, pulling meaningless pranks? Or will he finally figure out his true purpose?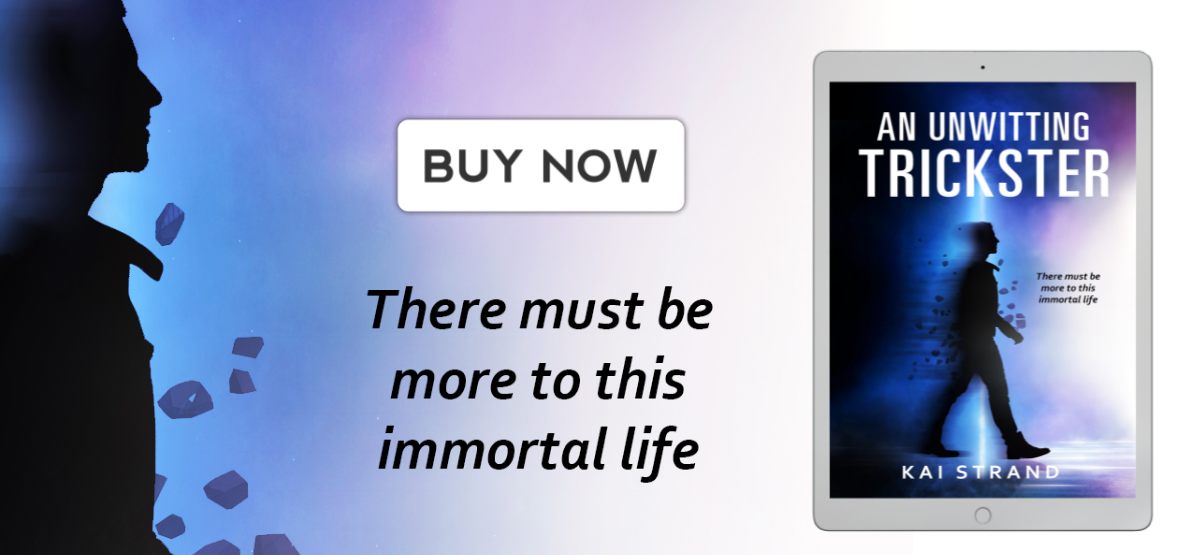 Interview with Kai Strand
For those interested in exploring the subject or theme of your book, where should they start?

This book is intended for Marvel Universe fans and for those who might feel a little lost in life. I've modeled the main character Luke after Marvel's Loki, and his adopted brother after Thor. I've made my own mythology and developed the worlds they come from, but this book is set on Earth. Luke is stuck on Earth. He's forgotten where he comes from and who he truly is. He's questioning what the point is for him to be immortal when all he does is pull meaningless pranks. Over and over. He's desperate to discover his purpose.
How did you become involved with the subject or theme of your book?

I'm a big fan of the Marvel Universe. I've invested way too much time in the movie series! I've already written a Super Villain Academy series. From the Marvel movies, Loki and Thor are my favorite characters and I've always loved their polarity. Thor being so good and well-meaning and Loki being a prankster. And them being raised as brothers is too much fun to ignore. So, I borrowed those three aspects and took the main point from all the mythology I've read (that families are really screwed up!) and I developed my story from it.
What were your goals and intentions in this book, and how well do you feel you achieved them?

My only intention with this book is to entertain. I don't have any hidden meaning or deep thoughts or causes in it. I just hope to provide a little escape time for a reader's reality.
Anything you would like to say to your readers and fans?

I love readers and the energy they bring to the books they read. No person reads the same book. And I believe my book isn't finished until you (I'm looking at you, reader!) read it. Each person views the book from their own experiences and views, which makes it a unique story each time it's read. I love that (and am also slightly afraid of that – lol.) But I love to know what readers enjoyed the most, what they are most looking forward to, what they hope to see. So, feel free to email me or leave a comment on social media with some positive encouragement. It keeps me inspired to write, write, write some more.
What did you enjoy most about writing this book?

I absolutely love the relationship between Luke and Agnar (his adoptive brother.) Luke doesn't even remember Agnar, but he offers Luke a path to escape his mundane life, so he's willing to put up with him. They are snarky and funny, and they play off each other so well.
Can you tell us a little bit about your next books or what you have planned for the future?

I'm currently finishing the second book in this Trickstering series. This time they are on their own planets so there is a ton of world building, which I love. There is a new character I absolutely love who poses all sorts of unexpected trouble for Luke. My current plan is for it to release in time for the holidays. 

Then next after that I believe I will dive into my swan princess retelling. Though, really, she's a swan warrior.
How long have you been writing?

Like most authors, I've been writing my whole life. I decided to make it a career about fourteen years ago. It took three years to get my first book contract. I've published eighteen books since.
Can you tell us a little bit about the characters in An Unwitting Trickster?

I've already talked about Luke and his journey, and a little about his adopted brother, Agnar, and their relationship. But I haven't yet mentioned Kira. Luke, is an immortal trickster. But his mortal bodies don't live forever, so when the body he's occupying is old and worn, he seeks a new one. (Sign up for my newsletter and you will get the short story, Lake Effect, of him taking over his current body! It's the story that inspired the book.) Well, the body he snatched belonged to Kira's boyfriend. She witnessed the abduction and is determined to save her boyfriend. Her determination is a pain in the neck for Luke, but also, life changing for him. And of course, there is attraction (cue heart eyes!)
If you could spend the day with one of the characters from An Unwitting Trickster, who would it be? Please tell us why you chose this particular character, where you would go and what you would do.

I think I would go through the travel portal with Agnar back to his home planet of Asperian. He is the heir to the Asperian throne, and he lives in a palace. I would love to explore the place, meet the people he grew up with, and will rule over one day. Eat the food, pet a liger…it would be fun getting to experience his lifestyle. It's also where Luke grew up, though he doesn't remember that, but it would be kind of fun to know something about Luke that he doesn't know. It would drive him a crazy that I have insight to him that he doesn't have.



About the Author
Award winning Kai Strand, author of the action packed Super Villain Academy series, is often found exploring hiking trails and snapping pictures of waterfalls in her Oregon hometown. Mother of four, Kai uses her life experiences to connect with young readers. With middle grade works such as Save the Lemmings, The Weaver Tale series, and The Concord Chronicles series, and emotional YA adventures like Finding Thor, I Am Me, and Worth the Effort, Kai has written compelling stories that tweens, teens, and their parents love.
Kai has given numerous presentations in classrooms, to writer groups, and at workshops about her work and the writing process. She loves interacting with teens and gaining their insight on their latest reads as well as what they would like to see in future stories.
To find out more about Kai, please visit Kaistrand.com.
Contact Links
Twitter: @KaiStrand
Purchase Links