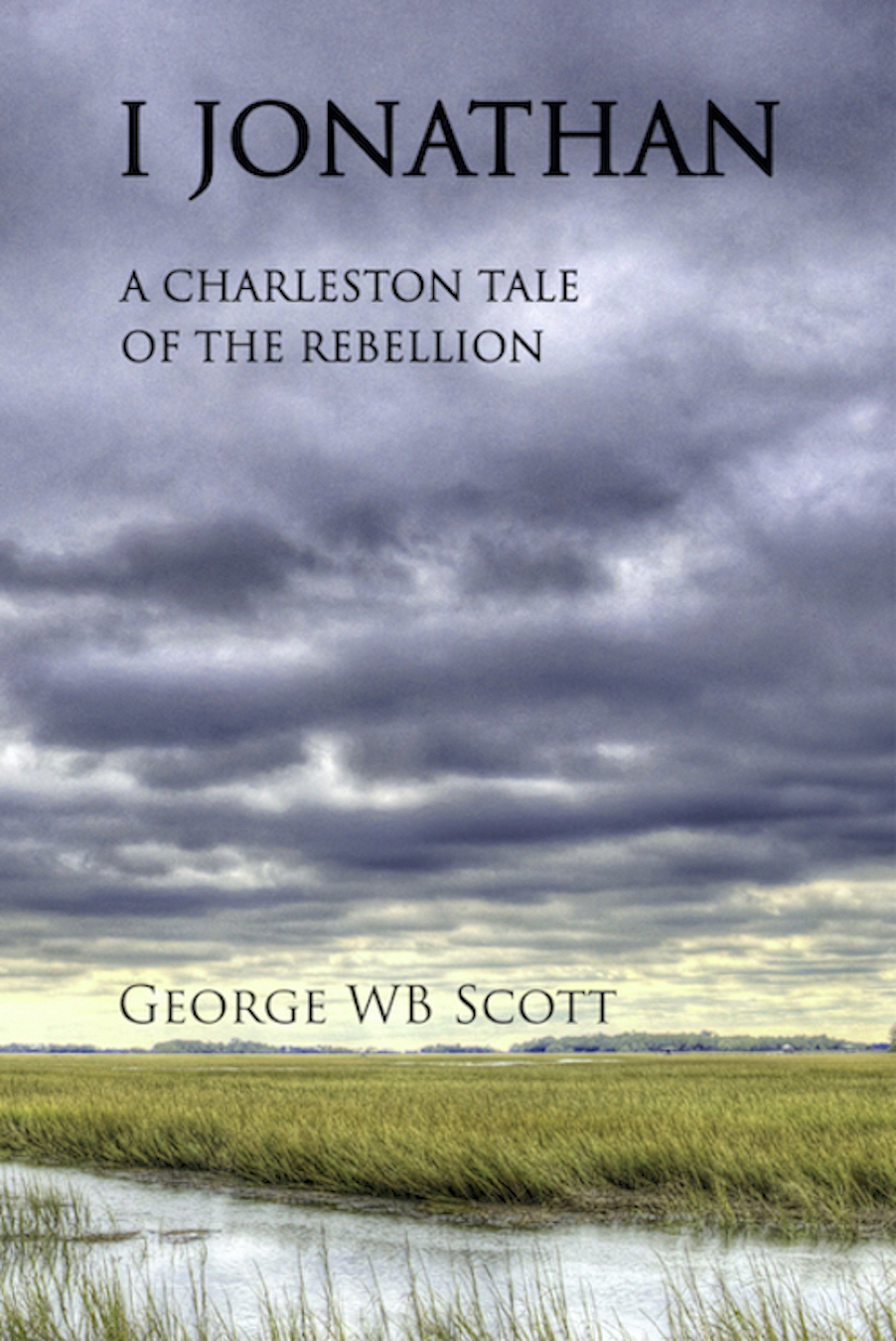 Historical Fiction - Civil War Era
Date Published: 10-03-2020
Publisher: Southern Rocket and Fountain City Publishing
A young stranger from Boston is marooned in Charleston just as the Civil War begins. His relationships with working men and women, slaves, merchants, planters, spies, inventors, soldiers, sweethearts and musicians tell the story of a dynamic culture undergoing its greatest challenge.
It's also the story of everyman. He grows into manhood dealing with the issues we all must face.
Jonathan's adventures include witnessing the bombardment of Fort Sumter, the last great Charleston horse race, the Great Charleston Fire of 1861, the Battle of Secessionville and visits to the North Carolina mountain homes of wealthy Low Country planters. He even has an encounter with a Voo-Doo conjure man. He makes a run through the Federal Blockade and visits the raucous boomtowns of Nassau and Wilmington. The author describes battles of ironclads and monitors, and the Battle of Battery Wagner (made famous in the movie "Glory"). Jonathan's story documents the hopes and struggles of a young man making a new life in a strange land in times of war and change.
More Trailers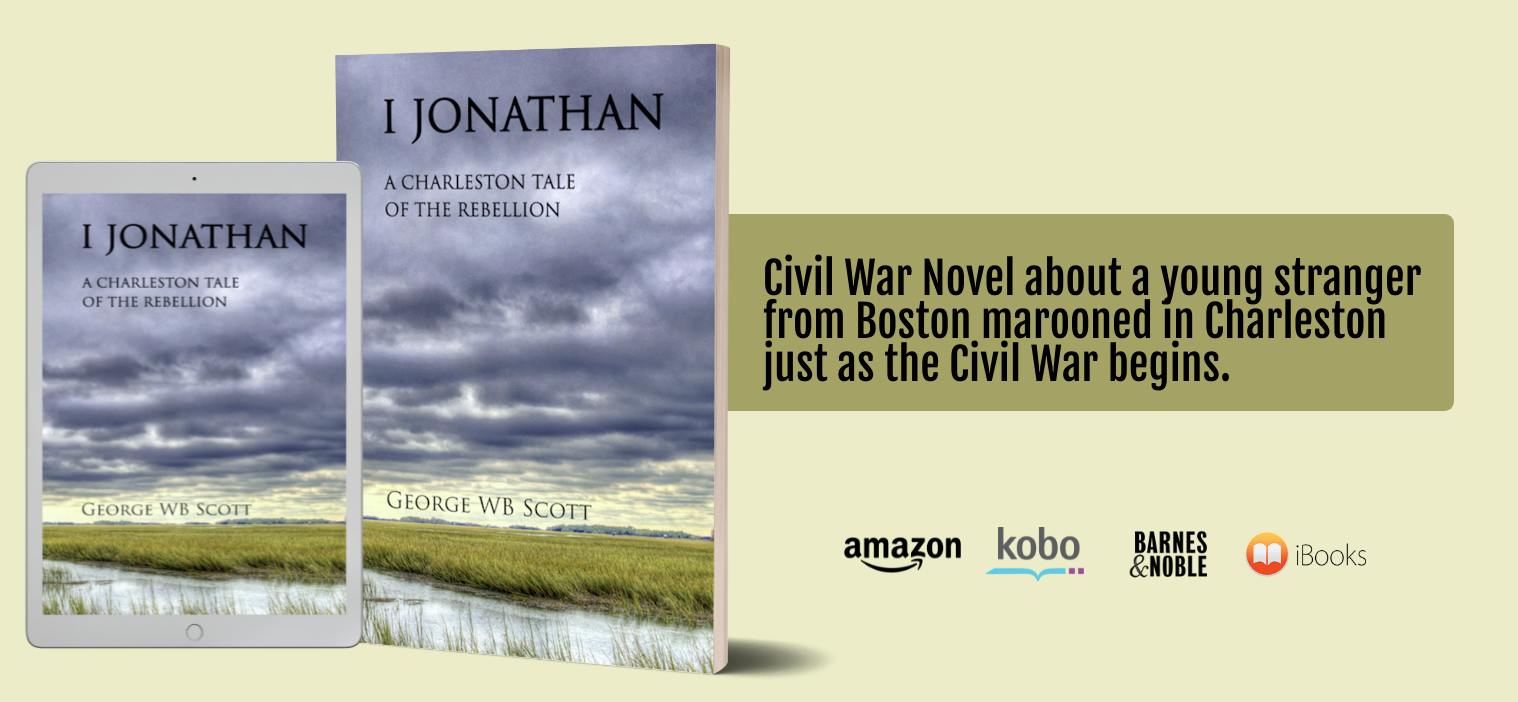 Interview with George Scott
For those interested in exploring the subject or theme of your book, where should they start?

"I Jonathan" is literary historical fiction. It examines themes of personal responsibility and growth, and striving to understand right versus wrong. This is my attempt to look at America's most defining period of history and ask, "How could this happen?"

"I Jonathan" is set during the American Civil War and explores love, loyalty, honor, duty, and relationships. It deals with personal tragedy and survival, as well as transcendence beyond the current day's challenges.

I explore motivations of different levels of society, tactics of blockade runners and their pursuers, descriptions of strategic battles, technologies, and elements of social change in a great Southern city responding to the war its own actions have largely caused.

It is also a study, my take, of how a culture that calls itself "Christian" and considers itself honorable can war against its sister states to preserve slavery. That's pretty heavy.
How did you become involved with the subject or theme of your book?

My junior high school class stood when "Dixie" was played before our football games. When the schools were integrated that practice was stopped, but I was raised a Southerner who was taught in school that the war was about "states' rights" and that it was primarily a war of aggression by the North. As I grew up and read more, I saw this was mostly not true.

My family toured some of the Civil War battle sites when I was a child, and I was fascinated by military tactics and strategies. I particularly remember as a 7-year-old the sight of the crater at the battlefield near Petersburg.

I had two ancestors who served the Confederacy and one in the Union cavalry, so I've always had some interest in how my family reconciled their differences enough to marry each other, to eventually produce me.

On a visit to Charleston on a vacation in 2000 my wife and I toured Fort Sumter, and I was very impressed to hear how the Southern defending troops survived Federal bombardment for years. That led me to read more about Charleston's war, which was very different from the major battlefields in Tennessee, Georgia, Virginia, Maryland and Pennsylvania. I had not heard this history and knew I could frame a coming-of-age story around real events.
What were your goals and intentions in this book, and how well do you feel you achieved them?

I wanted to explore how someone from outside of the Southern society would view the antebellum culture and what his reactions might be. So, I created Jonathan. To do this I had to take myself out of my own view and look at the South anew.

The main character is a young and naïve Bostonian, suddenly impoverished, who has dropped into Charleston, South Carolina, just as that stable world is about to collapse.

Like a volcanic island that renews itself after an explosion that wipes it clean of life, we see how Jonathan develops his thoughts on slavery, commerce, loyalty to nation and friends, and his thoughts on war itself.
Anything you would like to say to your readers and fans?

I invite readers to come to the story with an open mind. It is not just a military review, a romance, a civil rights treatise, an adventure, nor a study of slavery and voodoo, though it does contain elements of each of these.

Explore each of the elements of the novel as they appear, without assumption, and I think you will see many relatable themes.
What did you enjoy most about writing this book?

I loved the research, finding interesting details that I worked into the story. This includes elements of technology of that period related to lighting, transportation, communication, and entertainment and music of the period. A few actual people and events are in the story that Jonathan could have met in Boston, Paris or Charleston, or learned of through newspapers or word of mouth.

I created characters that interested me, many adapted from traits of people I know. There's an inventor, a spy, musicians, slaves, free blacks, a minister and a "root doctor." There are some people you would expect in a novel of the period, but I've made them deeper than stock characters you might see in movies. I hope the reader will believe they have souls.

There's humor in the story, though it is not a comedy. Some of this results from Jonathan finding himself in unexpected situations.
Can you tell us a little bit about your next books or what you have planned for the future?

I have more books planned than I can ever write. One involves early legal work in my home town, as told me by my father and sister. Another is my grandfather's experience as a homesteading pioneer in Florida and his service in the First World War. I have a concept for a series of YA books based on a fantasy voyage up the Intercoastal Waterway in a sailboat.

The book I'm currently writing is a new take on the story of St. Wenceslas and Bohemia of the period around 1000 AD. I'm elbow deep in academic research on the Czechs and the tensions between the Slavic pagan religions and the two Christian traditions. I'm working to develop realistic characters that bear on the story that involves Wenceslas but is primarily about another character from his life and his development.
How long have you been writing?

I wrote my first stories beyond school when I was about 13. I wrote several short stories, and won an award when I was 15. Since then, I have been involved in other work including my current video production business. In 2004 I wrote a memoir, "Growing Up In Eden," about my childhood in an idyllic South Florida town. My visit to Charleston in 2000 led me to begin the research for "I Jonathan," when I decided I would write for the rest of my life.
Can you tell us a little bit about the characters in "I Jonathan?"

The main character is an 18-year-old returning from Europe for his father's funeral in Boston. His ship is delayed by storm, and he lands in Charleston where he is shattered to learn his intended wife has left him. He's educated but naïve, unskilled, friendless and suddenly broke.

Jonathan's love interest is Isabella, another Northern expatriate, from Chicago. She has been abandoned by her husband and is working as a servant to a wealthy plantation class family.

Jacob Johnson is a free Black, literate and ambitious, with hopes for his family's future as he buys them from slavery. He owns an active masonry business in Charleston. His kindness toward Jonathan helps him make his way in the strange city.

Tyrone is a red-headed Scots-Irish merchant dealing in guano, carpets, wines, rice … whatever he thinks can sell to turn a profit. He hires Jonathan as a delivery cart driver.
Sergeant Kerry is an Irish policeman who becomes indebted to Jonathan.

Charles is of the plantation class, a third son, and is an engineer and inventor. He and Jonathan have several adventures together, including running the blockade of Federal ships.

Abe is a musician and confidant of Jonathan. He is of the Charleston Jewish community and has his own personal romantic strife.

Martin and Jenny are engaged lovers, also of the ruling class. He is a Citadel cadet called to war. She does volunteer work with a military doctor. Jonathan unexpectedly becomes bound up in their lives.

Zeke is a slave whose owner has left him master of a mountain estate for the war's duration. He gives Jonathan advice, which frees him from his anguish.

Other characters include "Rhythm Tommy," the spy Mrs. Trent, three cadets sworn to a blood oath – William, Louis and Kit. There is the Reverend Poste, Agur the witch doctor, Private Denis, Aunt Peggy and her poodle Pierre, a Mexican named Ricardo, and other sailors, slaves, soldiers, and citizens whose lives were bound up in and about the city that sparked the American Civil War.
If you could spend the day with one of the characters from "I Jonathan" who would it be? Please tell us why you chose this particular character, where you would go and what you would do.

Charles is an educated and creative thinker. He tinkers in mechanics and chemistry, and has lively and unorthodox political views. He loves his city but will not go to war. He can see where the cards will fall and prepares to help his community recover when the war is over.

Charles and I could tour Charleston and talk about the cotton steam press, plans for the new train station, the public lighting system, the shifting political scene, and the brighter future of the doomed city.

We might stop in at Murphy's Tavern for a dram, especially if Abe is at the piano. You can always find lively conversation at Murphy's.

Years of research and study gave me a timeline of events for Charleston during the Civil War. With this as a canvas and background I created characters who grow and develop, with hopes both realized and shattered, and of a society forced to change.

In this 21st century, our America is still living the change.
About the Author
G
eorge WB Scott is an East Tennessee video producer and videographer with a life-long interest in the causes and events of the Civil War. His years of research on this topic are the basis of a story of Jonathan's personal journey through one of the most interesting and important regions of the South. Scott was born in Stuart, Florida, and is a cum laude graduate of Appalachian State University. He lives with his wife Mary Leidig in Knoxville, Tennessee.
Other Books by Author: "Growing Up In Eden"
Contact Links
Purchase Links