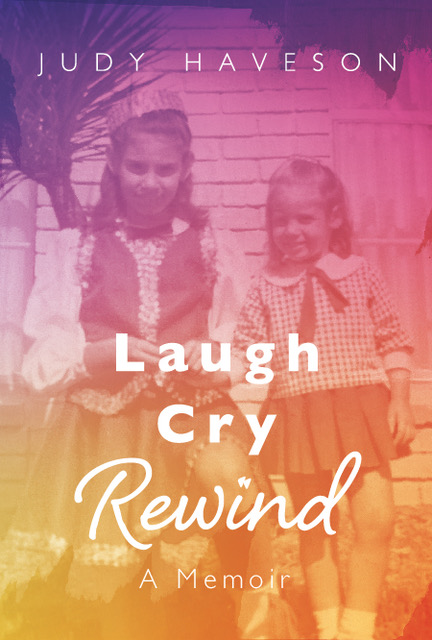 Nonfiction/Memoir
To Be Published: September 28, 2022
Publisher: J Press Books
Growing up in 1970s and 80s suburban Houston, Judy Haveson is funny, sarcastic, and fiercely loyal, especially to her family, friends, and big sister, Celia. When she suffers a series of unimaginable traumatic events, her seemingly idyllic childhood comes to a halt, changing her life forever.
In Laugh Cry Rewind, Judy takes readers on her journey of self-discovery, sharing funny, touching, and heartbreaking stories from her childhood all the way to the birth of her son. Her experiences serve as a reminder that while life is not always fair, ultimately, the choice to surrender or keep on living is ours. Her message to others who have experienced loss or tragedy is this: stop waiting for the other shoe to drop. Let life go on, and good things will be waiting for you on the other side of the pain.
Editorial Reviews
"Judy Haveson shares her life story with a sublime balance of heartbreak and humor. Laugh Cry Rewind is intimate and mesmerizing thanks to Haveson's conversational style and wit; her struggles and triumphs are palpable, and even her ordinary stories dazzle."
Self-Publishing Review, ★★★★½
"A wonderfully written memoir that will truly have its readers laughing and crying. Haveson does an exemplary job of taking her readers through the worst and best times of her life, from her beautiful sister's untimely death to her dating horror stories leading up to meeting her amazing husband. The passion and perseverance Haveson has is commendable."
--Kristi Elizabeth, Manhattan Book Review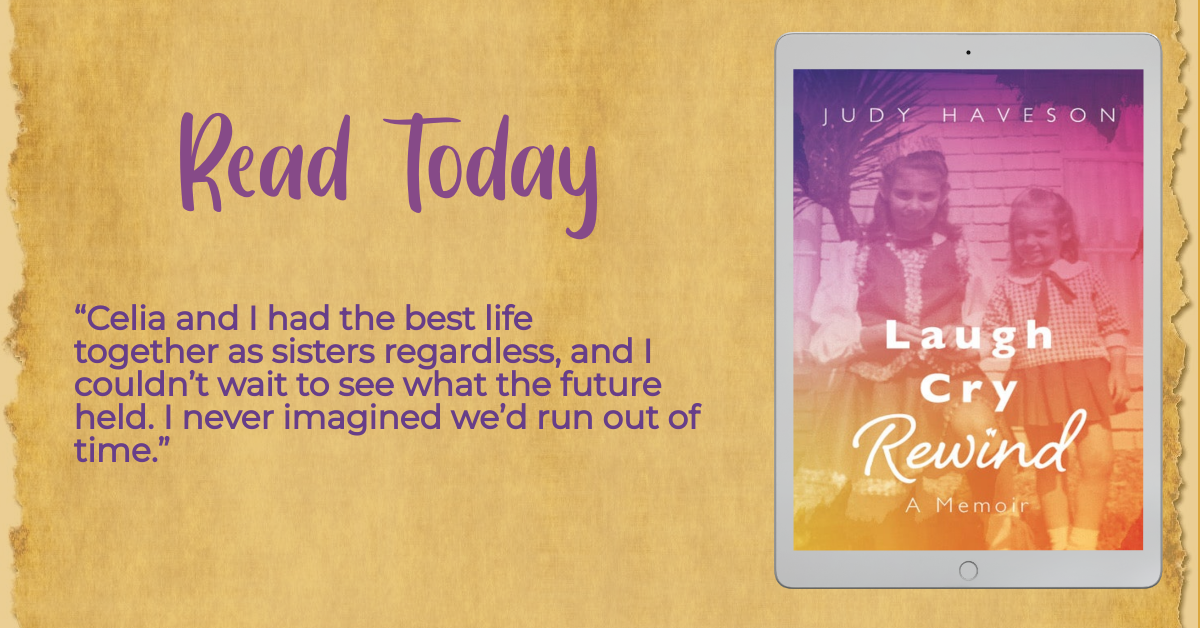 Interview with Judy Haveson
If you could tell your younger writing self anything, what would it be?

If I could tell my younger self anything, it would be to not listen to the noise around you and keep writing. I'd say no matter your passion or dream, follow it and don't let others tell you you can't. Don't strive for perfection and get out of your head. If you doubt yourself or think you're a terrible writer, keep writing and learn how to improve.
What are the most important magazines for writers to subscribe to?

I don't subscribe to any physical magazines. Still, I am a member of several online writing websites/communities I believe are essential, especially as a self-published author. One is the Author's Guild. This group advocates for writers by supporting free speech, fair contracts, and copyrights. The website is a wealth of knowledge for any writer. You can sign up for a daily newsletter forum to ask other members questions about any writing topic. You can also gain valuable insight into legal issues arising from publishing. The other online community is the Alliance of Independent Authors. A nonprofit supporting self-published authors, they provide best practices for authors from writing to publishing and everything in between.
What do you owe the real people upon whom you base your characters?

My memoir includes stories before and after my sister's passing almost 40 years ago. So, my sister, Celia, is the main character I owe the most in my story. She was always my role model and best friend; after her passing, I wasn't sure what or how my life would turn out. I promised her I'd continue living after she died, which wasn't always easy. But that promise was essential to me and one I vowed to keep. She inspired the book, and her memory guided me to keep writing and finish the book. My parents are also central figures in my story. My life's success is due primarily to the unconditional love I received from them and encouragement in everything I set out to achieve. And finally, I'm not sure I would have had the courage to share my stories if not for the support of my best friend, Melinda. She has always been my biggest cheerleader, as I have been hers, and she told me if my story can touch one person, it's all worth it.
What is the first book that made you cry?

The first book that made me cry was Charlotte's Web. I remember reading that book and crying because Wilbur didn't have any friends and how sad he was when Charlotte died (I hope I didn't spoil it for anyone!). I loved the relationship between Charlotte and Wilbur. Based on my experience with my sister's death, the story still speaks to me today.
Does writing energize or exhaust you?

It depends on the day! Writing energizes me when I'm in the zone, and I finish what I set out to write in a day. I feel invigorated when it all comes together, and the words flow. Writing my memoir, I had exhausting days, not because of the writing but because of the subject matter. Writing about your life is a very cathartic experience.
Do you try more to be original or to deliver to readers what they want?

I try to be very original in my writing. Writing what readers want is hard because you limit your ideas. And honestly, how can I say what readers honestly want? Maybe if I wrote in a more mass-appealing genre, I'd have a different opinion. Still, for me, writing a memoir, I must be original. Otherwise, how will anyone get to know me?
Where did your love of books/storytelling/reading/writing/etc. come from?

My love of books came from my sister, Celia. She loved reading and had a great collection of Nancy Drew books I now have on the bookshelf. While I liked the stories, I loved seeing all the books lined up on the shelf. I don't have all of them, but I have a lot. My love of storytelling came at a young age when I found it easier to tell my parents stories about my antics than the truth. I always had a flare for the dramatic. Yes, I got in trouble with many of my tales, but boy, could I come up with and deliver a good story about almost anything! My love of reading came in grade school when teachers gave me extra credit for reading books. I needed all the help I could get! My love of writing came early in my schooling. I'm a horrible test-taker when the options are true, false, or multiple-choice. I was the student who preferred writing essays because I loved being able to tell a story about why or why not something was right or wrong.
About the Author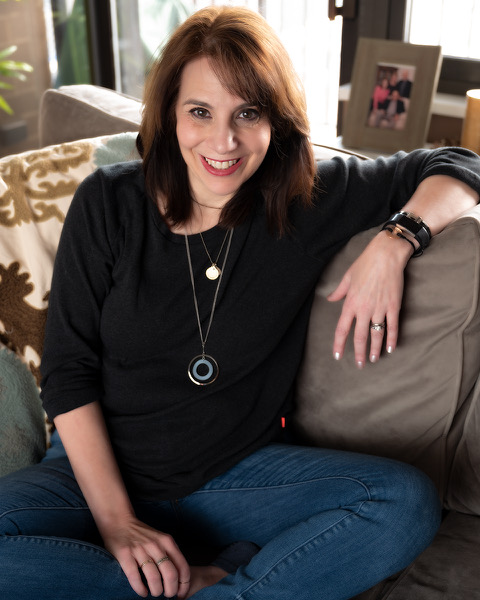 Judy Haveson is a proud Texan who will never lose her southern charm or accent and uses both when the situation absolutely calls for it. Her one-time dream of becoming a journalist was shattered when a professor suggested she pick a new major due to her penchant for obsessive conversation. He claimed she'd be an editor's nightmare because she wrote as she spoke and never stopped talking. This led her to a career in public relations. Judy's fixation with reading books and stories about other people's lives inspired her to write her debut memoir. She currently lives in The Hamptons with her husband, Adam, son, Jack, and beloved Yorkie, Toby.
Contact Links
Twitter: @judyhaveson
Purchase Links