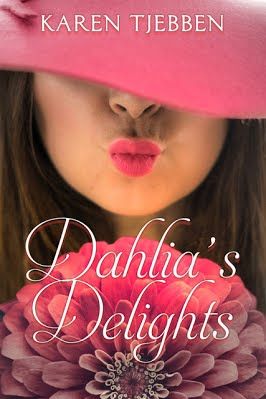 The Flowers of Avenel book 2 – DAHLIA'S DELIGHTS
Date Published:
June 8, 2019
Dahlia Collins had sworn that she'd escape the sandy beaches of her little hometown of Avenel on The Hidden Banks Islands. She'd dreamt big for herself, craving the adventure and success that could only be found in a big city. But life in the big city turned tumultuous, and the overwhelming swells of betrayal and financial struggle carried her back home to Avenel. Taking over Dahlia's Delights Bakery should have been easy for her, except it wasn't. Someone was sabotaging her business. She prayed that with the help of a handsome police officer, she would save her bakery.
Mark Lane was a simple man with simple needs. He had his health and a successful career as the police lieutenant on a beautiful island off the coast of North Carolina. That was all he needed, or thought he needed, until he walked into Dahlia's Delights. When he saw her, his brain whirled with surprise. The young teen he'd last laid eyes on a decade ago was now a grown beauty. His heart double-tapped. His blood heated and strummed through his veins faster than normal. Gone was the girl he'd teased in his youth. Instead, an auburn-haired beauty with emerald eyes robbed him of rational thought.
When Dahlia shares her concerns about the bakery with Mark, and he promises to help her, all the feelings she'd had for him rushed through her again. Her heart palpitated, desire cloaked her, and she was thirteen again. Falling in love with him would be so easy. Hell, she was already halfway there.
Interview with
Karen Tjebben
Can you tell us a little bit about the characters in Dahlia's Delights?
Dahlia Collins is a small-town girl who spread her wings and flew to the big city in search of even bigger dreams. But when those dreams didn't materialize, she heads back to Avenel to take over her parent's bakery. As a young girl, Dahlia's Delights Bakery was a second home, but as a woman, the bakery represents her independence and success. She can't let it fail. She'll do whatever it takes to save the bakery.
Mark Lane loves the small town of Avenel. He has everything he needs: a good job, great friends, and contentment with his life. But when Dahlia returns to the island, he realizes that his life wasn't as perfect as he thought. He discovered a Dahlia-shaped hole in his heart. Now he needs to convince her to fill that hole and make his life complete.
Can you tell us a little bit about your next book or what you have planned for the future?
I am currently working on Senna's Secret, the third book in The Flowers of Avenel series. When she loses her job in California, Senna returns to her childhood home of Avenel. The move to Avenel doesn't just mean a change in zip code; it means she has to come face to face with the one man from her past that she can't get out of her head. Josh Turner. Not only does he take up space in her head, he owns way too much of her heart. But if he discovers her secret, will he be able to forgive her? Can they find their way back to each other?
How long would you say it takes you to write a book?
It takes me about four to six weeks to get a rough draft down. After that, I do several rounds of edits. Then I send my book off to my beta-readers. Once my book is returned with their edits, I go through and add more details to firm up the story. The entire process typically takes me about four months.
What is your favorite childhood book?
I'd have to say The Lion, the Witch, and the Wardrobe.

This book is fantastic on so many levels. Children can enjoy the story because the characters are young and they get to travel to a fantastical world filled with magic and talking animals. Adults can enjoy the story for the symbolism and religious themes that are subtly woven throughout the story. This story opens the door to conversations with children about forgiveness, trust, honesty, integrity, love, and commitment.
If you could spend the day with one of the characters from Dahlia's Delights, who would it be?
I'd love to hang out with Dahlia in her bakery. With my love of all things sweet, I'd sample every delicacy on the shelves and take even more home to enjoy later.
What made you want to become a writer?
I've always thought it would be cool to write a book. In college, while studying elementary education in my literacy courses, I'd peruse the picture books and nonfiction children's books and dream about writing my own book. At the time, it seemed impossible, but as the internet expanded and companies like Amazon grew, the dream started to take shape and become a reality. When my twin daughters went to kindergarten, I set aside time each day to dedicate to writing. Surprisingly, the story that unfolded in my head was not for elementary students, but it was better suited for young adults who enjoy supernatural thrillers. When I finished the first series, The Scintillate Series, I transitioned to adult romantic suspense and began The Savage Security Series. Now I'm working on a contemporary romance series, The Flowers of Avenel.
Just for fun
(a Favorite song: Don't really have one. It changes too often to commit to one.
(b Favorite book: Pride and Prejudice
(c Favorite movie: Pride and Prejudice – BBC edition with Colin Firth as Mr. Darcy.
(d Favorite tv show: I love the humor of Schitt's Creek and the drama of Game of Thrones.
(e Favorite Food: Most definitely something sweet. Either sea salt caramels covered in chocolate or See's peanut brittle. Oh, and chocolate chip cookies. I can't just eat one.
(f Favorite drink: Dr. Pepper
Thanks so much for visiting with us today!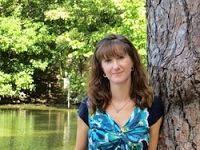 Karen Tjebben lives in central North Carolina with her wonderful husband, twin daughters, two hamsters, four guinea pigs, an axolotl, and a school of various fish. When her girls left for kindergarten, Karen discovered that she needed to fill her days with something, and that was the beginning of her writing career. She loves to create worlds filled with unique characters that will delight and raise goose bumps on her readers. In her free time, she enjoys traveling with her husband and seeing the world through her daughters' eyes.