Publisher: Next Chapter Pub
In a kingdom in turmoil, people only care for riches and power. As a war breaks out between countries, a godly power is awakening.
Two boys train at the Academy to become Knights of Valor. Best friends, one is filled with light while the other leans towards darkness.
They both have the power to change the world - or destroy it - in their battle for what they believe is right.
Interview with A. E. Stanfill
As a writer, what would you choose as your mascot/avatar/spirit animal?
Spirit animal would be a Wolf, I am just as relentless as they are. Just kidding.
How many hours a day do you put into your writing?
Two hours a day at least. When I have the time that is.
Do you read your book reviews?
Yes. Good and bad. I always like to know what the readers think of my work and how to improve.
Do you leave hidden messages in your books that only a few people will find?
If I do it's not purposely done.
Can you tell us a little bit about the characters in, Children Of The Cursed?
Sure. There is Ellyn, she is a strong willed young girl. Not one to take any grief from others. Her past is her own as she sets out for revenge. Then there is Ulrich, he is a hard headed young boy. He believes strength and power is all that matters. In his mind, someday he will change the world as he see's fits. Leon, the main character is young and a little immature. He likes to rush into things without thinking it through. He needs to grow up and take ownership over the blood that flows through his veins. And don't forget about Gawain, a Master Teacher at the Academy, he is the one that holds the group together. There are many more great characters to read about in the book as well.
Can you tell us a little bit about your next books or what you have planned for the future?
At the moment I am working on the second book to the Children Of The Cursed series called The Tomb Of Carnage. Where you will learn more about the power that dwells inside, Leon.
Do you allow yourself a certain number of hours to write or do you write as long as the words come?
Honestly, I could write all day and all night. But I do limit myself to two or three hours a day.
Do you have a certain number of words or pages you write per day?
I try and write about 2,000 words a day.
What inspires you to write?
Being able to share new stories and characters that I created with others is my inspiration.
Would you rather
Read fiction or non-fiction?
Fiction.
Read series or stand-alone?
Both.
Read Science fiction or horror?
Horror. I love a good scare.
Read Stephen King or Dean Koontz?
Stephen King. Been a fan of his since I was a child.
Read the book or watch the movie?
Read the book for sure. The movie leaves to much of the story out for time restrictions.
Read an ebook or paperback?
Paperback. I enjoy the feel of turning the pages and the smell of the book itself, if that makes sense.
Be trapped alone for one month in a library with no computer or a room with a computer and Wi-Fi only?
Library with no computer. I would take a good book over the internet any day of the week.
Do a cross-country book store tour or blog tour online?
I see one being just as important as the other.
About the Author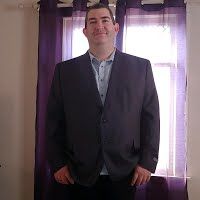 I am the author of Albert: Killer In The Woods and many more. I love to write horror novels and short stories as well. I live in Powell Wyoming with my fiancee and two kids.