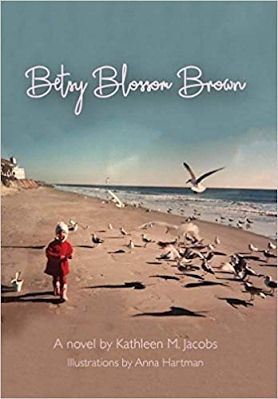 Date Published: June 5, 2019
Publisher: Jan-Carol Publishing, Inc.
Betsy Blossom Brown is a coming-of-age story about a young girl who journeys from being an observer of life to a participant. Her seemingly idyllic life with her privileged South Carolina family is turned upside down, revealing truths and disarming pretensions. She's independent, opinionated, and brave. Uncertainty enters her life when she and her mother move to the Appalachian region until, through a series of unsettling events; she sheds her uncertainty and learns to embrace life. The graphite illustrations help to understand the depth of Betsy Blossom Brown, as she sketches her way through life recognizing her mild Asperger syndrome, without letting it curb her appetite for life.
Interview with Kathleen M. Jacobs
As a writer, what would you choose as your mascot/avatar/spirit animal?
Oh, I love this question! I've been asked this question many times, and my answer never changes: a flamingo. I strive every day to find a balance between the time I dedicate to writing and the time I dedicate to reading. There is so much cross-over that it becomes an inviting challenge.
How many hours a day do you put into your writing?
I'm always writing, whether it's actually sitting in front of my laptop or on my phone or with a legal pad and pencil or walking down the street or listening to conversations in restaurants (can get a bit awkward, especially when I miss a word, and I can't ask for it to be repeated) . . .
Do you read your book reviews?
Absolutely. It's a great way to get feedback on what resonates with a reader and what might have missed the mark.
Do you leave hidden messages in your books that only a few people will find?
Naturally, but the reader would have to know me very well in order to identify them.
Can you tell us a little bit about the characters in Betsy Blossom Brown?
The protagonist in Betsy Blossom Brown and Honeysuckle Holiday are inquisitive, assertive, and wise beyond their years. I love a quote from Neil Gaiman: "I like stories where women save themselves." I humbly embrace it for each of my characters.
Can you tell us a little bit about your next books or what you have planned for the future?
My next work will be released by the end of the year. It is an early chapter book. My current WIP is a creative non-fiction novella.
Do you have a certain number of words or pages you write per day?
I know this process works for a number of writers, but I've never structured my writing to fit a certain, set schedule.
What inspires you to write?
The natural world around me gifts tremendous inspiration, but what drives me to write is that it becomes the way I make sense of the world around me. I can't imagine not writing. It was gifted to me from a very early age through divine intervention.
Would you rather
Read fiction or non-fiction?
YA-fiction and MG-fiction and children's
Read series or stand-alone?
Read Science fiction or horror?
Read Stephen King or Dean Koontz
50/50 (nearly impossible to choose)
Read the book or watch the movie?
Read an ebook or paperback?
It's essential on so many levels that I actually hold the printed book in my hands, smelling the ink on the pages, turning the pages, touching the binding, looking at the beautiful end pages, eventually sliding it between other treasures on my bookshelf.
Be trapped alone for one month in a library with no computer or a room with a computer and Wi-Fi only?
Ahhh, forever in a library with no computer, just books, books, and more books, and the power of silence.
Do a cross-country book store tour or blog tour online?
Both, because of the readers that each would bring to the table.
About the Author
Kathleen M. Jacobs is the author of books for young readers. Her first YA-novel, Honeysuckle Holiday, has received critical acclaim. And her children's book, Please Close It! has won numerous awards. She divides her time between New York City and the Appalachian region. She lives with her husband, John, and far too many books. Visit her website at www.kathleenmjacobs.com and on Instagram @kathleenm.jacobs.