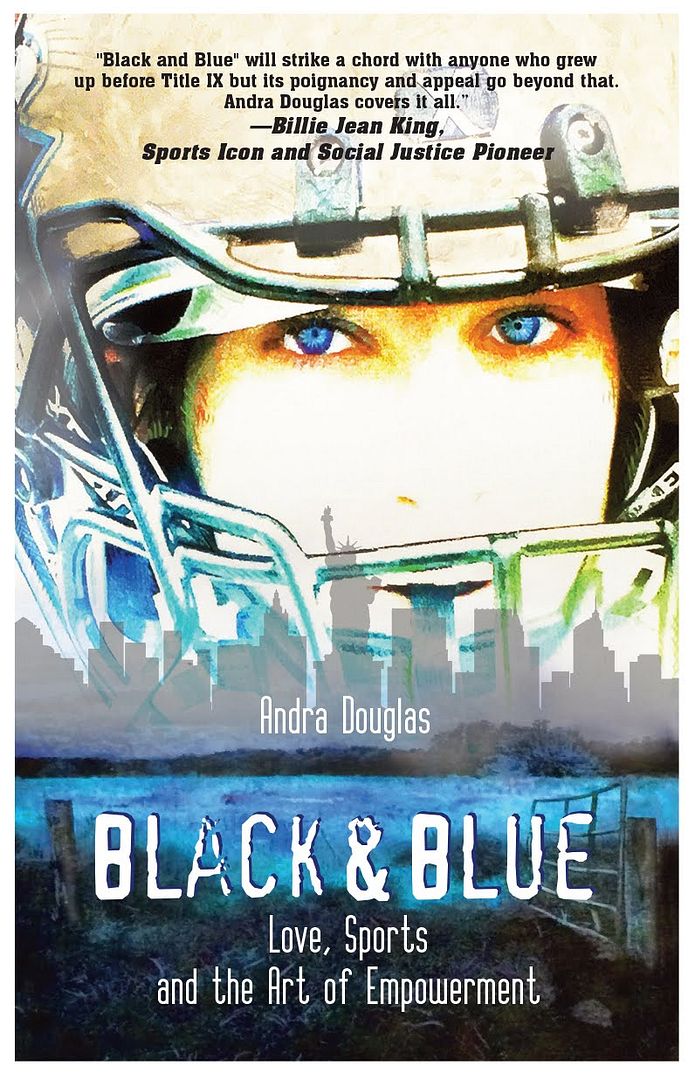 Date Published:
July 2019
Have you ever wanted to do something that everyone said was impossible? Then you'll love BLACK & BLUE. Loosely based on the author's own life, this coming-of-age novel will inspire you to pursue your dreams.
For as long as she can remember, "Toady" wanted nothing more than to play football. But for Toady, the love of football is bittersweet – because Toady's given name is Christine. She's a girl, and girls "can't" play football. Despite her exceptional abilities, she watches bitterly as the boys play on the high school team and win scholarships. Reluctantly, she gives up her football dreams and moves to New York City – where she finds that life is full of surprises. Christine hears about a group of women playing flag football, and she joins their game. The players are so good that before long, they're invited to become part of a professional women's tackle league.
For Christine, this is the chance she's always dreamed of. Not only does she play football, but she raises enough money to become the team's owner. But that's when the real challenges begin. Does Christine have the guts and the stamina to spite the odds? BLACK & BLUE will leave readers cheering as Christine doubles down to fight for her dreams and for the women who want nothing more than to play their favorite sport. If you loved Bend It Like Beckham or A League of Their Own, you'll adore BLACK & BLUE.
Interview with Andra Douglas
As a writer, what would you choose as your mascot/avatar/spirit animal?
A Shark because that is the name of my football team and I identify with Sharks now. As I have come to know Sharks—even 'real' sharks—they are humorous, winners, always active and they are also surprisingly vulnerable.
How many hours a day do you put into your writing?
It varies. I am not able to write on demand. Sometimes I will write every day, all day for a week and other times, weeks pass without the inspiration to write effectively.
Do you read your book reviews?
Yes! And I appreciate the time each person takes to write them.
Do you leave hidden messages in your books that only a few people will find?
No but that's a great idea.
Can you tell us a little bit about the characters in BLACK AND BLUE?
The characters in BLACK & BLUE are composites of people involved on my team. Each comes to the team for different reasons and from different backgrounds and are united for the purpose of one goal. Some are shy and the team eventually draws them out, but others are boisterous and find that a 'big mouth' doesn't always serve them well.
Can you tell us a little bit about your next books or what you have planned for the future?
My next book, Changing Cadence, will be a sequel to BLACK & BLUE. It will again be based on the true story of the struggles and ultimate victory of the NY Sharks and women's football both on and off the field—very revealing of their personal stories and the storybook ending that is all true!
Do you allow yourself a certain number of hours to write or do you write as long as the words come?
I write as long as the words flow. It can be minutes or hours.
Do you have a certain number of words or pages you write per day?
No
What inspires you to write?
Usually something that someone says or something that happens that I don't want to forget. Often music will inspire me as well. It's very easy for me to hear a song and get completely lost in another time. I can hear 70's music and 'slip away' for hours and be in another zone.
Would you rather
Read fiction or non-fiction?
Fiction
Read series or stand-alone?
Stand alone
Read Science fiction or horror?
Sci-fi
Read Stephen King or Dean Koontz
Koontz
Read the book or watch the movie?
Read the book
Read an ebook or paperback?
Paperback
Be trapped alone for one month in a library with no computer or a room with a computer and Wi-Fi only?
One month in a library
Do a cross-country book store tour or blog tour online?
Cross country book store tour
About the Author
ANDRA DOUGLAS is a native of central Florida and a graduate of Florida State University and Pratt Institute. A national champion athlete in rugby and women's tackle football, she was the owner of the New York Sharks Women's Pro Football team for nineteen years and is the founder of the Fins Up! Foundation for Female Athletes, a non-profit to benefit at-risk teens. In addition to her love of football, Andra is a professional artist and served as a Vice President/Creative Director at Time Warner for many years. Today, she lives with her parrot, 'Pie' in New York's Greenwich Village where she creates mixed-media artwork. To learn more, visit: www.andradouglasart.com.