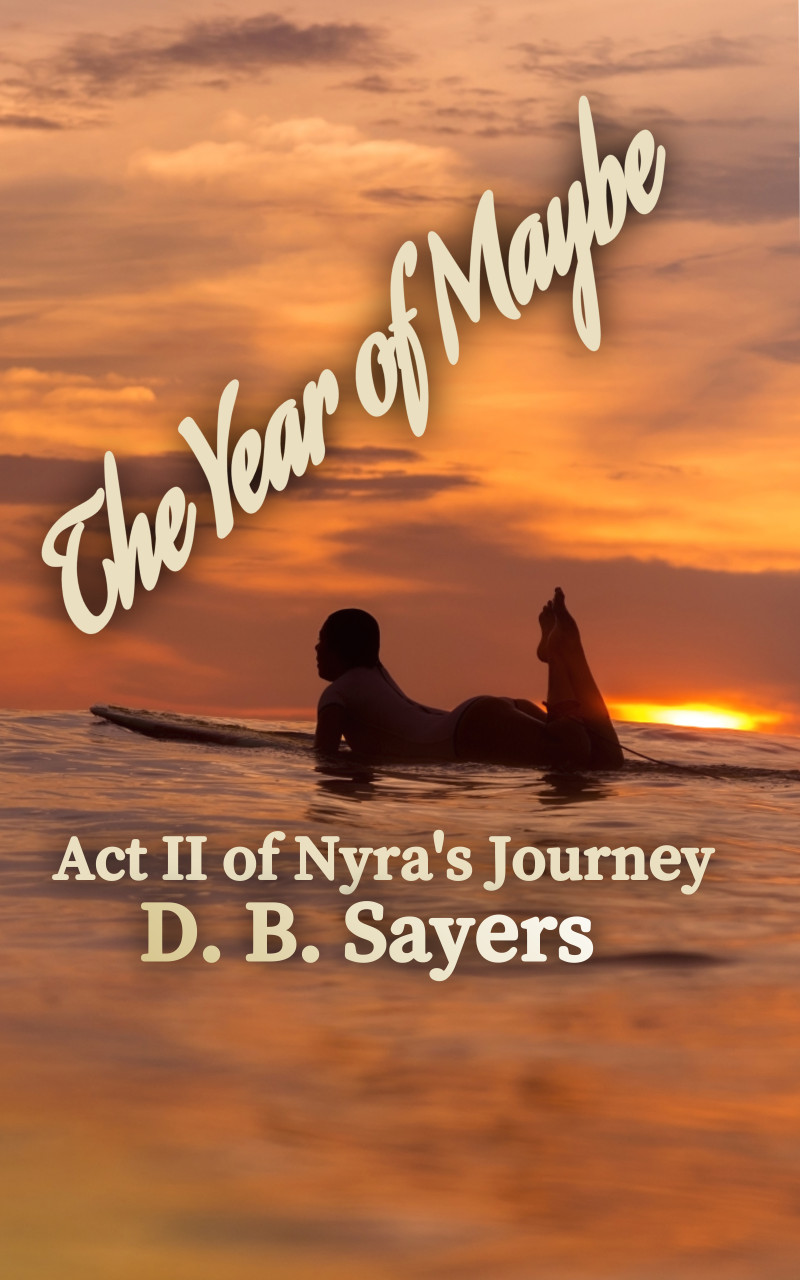 Act II of Nyra's Journey
New Adult Romance
Date Published: November 2022
Publisher: PhoenixPhyre
He's nothing like her hopeful dream—and everything she wants.
Nyra's transition from college grad scrambling for her first career job to full independence is as on track as it can be, these days. With her new marketing job is going well, even if she's still living at home,Nyra's pretty sure the light at the end of the tunnel is not an onrushing train.
Still, she gets bored, sometimes. A whimsical decision to take up surfing brings her together with Tai Abrega, a professional surfer and shaper so delicious Nyra's imagination hasn't even gotten around to fantasizing about a man like him, yet. Surfing awakens a latent, mystical connection with the sea along with a driven passion for the man himself.
But embracing one possibility often demands abandoning another. How can Nyra fit Tai and the seductive siren song of freedom into her "safer" vision of perfect? Can she blend her conventional world with his freespirited lifestyle, or is she doomed to disappointment and heartbreak? New Adult fans of It Ends with Us and Finding Perfect are sure to enjoy this upbeat tale of hope.
The Year of Maybe Act II of Nyra's Journey continues the story begun in Best-Case Scenario.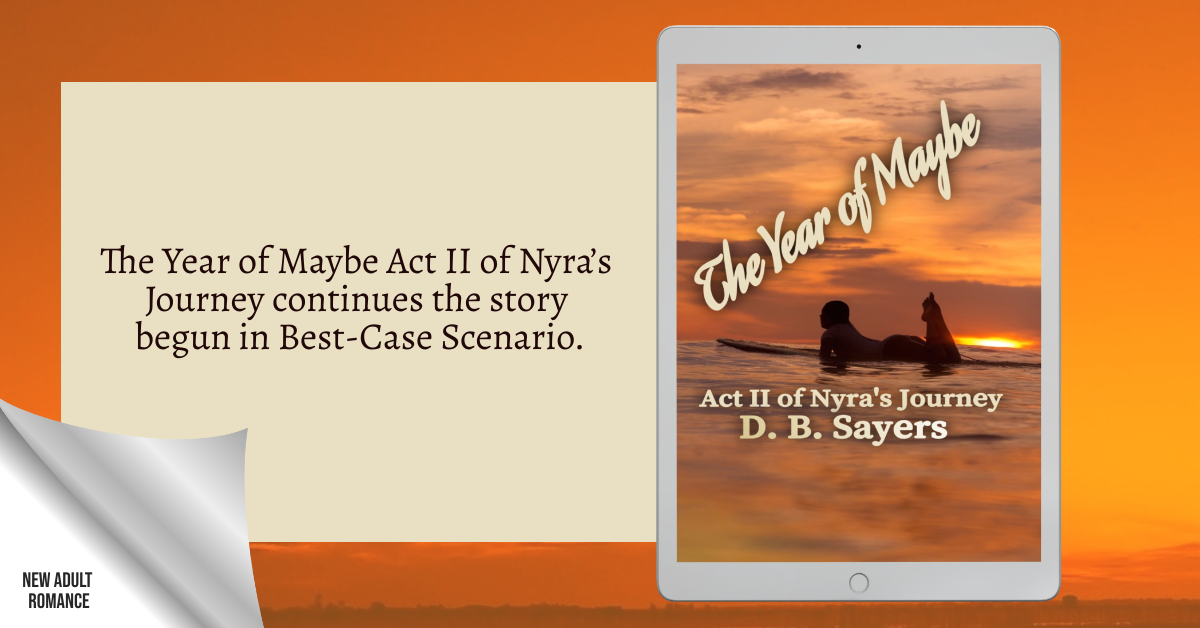 Interview with D.B. Sayers
How did you become involved with the subject or theme of your book?

I've always been fascinated by the transition we make from young adults, still living under Mom/Dad's roof to self-aware, thoughtful maturity. Adults with a consciously crafted system of values reflecting who we are, rather than who our parents or society things we should be. My interest was partially due to my own struggles, as well as those I watched my daughter work through.

The Year of Maybe is the second act in the Nyra Westensee series, and picks up six months after Best-Case Scenario, Act I of Nyra's Journey ends. The Nyra Westensee series follows her from recent college graduate with a constellation of personal and professional identity issues, to mature, sophisticated human with a life of purpose and promise in front of her.
What were your goals and intentions in this book, and how well do you feel you achieved them?

I wanted to tell a story of the often-confusing, bumpy path we all take as we grow up. From self-awareness but uncertainty about who we are, to who we want to be. I wanted to put Nyra in situations forcing her to consider whether her aspirations and the identity she claimed were truly hers, or whether they had been superimposed on her by family and society. I wanted to tell a story that embraced not only Nyra's professional arc, but her personal journey toward self-knowledge and how love might fit into that.

The Year of Maybe is and adventure in self-discovery, professionally, personally, and sexually. I'm happy with how the story has turned out, thanks in large part to a great editor who didn't let me get away with anything and kept me honest.
What was the hardest part of writing this book?

It's always challenging writing about a different generation, never mind a different gender. Fortunately, I had my daughter, a couple of millennials in my author's critique group and a millennial editor all helping keep me out of trouble, watching my use of idioms to avoid being too "dated."

That was actually part of the enjoyment of this project and the books that may follow. I hope to remain very current on what matters to young men and women trying to make sense of life in the third decade of the 21st Century.
What did you enjoy most about writing this book?

The characters. None of us get through life without dealing with change and it's fascinating to me as an author how my characters tend to evolve organically. As the story unfolds, my characters almost tell me how the events they're experiencing affect how they grow, for better or worse. This book was especially fascinating to write in that in large measure, it's a tale of cross-generational relationships—which made it a gas to write. And as the characters developed, I think I finished with more sensitivity to how each individual's experiences shaped their personality and world view.
Were there alternate endings you considered?

Yes. I started out with an ending that left Nyra feeling a little abandoned. And by definition, it was less upbeat. My editor suggested it might be better if I gave Nyra a bit more of a win. She was right. The new ending feels much more satisfying. Which doesn't mean Nyra doesn't have more challenges on the way. But in common with most of us, she will experience ups and downs. But for now, she ends on an "up."
Can you share some stories about people you met while researching this book?

I was unprepared by how much interest this story generated when I talked about it while I was still working on it. And their age didn't seem to matter. It remains to be seen if that's a function of the company I tend to keep or whether it has broader appeal than I expected.

By way of example. a young woman I met working out in the gym was so taken with the summary she asked to be a beta reader. She loved the story so much, she passed it on to her mother, who enjoyed it as well.
What genre of books do you enjoy reading?

I enjoy thought-provoking, contemporary fiction, most romances and science fiction. I also read anthologies of short stories and informative non-fiction.
About the Author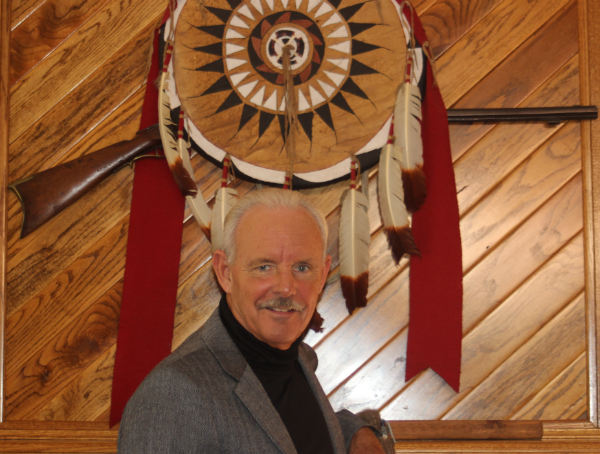 Dirk's path to authorship wasn't quite an accident, but almost. Through his two previous careers, first as a Marine officer and subsequently as a corporate trainer, Dirk started way more stories than he finished.
But when his employer filed for Chapter 11 in the backwash of the 2008 financial melt-down, he found himself cordially invited to leave and not return. Out of work and excuses, he focused on finishing his first novel, West of Tomorrow, while looking for another career position.
Since then, Dirk has written and published Best-Case Scenario, Act I of Nyra's Journey a collection of short fiction entitled, Through the Windshield as well as Tier Zero and Eryinath-5, The Dancer Nebula, Vols. I & II of the Knolan Cycle.
The Year of Maybe, sequel to Best Case Scenario, is due out in Novemeber 2022.
Dirk also contributes to Medium, blogs on his website, and will accept editing work, by special request. Besides his work as a writer, he is an accomplished snow skier, woodworker, photographer and a compulsive gym rat.
Contact Links
Purchase Links