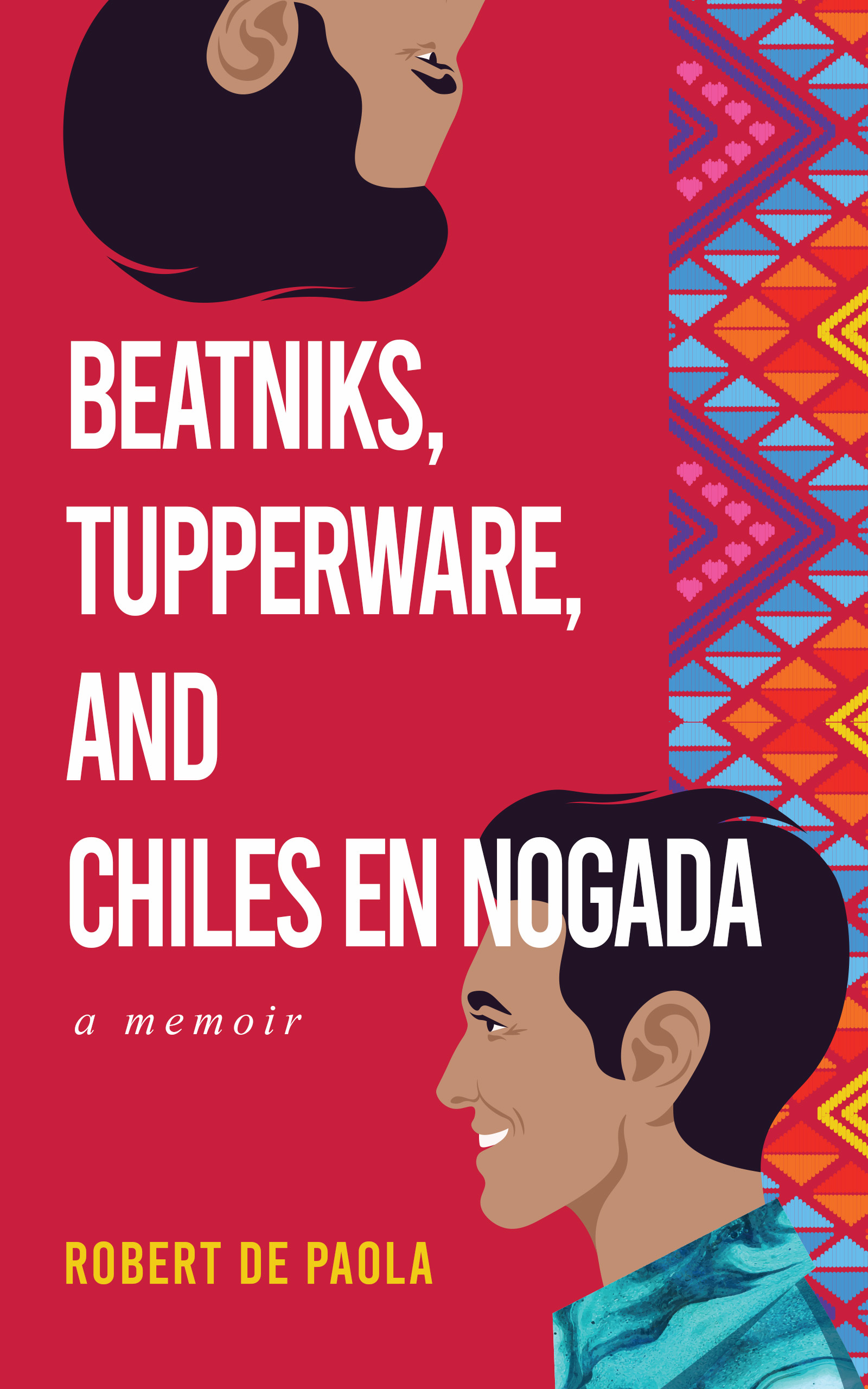 Nonfiction / Memoir
Date Published: September 18, 2022
Publisher: ‎ Mindstir Media
Wrenched at the age of five from his Mexican family in Baja California, Robert lives with his unconventional birth mother who works as a traveling Tupperware salesman in 1950s Southern California. Their many adventures include living with a World War II veteran suffering from PTSD, reciting poetry to the rhythm of bongo drums in a Beatnik Commune, and extended periods of homelessness.
Robert, a former professor at an Ivy League college and founder of a successful nationwide software company, emerges as a scholar searching for a feeling of belonging and a family. His journey takes him to both coasts of the US, to Europe, and finally, to a remote, mountainous region in Mexico. There, he rediscovers love where he least expects it, and finds a place to call home.
Beatniks, Tupperware and Chiles en Nogada is written with humor, heart, and an understanding of how complex humanity can be. It is a celebration of the human spirit that will captivate the reader with unforgettable characters and exotic locales.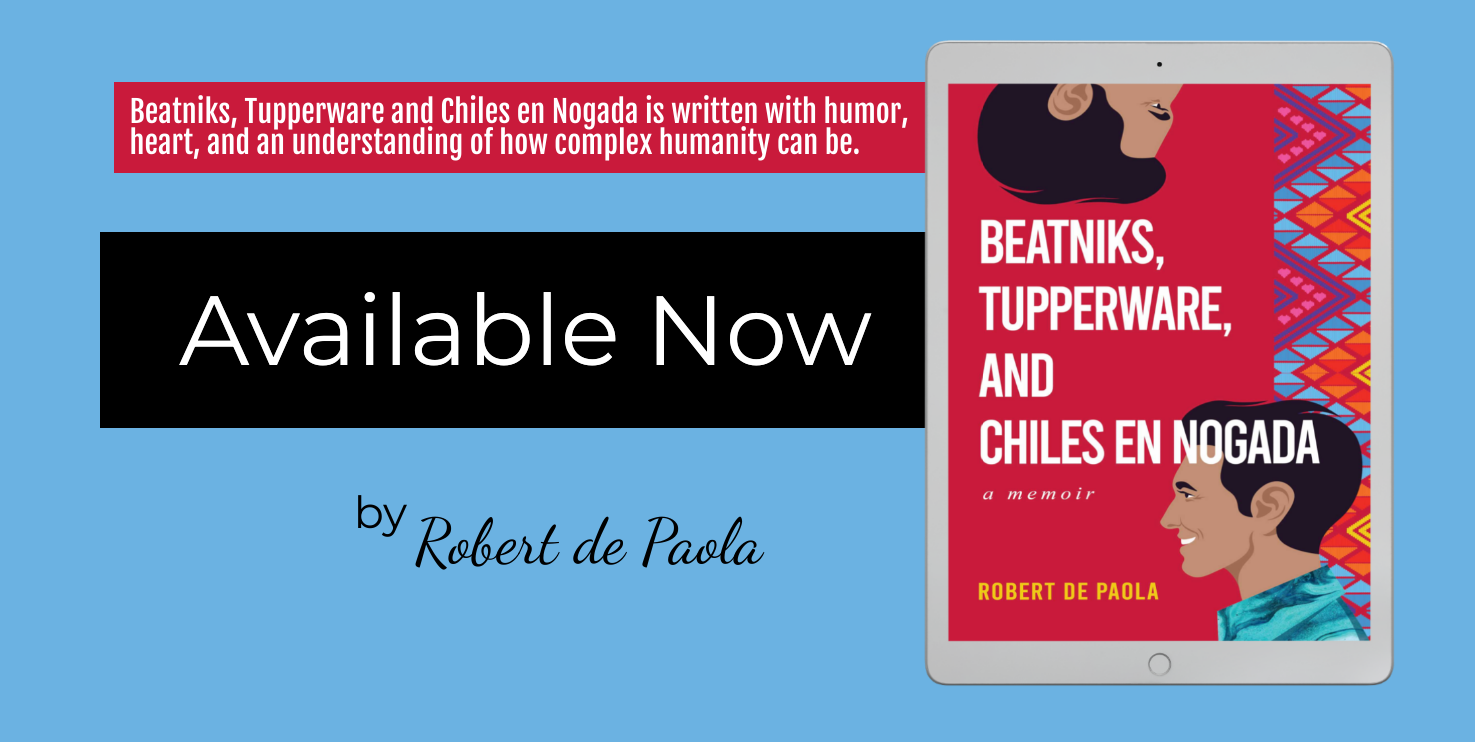 Interview with Robert de Paola
Early Life
My early life was filled with a variety of cultural influences. I was born in SoCal to an Eastern European mother and Italian father, but was raised from an early age by a Mexican family in Baja California. From the age of 6 to 12 I lived with American Grandparents, Italian Grandparents, my birth mother, and two foster mothers. I lived in a beatnik commune, with a WWII veteran with PTSD, a traveling Tupperware salesman, and in an abandoned home furnished by home-built furniture made from scraps of lumber swiped from a nearby construction site. For periods of time, I lived in a car with my birth mother. (I had a ball. I got to eat tacos and hamburgers from road-side stands every day. I thought of myself as a pioneer travelling west in a covered wagon.)
Work Experiences
I am immensely proud of my first work experiences as an avocado and tomato picker on with migrant word crews in San Diego County. After serving in the Army for three years, I worked as a bill collector for household finance, an employment counselor, then as a TV salesman.
I enrolled at the City College of NY at the age of 25. I eventually earned a PhD at the University of Pennsylvania and joined the staff there as an Assistant professor in the School of Medicine. I left academics to found a medical software management company. I stepped down from my position of CEO ten years later to return to Mexico precisely 50 years after leaving Baja California as a young child. I relocated to the little known "Region of the Volcanos" in East Central Mexico, but in the following years traveled extensively through south, central and north east Mexico.
Writing Experience
None other than numerous academic articles. But as a child I was forever writing short stories and poems. I enjoy writing between 2:00 AM and 7:00 AM when the house is quiet. I write 6 days a week.
Today
I spend much time at Trampoline Parks and Playgrounds with my wife Rosie and our adopted 4-year-old daughter Sophie. In my free time I watch British TV, solve NYT Crossword puzzles and try to write screenplays.
The Book
Genre
Two reviewers have categorized "Beatniks, Tupperware and Chiles en Nogada" as a memoir that reads like fiction. Yet, it is only a memoir for lack of a more precise category. Yes, it follows me in my picaresque journey through life; but, by in large, it tells the story of those I have met along the way. It is not a platform for bearing my soul. It is an entertainment filled with colorful characters, absurd situations, and exotic locales. It is a character-based travelogue through space and time.
Characters
Readers will meet my dear Abuelita who sang to me to sleep in the ancient Nahuatl language of the Aztecs; my birthmother Miki, a Tupperware salesman whose feet never quite touched the ground; her boyfriend Comer who was a WWII veteran with PTSD. Later in the book readers will meet my quirky Chinese Cal Tech roommate who delights in performing renditions of Joel Grey's songs from the movie Cabaret and riding kiddy rides in Disneyland; surgeons who argue over the naming of laboratory research animals; a crazy German scientist that prohibits the word "Whoops" in his laboratory; Josephine, an Italian-American vamp in a hyper-traditional Brooklyn neighborhood; Johnny Eyes, a one-eyed hulk of a man who was sexually abused in prison and collects for loan sharks; and Azucena, a DREAMER, who finally returns to Mexico after 14 years in the US to marry her childhood admirer Emmanuel who she last saw when he was eleven years old. There are many more quirky denizens of the book who tell their remarkable stories in their own distinctive voices.
Immigrants
Many of the characters in the book are immigrants. I immigrated to and from Mexico twice; my wife Rosie and her daughters are immigrants to the US; King, my wacky Chinese roommate at Cal Tech; a cluster of German scientists; undocumented immigrants Renata, who made 5 attempts to cross the Arizona desert before finally evading the border patrol; Sasha, my Florida roommate who is a Russian immigrant who lost both her mother and only child in a car accident in Moscow.
Locations
A sleepy fishing village in Baja California, a 1950s Southern California beatnik commune, a hyper-traditional Brooklyn-Italian neighborhood; Hanover Germany; Mexico's little know Region of the Volcanos, the vast La Mixteca indigenous area of Mexico's Oaxaca state; and Matamoros, a war zone on the Mexican side of the US/Mexico border.
HASHTAGS
I know nothing about them.
Readers
History buffs and older will especially enjoy the detailed look at the culture of post Korean War Southern California. Those interested in indigenous culture will enjoy sections that deal with La Mixteca. But readers of all ages will enjoy the multitude of fascinating locations and characters. It will be especially enjoyable for readers who like character-based stories filled with dialog that crackles.
It is written in prose accessible to all from High School and up.
About the Author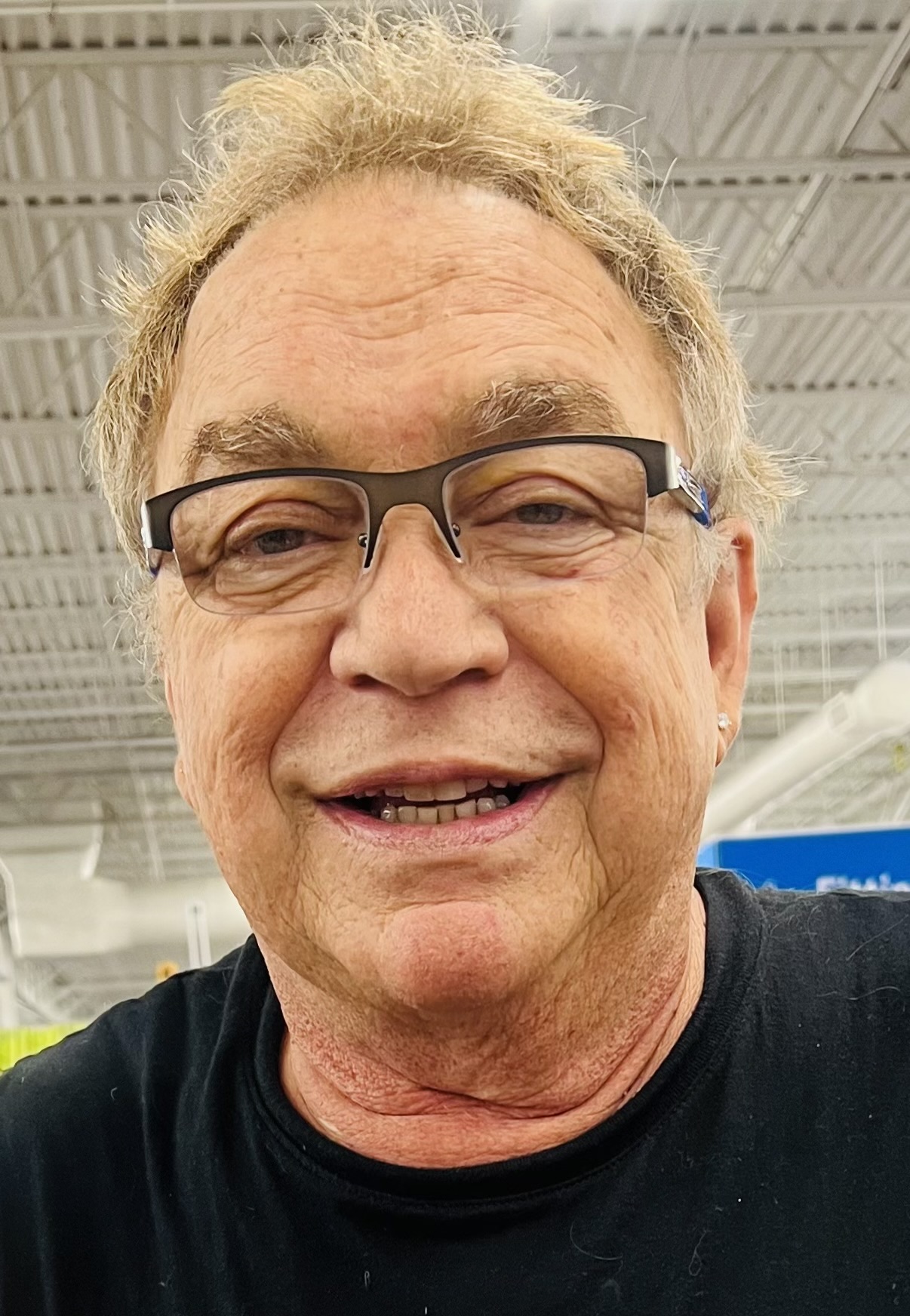 Robert spent his childhood in Ensenada, Mexico, and Southern California. After serving in Vietnam he relocated to New York. He attended graduate school at UPENN where he joined the staff as an Assistant Professor in the School of Medicine after earning his Pd.D. in Physics. Robert left his academic position to found PyraMed, Inc., a nationwide software company serving academic medical clinics. Robert lived and traveled in Mexico extensively after stepping down from his executive position at PyraMed. He presently lives in Florida with his wife, Rosie, and his two daughters, Danna and Sophie.
Contact Link
Purchase Link