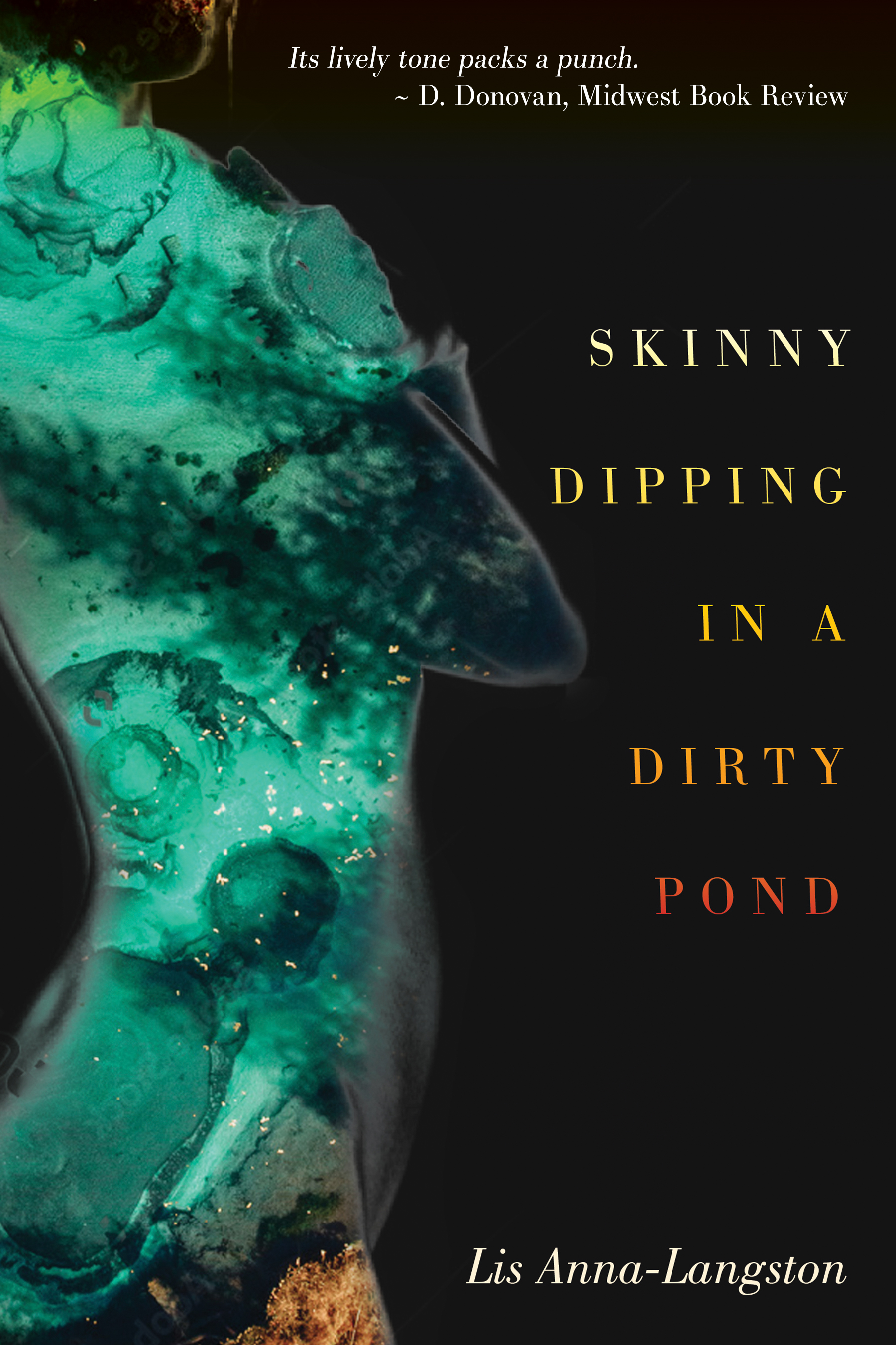 Literary Fiction / Memoir
Release Date: October 1, 2022
Publisher: Mapleton Press
A young girl in a small southern town in the 80's enlists the help of an unlikely group of friends and family to help her survive an unconventional, sometimes abusive childhood. Often left in the care of a paranoid schizophrenic uncle who lives downstairs and a psychotic uncle upstairs, the narrator stacks up a few heartbreaking observations. When her mother abandons her in favor of her addictions, the girl goes to live with her grandmother but finds happiness cut short when her grandmother dies. Her uncle believes the voices in his head have trapped his mother in a basement across town and as he slowly looses grip on reality, he also looses his ability to take care of her. Taken to a Group Home to live until a case worker can find her a place to go, her mom's ex shows up and is forced to make a choice.
Praise for Skinny Dipping in a Dirty Pond:
One child's vulnerability and resilience to forces beyond her control make a raw and colorful splash in this tenderhearted memoir.
-RECOMMENDED by the US Review
"Skinny Dipping in a Dirty Pond is highly recommended for fiction readers looking for coming-of-age and family narratives that are anything but ordinary and predictable. Its lively tone packs a punch."
- D. Donovan, Midwest Book Review
... I have to tell you that as I enjoyed this great book, I realized no 9 year old could have the thoughts or quick comebacks that Cotton does. Any kid that had to go through what Cotton did would become old way before their time. But in truth, this is mostly a story of Cotton telling about her life but living in the moment. Does that sound nuts? Well, whatever the technique, it worked. It made a story so very poignant that it touched my heart. Lis-Anna Langston created a character you will fall in love with and a book you'll be sad is over when you turn the last page.
- Our Town Book Reviews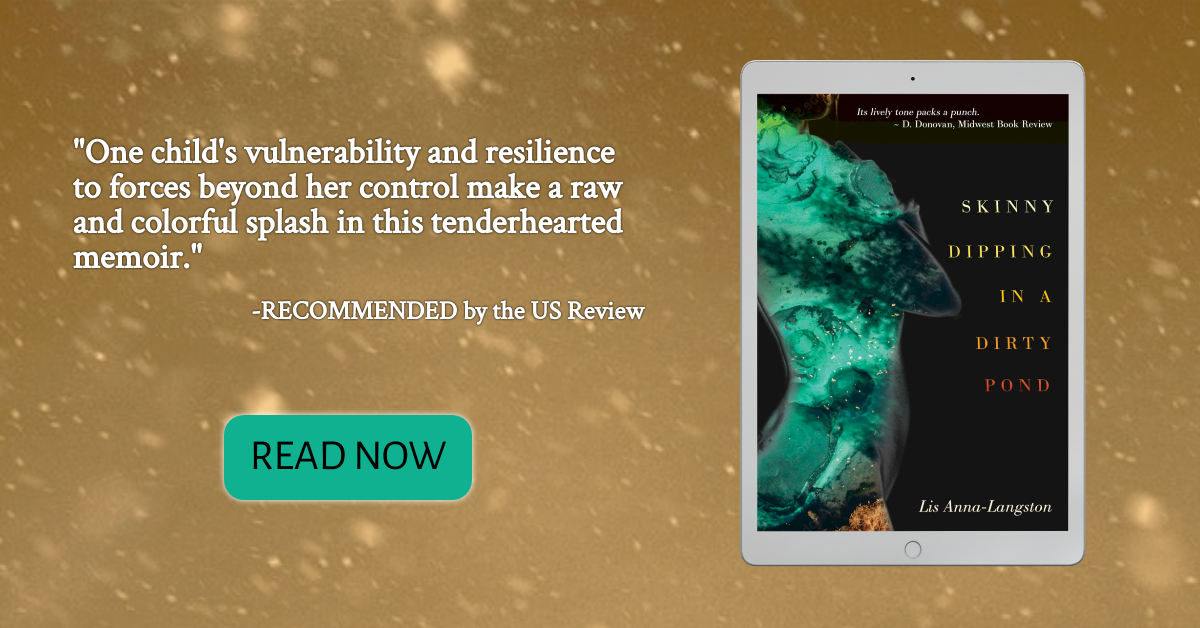 Interview with Lis Anna-Langston
What is the hardest part of writing your books?
I write in scenes, so I come up with all these pieces. It's like a great big puzzle and I have to move all of the pieces around to figure out the story.
What songs are most played while working?
MC Solaar and Miles Davis' Sketches of Spain are on repeat. I am a huge jazz lover. Toss in some Mozart and Tame Impala with the collected works of Beethoven and I am good to go for an afternoon.
Do you have critique partners or beta readers?
Most definitely. I have been workshopping with the same person every week for twelve years. I also workshop with the South Carolina Writers Association. I am active with the Augusta Writers Crit Group and use a group of trusted readers as I work through drafts.
What book are you reading now?
I Hate to See that Evening Sun Go Down
How did you start your writing career?
I left a full-time sales job that took up most of my day when I moved to Madison, Wisconsin. There, I worked only two days a week. Suddenly, I had five days a week to write. My aspirations of I want to become a writer suddenly intersected with Now I can. I spent those years really learning the craft of writing, building up a body of work, and learning how I work, what my process is for creating. I was already an award-winning writer by then, so it's interesting that it wasn't until after my deep commitment to learning and practicing my craft that I considered myself a writer.
With all that said, I think my writing career really began at Writers Police Academy when a conversation with a Detective from NYC made me realize that I had a dream, a vision, but no trajectory. As a result of that life changing conversation, I created a real publishing plan to implement goals and strategies.
Tell us about your other titles.
Maya Loop
GET READY TO MEET THE BLUE HAIRED GIRL FROM BALTIMORE!
https://www.amazon.com./Maya-Loop-Lis-Anna-Langston-ebook/dp/B0985C3D29/
Gobbledy
THE PERFECT HOLIDAY BOOK FOR THE KIDS IN YOUR LIFE OR THE KID IN YOU!
https://www.amazon.com/Gobbledy-Novel-Lis-Anna-Langston/dp/1684630673/
Tupelo Honey
A loveable, engaging, original voice… ~ Publishers Weekly
https://www.amazon.com/Tupelo-Honey-Lis-Anna-Langston/dp/153545850X/
I have a new title coming out in 2023!
Follow me on Amazon
https://www.amazon.com./Lis-Anna-Langston/e/B00IXKUOEQ/
Or subscribe to my newsletter for announcements of new titles!
https://www.lisannalangston.com/contact
It is totally FREE to subscribe, and you'll get lots of new book releases and stories to entertain and inspire you!
You'll get a notification when new titles come available for pre-sale.
I regularly publish in literary magazines and journals.
You'll get links and perks and all of the important deets delivered straight to your inbox.
About the Author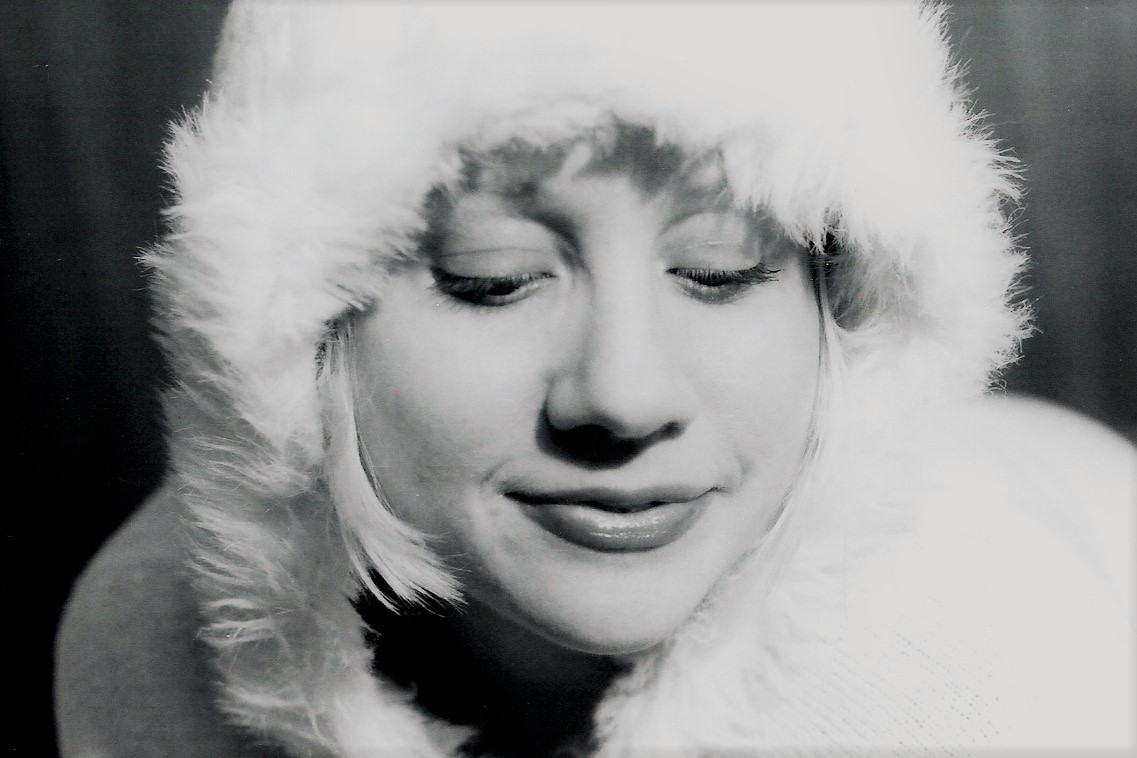 Lis Anna-Langston was raised along the winding current of the Mississippi River on a steady diet of dog-eared books. She attended a Creative and Performing Arts School from middle school until graduation and went on to study Literature at Webster University. Her two novels, Gobbledy and Tupelo Honey have won the Parents' Choice Gold, Moonbeam Book Award, Independent Press Award, Benjamin Franklin Book Award and NYC Big Book Awards. Twice nominated for the Pushcart award and Finalist in the Brighthorse Book Prize, William Faulkner Fiction Contest and Thomas Wolfe Fiction Award, her work has been published in The Literary Review, Emerson Review, The Merrimack Review, Emrys Journal, The MacGuffin, Sand Hill Review and dozens of other literary journals. She draws badly, sings loudly, loves ketchup, starry skies & stories with happy aliens.
You can find her in the wilds of South Carolina plucking stories out of thin air.
Contact Links
Purchase Links