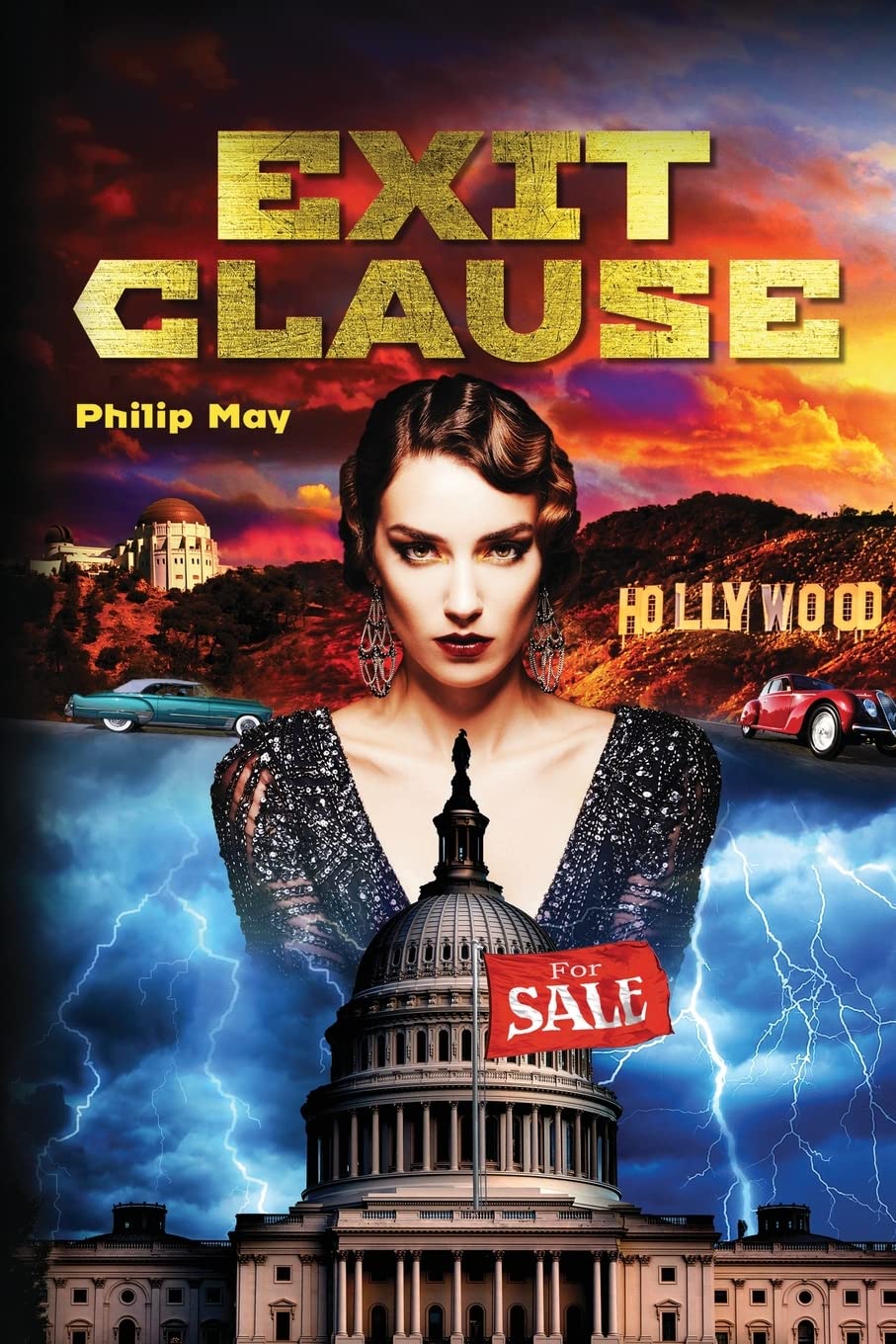 Sharer Mystery, Book 2
Historical Mystery
Date Published: April 12, 2022
Publisher: ‎MindStir Media
Grant Sharer just solved the mystery of great entertainment
Hollywood, 1948
The Supreme Court is forcing Major Hollywood Studios to sell their movie palaces marking the final curtain for filmdom's Golden Age. The Department of Justice is threatening criminal prosecution for the Tinsel Town´s most powerful Moguls. Backstage an international Egyptian heroin ring threatens the future of the U.S.
Grant Sharer, the Studio system´s number one scandal fixer, fighting to help a struggling actor battle discrimination, is caught in an undertow of corruption that leads from the highest court in the land to the lowliest studios on Poverty Row.
Take a thrill ride from Cairo to California. From a secret New York Subway Station to the heights of LA´s iconic Planetarium.
For Grantland Sharer, pitted against the most powerful men in America, there´s only one way out.
Exit Clause
The greatest scandal is not reading it.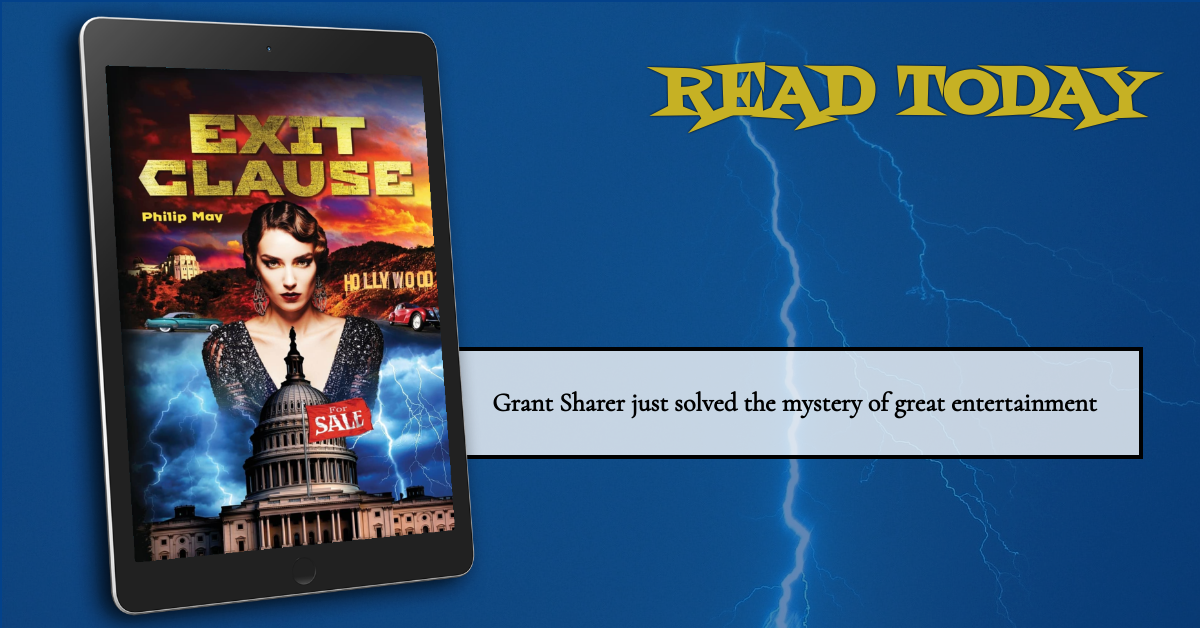 Interview with Philip May
What is the PRIMARY benefit, above all others, that your potential reader will gain from reading this book?
Learning the history of Hollywood and the Major Studios, I think, is fascinating. It´s the stuff of legends. My books spring boards from factual golden age Hollywood events. McCarty grandstanding to receive Hollywood style publicity in Morals Clause. And the Supreme Court, forcing the Major Studios to divest themselves of their theaters (they owned almost 45% of all the movie seats in 1948) in Exit Clause. All along the way readers learn about the inner workings of the film industry and the film making process during that legendary era.
If you had to compare this book to any other book out there, which book would it be?
My books share a commonality with the Bosch series. The lead character, Grantland Sharer is a Hollywood fixer in the 1950´s who uses guile to overcome his adversary. He has to be smarter than the crop of the gossip columnists (Hedda Hopper, Louella Parons, etc.) who sniff out the scandals that can ruin his movie star clients´careers. The other aspect the Clause books share with the Bosch series is love of Los Angeles, particularly LA in the late 40´s and early 50´s when it really was a company town. The industry being the Movies.
Hundreds of thousands of books come out every year. Why should someone buy THIS book?
Exit Clause is for people who love movies. Particularly movies from the golden age of tinsel town. It provides a great insight into the inner workings or the studios and the Moguls who ran them. One reviewer said It´s Hollywood history wrapped in a mystery. There are insights into how films are made. What a studio back lot looks like. How publicists contort the truth to make stars appear larger than life. The assembly line aspect of production. All the tricks of the trade are revealed. Fascinating reading for those enthralled by the magic of the silver screen.
Who is your target audience?
Readers for Exit Clause are not defined by demographics but by their interests. Love of movies and all that entails. The star system. The promise of being transported. The scandals that go on behind the scenes. The romances that titillate us all. Exit Clause is for people who like sexy, sinful, cinematic fact based fiction at it´s very best.
Did your environment or upbringing play a major role in your writing and did you use it to your advantage?
I was a television producer for Disney. I wrote and occasionally directed. In that role I worked with many golden age stars. Jimmy Steward, Helen Hayes, Betty Davis, Gregory Peck and many others. While we were waiting for camera set ups or make up, I´d ask them about their careers and listen attentively as they told me their stories. I also filmed at every studio in Hollywood at one time or another, so I have a working knowledge of Fox, Paramount, Disney, Universal; MGM even RKO.
After I retired I taught film at the college level and developed class subjects ranging from Film Noir to McCarty and the Media to Hitler Vs. Hollywood: The Propaganda Wars.
Every bit or research I did in creating these classes, has gone into the construction of my novels. Readers well sense and share the passion I have for the historical and sociological window that film represents to the World.
Tell us your most rewarding experience since publishing your work?
An author I deeply respect excerpted these words from my book and quoted them back to me in an email:
LA itself is like an optical illusion—a paradise that swallowed up a dream factory and created an empire built on flickering light and mystical imagery that transports motion picture audiences to a place of altered reality.
"This sticks with me," he said. I consider that a true compliment. Equally, when people tell me they loved it, read in three days, couldn´t put it down. That makes me happy. Coming from the entertainment industry, my first order of business is to entertain.
How would you describe your writing style?
Empathetic. I consider the reader at every turn. It´s my job, as an author, to keep the reader engaged and anxious to move forward. I write cinematically. Hopefully you can see the scene you're reading. Fast paced, short chapters, humorous dialogue and punchy chapter conclusions that leave the reader with a chuckle or a sense of dread.
Are your characters pure fiction, or did you draw from people you know?
Some of my characters are taken from reality. The Moguls all make an appearance in Exit Clause, including Louis B. Mayer, Howard Hughes, and others The main character Grantland Sharer is fictional. Having known a lot of people in the business many of the characters are composites of real power players who shall remain anonymous.
Are you more of a character artist or a plot-driven writer?
Strong characters make for good fiction. But the story is why people tune in. I develop intriguing plots with lots of surprises, populated by, hopefully, multi-dimensional characters whom you mostly like once you comprehend their motives. Even a controversial guy like Joseph McCarty must have shown some redeeming qualities.
What do you hope to accomplish with your book other than selling it?
I would like to share knowledge about the Golden Age of Hollywood, the star system and way studios operated during that era. I would like to engender a reverence for that time and place and the industry which helped to shape so many of my generation by giving us role models, a sense of fair play and the impetus to dream big. I also, as much as anything else, want to entertain people using the magic of movies as my launch pad.
How can our readers get in touch with you?
Philmayproductions.com is my website which delves into a lot of detail about Exit Clause. One will find historical back ground, a bio, and buy the book buttons for both Amazon and Barnes and Noble. I can also be reached at Philipaxtellmay@gmail.com.
Where can our readers purchase your book?
Readers can buy the book(s) in both eBook and paperback format at Amazon.com and Barnes and Noble. I strongly urge you to do so.
About the Author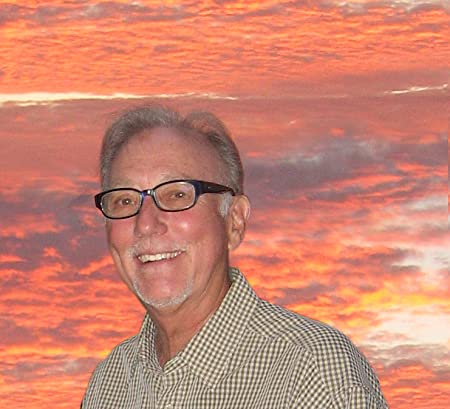 As primetime Emmy nominated television producer, writer and director at Walt Disney Studios, Phil May filmed on every major studio back lot in Hollywood. He directed such Golden Era stars as Bette Davis, Helen Hayes, Gregory Peck, Jimmie Stewart, many more and avidly garnered their stories.
In retirement Phil teaches College level film classes of his own design; ¨The Moguls¨,¨ McCarthy in the Media¨," Film Noir¨, ¨America´s Great Mid-Century Directors¨ ¨Film Language¨ ¨The Hollywood Style¨ ¨Hitler Vs. Hollywood¨, and many others.
As a film historian, teacher and a former insider, Phil devised this novel to appeal to classic film lovers. "My audience, he says, is the avid TCM fan, people who love movies and who read."
Every chapter is infused with obscure insights into the history of studios, movie making and the inner workings of the Hollywood Golden Age.
And the lead character, Grantland Sharer, is nuanced and likeable enough to generate a lot of encores.
Purchase Links
Contact Links