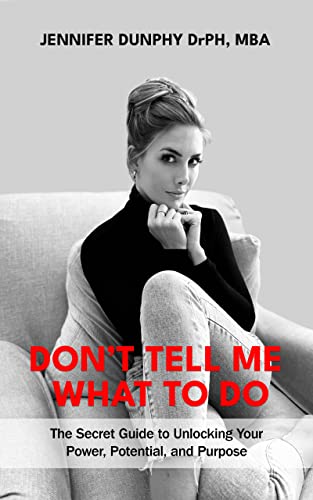 The Secret Guide to Unlocking Your Power, Potential, and Purpose
Non-fiction/Self-Help
Date Published: 04-03-2023
"Don't Tell Me What To Do" shows you how to break free, explore the exact version of reality YOU want and then practically implement it––on your terms.
The book weaves together Dr. Jennifer Dunphy's most transformative life lessons and unique experiences together with practical exercises and a solid step-by-step plan for all readers, striving to achieve their personal and professional goals on their terms. From breaking free from the competence-likability trap to overcoming self-bias to reframing "perfection" to cutting off the voices that tell you that you can't, shouldn't, or wouldn't, the book peels back the layers of what's holding us back and who we can be.
Included in the book you get:
An exclusive program for crafting your version of your ideal life

BONUS companion workbook that you can download after you purchase the book

Exclusive action frameworks for making those visions reality

Tools and strategies to ensure your path to success

Continued support and guidance through an exclusive online community
In Jennifer Dunphy's words, "You have sacrificed enough of your life doing things the 'right way', now it's time to do things your way."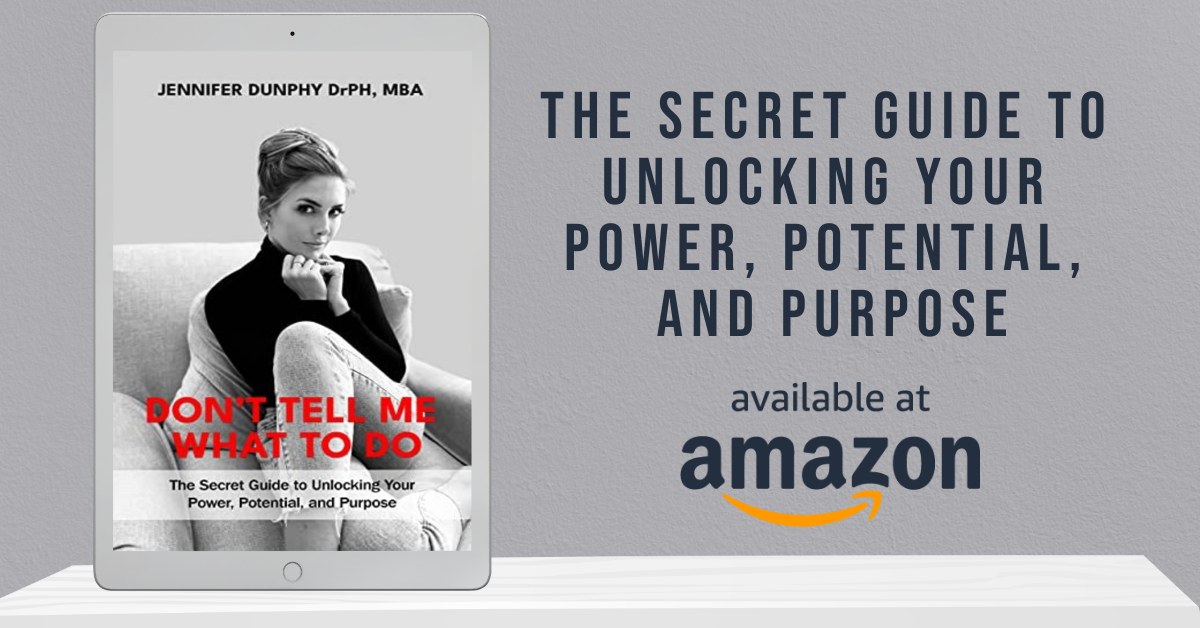 Interview with Jennifer Dunphy DrPH, MBA
What is your schedule like when you're writing a book?

I devote a consistent block of time each day to writing (usually around 90 minutes to 2 hours). During this time I allow no distractions and concentrate on writing, even if I don't like what I am producing, I keep going.
Did you ever consider writing under a pseudonym?

I did, because I wanted people to judge the writing—not the author. But, ultimately decided not to.
Have you ever gotten writer's block?

All the time! But, the trick to writer's block is not to wait until you get inspired but to push through it by continually writing. Some of my best work came to me DURING a writers block.
Does your family support your career as a writer?

My primary career is an executive as a doctor of public health—writing is my passion and it does run in my family. My grandmother, Nora Bunney, was a very talented writer. I may not have her talents, but I have her passion for turning emotions and thoughts into words.
How many hours a day do you write?

I generally aim for 90 minutes to 2 hours when I am working on a project and 15 to 30 mins daily just to sharpen my writers mind. But of course, in the real world, this doesn't always happen.



If you could invite any three people for dinner, whom would you invite?

Albert Einstein, Richard Feynman and Maya Angelou
Would you share something about yourself that your readers don't know (yet)?

I used to be a competitive sailboat racer
Do you try more to be original or to deliver to readers what they want?

Neither, I write for myself. I find that if I write from the heart about things I really care about then that ends up resonating the most with my readers as opposed to tailoring the material to 1. What I think readers would want to hear or 2. What will get the most attention. I often find that that kind of material ends up feeling inauthentic.
How do you celebrate when you finish your book?

The time away from my computer was celebration enough!
If you could be mentored by a famous author, who would it be?

Ernest Hemingway
About the Author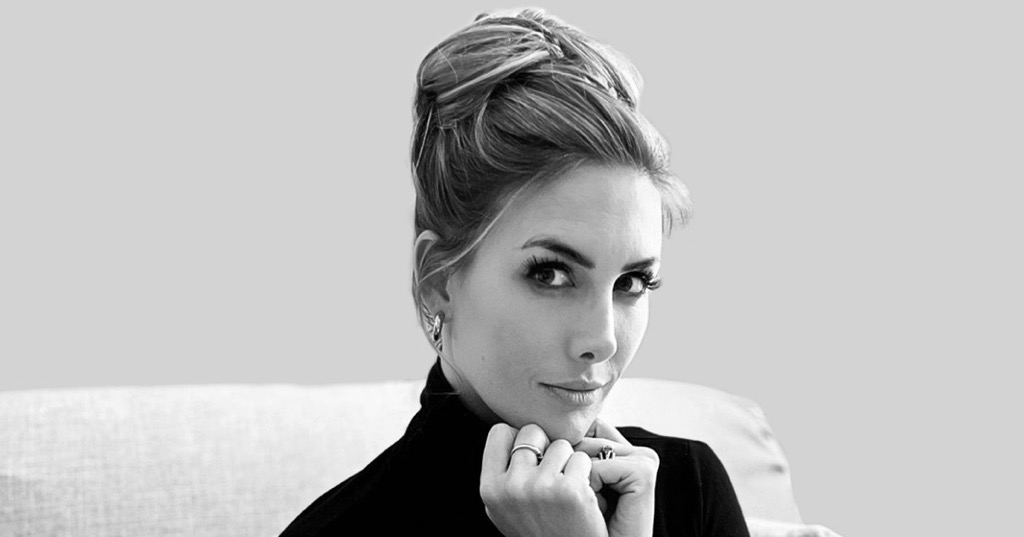 Dr Jennifer Dunphy is a Doctor of Public of Health and currently serves as the Chief Population Health Officer at one of California's largest healthcare organizations. Jennifer earned her doctorate from the University of North Carolina-Chapel Hill, her Masters of Business Administration from Loyola Marymount University, her Masters of Public Health from UC Berkeley, and her undergraduate degree in Neuroscience and Natural sciences from the University of Southern California. Jennifer's public health research has been published in some of the top journals in her field including The American Journal of Managed Care. Jennifer has been recognized with several national awards including Becker's Hospital Review Top Chief Population Health Officers to Know, and Modern Healthcare's Emerging Leader in Healthcare Award. Jennifer is an active advocate for all things public health on social media and has a popular monthly health newsletter with over 1000 subscribers and growing. Jennifer is also the author of an Amazon best seller, The Toxin Handbook, a book which teaches families with young children how to eliminate dangerous toxins in the home. Jennifer regularly lectures at major conferences across the country in pursuit of changing the way healthcare meets the needs of vulnerable populations. Jennifer also has a podcast, and has created a novel risk technology which can predict the severity of COVID-19 infections. Most importantly, Jennifer is the mom of two rambunctious boys, and she resides in Orange County with her husband. Jennifer loves to ski, cook, read and spend time with family. You can follow Jennifer @drjendunphy on instagram, twitter and facebook, and visit her on her website www.drjendunphy.com
Contact Links
Purchase Link