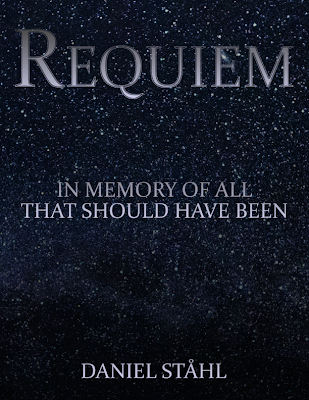 Poetry
Date Published:
Hard-cover: December 2020
Paperback: January 2021
Kindle/e-book: January 2021
Audiobook: January 2021
Through its 211 interwoven poems, this double-tiered recursive crown of sonnets takes the reader on an epic journey to the heart of mankind's would-be nemesis – herself – and back again. Does her destiny await in the unexplored depths of the cosmos, or in a toxic wasteland of her own making? Does she have the will to shape her own future, or is she a slave to her myopic wants and impulses?
Requiem takes the existential threats facing humanity – from the destruction of the environment to nuclear holocaust – as a lens through which to reflect on the fate of civilization, humanity and ultimately conscious life in the universe.
Interview with Daniel Ståhl
What was the hardest scene from your book to write?
I suppose that depends on what one means by difficult. Some sonnets were technically difficult, mostly because I made it difficult for myself. Because of the structure of a crown of sonnets, if you don't plan ahead you can cause yourself no end of trouble: you might pick a rare rhyme that feels perfect in that particular spot, without realizing that you will later on be forced to find new unique rhymes that match it, again, and again, and again.

Emotionally, the ones that hit hardest were the ones that reminded me most of how – the way things are currently going – my kids will likely not have what I had, and will not be able to give their children what I could give them. There are a few of those that made me cry while writing them.
Why did you choose to write in your particular field or genre?
I first started writing sonnets a few years ago, publishing a crown of sonnets in 2019, mostly as an experiment to see if I could do it. That is why I deliberately picked a very strict form – writing free verse simply did not appeal to me, it would have been missing the point.

I enjoyed the experience, and thought of how I might take it to another level, by writing a crown of crowns of sonnets. Then I cast about for a while, looking for a suitable subject. I figured it had to be something sufficiently epic – worthy of the format, if you will. Reading The Uninhabitable Earth by David Wallace-Wells gave me that subject. During the writing process, the subject shifted somewhat, zooming out from environmental destruction to the future of the species more generally, and how to relate as human beings to the ongoing destruction of our collective future.
If you write in more than one genre, how do you balance them?
I have previously published fiction, nonfiction and poetry, but I only ever work on a single project at a time, so that makes balancing fairly easy. Then I give myself perfect freedom to switch genres in between projects; I'm currently sketching a fairly straight-forward science fiction novel as my next book.
What did you enjoy most about writing this book?
That's a good question. I rarely find the writing itself very enjoyable, truth to be told. When you're in the midst of it, it's pretty hard and stressful work, especially when trying to squeeze it in alongside full-time work and being a father. The day only has so many hours, after all.

All of which makes the whole thing seems rather dull, I suppose, but I think of it rather like raising kids. The day-to-day reality of it can be painful, tedious and exhausting, but once you zoom out a bit and watch it from a distance, you see the color, beauty and meaning it imparts.
What book that you have read has most influenced your life?
For truly life-altering reading experiences, I think I would have to back to my childhood. Some of my strongest memories are from listening to my parents reading The Lord of the Rings to me and my siblings, even though I was way too young for it – one of the many perks of being the youngest. Without speculating too much in hypotheticals, I suppose that set me from a very early age on a path of discovery, that I might otherwise not have found until later.
Tell us a little about yourself? Perhaps something not many people know?
We all wear many faces and flow in and out of the roles we play in life, depending on the circumstances. Some know me as a father or as a friend, a few know me as a neighbor, others as a teacher, some as a speaker, others as a software engineer, still others as a researcher. And some know as an author.

These are all versions of myself that I alternate between, but if there is one constant across all of them, it is that I'm an avid tea drinker.
Can you tell us something about your book that is not in the summary?
I would like to think there's a little bit of everything in there. The format might be off-putting to some readers, and to be perfectly honest, it probably would have been to me, too. I have never been a voracious poetry reader myself, but I simply fell in love with the beauty of the format and the rhythm once I began writing sonnets myself.

One reviewer put it better than I ever could: it's "a fun-filled fusion of science-fiction, philosophy and poetry".
About The Author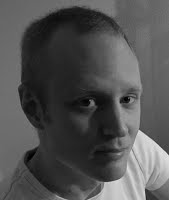 A software engineer by trade, Daniel Ståhl splits his time between software development, research, teaching, writing and being the father of two.
Daniel has previously published both fiction and non-fiction, with his latest forays as an author delving into strictly metered poetry. His latest book, Requiem, came into being in the intersection between the rhythmic cadence of sonnets and his despair at the sanguine apathy with which the human species approaches the prospect of its own extinction – with all of its implications for his children.
Daniel received his MSc degree from Linköping University, Sweden, and his PhD degree from the University of Groningen, Netherlands.
Contact Links
Purchase Links