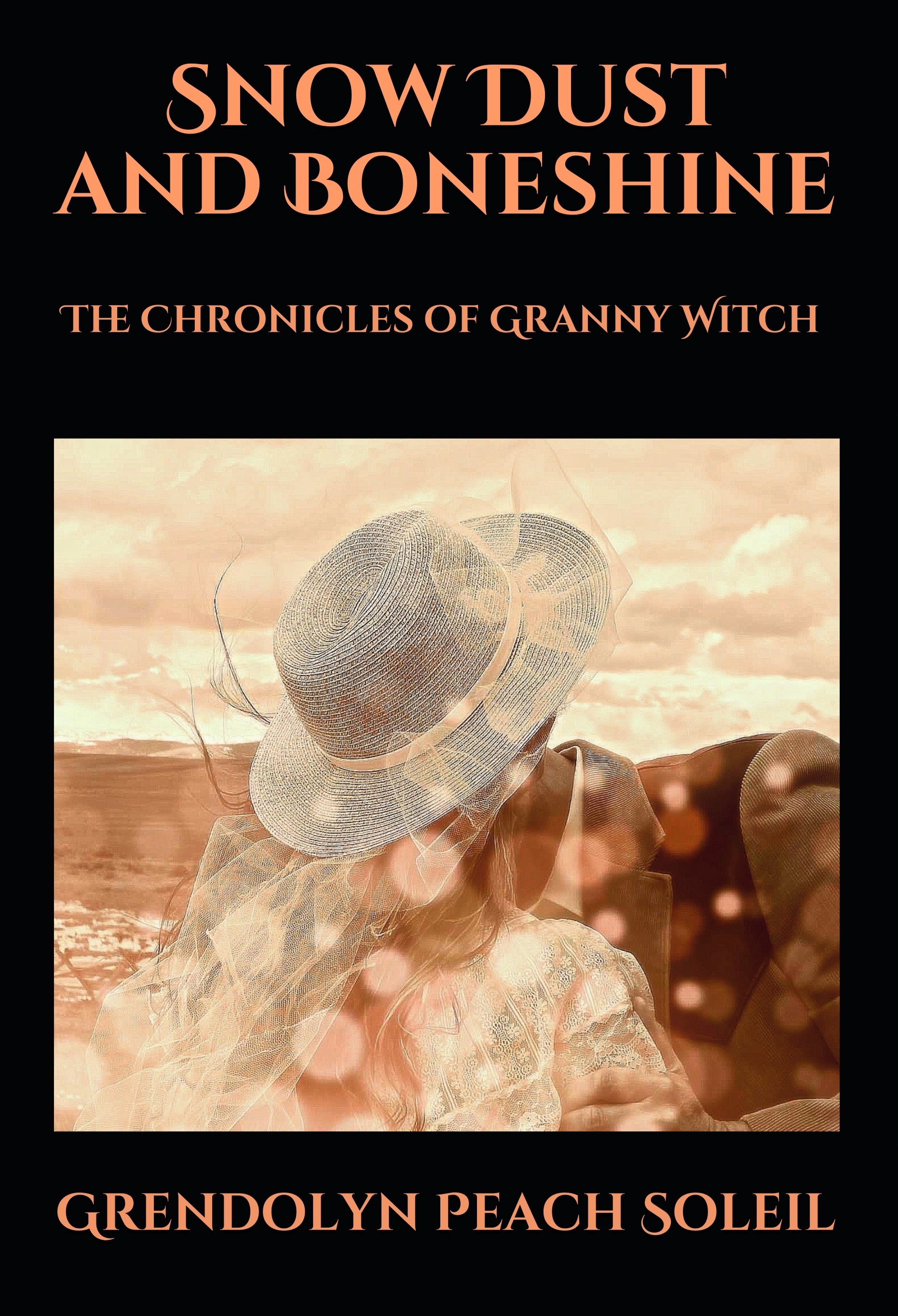 The Chronicles of Granny Witch (Book 1)
Paranormal Romance, Historical Fantasy, Magical Realism, Visionary Fiction
Date Published: December 27, 2020
Once upon a winter's night, a lost cowboy finds himself in Purgatory Bend. Patrick Doolin is plagued by a wound that won't heal, but winter is the season of miracles. As Patrick wanders through Wyoming, he meets Fawna Darling, the mysterious granny witch, who channels the folk magic of her ancestors.
With nowhere to go and a secret Patrick doesn't yet understand, he seeks shelter with Fawna in the snowswept prairie. Forbidden to fall in love, they form an eternal bond in the dreamscape, but when the bluebirds sing of summer and threaten their empire of dreams, they are faced with an impossible decision. Will Patrick stay in the land of the living, or will he cross over the prairie?
Summer is the season of surprises, and Fawna's childhood sweetheart, Dezi Ketchum, longs to win her heart too. When winter melts across the gold-slick prairie, Fawna searches for answers under the rose moon. Caught between fire and water and flesh and fantasy, she follows her heart and ventures into uncharted territory.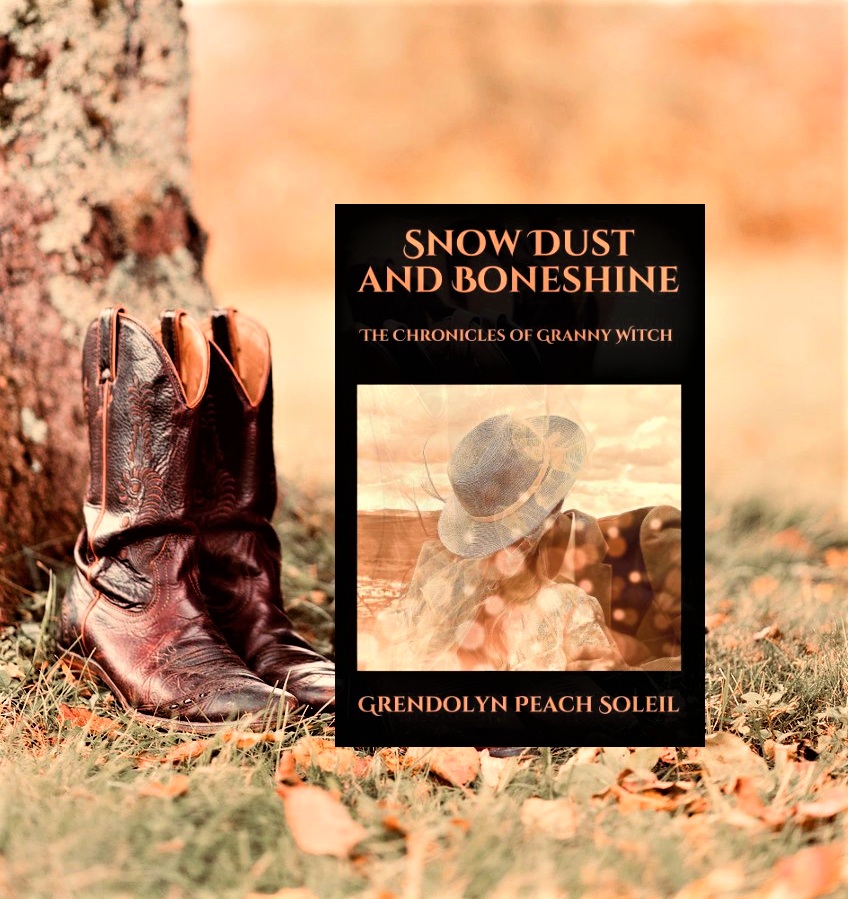 Praise for Snow Dust and Boneshine
"A warm and spellbinding tale...Soleil's writing flows like a stream, relaxing and exotic. Mixed with folk magic, simpler times and beliefs, this is a wonderful escape." ~ Tome Tender
"Soleil's writing is riveting...It's much more than a fantasy - it's a story of love and faith." ~ Literary Titan
"Curl up under your blanket, grab a cup of tea, and let yourself wander between magic and reality in Purgatory Bend...Snow Dust and Boneshine is one of the sweetest, selfless, heartbreaking but also heartwarming love stories I have ever read...The characters, the atmosphere, and the imagery are done so beautifully. Every description made me sink my teeth into the story just a little bit more." ~ Snez at Book Lifey & A Quintillion Reads Book Club
"Snow Dust and Boneshine was incredible…There's romance, intrigue and lots of magic. It's very well written, so much so, I could feel the cold and bitter wind as I read about it. The characters are beautifully written, and I could see it playing out as a movie as I read. I highly recommend picking this one up. 5 stars all the way." ~ Angela Scavone, Author of Celebrity Status
"This story was magical and fascinating with an element of surprise. It was well-researched and beautifully thought out to bring us so many amazing details. If witches and love stories set in a small town with a sprinkle of magic interests you, I would urge you to read this." ~ Kriti Dalmia at This Reader Girl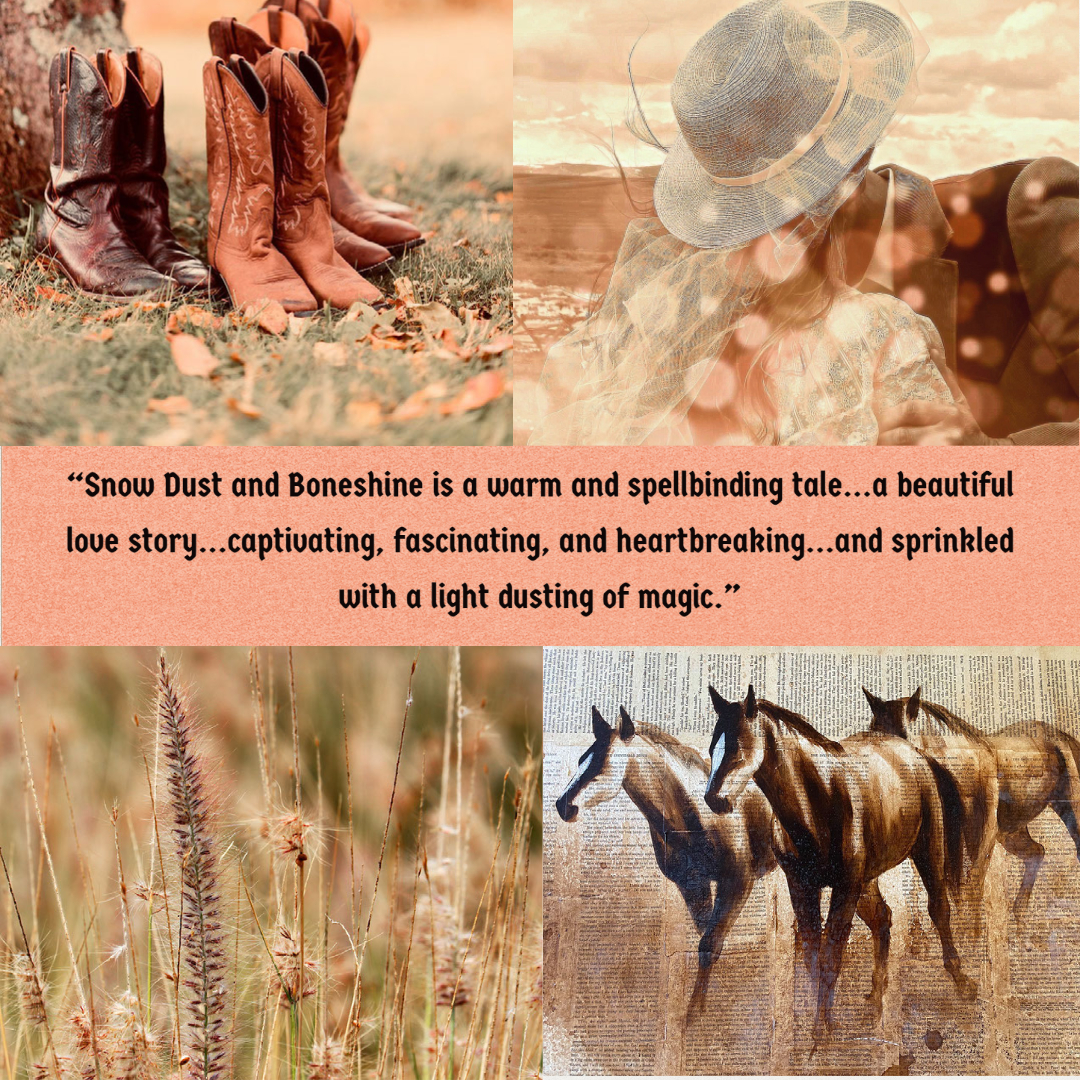 Interview with Grendolyn Peach Soleil
For those interested in exploring the subject or theme of your book, where should they start?

I'm a big fan of visionary fiction and magical realism, so I think a great way to start would be perusing some of the fascinating articles at the Visionary Fiction Alliance www.visionaryfictionalliance.com

Some of my favorite visionary fiction and magical realism books are Chocolat by Joanne Harris, A Christmas Carol by Charles Dickens, Beloved by Toni Morrison, The Handmaid's Tale by Margaret Atwood, and Old Souls by Tom Shroder.
How did you become involved with the subject or theme of your book?

Not long ago, I lived in Wyoming, and I met so many fascinating people with an amazing mix of heart and grit. Becoming one with the brave souls on the prairie for a moment in time absolutely informed the development of Snow Dust and Boneshine. Equally as powerful in the development of Snow Dust and Boneshine was my connection to my Scottish and Irish ancestors and all the memories I have of my granny when we lived in the rolling hills of Appalachia together. I wanted to honor my granny and pay my respects to the folk magic and folk medicine of my culture.
What were your goals and intentions in this book, and how well do you feel you achieved them?

I wrote Snow Dust and Boneshine as an homage to the granny witches in the Appalachian community where I grew up. My own granny was a powerful source of inspiration for me as I wrote this book, and I believe she would be proud of the way I portrayed granny witches. Frequently, I've been told that my writing style is filled with tender magic and deep faith and love and has an air of poetic prose, which means more to me than words can say because that is exactly what I've aimed to achieve in my writing. I'm so happy that my intentions have been received and appreciated by my readers! With that being said, there is always room for authors to grow, and I already have some ideas about how to make improvements to my writing in the future based on feedback I've received.
Anything you would like to say to your readers and fans?

I'd like to send out a warm and heartfelt thanks for all the support, feedback, and encouragement. I've been deeply touched by the relationships I've built with readers, bloggers, and authors. When I receive a glowing review, it truly makes my week, and I'm floating on cloud nine. When I receive constructive feedback, it helps me grow as an author and consider things I hadn't thought about before. There really is a wonderful community out there for indie authors like me, and I'm so proud and thrilled to be a part of it!
What did you enjoy most about writing this book?

I really wanted to capture the spirit of folk magic and folk medicine because it's a different kind of magic. I think it's one of the most beautiful aspects of Appalachian culture, and I really wanted to connect with my roots and my ancestors. I wanted to share this story with others because it's an historical glimpse into a community and a culture, their beliefs, their perspectives, and their desire to help and heal those in need.

Also, I love 1800s argot. It was so much fun to create characters who got to say such fun phrases like "splendiferous, moonlighting, swacked, joy juice, among the willows, and a bag of nails."
Can you tell us a little bit about your next books or what you have planned for the future?

My next release is still in the early stage of development, but I'm so excited about it! I don't want to spoil the surprise, so I'll just give a quick teaser. Close your eyes and imagine a foggy isle off the coast of Scotland where one family's promise to please the gods of old has tragic consequences. And yes, of course, there will be mermaids!
How long have you been writing?

Storytelling has always been an important part of my culture, and I've been writing stories ever since I can remember. As a child, I spent hours upon hours reading and writing in my bedroom. I kept journals. I wrote poetry. I wrote short stories and fairy tales. My imagination was always running wild, inventing characters, atmospheres, and scenarios. I've only recently become a published author. It took several years for me to muster the courage to put my work out into the world.
Can you tell us a little bit about the characters in Snow Dust and Boneshine?

I've always been intrigued by the wild west, which was probably a driving force in me moving to Wyoming and living there for a few years. The magic of old man winter, the tough as nails people, the golden grass in the summer, the bluebirds and the adventure – all of these things inspired me to capture the beauty and the perils of prairie living. Most of the characters in Snow Dust and Boneshine were, at least in part, inspired by the people I met when I lived in Wyoming. As for Fawna Darling, she was inspired by my own granny. I think many people have certain perceptions about the word witch, and I wanted to shed some light on the granny witches in my community. Some granny witches actually have a deep faith in God, and they harness that faith to minister to the folks in their community. When I wrote this book, I literally felt like I was walking through the cinder woods with my granny. I heard her brave voice, and I smelled her beans and cornbread on the stove. I felt her tender touch, and I saw her bright smile.
If you could spend the day with one of the characters from Snow Dust and Boneshine who would it be? Please tell us why you chose this particular character, where you would go and what you would do.

The first character that comes to mind is Fawna Darling, the granny witch. She's a special character who is very close to my heart for reasons I've already shared, so I'm going to choose a different character. I think it would be incredible to spend the day with Fannie Cash, proprietor of the cathouse and a legendary six-shooter in Purgatory Bend. Her character was inspired by a few women I met in Wyoming because their feisty grit was amazingly contagious. I like to imagine me and Fannie sitting in the parlor at the cathouse, sipping on joy juice, counting the money we made, and keeping the unruly men in line.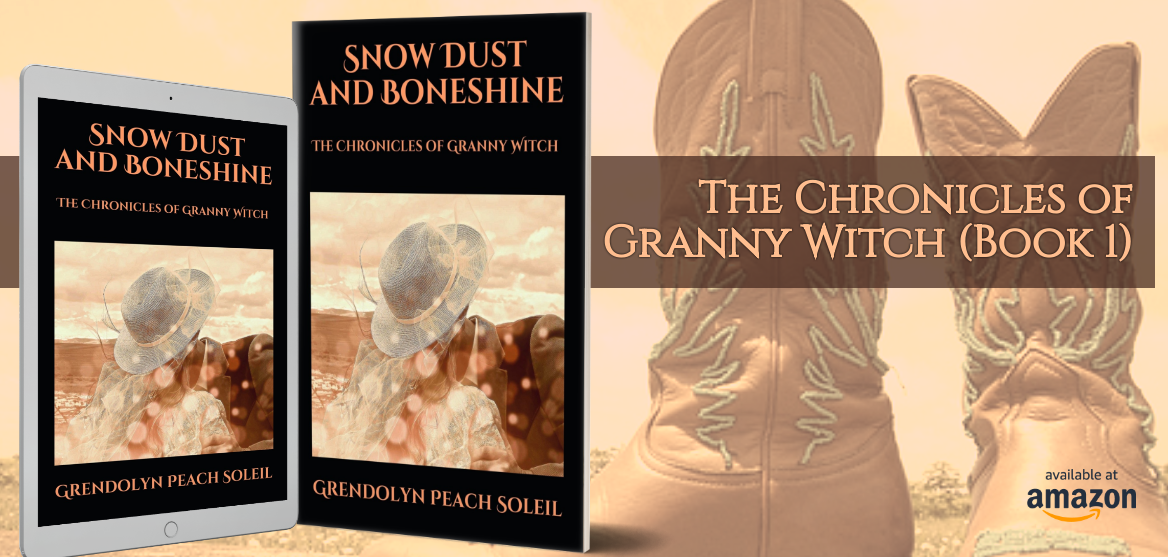 About the Author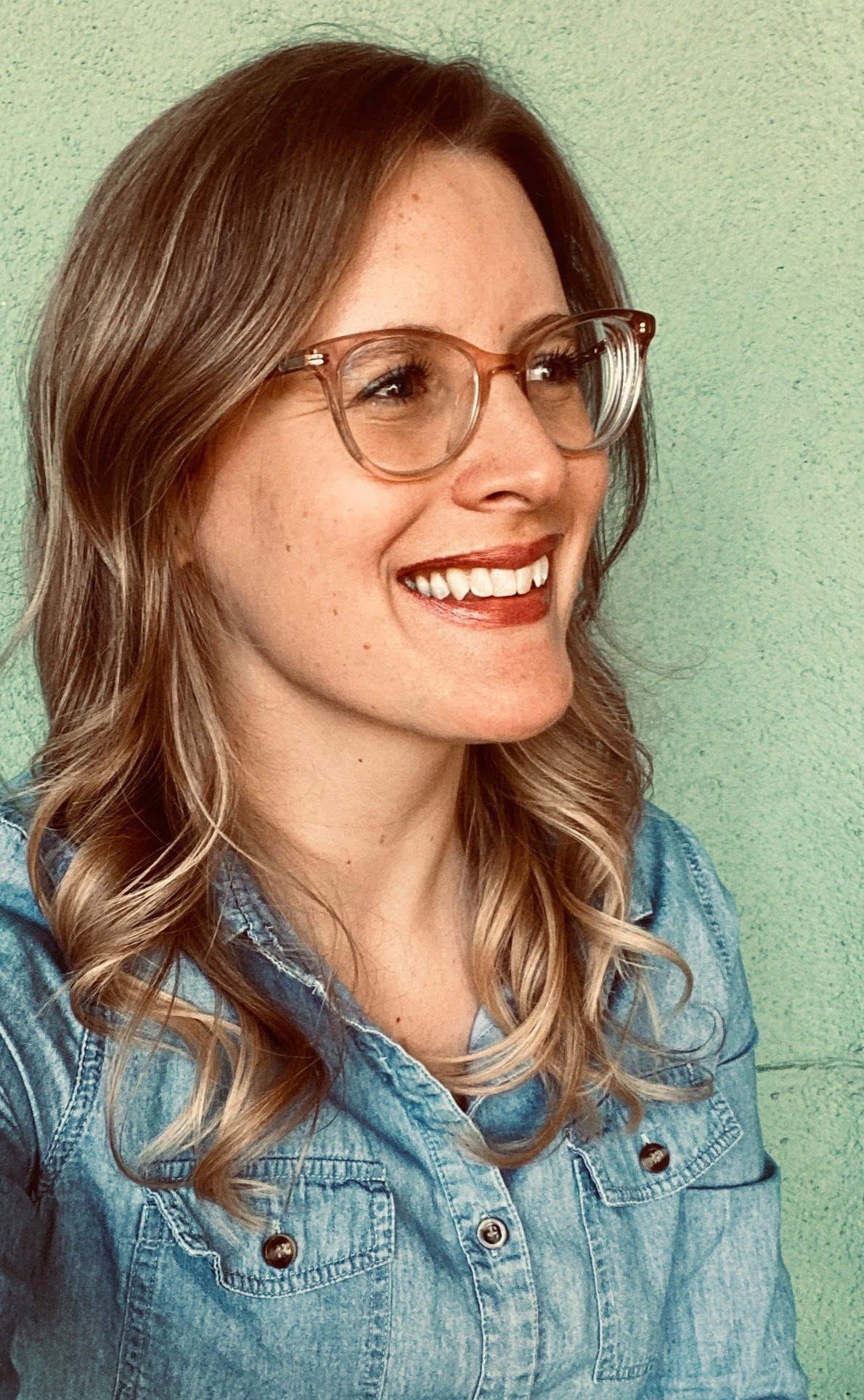 Grendolyn Peach Soleil was born in the Appalachian Mountains on a full moon. She is an old soul and a folk magic fiend. Grendolyn loves twisted fairy tales, all things vintage, tales of true love, and creature features. Some of her fancies include pumpkins, black cats, mermaids, tea parties, cowboys, dahlias, and sunsets. She is a member of the Visionary Fiction Alliance and The Independent Author Network. Grendolyn is the author of Limbo Jubilee, The Mermaids Melt at Dawn, and Snow Dust and Boneshine: The Chronicles of Granny Witch (Book 1).
Contact Links
Purchase Link