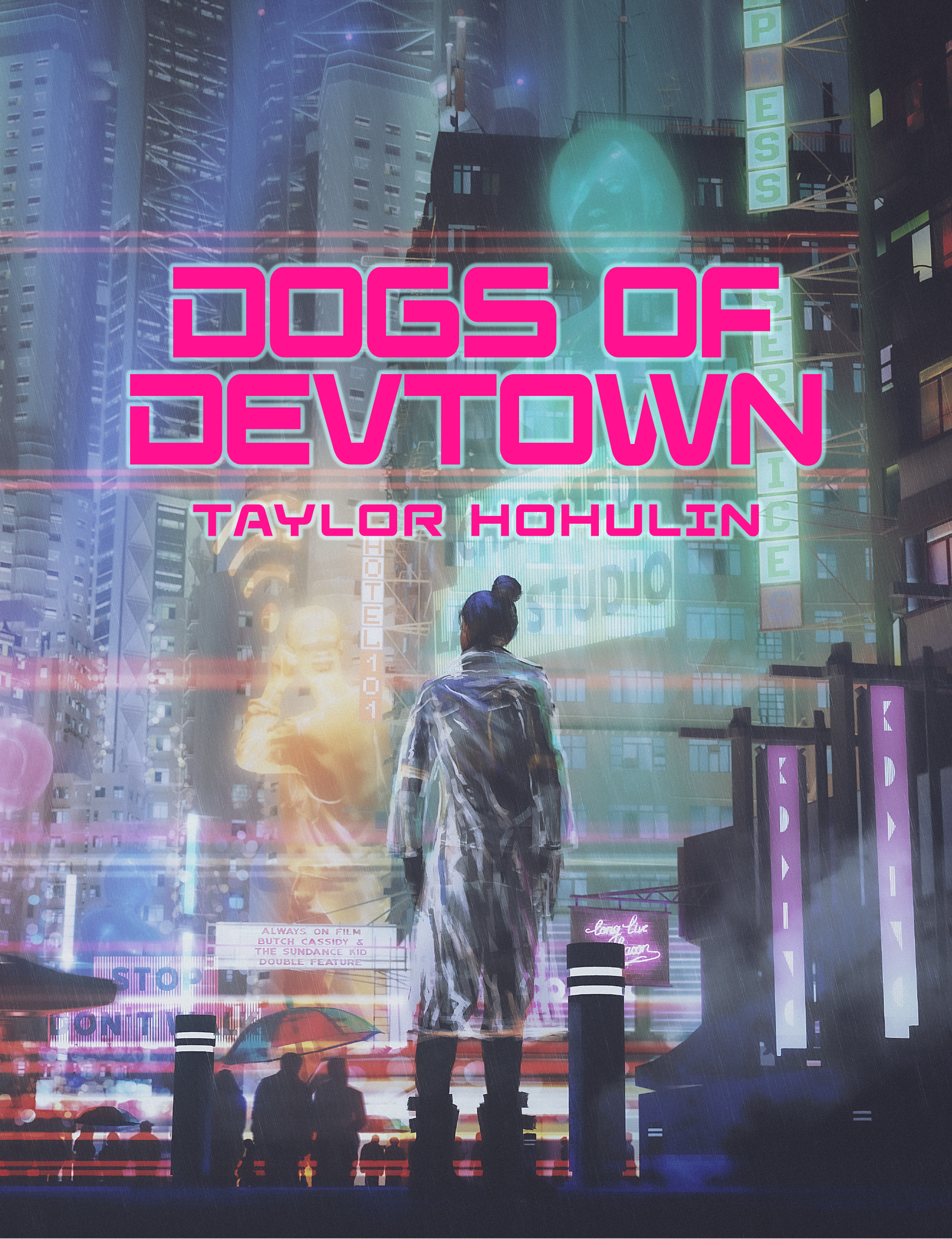 Cyberpunk Science Fiction
Date Published: April 16, 2021
Welcome to DevTown.
In this city, holo ads lumber like neon giants seeking advertising targets. Men and women pop Oracle tabs in search of relief or enlightenment or both. Creatures of unknown origin stalk the darkest alleys. In the center of it all, NexDev Tower looms over the city, home to hundreds of floors of top-secret research.
And in its shadow, Shan Hayes kills people for money.
Rejecting the mechanical enhancements so popular in DevTown, Shan needs only two things: The resynth serum that can reshape her body's entire cellular structure, and her hand-cannon containing a sentient parasite capable of converting her blood into weaponized wasps.
As a hired gun for various crime syndicates, there's little of the city's underbelly Shan hasn't encountered. But when a longtime business associate hires her to track down an underling who's vanished into the neon night, Shan finds DevTown still holds secrets more deadly and terrifying than anything she could imagine.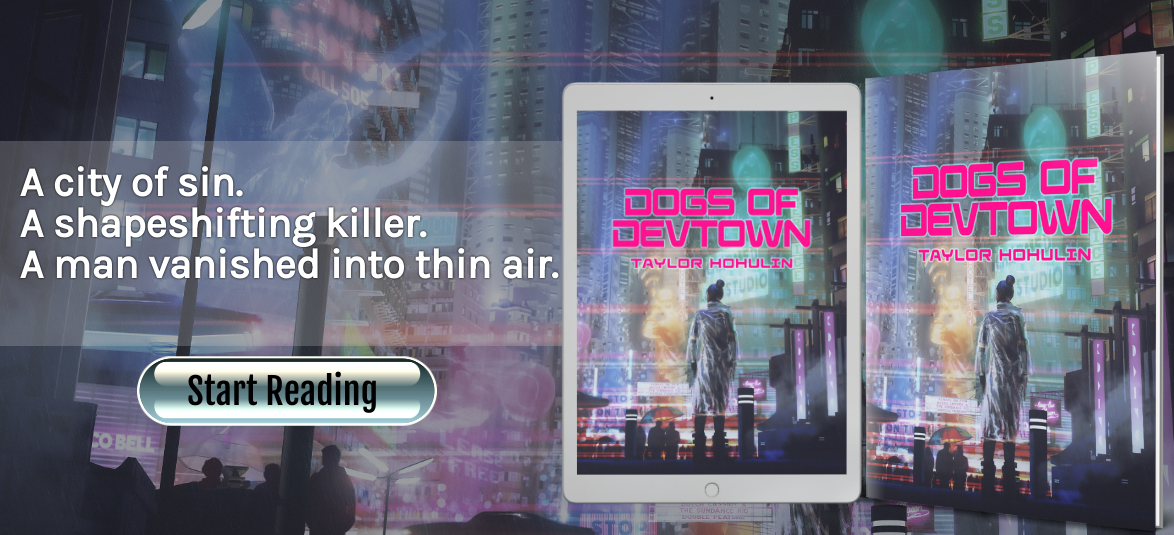 Interview with Taylor Hohulin
For those interested in exploring the subject or theme of your book, where should they start?

I'd say the theme most comes out in the characters' feelings about DevTown, what their responsibility toward it is, and what they do about that feeling of responsibility. I didn't necessarily have a clear "thesis statement" I wanted to lay out with this book as much as I have others, but I definitely wanted to look at themes of connection and isolation within a community, and how those feelings influence a sense of civic duty.
How did you become involved with the subject or theme of your book?

The first book I wrote that explored this theme of connection vs isolation was my post-apocalyptic road trip adventure story Tar. The more I wrote, the more I kept bumping into this theme of isolation and cynicism as a means of self-preservation. It made a lot of sense in a post-apocalyptic world filled with danger, but even then, I don't think people do well on islands, so Tar ended up as a cautionary tale about how you lose something of yourself when you cut out other people. As I wrote Dogs of DevTown, similar concepts kept coming up, but for whatever reason, it felt better to make the point with more positive characters. Our protagonist is still a fairly cynical loner, but the people who come into her life this time around show her the value of connection rather than the dangers of isolation.
What were your goals and intentions in this book, and how well do you feel you achieved them?

As much as I just talked about theme and message, my number one goal was to write a book that was fun. I wanted a page-turning story with vivid, colorful descriptions, a variety of genre influences, and crazy, over-the-top action sequences. I feel pretty good about the final product, but we'll see if others experience it the way I did.
Anything you would like to say to your readers and fans?

The thing about being an indie author who isn't trying to make writing his full-time gig is I'm the only one I have to answer to for my writing. I write the books how I want, with the storylines I want, and the characters I want. They end up being the kinds of books I want to read, so when other people finish my books and say they like them, it really means the world to me. The more focused I get on making a book for me, the less chance I have of seeing huge success, but the greater chance I have that the fans I do pick up along the way end up being my kind of people. So if you enjoy my books, it feels a little like finding someone else who loves the same obscure piece of entertainment that you do. Every positive review means the world to me.
What did you enjoy most about writing this book?

I pulled in a wide variety of sci fi and speculative fiction concepts, and so being able to mix and match them throughout the book was a blast. You've got a character who can turn parts of her body into parts resembling animals, a sentient biotech weapon, all sorts of technological enhancements to the human body, and more. I keep the science part of it pretty soft, so I got to turn the whole city of DevTown into my sandbox.
Can you tell us a little bit about your next books or what you have planned for the future?

There will be at least one more DevTown book. I didn't want to leave this world and these characters yet, so I'm starting work on another book that'll dig into another corner of the sandbox. I'm doing some stuff that feels really ambitious to me. We'll see if it feels ambitious to read. I'll settle for fun and exciting.
How long have you been writing?

I self-published my first book in 2012. I've been at it ever since and loving it.
Can you tell us a little bit about the characters in Dogs of DevTown?

Our main character is Shan Hayes. She works as a hired gun for whichever crime syndicate is willing to pay her fees and accommodate her requirements to keep everything off the Net. She doesn't trust the new tech in DevTown that allows people to jack into a techno-psychic internet and add mech enhancements to their bodies. She sticks with the outdated resynth technology that allows her body grow wings, run on all fours, or enhance her sense of smell by reorganizing her body's cellular structure.

Kim Le is one of the few scientists in DevTown who still works with resynth technology. He has a laboratory in the top-secret NexDev Tower, where he allows Shan to visit and receive medical care and resynth supplies when she needs them.

After Shan is contracted to hunt down a missing criminal, she encounters Andromeda in Tabber Alley, a network of alleyways and side streets inhabited by those addicted to a new drug known as Oracle tabs. Andromeda is an expert hacker and offers to help Shan track down her target in exchange for access to the Net. Tabbers like Andromeda are banned from the Net, since the drug's effects on the mind can have unintended consequences for those who jack in to the shared techno-psychic space.
If you could spend the day with one of the characters from Dogs of DevTown who would it be? Please tell us why you chose this particular character, where you would go and what you would do.

Probably Kim. Shan's not exactly a people person, and Andromeda is one of those people who is always ON. Kim is my kind of guy – gentle, easygoing, and caring. As an introvert, I'd probably just hang out at a coffee shop with him. In my hometown of West Des Moines, Iowa. Not DevTown. I would not do well in his world.
About The Author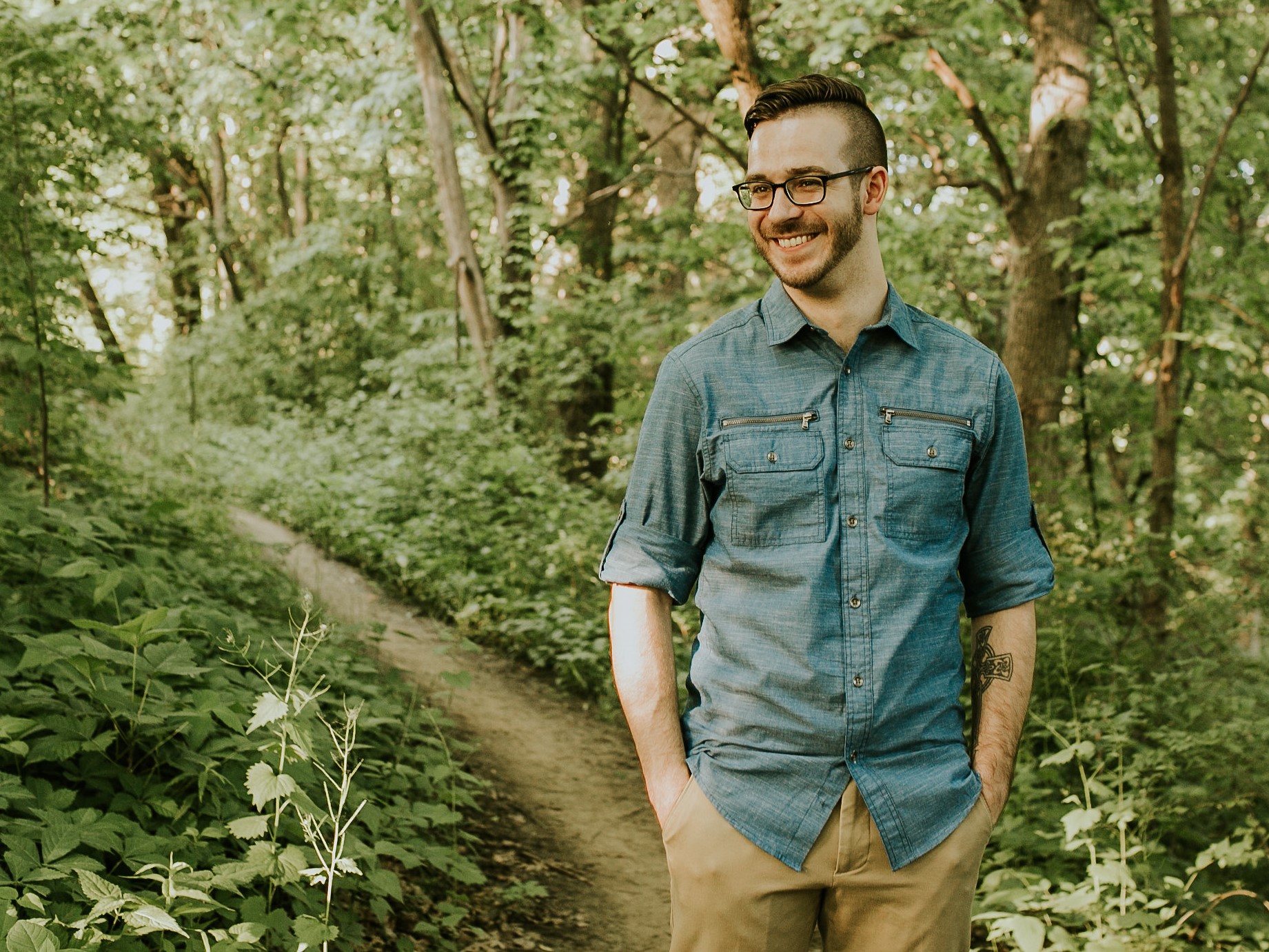 Taylor Hohulin is a radio personality by morning, a science fiction author by afternoon, and asleep by 9:30. He is the author of The Marian Trilogy, Tar, Your Best Apocalypse Now, and other genre-bending stories. He lives in West Des Moines, Iowa with his wife, where they are owned by two cats and a dog.
Contact Links
Purchase Links