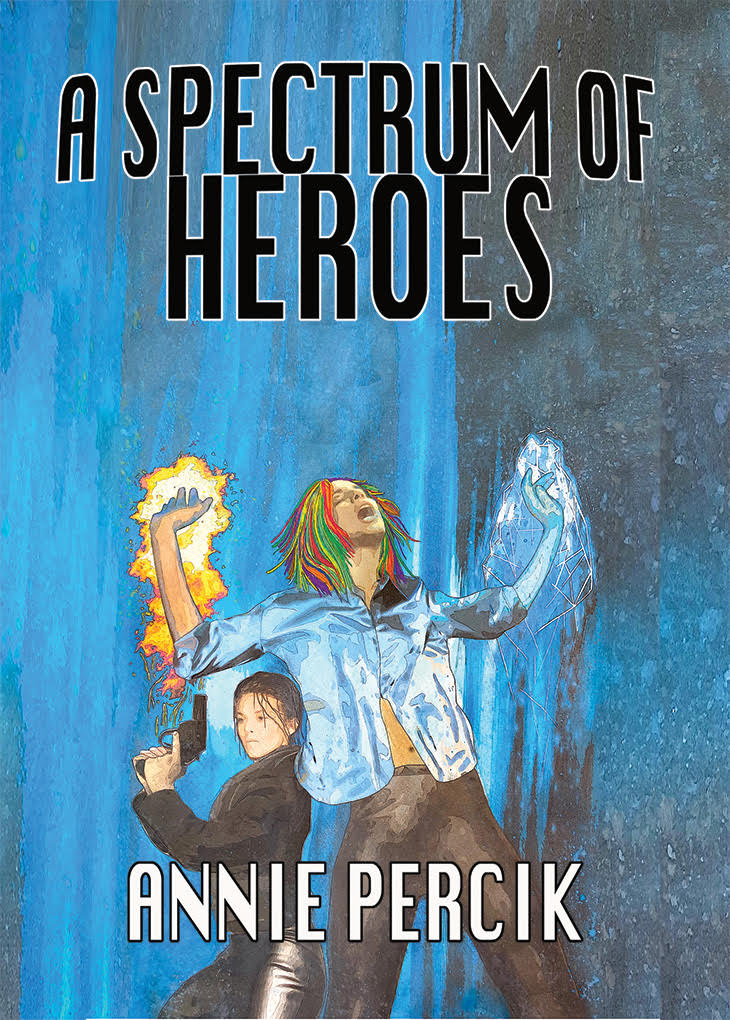 Science-Fiction
Date Published: 09-06-2021
Publisher: Markosia Enterprises
Biochemist Anushka Mahto flees the lab where she works, stealing the mysterious substance she has been experimenting on. She accidentally contaminates herself while disposing of it, in an attempt to protect the world at large from its potentially harmful effects. On the run from her unethical boss, Anushka must learn to control her multiple new powers while being hunted by lab security chief and former lover, Charlotte. She calls on her sister for help, but Jhanvi is reluctant to open old wounds by allowing Anushka back into her life. When an alien named Ergo comes onto the scene, Anushka suddenly finds the fate of humanity resting in her hands. Can she navigate the complex problems in her personal relationships and also prevent an interstellar war?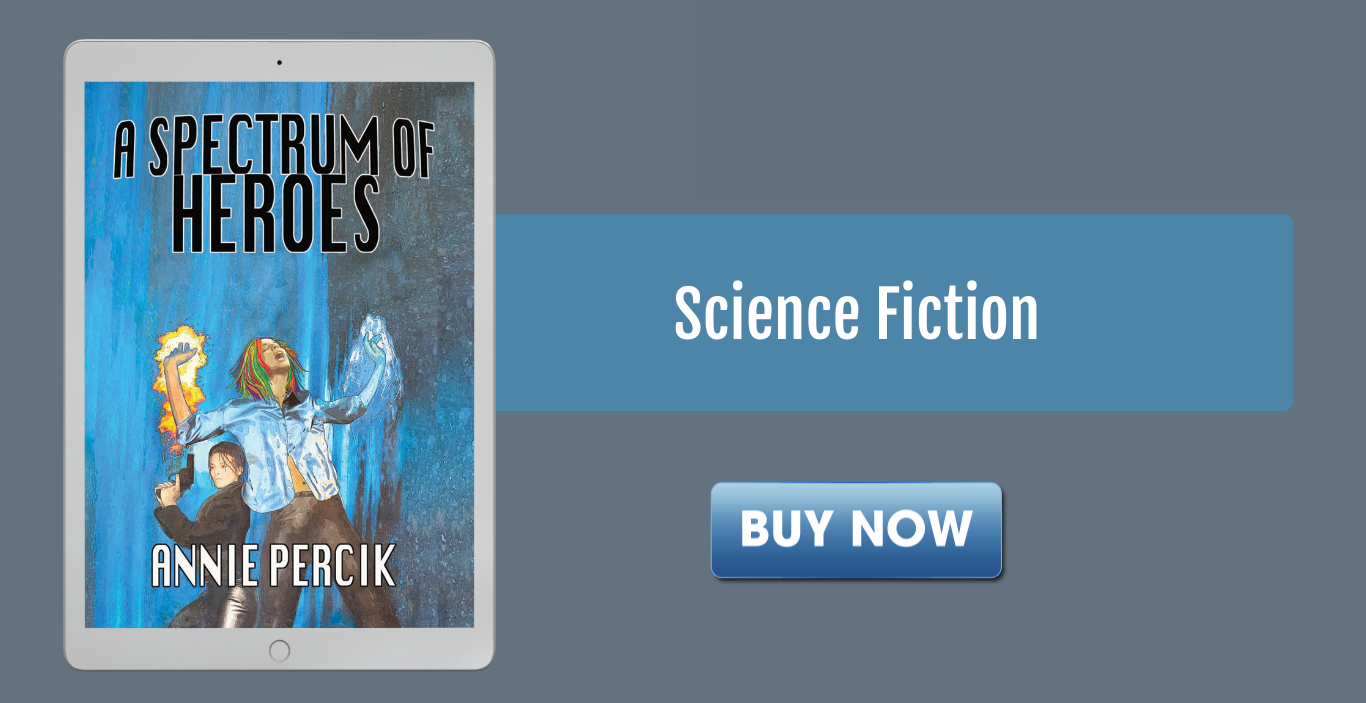 Interview with Annie Percik
For those interested in exploring the subject or theme of your book, where should they start?
Whilst A Spectrum of Heroes contains aliens and superpowers, at heart it's about building successful relationships with those around you, and finding your place in the world. So, the themes are pretty universal and should be accessible to everyone, regardless of their interest in science-fiction.
The protagonist, Anushka, is a scientist, who has had difficulties in her family relationships as a child. So, she tends to throw herself into work and not let anyone get close to her. When she ends up with unexpected and uncontrolled superpowers and has to go on the run from her employer, she has to learn to ask for help and be vulnerable with other people, in order to survive and succeed.
How did you become involved with the subject or theme of your book?
In late 2017, I was on a night out with a friend of mine, and we came up with the idea of a superhero who could change the colour of her hair at will. Each colour would denote a different superpower, so she would have lots of powers, but would only be able to use them one at a time. We thought it would make a good comic book series, until we realised that neither of us knew how to write for comic books and neither of us could draw!
So, I took the idea (with my friend's blessing) and turned it into a novel. And that's how Anushka was born as a character.
What were your goals and intentions in this book, and how well do you feel you achieved them?
The main challenge in writing the book was the structure. I have three point-of-view characters (two written in the past tense and one in the present tense) and four different timelines (the main action of the plot, plus the backstories of each of the point-of-view characters).
I had a very rigid outline for the first half, but had to break the pattern at the midpoint, when the backstories merged with the main action. But that was a deliberate choice, and the story then flows from that point without any further flashbacks.
It was difficult to navigate all the timelines and character viewpoints, but I think it works well overall.
Anything you would like to say to your readers and fans?
Thank you so much for taking an interest in my books. If you like A Spectrum of Heroes, you'll probably also like my debut novel, The Defiant Spark, which is a fantasy set in a world without electricity, where everything runs on magic power.
It's amazing to me that I've had two novels published in 2021, even with everything else that's going on around the world. I think entertaining novels are important for people to find escapism at the moment. And I'm tremendously grateful to everyone who has helped me get where I am today, and everyone who has bought a copy of my books.
What did you enjoy most about writing this book?
Getting feedback from my writer friends about various aspects, to make sure I was presenting things as accurately as possible. I had help with all the sections about India, and also some of the information about the military.
I love collaborating with other writers, and I'm very lucky to have several writing communities I'm a part of. We exchange our work a lot, and it's great to have input into other people's writing, and to have their feedback on my mine.
Can you tell us a little bit about your next books or what you have planned for the future?
My third novel, Magic's Legacy, is a high fantasy story, about a blacksmith's daughter trying to protect a queen and her baby from the tyrannical king. I'm working on the second draft at the moment, and am hoping to start submitting it to agents early next year.
I'm also working on my fourth, currently called The Great Machine. That one is also a fantasy story, about a data entry clerk who records prayers submitted by the general populace. He gets embroiled in a century-old conspiracy when he discovers the prayer system has been sabotaged, and goes on a quest to fix it. I've only just started the first draft for that one, though, so it'll be a while before it's finished.
How long have you been writing?
As long as I can remember. My parents have exercise books full of short stories I wrote when I was very small. I know I wrote a lot of stories about ponies!
I spent about ten years writing fanfiction in my 20s, then started working on original stories after signing up for an Open University creative writing course in 2010. The first assignment I wrote for that course eventually turned into my debut novel, The Defiant Spark, though it took ten years for me to finish it! I'm getting faster with each novel I write now.
Can you tell us a little bit about the characters in A Spectrum of Heroes?
The first viewpoint characters is Anushka, a biochemist who steals a mysterious substance from the lab where she works, and accidentally give herself superpowers when she's trying to dispose of it.
Then there's Charlotte, who is head of security at the lab and is sent after Anushka by their boss, Yardley, who wants the substance back, as it's part of an important project. Charlotte and Anushka have been in a relationship for about three years, so there's a lot of tension between them whenever they cross paths, now that they're on opposite sides.
The third viewpoint character is Ergo, an alien who has been tasked with forging a relationship with humans, to persuade them to help fight an interstellar war. He starts out working with Yardley, but makes some discoveries about the war effort that get him questioning his role.
The other main character is Danny, who served with Charlotte in the army years before, and gets mixed up in the whole thing almost by accident. He's like the voice of reason in the group, trying to keep the peace between Anushka and Charlotte, and make sure everything runs smoothly.
If you could spend the day with one of the characters from A Spectrum of Heroes who would it be? Please tell us why you chose this particular character, where you would go and what you would do.
I guess it would make sense to say Ergo, since it would be fascinating to talk to an alien, and he would be able to teleport me anywhere in the world.
But I think I'd actually rather go for a drink with Danny, and commiserate with him over how annoying it is, trying to get Anushka and Charlotte to stop fighting with each other, and focus on fighting the bad guys!
That was definitely something I had trouble with when writing the book, so I can really sympathise with Danny's role in the story.
About The Author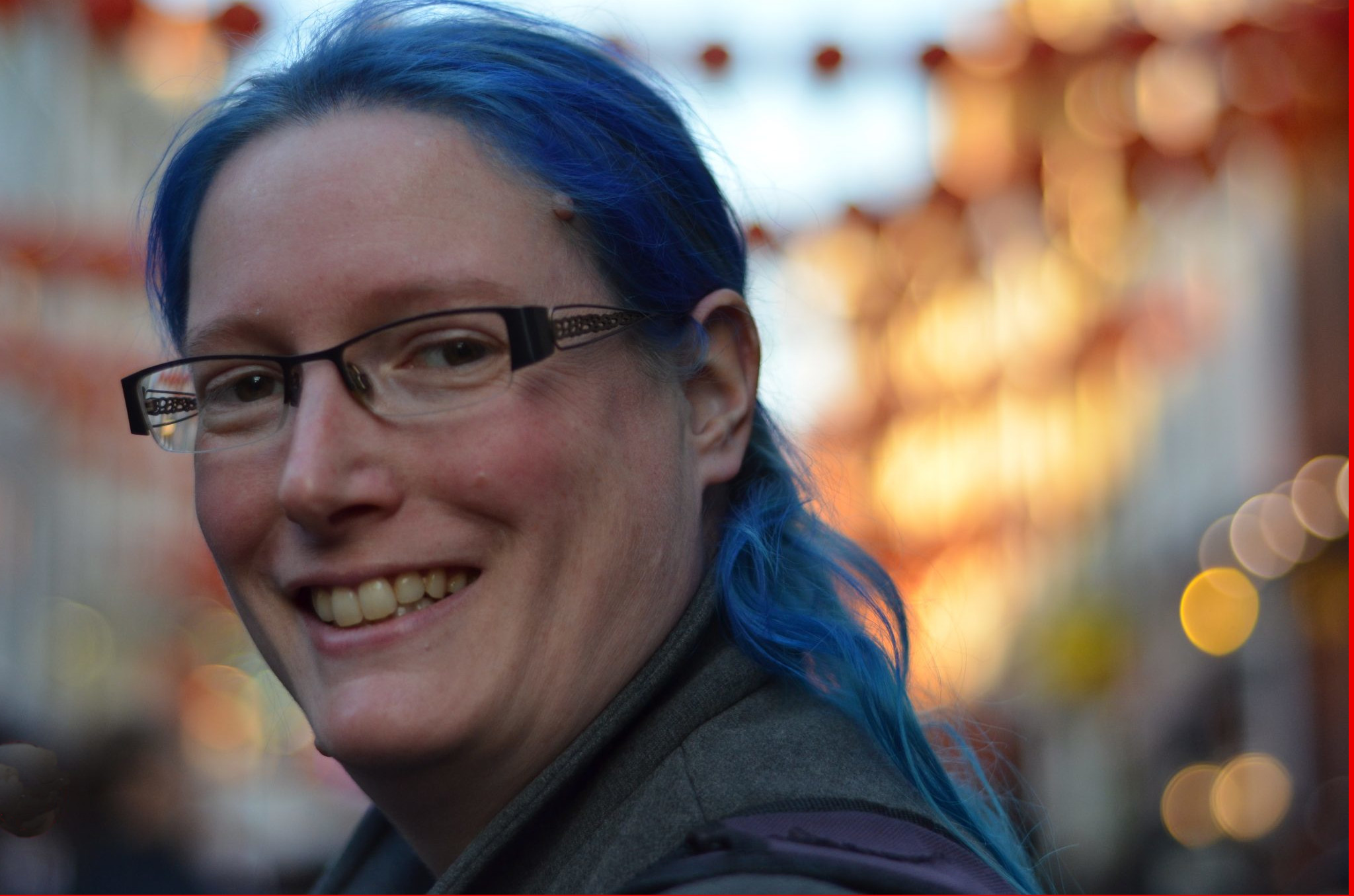 Annie Percik lives in London, where she writes novels and short stories, whilst working as a freelance editor and proofreader (https://alobear.co.uk/?
page_id=778). She writes a blog about writing on her website (https://alobear.co.uk/), which is where all her current publications are listed, including her debut fantasy novel, The Defiant Spark (http://getbook.at/DefiantSpark) and her sci-fi second novel, A Spectrum of Heroes (https://amzn.to/3xnJ9eb). She also makes a media review podcast with her husband, Dave (https://stillloveit.libsyn.com/), and publishes a photo-story blog, recording the adventures of her teddy bear (https://aloysius-bear.dreamwidth.org/). He is much more popular online than she is.
Contact Links
Twitter @APercik
Purchase Links