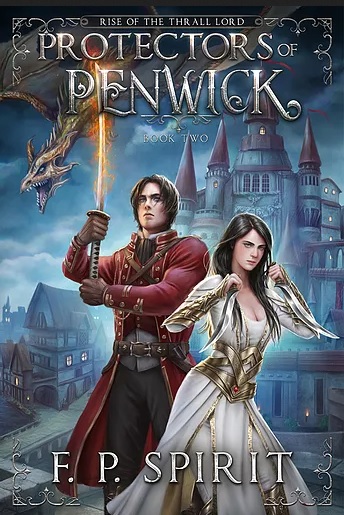 Rise of the Thrall Lord, Book Two
Fantasy
Date Published: September 16, 2021
A horde of demons from the Abyss. A dread master of the undead. A choice between saving a single city versus the entire world.
The tower in the mists has been wrested from the Empress of the Damned and her undead army. Yet demons still hold the tower in the mountains and are using it to summon more of their kind.
The problem is demons are not your normal monsters. Weapons of great power are needed to defeat them, demon slaying weapons like those of legend.
At the same time, Penwick has come under attack from the inside. Creatures of the night have infiltrated the city and people are disappearing at an alarming rate. Even more terrifying, these vampires might be heralds of the dread Undead Thrall Master.
With all Arinthar at stake, can the companions protect Penwick and still find the magic they so sorely need before demons overrun their entire world?
Other books in the Rise of the Thrall Lord series: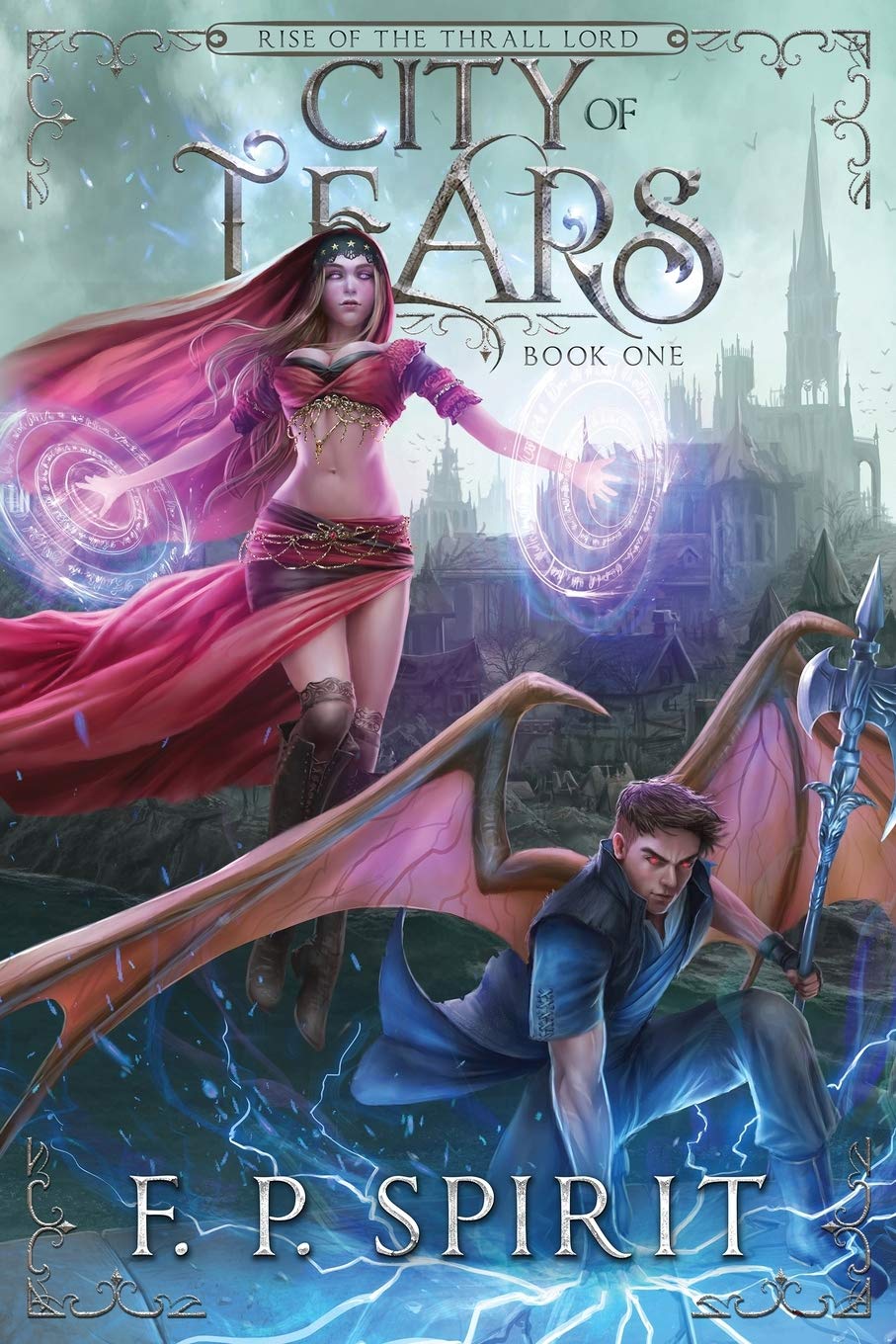 City of Tears
Rise of the Thrall Lord, Book One
A cursed city shrouded in mist. The power to level an army. A deadly race against demons to find it.
Five hundred years have passed since Naradon, the mad emperor, ruled over the world of Arinthar. Unknown to all but a few, the emperor left behind a deadly legacy—seven towers scattered across the globe, each with the power to lay waste to an army.
Now demons have crawled up from the Abyss and taken one of those towers, using its power to summon more of their brethren. To make matters worse, a second tower has been uncovered and the demons want that one, too.
Yet that tower will not be taken easily. Shrouded in mist, the ancient city surrounding that tower has fallen under a terrible curse. All who once lived there walk the earth as undead, including the mad emperor's wife.
Now a small band of heroes must enter the mists and wrest the tower from the empress of the damned and her undead army. For if they fail, the entire world is doomed to become hell on earth.
Enter a world of magic and adventure in this exciting tale of heroes in the making. Perfect for fans of Lord of the Rings and Dungeons & Dragons.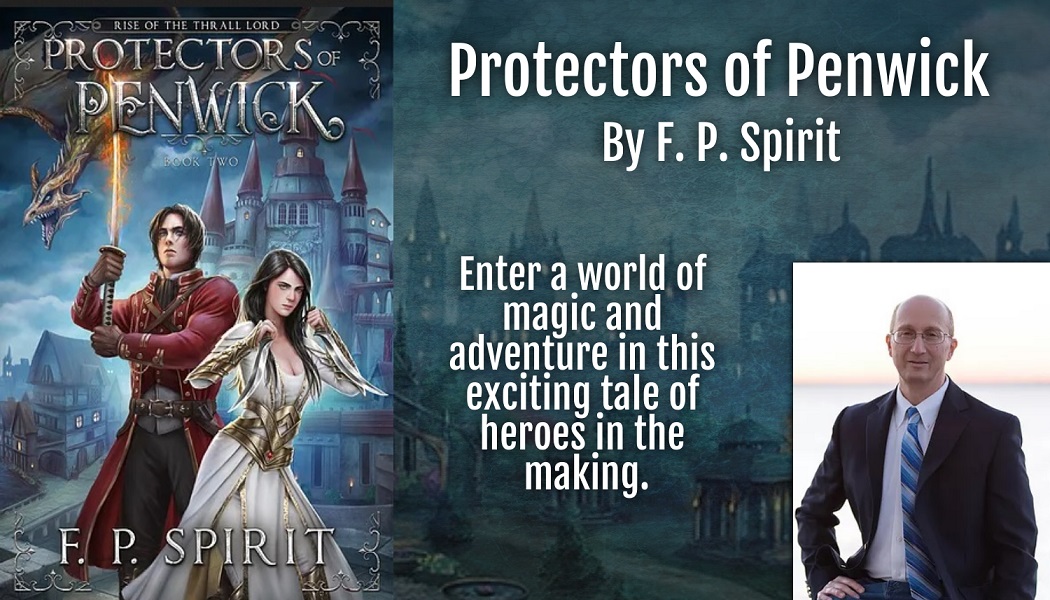 Interview with F. P. Spirit
For those interested in exploring the subject or theme of your book, where should they start?
Protectors of Penwick is a high fantasy novel. Where my interest started, however, was first in science fiction. I grew up on Star Trek, Asimov, Niven, and Heinlein. I started transitioning to fantasy later through authors like Piers Anthony and Marion Zimmer Bradley, but that love was solidified when I cracked open my first copy of the Hobbit. So to those interested in the roots of high fantasy, I recommend those authors, specifically Tolkien's Lord of the Rings trilogy.
How did you become involved with the subject or theme of your book?
A few years back, my family and I started roleplaying with friends. A number of amusing and amazing characters and adventures resulted from those sessions. As things unfolded, I found myself wanting to preserve all that for everyone involved. So I started taking notes which later grew into full blown stories.
What were your goals and intentions in this book, and how well do you feel you achieved them?
This story in particular occurred during the forementioned roleplay. It took quite a bit of work to adapt into novel form. More world building was done, characters were given more depth, plot points were crystallized, and new scenes were developed to tie things together. Still, this is an homage to the characters and adventures of my family and friends, so I've done my best to remain true to that throughout.
Anything you would like to say to your readers and fans?
The motto on my website is "Magic and Humor with a Touch of Humor (because fantasy should be fun." I truly believe that. I am not a fan of dark and gritty worlds, characters, and stories. If you are looking for witty characters, fast paced adventure, and magical worlds to lose yourself in, you've come to the right place.
What did you enjoy most about writing this book?
There is very much a sense of déjà vu for me when writing these novels. It has been at least seven years now since we finished the campaign. So I take great pleasure in reliving these memories with family and friends. Also, it is fun to flesh out some of the secondary characters and fill in plot holes that were left to the wayside, so to speak. Overall, it adds more life to some marvelous memories.
Can you tell us a little bit about your next books or what you have planned for the future?
This novel has a bit of a cliffhanger at the end. Though much is resolved, it is the second book in what will probably be a six book series. Also, without giving too much away, there is a bit of a split up of the characters at a point in this novel. So the next book will follow one of those groups as they seek out demon-slaying weapons across the sea on the Dark Coast.
Book four will return to the first group of characters as they deal with the aftermath of Protectors. The companions must find the tomb of the former God of Light. Only with what is buried there will they be able to face the powerful undead creatures that threaten to destroy Penwick.
Book five will finish the stories on the Dark Coast and in Penwick and bring all the characters back together to prepare for the inevitable demon invasion of their world. The last book will detail the epic battles that occur around the globe as hordes of demons spill out of the Abyss and into the world of Arinthar.
How long have you been writing?
I started those short stories back in 2008. Those developed into my first published novel, Ruins on Stone Hill, in 2014.
Can you tell us a little bit about the characters in (Protectors of Penwick)?
There are quite a number of characters in this novel. Many like Lloyd, Glo, Seth, Aksel, Andrella, Ruka, Ves, Elladan, and Donnie, spill over from my first series, Heroes of Ravenford. This entry introduces two new characters in particular though, Pallas and Thea Stealle, Lloyd's brother and sister.
The entire Stealle family plays a prominent role in this novel. Aside from Lloyd's siblings, we also get to meet his mother and father, the world renown swordsman, Kratos Stealle, and the High Wizard of Penwick, Lara Stealle.
Pallas followed in his father's footsteps, learning the path of the Spiritblade and obtaining a captaincy in the Penwick Royal Navy. Yet Pallas is a tortured soul. He was only six during the devastating pirate invasion of Penwick. The horrific sights he witnessed have stayed with him to this day, still haunting him in his dreams. Thus, Pallas has a burning need to protect his city and those he loves.
Thea, on the other hand, chose a different path. After a deadly encounter with pirates at the tender age of fifteen, Thea chose to join the clergy and has since become an Auric Priestess. While still a healer, Thea has the ability to wield the light of the god Arenor as a weapon. These abilities are especially effective against the undead.
If you could spend the day with one of the characters from Protectors of Penwick who would it be? Please tell us why you chose this particular character, where you would go and what you would do.
I kind of do every day actually. Lloyd and Seth were roleplayed by my eldest and youngest sons, respectively. As such, it's a toss-up between these two.
Lloyd is the most genuine character you will ever meet. In some ways, he is the archetypical hero - athletic, good looking, always doing what's right. However, he is also quite modest and shy. Quite frankly, he is everything my oldest aspires to be.
Seth, on the contrary, is an extremely sarcastic character. His shady past makes him distrustful of everyone. He is also inclined to say whatever he is thinking without holding back. He's that voice in everyone's head that never gets expressed in real life. In reality, my youngest is not quite as bad as Seth. In his words, "Seth is a terrible person." Still, the biting sarcasm is absolutely one of his traits.
About the Author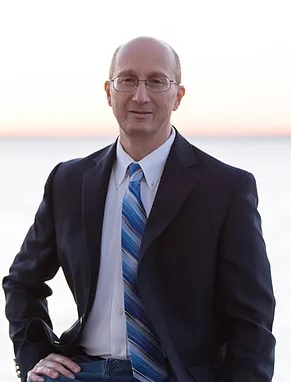 F.P. Spirit is an avid science fiction and fantasy fan. A Trekkie before it was cool, F. P. became hooked on fantasy the moment he cracked open his first copy of Lord of the Rings. When he is not lost roaming the multiverse of sci-fi and high-fantasy fiction, F. P. is either creating adventures for his roll-playing friends and family or connecting with his mind and body in an attempt to reach that inner spark of spirit.
To learn more, you can go to his website (fpspirit.com) or sign up for his newsletter (fpspirit.com/newsletter).
Contact Links
Purchase Links