Memoir
Publisher: Acorn Publishing
Date Published: October 19, 2021
The true story of a son's battle with addiction and a mother's struggle with loss.
David is only fifteen years old when he first feels morphine flow through his veins after his foot is crushed in the hydraulics of a Bobcat. From that moment on he chases the feeling for the rest of his life. Alcohol, marijuana, cocaine – he goes through drugs like candy, but it isn't until he finds heroin that he is satisfied.
Through his personal correspondence and essays, David's story unfolds as he goes from being an average American kid who loves sports, racing around on his skateboard, and writing stories, to being a heroin addict. His heartbreaking journey deepens as he takes his family with him down the dark and dangerous road of heroin addiction.
In 2014, David loses the battle, leaving his mother, Pat, to cope. Grieving a death from addiction is two-fold. After already losing her son to addiction, Pat has to find a way to grieve his death.
The Last Stop reveals intimate and detailed scenes of living the life of an addict and explores the mistakes and ways for families who love the addict to cope. David's story gives hope for families immersed in the life-altering aspects of active addiction and empathy for those left behind when recovery stops being a choice.
Interview with Patricia Street
From: Patricia Street, The Last Stop is divided into two parts: a memoir and
a collection of short stories, poetry, and essays. October 28, 2021
For those interested in exploring the subject or theme of your
book, where should they start?
Addiction is the subject of my book; readers can start with the Internet
and many books on the subject. If a family member is dealing with
addiction, they should seek help from professionals such as
counselors who specialize in addiction treatment and support groups
such as narcotics anonymous. My experience learning about and
dealing with addiction is discussed in the book.
How did you become involved with the subject or theme of your
book?
My son died at the age of 39 due to his addiction to heroin.
What were your goals and intentions in this book, and how well
do you feel you achieved them?
I had two primary goals: 1) to publish my son's writings, and 2) to give
a mother's and an addict's perspective on addiction to help other
moms who are struggling with the addiction nightmare.
Anything you would like to say to your readers and fans?
Learn all you can. Dealing with addiction is multifaceted and not
intuitive.
What did you enjoy most about writing this book?
Publishing my son's unfinished book.
Can you tell us a little bit about your next books or what you
have planned for the future?
I may publish a book of poetry.
How long have you been writing?
I kept a journal while I was raising my sons; when I went back to
college and received my degree at the age of 50, I realized how much
I like to write, my research project to graduate won my college's
highest award. My work involved business writing and editing.
Can you tell us a little bit about the characters in The Last Stop?
David was a fun, loving, smart, and athletic good looking guy. At 15,
he had an accident that crushed his foot; he was given morphine for
pain and our lives changed forever.
If you could spend the day with one of the characters from
The Last Stop who would it
be? Please tell us why you chose this particular character,
where you would go and what you would do.
David. We might play tennis, go to dinner, and have a long discussion
about philosophy or whatever he was doing and thinking about.
About the Author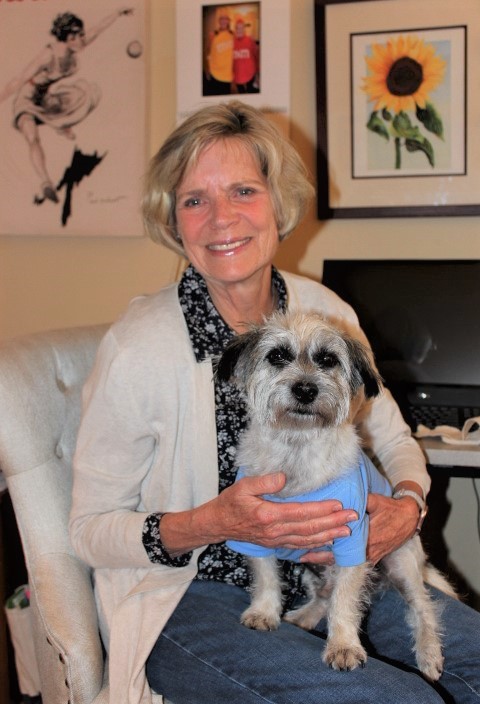 In late 1999, Pat learned that her son, David, who was 25, had become addicted to heroin. Her life was changed forever. For the next fifteen years, David rotated in and out of active addiction, recovery, and relapse. In August of 2013, David was diagnosed with vertebrae osteomyelitis caused by his drug use, and at the age of 39, he lost his battle with addiction.
Wanting to help other moms who are living the nightmare of addiction with a loved one, Pat gathered the emotional courage to compile her son's story, The Last Stop, with his short stories, poetry, and essays.
Addiction changes the addict and those who love the addict. Pat is a different person today, but she still enjoys a good book, a lively tennis match, the clicking of Mah Jongg tiles, weaving baby blankets, and long walks with her little terrier mix who rescued her two years ago.
Contact Link
Purchase Link