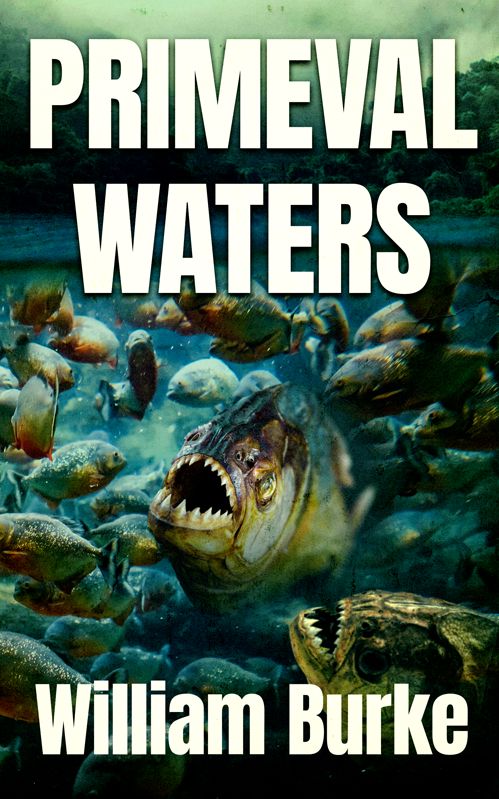 Horror
Date Published: 08-04-2021
Publisher: Severed Press
Planetary geologist Dr. Micah Clarke, his nine-year-old daughter Faye and his assistant Catalina Abril are abducted at gunpoint; forced to join a megalomaniac's paramilitary expedition down an Amazon tributary ruled by murderous pirates and cannibal tribes. The goal—recover a meteorite capable of providing clean energy for the world. But prehistoric terrors lurk around every bend in the river. Swarms of six-inch titan ants and a seventy-foot Titanoboa tear a bloody swath through the flotilla. Micah is convinced that some unknown intelligence is manifesting these primeval horrors to protect the meteorite's secrets. To defend his daughter, Micah must battle monsters, pirates and cannibals, all leading to his ultimate confrontation with an ancient force possessing the power of creation, or total destruction… and the doomsday clock is chiming midnight.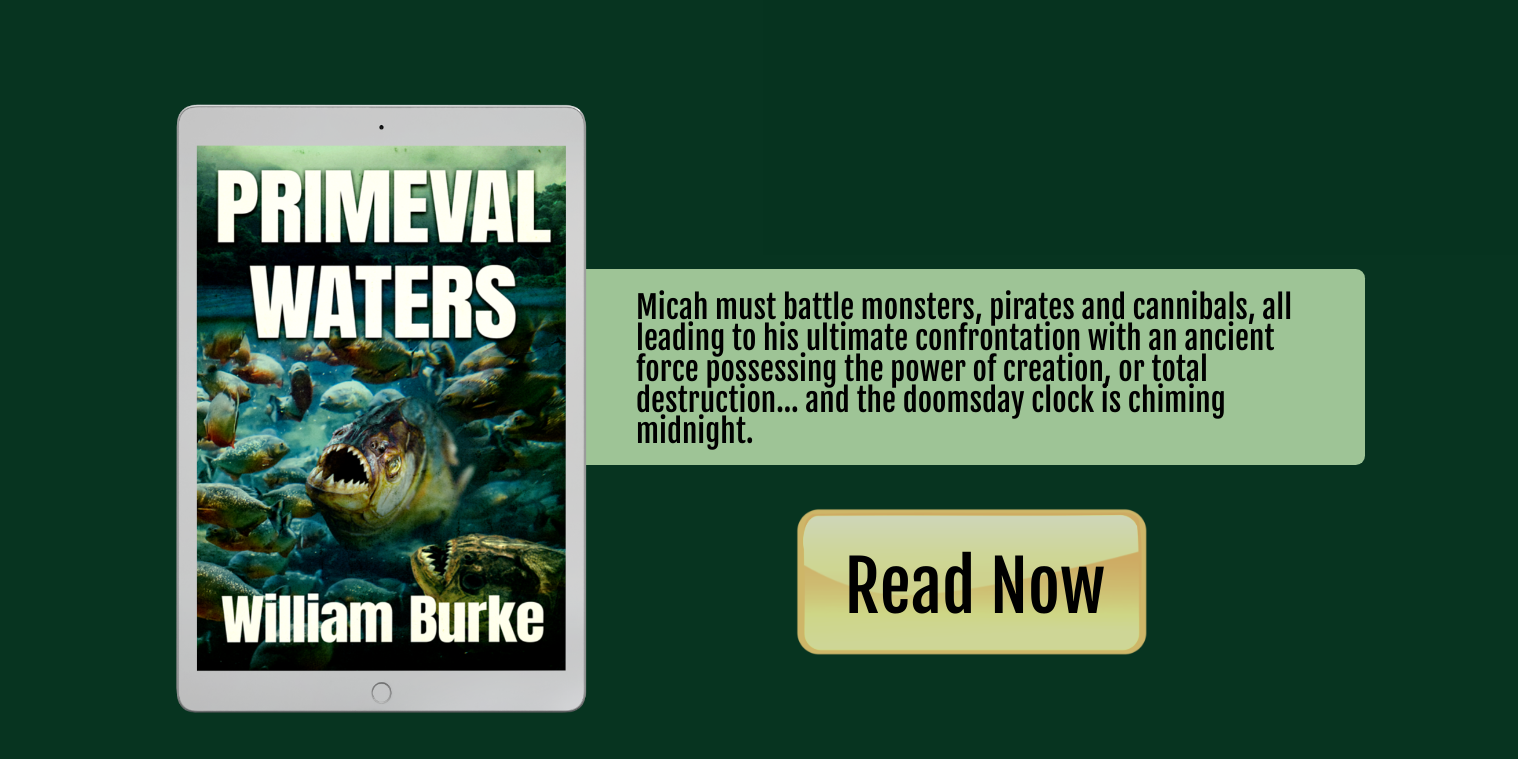 Interview with William Burke
For those interested in exploring the subject or theme of your book, where should they start?
With my genre, which I'd call horror/action/adventure, that's a little harder to nail down. Certainly a good start would be studying the Amazon River and the fascinating culture surrounding it. It's a world of modern pirates and indigenous cultures all based around this huge waterway. It's also a place where nature is both incredibly beautiful and ferocious. For quick immersion they could try watching the film Aguirre, the Wrath of God, which depicts a journey down the Amazon that's both dreamlike and nightmarish.
How did you become involved with the subject or theme of your book?
After completing my first Severed Press novel, Scorpius Rex, I was feeling a little blocked, or perhaps panicked for a follow up book. My first impulse was to write a sequel, but that seemed like a bad idea until I knew if anyone liked the first one (thankfully readers did). While I was looking for an anchor I started reading about Giorgio Tsoukalos, from the Ancient Aliens show. I pondered turning someone like him into an action hero who discovers that his theories are true, and incredibly dangerous. During the pandemic lockdown I started day dreaming about a trip to the Amazon Rainforest. Eventually, the two ideas merged.
The main character and exotic locale created a perfect storm for introducing terrifying creatures, dangerous humans and a non-stop barrage of life and death action scenes.
What were your goals and intentions in this book, and how well do you feel you achieved them?
I always set out to create a roller coaster style thrill ride for readers. Making that work requires compelling, believable characters and a storyline that organically combines mystery and action. I also place great emphasis on being factually accurate. In this case, accuracy meant researching the rainforest wildlife, as well as the watercraft, weapons, religion and culture. I also studied prehistoric Amazon Rainforest animals, so even the monsters would be geographically accurate. My modern-day pirates are more organized than real life Amazon raiders, but the rest is very factual. I even consulted with a former naval officer and maritime engineer on the watercraft making up Hector Batista's paramilitary flotilla. That's why Primeval Waters has a correct balance of tender boats, maintenance craft and gunboats. So, if you're planning an armed expedition down the Amazon River, you'll find everything you need.
My intention was to create a story that had fantastic elements, while staying grounded enough in reality to be credible. Wrapping that realism around the non-stop action scenes makes for an exciting read. I think I hit those marks, with positive reader reviews reinforcing that impression… thank god.
Anything you would like to say to your readers and fans?
Thank you, thank you! I've always set out to create an immersive, thrill ride for readers, and getting such a positive response only makes me want to work harder. I hope readers will think of me as a brand name, that guarantees a fast paced, frightening and thoroughly researched book.
What did you enjoy most about writing this book?
Breaking the creative wall—that ah-ha moment when a pile of vaguely connected notes and characters finally gelled into a storyline. I also enjoyed doing the research, immersing myself in Amazon wildlife, and culture along with learning about space diamonds (a real thing), prehistoric animals and modern pirates. It's a dream job.
Can you tell us a little bit about your next books or what you have planned for the future?
I just signed a publishing agreement with Severed Press for my next book, Dominant Species. This follow-up to Scorpius Rex, was inspired by an article about scientists placing human brain stem cells into monkeys, and the moral issues that creates.
This time, military contractor Dave Brank and his team are in the New Mexico desert tracking down escaped, genetically engineered creatures. These seven-foot, dinosaur like beasts are virtually bulletproof and, due to the use of human stem cells, highly intelligent. But those human stem cells have also made them self-aware. They've been horribly mistreated by their human creators and only want to be free to raise their young. The downside is that they see humans as the enemy, and as an easy food source. My hope is that readers are torn between seeing them as monsters, or cheering them on.
After that I may try writing one of those Blushing Books style, racy paranormal romances. After years of writing Cinemax's After Dark shows, along with three horror novels, I think I'm qualified.
How long have you been writing?
I started out in television and film production and back in the early 2000's I created a paranormal series called Creepy Canada, which ran in the USA as Hauntings and Horrors. I was constantly writing material for that series. After three seasons of that, I wound up producing and co-writing the TV series' Forbidden Science, Lingerie and Sin City Diaries for HBO/Cinemax. These were all part of their racy "After Dark" lineup, but they offered a great chance to explore science fiction themes and comedy writing. Eventually HBO cancelled their After Dark shows, leaving me at a creative impasse. I wrote and directed the feature film Sweet Prudence for HBO, before switching to fiction writing in 2015. The changeover was difficult, with plenty of rejection, but creating a novel, without broadcaster guidelines or budget limitations was intoxicating. I hope to keep writing fiction until my fingers fall off.
Can you tell us a little bit about the characters in Primeval Waters?
Primeval Waters has three primary protagonists.
Dr. Micah Clark is a planetary geologist who spent his childhood accompanying his biologist parents on expeditions to exotic locales. Those youthful experiences made him into a jungle survival expert. As an adult, Micah was one of academia's brightest stars, until his theories about ancient aliens reduced him to a pariah, and cost him his marriage. To earn a living while continuing his research he hosts the cable Science and adventure show Meteor Micah. But after three seasons his show is slated for cancelation, and he still hasn't found any evidence validating his theories about ancient aliens—he's at his personal nadir.
The only bright light in his life is his ten-year-old daughter Faye, who's joined him on his final television trip to Brazil. She's a bright, strong willed kid with an encyclopedic knowledge of animals, especially monkeys.
They're joined by Catalina Abril, a grad student intern working on the show. Catalina, who speaks multiple languages, seems overly confident for a mere graduate student. In truth she's a… well that would be a big spoiler.
The trio is kidnapped by Hector Batista, a megalomaniac emerald trader, who forces them to join his heavily armed expedition down an uncharted Amazon tributary. His goal—recover a massive meteorite that holds the key to unlimited free energy, and wealth. Batista needs Micah's knowledge of meteorites. Batista is a genocidal narcissist, who'll kill Faye if her father fails to comply.
But some unknown force seems determined to stop the expedition by manifesting a barrage of terrifying, prehistoric creatures, including a seventy foot Titanoboa with an appetite for Batista's sailors.
Rounding out the antagonists is Queen Caveira (Queen of Skulls in Portuguese), commander of a fleet of modern-day river pirates. She's a lascivious psychopath who believes the giant snake is actually the river god Boiúna, resurrected to serve as her instrument of revenge on Batista.
So that's the rogue's gallery that makes up Primeval Waters.
If you could spend the day with one of the characters from Primeval Waters who would it be? Please tell us why you chose this particular character, where you would go and what you would do.
Is it wrong to want to spend time with one of the villains? Micah and Catalina are fantastic people, but I'd have to choose Queen Caveira. Spending one day cruising the Amazon River with her would provide a lifetime's worth of excitement, amazing stories and pure madness. Of course by dinnertime I'd be plotting my escape, but I'm sure the experience would be worth the risk. I'm kidding of course, nobody escapes from Queen Caveira… alive.
About the Author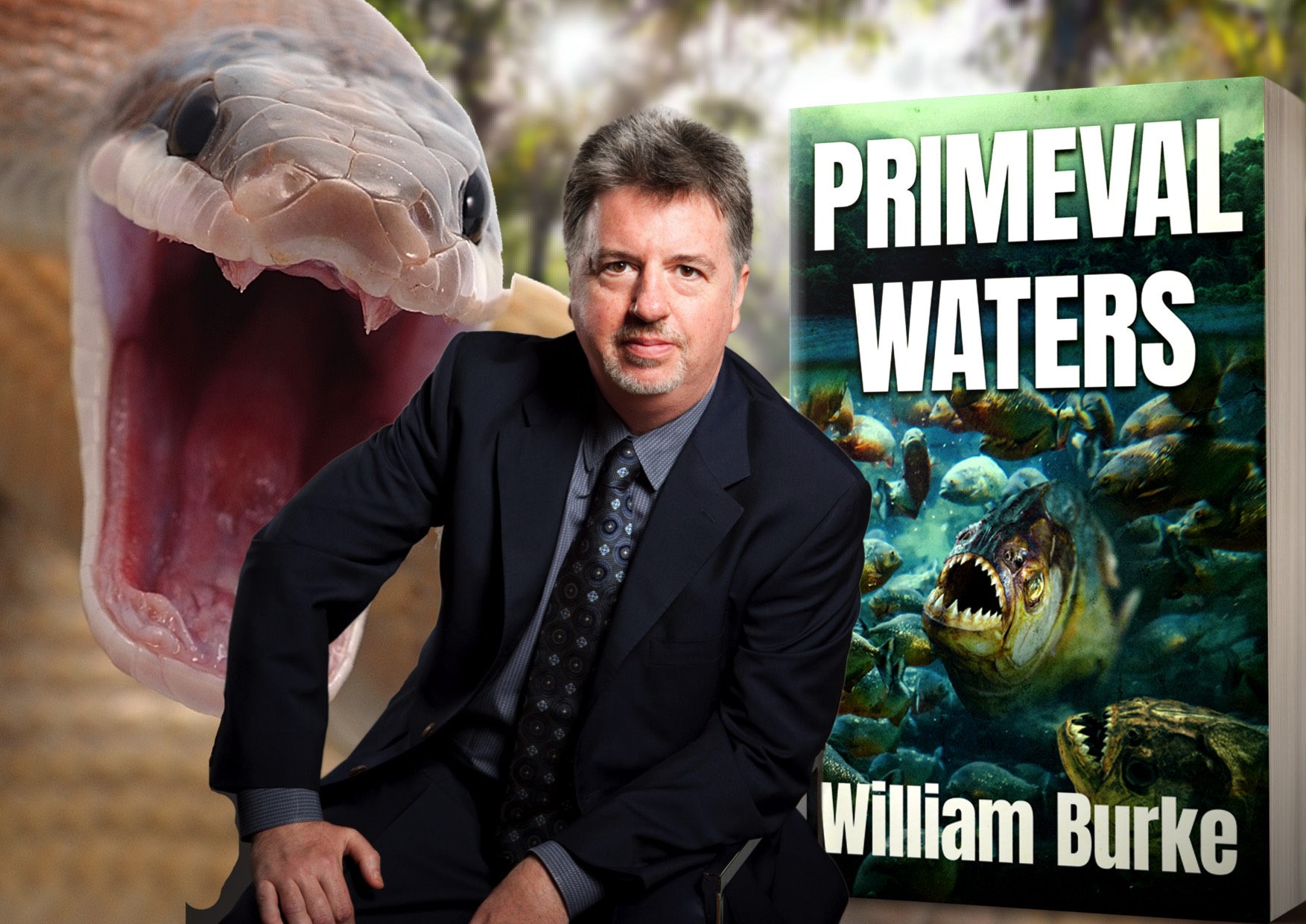 Primeval Waters is William Burke's third novel, following a long career in film and television. He was the creator and director of the Destination America paranormal series Hauntings and Horrors and the OLN series Creepy Canada, as well as producing the HBO productions Forbidden Science, Lingerie and Sin City Diaries. His work has garnered high praise from network executives and insomniacs watching Cinemax at 3 a.m.
During the 1990's Burke was a staff producer for the Playboy Entertainment Group, producing eighteen feature films and multiple television series. He's acted as Line Producer and Assistant Director on dozens of feature films—some great, some bad and some truly terrible.
Aside from novels Burke has written for Fangoria Magazine, Videoscope Magazine and is a regular contributor to Horrornews.net
Contact Links
Purchase Links