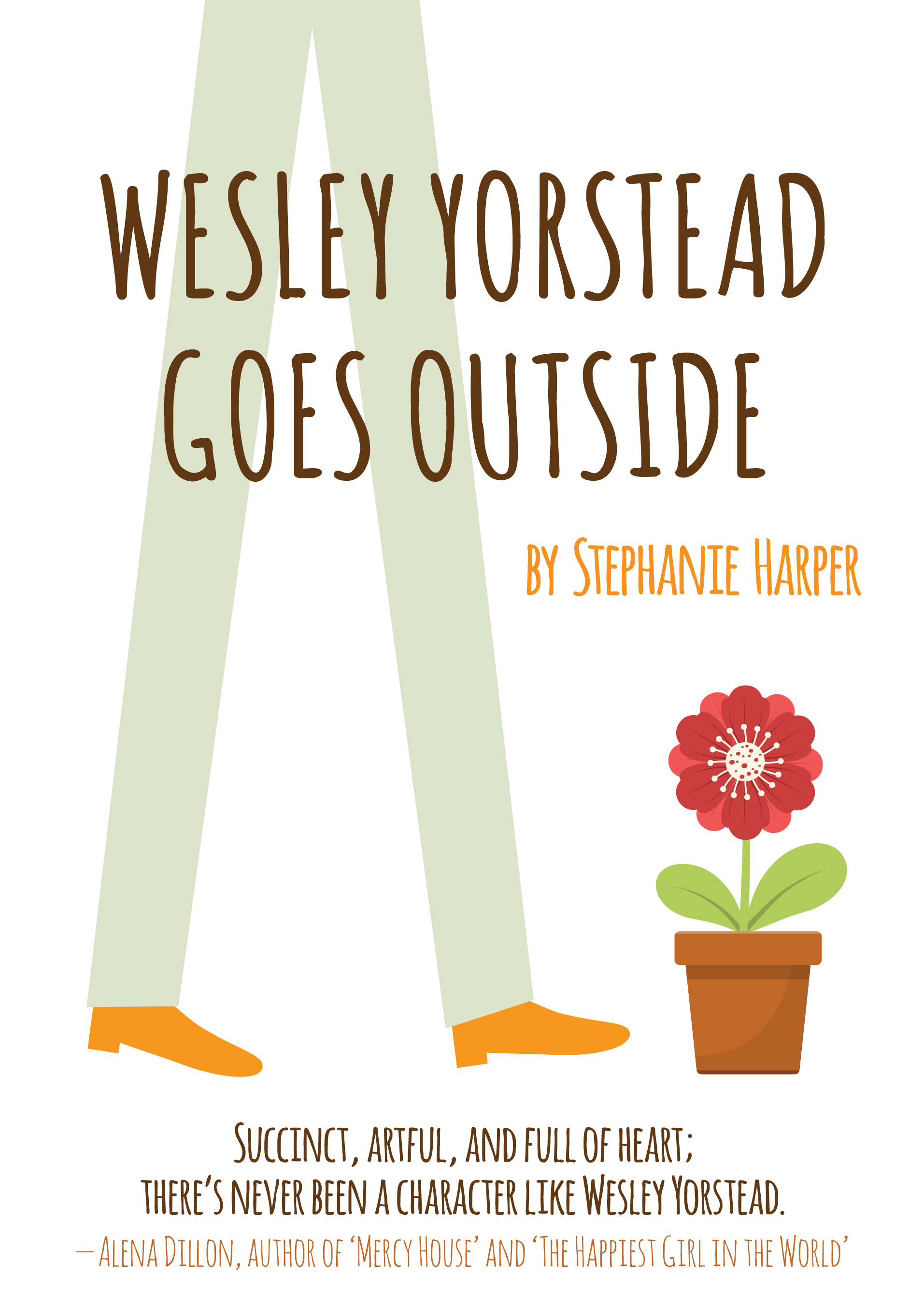 Contemporary Fiction, Literary Fiction
Date Published: October 26, 2020
Publisher: Propertius Press
When an agoraphobic man develops a relationship with a vivacious grocery delivery woman, the order he prescribes to his apartment, and his world, begins to crumble around him. Wesley Yorstead Goes Outside explores the life of Wesley Yorstead, a thirty-three year old graphic novelist who suffers from a severe case of agoraphobia that has kept him shut inside for over five years. When he meets Happy Lafferty for the first time, delivering groceries on behalf of her father's neighborhood market, Wesley can't shake the inherent magnetism between them and seeks to get to know this young woman who invades his space—both physical and mental. As their relationship grows more intimate, the restrictions of his situation become an even greater obstacle. When Happy's past comes back to haunt her, Wesley must decide if he can finally leave his apartment to help. A meditation on anxiety, fear, and human connection, Wesley Yorstead Goes Outside asks the reader to consider what our fears take away from our lives, and how we might overcome them.
Finalist for the Colorado Book Awards in the general fiction category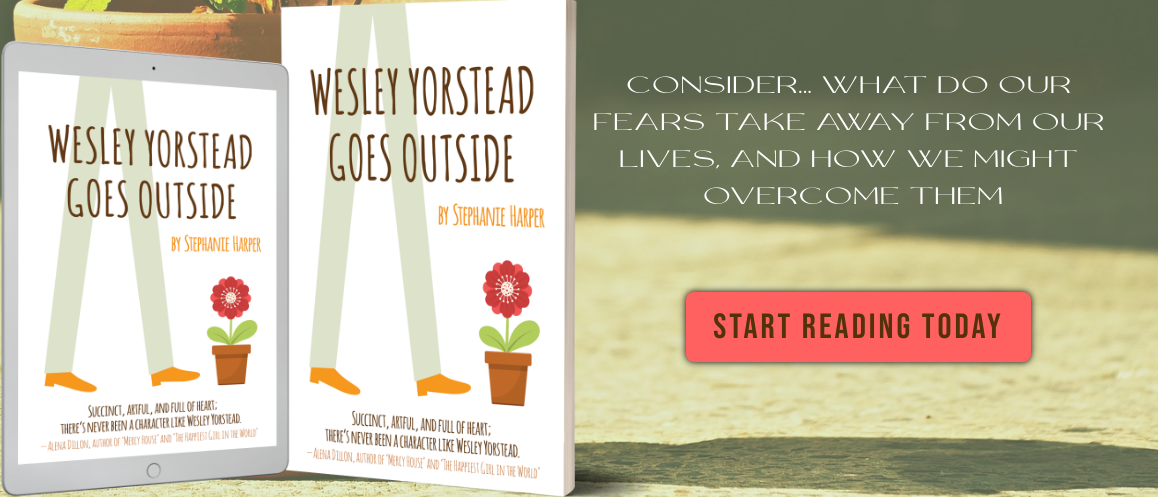 Interview with Stephanie Harper
For those interested in exploring the subject or theme of your book, where should they start?

I would say there are a few key themes in Wesley Yorstead Goes Outside. One is how fear and anxiety affect our lives and sometimes keep us from living fully. This is depicted through Wesley Yorstead's agoraphobia and issues with anxiety and panic disorder.

Another important theme is relationships, and how we better ourselves when we are in relationship with others. This is seen in the way that Wesley and Happy help each other grow.
How did you become involved with the subject or theme of your book?

The book really started as a character study exploring what it would be like to live with agoraphobia. The theme of fear and anxiety was really born out of that interest and I realized that although Wesley's agoraphobia is an extreme example, there was something so relatable about his fears and the anxiety he felt. It really forced me to reflect on some of my own fears and how anxiety plays a role in my life.

As for the importance of relationships, I am a firm believer that we are all our best selves when we are in healthy and affirming relationships with others. This is a central theme in all of my work.
What were your goals and intentions in this book, and how well do you feel you achieved them?

I wouldn't say that I had specific goals at the outset. I wanted to tell Wesley's story in the best and most authentic way possible, and I do believe I achieved that.



Anything you would like to say to your readers and fans?

First and foremost, thank you! This book was finished in 2013 so the fact that it is finally out in the world is such an amazing feeling. I hope that readers will love Wesley and Happy as much as I do. I also help the book will feel real and hopeful. Especially in our current circumstances of isolation. While I didn't plan to publish my book during a pandemic, it is surprisingly well-suited for the experiences many of us are living right now.
What did you enjoy most about writing this book?

Crafting Wesley's character. Putting myself into his mindset and perspective was hard but rewarding work. And because Wesley is a graphic novelist, I really got to create a unique perspective through his artistic sensibilities.
Can you tell us a little bit about your next books or what you have planned for the future?

I have two big projects right now that I am sort of moving between. One is a novella length creative nonfiction work about my experience with chronic pain and illness, specifically the headache that I have had for the last 7 ½ years!

I am also working on a fiction novel about a boy who survives a terrible accident and goes to live with his aunt and uncle, whom he's never met. It's a story about family and grief and unexpected life changes. I'm very excited about it.
How long have you been writing?

The short answer is always. I can't ever remember not writing, even as a child. But I have been writing in a professional capacity my whole adult life.
Can you tell us a little bit about the characters in Wesley Yorstead Goes Outside?

Wesley Yorstead is a graphic novelist in his thirties who hasn't left his apartment in 5 years at the beginning of the book. He lives with agoraphobia and also some PTSD. He creates graphic retellings of classic literature. His current project throughout the book is a retelling of To Kill a Mockingbird. He's grumpy and cantankerous but he's also intelligent, good-hearted, and loveable.

Happy Lafferty is a young woman in her mid-twenties who first meets Wesley delivering groceries from her father's neighborhood market. She is bright and vivacious and radiates a lot of positive energy. But she is also a bit stuck in life and in her personal relationships. She has some deep wounds that have affected how she sees herself.
If you could spend the day with one of the characters from Wesley Yorstead Goes Outside who would it be? Please tell us why you chose this particular character, where you would go and what you would do.

Such an interesting question because I already feel like I have spent so much time with them already! But I suppose if I could get Wesley to leave his apartment and wander around the Denver Art Museum for an afternoon, that would be an absolute delight!
About the Author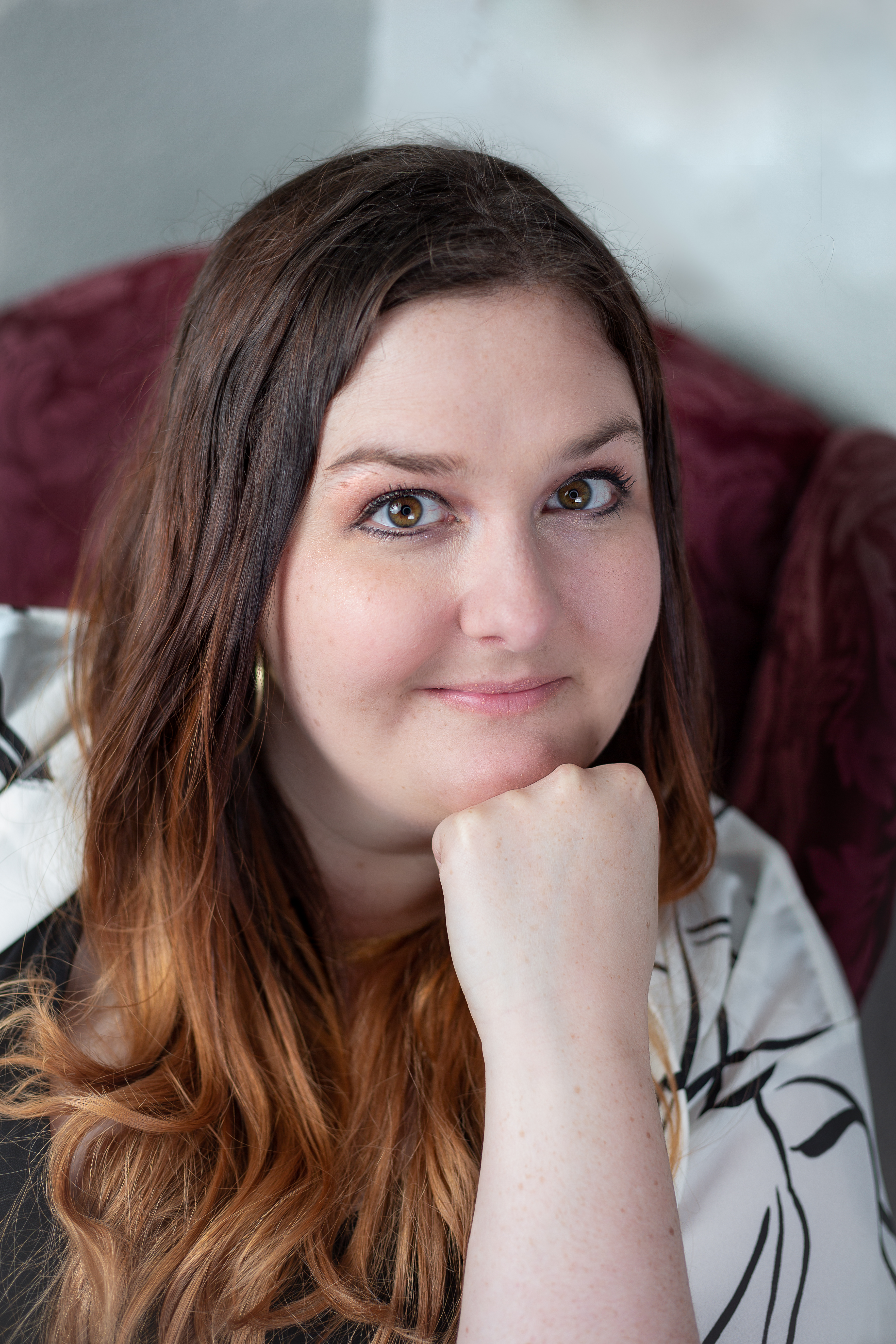 Stephanie Harper is the author of Wesley Yorstead Goes Outside (Propertius Press, 2020), as well as a poetry collection entitled Sermon Series (Finishing Line Press, 2017). She received her MFA in Creative Writing from Fairfield University. She's written personal essays and articles for many publications online and in print. She currently lives in Littleton, CO.
Contact Links
Purchase Links