Date Published: June 1, 2021
Publisher: Atmosphere Press
The Jesus Nut tells the parallel stories of three unlikely pilgrims—a reviled professor, a delusional homeless veteran, and a priest who loves strip clubs—searching for the greatest religious relic of the 21st century. Thrown together after a raucous showdown with evangelists, they decide to ignore their differences and work as a team in pursuit of their holy purpose. Their journey to New York City leads to a fateful encounter with a former advertising executive, whose mad ramblings suggest he might be the very oracle to help them fulfill their destiny.
A quirky, subversive novel that addresses timely issues and lampoons evangelical hypocrisy, The Jesus Nut ultimately reveals itself to be a story of second chances and agape love. Along the way, you'll meet self-righteous academics, a curious and ambitious stripper, a farmer with a remarkable peanut, a trucker fascinated by the constellations, a profane church maintenance crew, and more. Prepare for an irreverent journey which will remind you of the value of friends and the miraculous power of faith.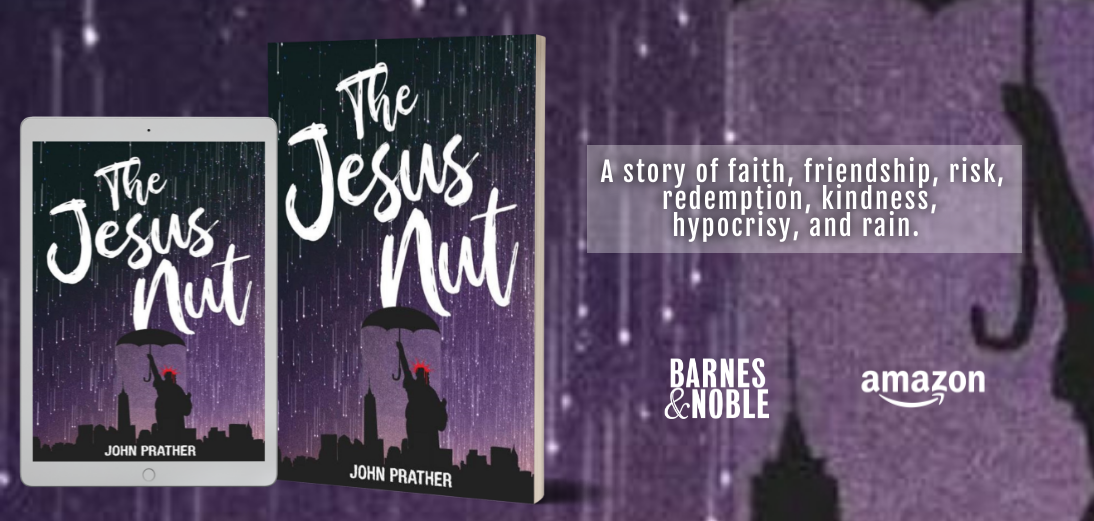 Advanced Praise
Jerry MacNeil, author of Rules of Thumb "Three people share a life-changing adventure. Pilgrimages are more rewarding during the journey than at the destination, and The Jesus Nut is a great ride."
"Masterful raconteur Prather pulls out all the heretical stops... A highly original mix of belief and balderdash."
Interview with John Prather
For those interested in exploring the subject or theme of your book, where should they start?

I'd recommend they start by reading about Kenneth Copeland, Franklin Graham, Jerry Falwell, Jr., and Westboro Baptist Church—all examples, in my opinion, of religion gone astray. Religion should be about empathy and unconditional love, not a way to marginalize people.

As for books, Gifts of the Dark Wood (Eric Elnes) was a meaningful book in shaping my own perspectives on faith.

But I think this might be too narrow a view of "the theme" of The Jesus Nut. While it's based upon a quest for a religious relic and it satirizes certain right-wing religious figures, I hope the book is far deeper than that. I've also attempted to address homelessness, discrimination based upon sexual orientation and gender, dysfunctional families, PTSD, pride, lust, and more. Really, I'd like to think the book is more about agape love and self-discovery than it is about religious topics, despite initial appearances.
How did you become involved with the subject or theme of your book?

The idea for the novel sat in skeletal form in my brain for a decade or more, having germinated the first time I head the phrase "Jesus nut." The satirical tone is the product of perhaps 40 years of immersion in satirical and ironic literature and films, including Catch-22, Dr. Strangelove, and "A Modest Proposal." But the final push to write this novel came, I believe, from my two years as a congregant at a UCC church in Phoenix, which preached to its diverse community a message of compassion, inclusion, and joy.
What were your goals and intentions in this book, and how well do you feel you achieved them?

I hoped to convey the idea that we should approach life with an open heart, empathy, trust, and curiosity, despite the fact that certain institutions do not always support those ideals. I wanted to celebrate individual free will, kindness, and ambition and condemn the hypocrites who devalue, distort, or exploit these most human qualities. I believe I accomplished that and more; indeed, I cannot help but feel I had some Heavenly help in conveying my message while still managing to write a funny book.
Anything you would like to say to your readers and fans?

First, thank you for your support. Writing a book is not easy, and neither is getting people to read it. So the fact that a person is holding my book in their hands, having invested both their money and time on the chance that I might be able to move them with my words, is profoundly humbling.

Second, I hope readers will remember the adage that we should not judge a book by its cover, meant metaphorically here. I have one friend who was offended by the title. I'm sure others will be bothered by depictions of my characters early in the book. A priest who goes to strip clubs? A homeless man who thinks he's the Messiah? A professor of religion who doesn't believe in God? Read the whole book, please. If you're still bothered by things at the end, let's talk about why.
What did you enjoy most about writing this book?

On a macro scale, being able to "find my ferret," as David Morrell (First Blood) calls it. Morrell says that in the same way an escaped ferret burrows into the sofa cushions, a writer must find something that burrows so deeply into his soul that he feels absolutely compelled to write about it. The process of writing The Jesus Nut was exactly that. As I wrote, I grew more committed to my message as I began to like and to understand my characters more and more. The fact that I was able to express what I believe are some important ideas but package them within a funny and empathetic novel is extremely gratifying.

On a micro scale, I'd have to say writing a line of dialog that sings or describing a character or situation with a perfect piece of figurative language. There were times I wrote something and smiled, knowing I nailed it—and those times certainly made the challenges a little more bearable.
Can you tell us a little bit about your next books or what you have planned for the future?

After my ankle surgery on June 3, I'll be missing out on the California beach summer to convalesce at home. But that will give me the opportunity to write the screenplay for The Jesus Nut. With my MA in screenwriting, it seems like a logical step, especially considering how many readers have said the novel seems very cinematic. After that I'll keep writing satire in one form or another, although I'm not sure exactly what's next.
How long have you been writing?

I wrote a few stories and skits in elementary school, and then my high school Spanish teacher allowed me to write weird, quirky, funny dialogs rather than using the boring stuff in the textbook. Later, I went to the University of Texas for an MA in screenwriting, which I guess formally began my writing journey. I've been writing off and on (too often "off," unfortunately) since then.
Can you tell us a little bit about the characters in The Jesus Nut?

Dr. Haley Berkshire is a Professor of Religious Studies at the University of Utah who does not believe in God, or any aspect of religion (she is a "nullifidian," a wonderful word I learned while writing the novel). She despises academic research but is offended by her treatment by male colleagues in the academic community, and has a contentious relationship with family.

Jesse Morales, a homeless man living in an alley in Venice Beach, California, believes he is the Second Coming. But nobody will listen to him. He also has frequent flashbacks which hint at military service, but he is unable to formulate any coherent personal history.

Father Brian William Callum Robert O'Shea (named for my friend Brian who died too young of cancer and his three sons) is a beloved priest in Seattle who struggles with his faith and, unbeknownst to his parish, loves to visit strip clubs. He falls for one of the dancers, Simone, who turns out to be far more substantial than first imagined.
If you could spend the day with one of the characters from The Jesus Nut who would it be? Please tell us why you chose this particular character, where you would go and what you would do.

I'd probably spend it with Jesse. One of my early reviews said he "lives out [Berkshire's and O'Shea's] conviction that religion's true purpose is engendering compassion." In other words, he's a kind and decent man, as well as deceptively smart. Another early review described him as the novel's Everyman. Who wouldn't want to experience the world from that perspective? Jesse and I both love baseball, so that would be a great day.

I must note, however, my wife is convinced that I fell in love with Simone (the dancer) as I wrote the novel. As O'Shea realizes, Simone is "smart, interesting, and ravishingly beautiful," infinitely curious, motivated to create a better life for herself while helping others overcome their own difficult pasts. So I guess I could bring myself to hang with her for a day!
About the Author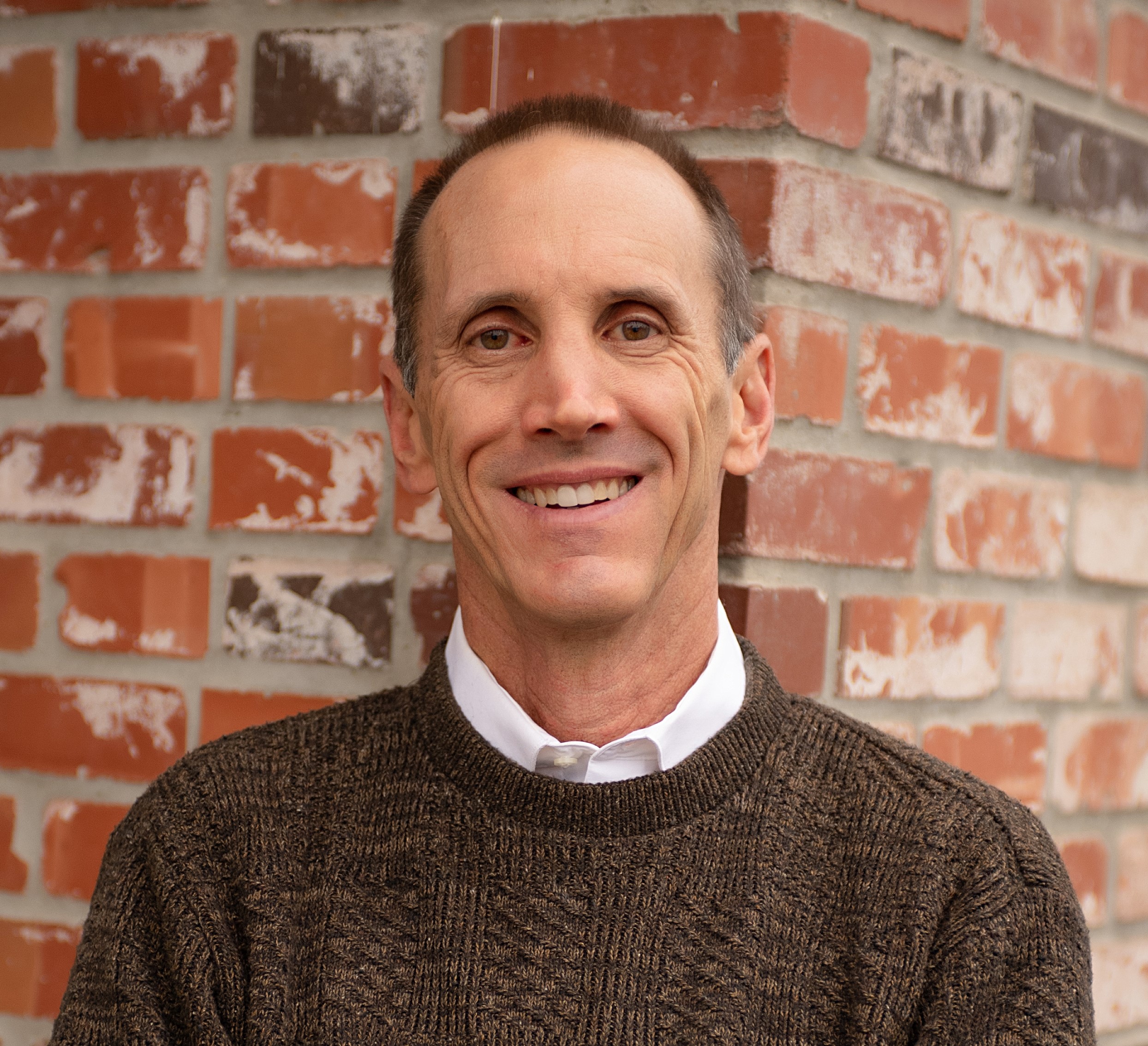 John Prather is a baseball fan, satire aficionado, mustard enthusiast, and film noir devotee. Now retired from teaching and coaching, he lives in Carlsbad, California with his long-suffering wife, extraordinary teenage son, and neurotic Bichon/Poodle mix. He once ran, a lot. His favorite color is orange. He has broken his nose 15 times. Visit him at JohnPratherWriter.com.
Contact Links
Facebook: John Prather, Writer
Twitter: @JohnPrather3
Purchase Links