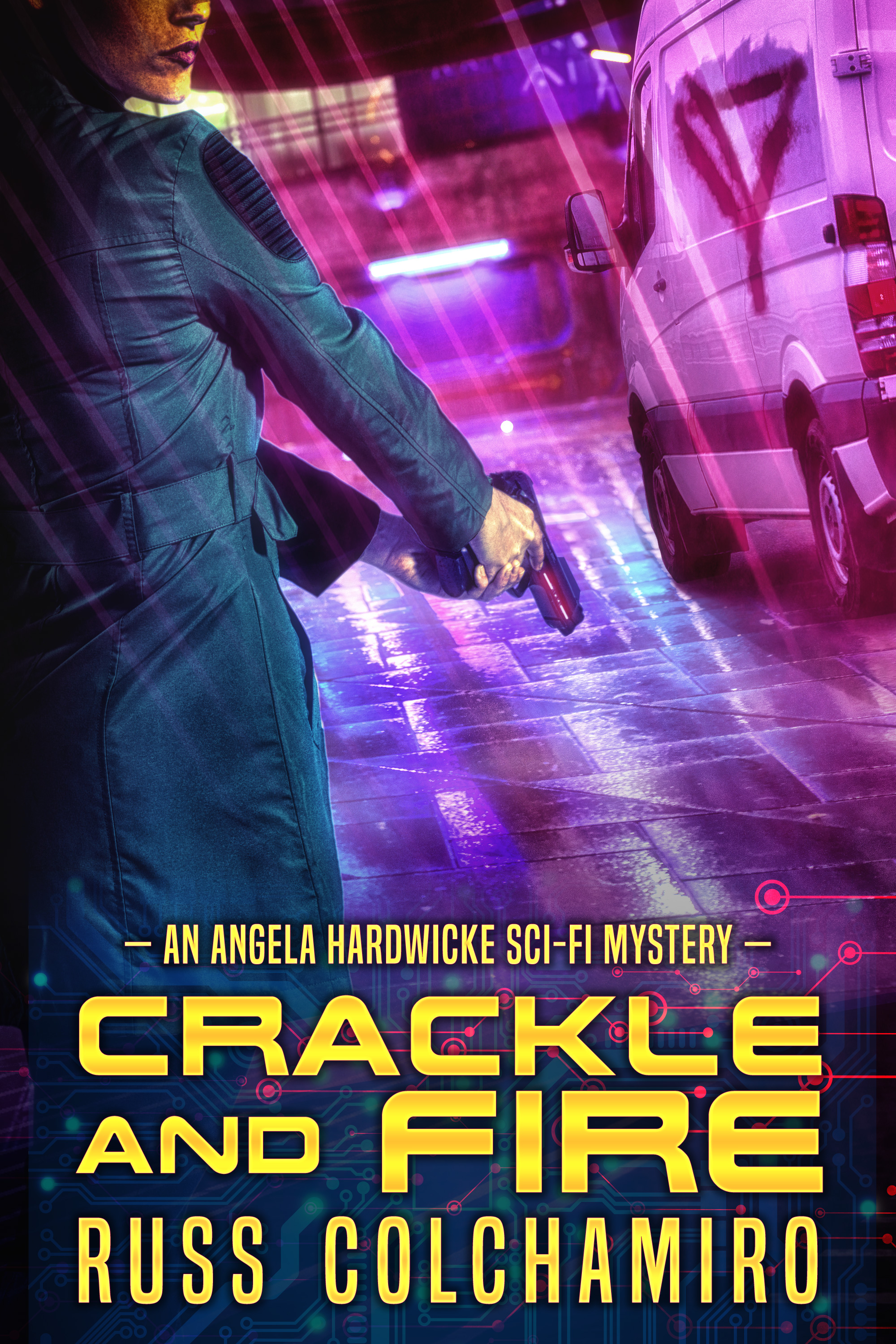 Date Published:
September 1, 2020
Publisher: Crazy 8 Press
Angela Hardwicke isn't just any private eye. She's a PI from Eternity, the cosmic realm responsible for the design, creation, and maintenance of the Universe.
When accountant Gil Haberseau hires her to find an intern with stolen corporate files, Hardwicke soon finds herself embroiled in a deadly case of lies, intrigue, and murder, clashing with vengeful gangsters, MinderNot rallies, and a madman who's come a long way to get what he wants.
In Russ Colchamiro's thrilling Sci-Fi mystery Crackle and Fire, Angela Hardwicke learns once and for all that when it comes to being an intergalactic private eye, there's no telling what threats she may face on-realm and off… including the demons that lurk deep within her soul.
Bonus story included! The AI-themed Angela Hardwicke murder mystery, "The Case of Jarlo's Buried Treasure"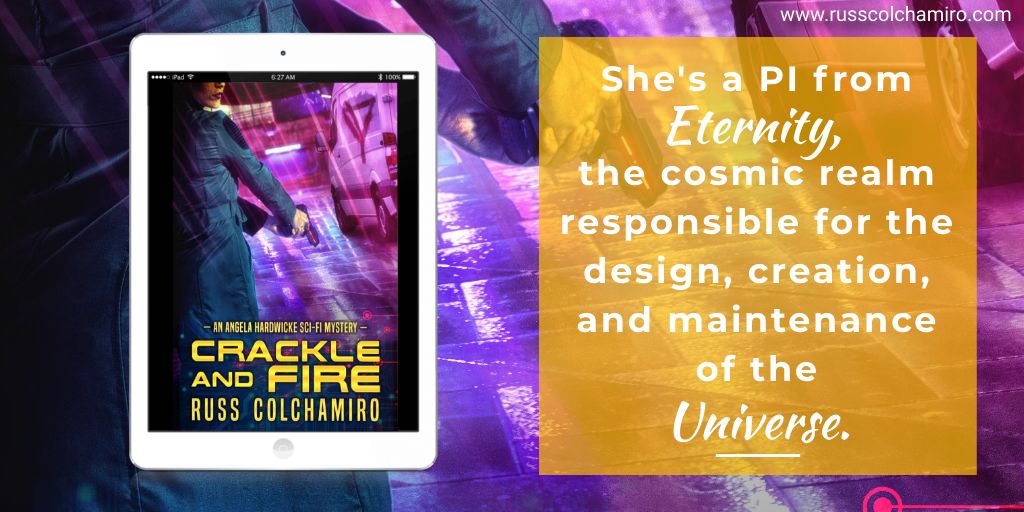 Interview with Russ Colchamiro
For those interested in exploring the subject or theme of your book, where should they start?
Russ: Hardwicke is an intergalactic private eye — a cross between Doctor Who, Blade Runner, and Philip Marlowe — who has appeared in several of my books already, but this is the first time she's gotten her own novel. My intent with Crackle and Fire was to establish an ongoing series for Hardwicke, so I needed to showcase the world in which she lives, compelling characters, the struggles she faces, and an engaging mystery, and her competence dealing with cases that are literally out of this world. I'm extremely happy with the way Crackle and Fire turned out.
How did you become involved with the subject or theme of your book?
Russ: Angela Hardwicke first appeared—briefly—in my novel Genius de Milo. But as soon as she came into my world I knew I was onto something special, so I gave her a bigger role in Astropalooza, and then wrote several short stories with her in the lead. But Crackle and Fire is the Hardwicke novel, with many more to come.
Anything you would like to say to your readers and fans?
Russ: As one of my fans said about Crackle and Fire, it's not pure scifi, it's not straight up noir. It's a unique mixture of both. So if you want a character—and a world—that feels both familiar and utterly unique, I think you're in for a real treat.
What did you enjoy most about writing this book?
Russ: I write all Angela Hardwicke mysteries in the first person, which allows me to write about Hardwicke — and the cases she takes on —from a more personal point of view, which I love. It helps me crawl inside the narrative, bringing out a greater sense of nuance — and urgency about the world's she's in and the mysteries that challenge, threaten, and push her to places she never thought she'd go.
Can you tell us a little bit about your next books or what you have planned for the future?
Russ: I'm currently writing the second Hardwicke mystery, with the intention of releasing one new Hardwicke novel a year for the next 3-5 years. If I'm still loving Hardwicke as much as I am now and the readers feel the same, I'll keep going. I'm having a blast.
How long have you been writing?
Russ: I've been writing since I was a little kid, so it's always been a part of my life. Early in my professional career I was an English Teacher, although I switched gears early on. I was a journalist for about 10 years, and since then I've been working as a media consultant for real estate companies — including what most people know as The Freedom Tower in Lower Manhattan — so I write daily in that venue (in fact, I was in that iconic building on the 90th floor during construction when it had no walls!). In terms of fiction, between novels, novellas and short stories my work – a combination of science fiction, fantasy, and mystery — has appeared in more than 20 books over the last decade, with another half dozen set to publish within the next year.
Can you tell us a little bit about the characters in Crackle and Fire?
Angela Hardwicke is an intergalactic private eye who takes on cases both at street level and those that are more cosmic in nature, and sometimes a bit of both. Hardwicke — who is in her early 30s when we meet her — has also taken on a young assistant, Whistler, who is eager and competent but has a lot to learn. And Hardwicke has a son, Owen, who's about five. But for reasons I won't explain here, he hasn't been under her care for quite a spell, and part of Hardwicke's journey is reconciling her place as a mother and a private eye, and whether she can excel at — or even handle — both.
About the Author
Russ Colchamiro is also the author of the rollicking sci-fi adventure, Crossline, the zany sci-fi/fantasy backpacking series Finders Keepers, Genius de Milo, and Astropalooza, editor of the sci-fi-themed mystery anthology Love, Murder & Mayhem, and co-author and co-editor of Murder in Montague Falls, a noir-inspired collection of novellas.
Russ is also the creator and host of Russ's Rockin' Rollercoaster podcast, where he has interviewed several NY Times and USA Today best-selling sci-fi, fantasy, and mystery authors. Russ has also contributed short stories to more than a dozen sci-fi and fantasy anthologies.
He lives in New Jersey with his wife and two children.
For more on Russ and Russ's Rockin' Rollercoaster, visit www.russcolchamiro.com, follow him on Twitter and Instagram @AuthorDudeRuss, 'like' his Facebook author page www.facebook.com/RussColchamiroAuthor, and watch his podcast on YouTube at https://www.youtube.com/channel/UCUb7MDUNQxyVRBDOTVEqOaw
Contact Links
Instagram: @authorduderuss
Purchase Link