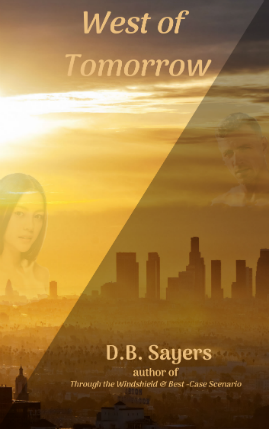 Military/Corporate Romance
Date Published: 2015
"Fate hunts us down in our sleep." Clay Conover, retired Marine officer turned corporate trainer has successfully re-careered and has a long-term plan. A plan grounded in a sense of duty, loyalty, and tempered by clear-eyed realism. Unfortunately, Clay's plan doesn't account for the hiring of Sheera Prasad. Young, hungry and ambitious, Sheera has an agenda of her own.
In the collision of wills that follows, Clay is confronted with a choice that will define him, not simply professionally but personally. Will he take the ethical high road, or opt for self-serving rathionalization? West of Tomorrow is an intelligent romance, laced with corporate intrigue, betrayal and the undiscovered phoenix living in all of us.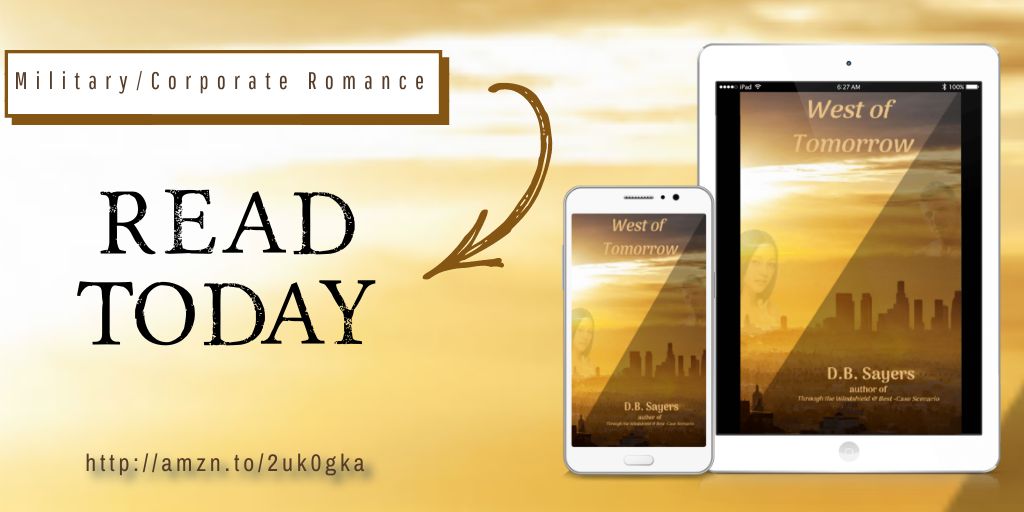 Interview with D.B. Sayers
For those interested in exploring the subject or theme of your book, where should they start?
West of Tomorrow is an intelligent romance laced with corporate politics, betrayal, and misplaced love. In it, Clay Conover a recareered Marine officer still wrestling with personal ghosts from his previous career, is confronted with a choice between honor or love.
Either choice will bring loss and disappointment. And whichever he chooses, it will define him for the rest of his life. So on the surface, this is a tale of difficult choices. But at a deeper level, it is also about coping with change in our age of rapidly shifting paradigms and discovering the phoenix that lives in all of us.
How did you become involved with the subject or theme of your book?
My previous experiences in both the military and corporate America have given rise to an awareness of something I call the organizational paradox. Summarized, the organizational paradox is that we join organizations to leverage the power of cooperative group action. But the organization we joined, always morphs over time, often in ways that don't dovetail with the reasons we joined the organization in the first place. This dynamic often puts the humans in that organization in impossible situations. How we handle them, often becomes our destiny.
As Clay Conover learns in West of Tomorrow.
What were your goals and intentions in this book, and how well do you feel you achieved them?
Going back to high school, I've always been fascinated by change. How it affects society, organizations, and most importantly, how change impacts each of us as individuals. My objective with this book was to shine a light on how our contextual reality affects the individuals attempting to navigate it, focusing mostly on its personal and emotional impact.
Arguably, it is runaway change that drives most of the social ferment of our age. It is the uncertainty implicit in that change that underlays our feelings of disorientation. How well I have framed these issues is for the reader to judge. But based on reviews so far, virtually everyone has enjoyed the story and have reported that besides being an enjoyable read, it made them think.
Anything you would like to say to your readers and fans?
Of the books I've written so far, West of Tomorrow is the most comprehensively and directly relevant to the world as we see it today. It draws on my experiences in government, the military and corporate America. At a minimum, it offers some new perspectives on our age and some readers report having had a few "aha!" moments.
What did you enjoy most about writing this book?
Writing both realism and optimism into the same story. If you're burned out on realistic dystopia offering the unalloyed conclusion that we're a "hopeless" mess, West of Tomorrow will give you a break from that narrative. Apart from the inherent optimism, how some of the characters in the story adapt can serve as a glimmer of hope, even today during an apparently implacable and lifechanging pandemic.
Can you tell us a little bit about your next books or what you have planned for the future?
I'm currently working on The Year of Maybe, sequel to Best-Case Scenario, Act I of Nyra's Journey. I'm about halfway through the first draft. In The Year of Maybe, Nyra's self-discovery begun in Act I accelerates exponentially—as does her tolerance for risk. Predictably, testing her new-found limits gets her in trouble, on occasion. But in recovering from her missteps, Nyra gains greater confidence and begins to realize who she is and what she's capable of.
I'm also waiting for Eryinath-5, the second volume in the Knolan Cycle to come back from my editor. It continues the story of first contact between Earth and Knola begun in Tier Zero. Most importantly, it sets the stage for the upcoming war for Earth between the Knolan Concordant and their implacable enemy, the Valdrōsian Empire.
How long have you been writing?
Most of my life, but I didn't publish my first novel, West of Tomorrow, until 2015. I now have four volumes in print, with two more full-length novels on the way, both due out in 2021.
Can you tell us a little bit about the characters in West of Tomorrow?
Clay Conover. (protagonist). He's a recareered Marine officer and decorated combat veteran who surprises readers as well as the characters in the book. Educated, comfortable with paradox, flawed but (mostly) honorable, Clay's journey in West of Tomorrow is a series of surprises and contradictions to go along with the story of his growth into his destiny.
Sheera Prasad. (antagonist). Brilliant, beautiful, and seductive, Sheera is driven by her ambition and her sexuality. She also has secrets and a hidden agenda. In some respects, she was the most interesting and nuanced character to write. Tortured by her appetites and a need for approval, she's a character many readers love to hate.
Aanya Stewart. A Thai orphan who was adopted and grew up in a Navy family here in the United States, she now owns her own art gallery in Laguna Beach. Tragedy heaped upon tragedy has been her story, but her beauty of soul shines through, as she still hopes for better days.
If you could spend the day with one of the characters from West of Tomorrow who would it be? Please tell us why you chose this particular character, where you would go and what you would do.
Aanya Stewart. Art gallery owner and practicing Tantrica who has over come incredible tragedy and loss to become a soul of light. I'd love to go on an art crawl through almost any artists community with her. She has an eye for beauty and composition as well as a knack for imaginative interpretation of artists' message. She's also a comfortable conversationalist and incredibly kind. Any day spent with Aanya would end too soon.
D.B. Sayers is a retired Marine Lieutenant Colonel, former corporate training manager turned full-time author and editor. You can follow his work, retain him as an editor at dirksayers.com. Subscribe to Smoke Signals while you're there, or just drop in and say hi.
About the Author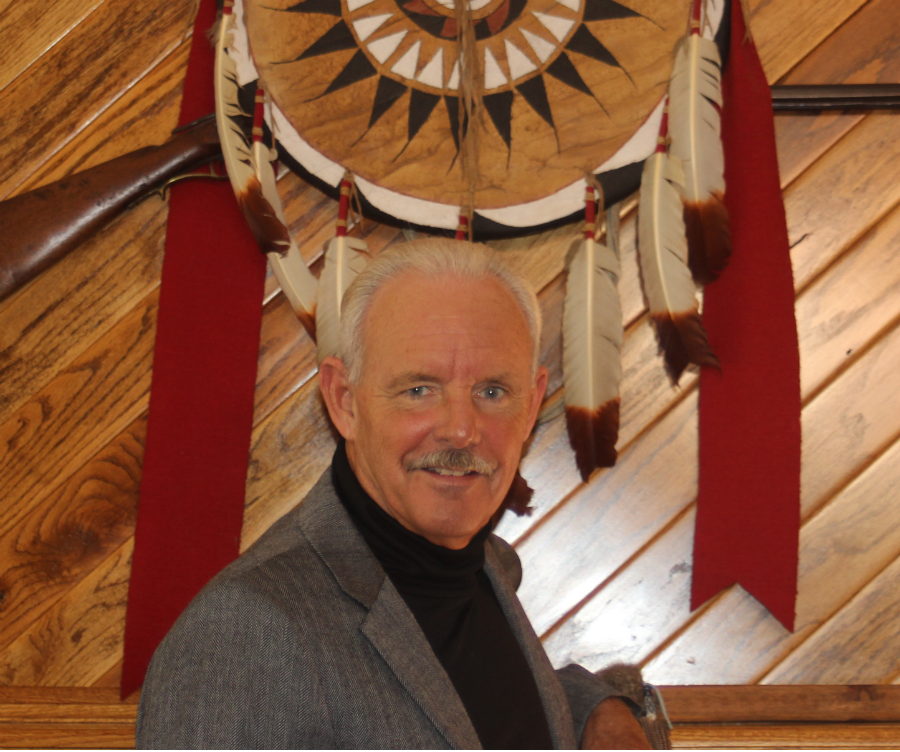 Dirk came within a cat's whisker of never publishing. Through two frenetic professional careers first as a Marine officer and then as a corporate trainer, he started way more stories than he finished, until full retirement left him with the focused attention he needed. West of Tomorrow, his first novel draws on his experience with the military, corporate America and the unpredictable nature of life.
Since then, he has published Best-Case Scenario, Act I of Nyra's Journey a New Adult romance, Through the Windshield, Drive-by Lives an anthology of short stories and Tier Zero, Vol. I of The Knolan Cycle. He currently lives in Laguna Niguel where he surfs, snow skis in the winter and facilitates an author's critique group.
Contact Links
Purchase Link