YA Historical Fantasy
Date Published: 09-21-2021
Dare to defy the Gods?
The Gods demand absolutes, absolute devotion to a prophecy Seanait wishes wasn't real. Ever since her riastrad awoke she has trained for her seventeenth birthday and the beginning of her destiny. With only a few months left, she is ready to return home to Ulster but when Romans invade Caledonia she can't leave the land defenseless. Taking up arms next to her best friend Eion she is ready to defy the Gods and save lives. A chance encounter with the seventh fae prince of Amanthia, Cillian, awakens a dream that could change everything.
Cillian has spent nearly a year running from the trials for the crown of Amanthia. He wants nothing to do with the faelands who see him as a monster because of his Primal magic. He's determined to never return but when Gods meddle in the fates of fae and humans alike everything will not go to plan. In order to survive the war with the Romans and their own destinies, Seanait and Cillian must depend on the one thing pulling them closer, their uncertain hearts.
This is YA historical fantasy series based on the Irish myth of Cu Chulainn.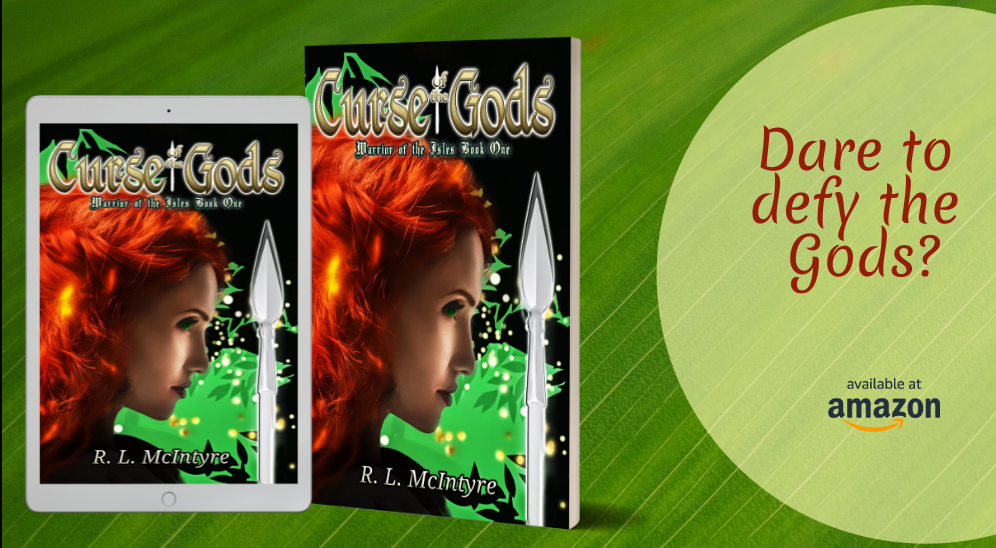 Interview with R.L. McIntyre
For those interested in exploring the subject or theme of your book, where should they start?

For those interested in Irish mythology I suggest researching the Ulster cycle, specifically the myth of Cu Chulainn. This was the myth that inspired the book, Curse of the Gods. There is a plethora of information about Irish gods and other mythological tales. Some may even appear more in depth in the second book.
How did you become involved with the subject or theme of your book?

Well, my last name is McIntyre and I've always been interested in learning more about my Irish ancestors and heritage. As such, this begun my research into Irish history and mythology. It was not something I ever learned about in school and it's not really main streamed like Greek mythology is. It spurred me to really delve into my heritage and I wanted to share what I learned with others.
What were your goals and intentions in this book, and how well do you feel you achieved them?

My goal was to introduce people to Irish mythology and to do so in a way that also mixed ancient history. This was done to help ground the book while also offering even more insight to the world at the time of the myths. This first book takes place in Caledonia, modern day Scotland, during the first invasion of the land by the Romans. I mixed this history with the beginnings of the myth of Cu Chulainn. I feel like I was able to strike a great balance between myth and history, and it seems like my reviewers have been agreeing.
Anything you would like to say to your readers and fans?

Thanks so much for reading! I truly hope you enjoy the story and the characters. Reading is part of my own self-care and if this book can help someone do the same, that makes me incredibly thankful.
What did you enjoy most about writing this book?

I loved learning more about Irish mythology and history. The research process was so much fun. It spoke to me even more since it's the culture of my great grandparents who I unfortunately never met. Mixing myth and history together into something cohesive was so much fun. I love things to all tie together and in this case it felt very successful.
Can you tell us a little bit about your next books or what you have planned for the future?

Curse of the Gods is a duology with the second book Echoes of the Gods planned for this winter. However, several characters will have spinoff trilogies. I'll spoil a bit and say one will follow some of the fae into the world of the faelands. It's working title is Fated to Fall. The other spinoff is going to follow the Romans on their journey home and has the working title, Breaking Destiny. I may start another project or two as the writing Gods gift me with inspiration. My other series The Assassin of Acreage finishes later this month as well so I'm excited to have that trilogy complete.
How long have you been writing?

I started writing stories as a kid in elementary school, but I really started writing full length novels in seventh grade. I haven't stopped since. My google drive is full of stories waiting for the right time to emerge. As a published author this is my first year, (started in Feb 2021) and my third book with number four releasing September 27th and number five hopefully releasing this winter which will make five books in total for my first year! It's crazy how fast it's all gone and how many I've been able to share with the world.
Can you tell us a little bit about the characters in Curse of the Gods?

Seanait is a young warrior who has been blessed by the gods with a riastrad (like Achilles strength and rage in Roman myths). Her destiny is to save her homeland, Ulster, but she struggles with assuming this identity. She carries a Gae Bolg with her which is a mythical spear-like weapon. Seanait is plagued by the gods, whether they talk to her while sleeping or awake. Each have their own demands but Seanait has to decide who to listen to and who to ignore, regardless of the cost.

Her best friend is Eion, another young warrior and child of her greatest teacher Scathach. Eion is an accomplished warrior but even more so he's the most caring best friend a person could ask for.

Cillian is the seventh fae prince of Amanthia, one of the kingdoms in the faelands. He has spent the last year running from the trials for the crown of his kingdom. He was born with a special Primal magic, called Word magic which can be used to control other people. As such he has gained the name, Monster of Amanthia.
If you could spend the day with one of the characters from Curse of the Gods who would it be? Please tell us why you chose this particular character, where you would go and what you would do.

I would love to spend a day with Cillian. He is one of my favorite characters to write. I love that he is a grey character with a complicated view of the world. Plus, I think it would be so much fun to fly through the sky. I would love to fly over some mountains or other scenic landscape.
About the Author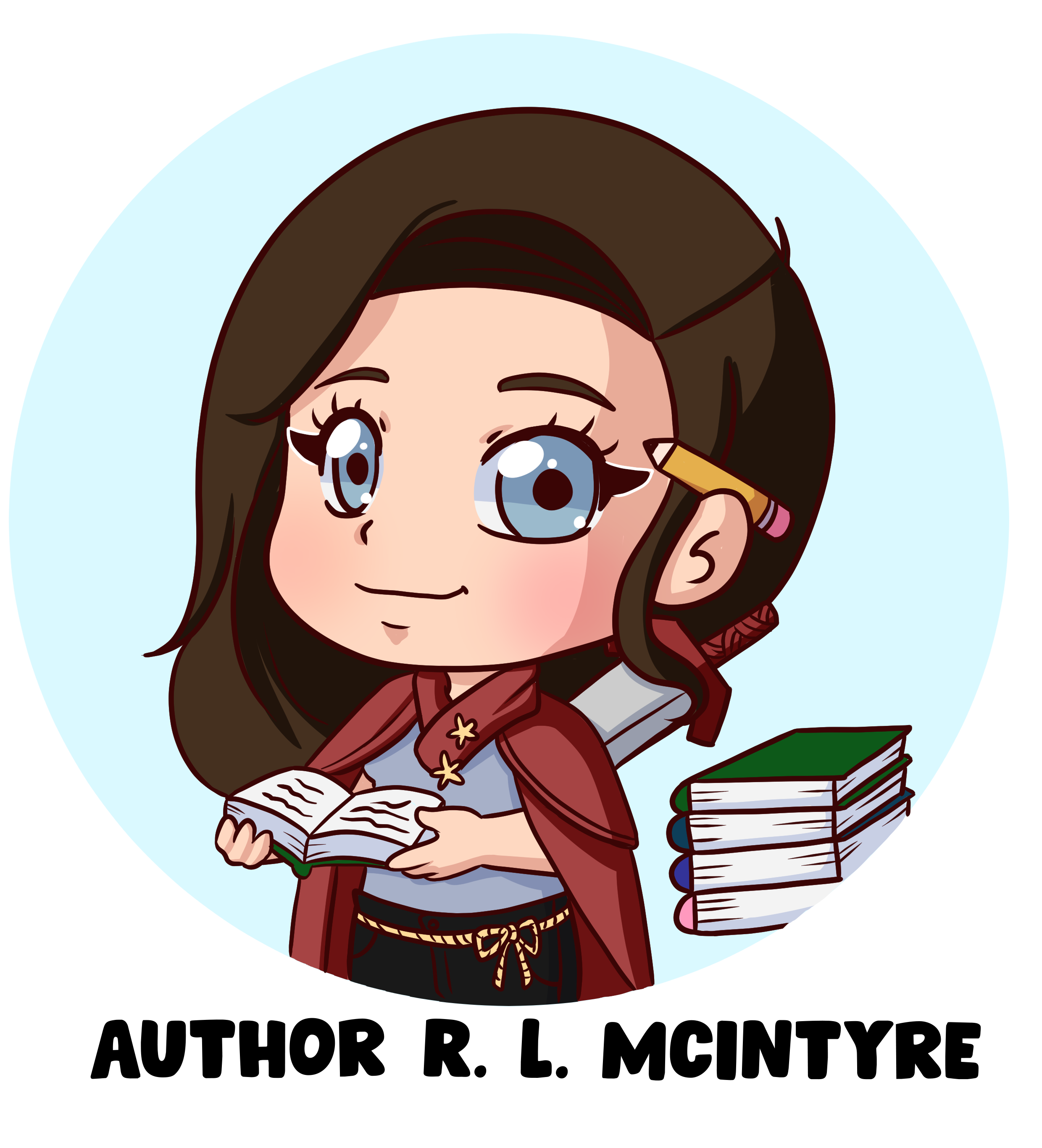 I am a new author who started my self-publishing journey this year in 2021. Curse of the Gods will be my fourth book this year but not my last. I live in the Philadelphia area with a house full of crazy cats you can see on my Instagram or website. I'm a long-time reader and fantasy fan. Anything with strong female protagonists pulls me in.
Contact Links
TikTok: Tiktok @r.l.mcintyre
Purchase Link