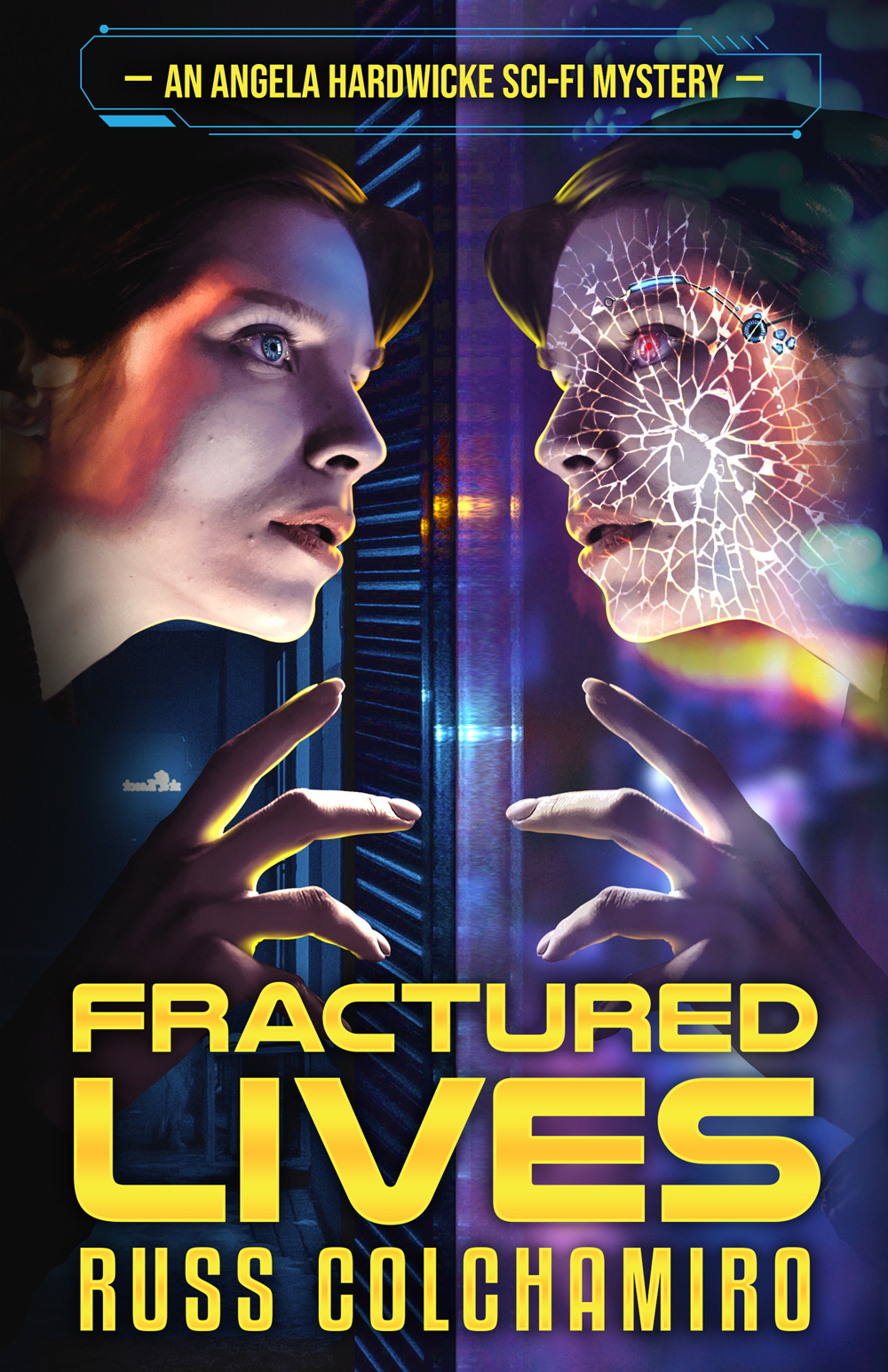 The Angela Hardwicke Mysteries Book 2
Sci-Fi Mystery
Date Published: Sept 2021
Publisher: Crazy 8 Press
In the cosmic realm of Eternity, there's only one private eye to hire when your world gets turned inside out—Angela Hardwicke.
Darla Fyne, a college freshman and galaxy design savant, is suffering from a nervous breakdown—or is she the victim of an urban legend known as the Scarlet Raj?
As Hardwicke follows the intersecting worlds of art galleries, college dorms, and a semi-secret clan that patches up tears in the Universe, her investigation will either uncover a hoax gone wrong or a plot that could shift the balance of power across the entire realm. If only she can fight through her own paranoia to tell the difference.
In Russ Colchamiro's new Sci-Fi mystery Fractured Lives, Angela Hardwicke is confronted by a PI's worst nightmare—dark secrets from her past.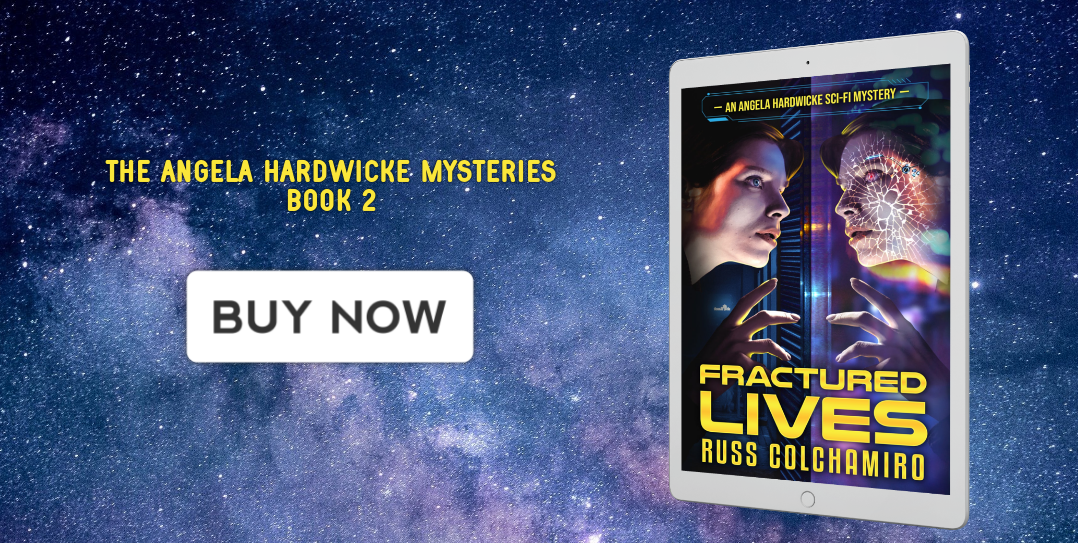 Interview with Russ Colchamiro
Q: For those interested in exploring the subject or theme of your book, where should they start?
Russ Colchamiro: I'm always a fan of starting with the first book in a series, which is Crackle and Fire. But I write each Angela Hardwicke Sci-Fi mystery novel as a standalone, re-introducing the world-building, setting, and key characters, so you can start with any book in the series and know where you are. So if you want to start with my new book, Fractured Lives, I think you'll have a great time.
Q: How did you become involved with the subject or theme of your book?
RC: I've always been a huge fan of the private eye genre, and Angela Hardwicke just kinda jumped off the page for me in Genius de Milo and then Astropalooza, the 2nd and 3rd books in my Finders Keepers Sci-Fi backpacking comedy series. I loved Hardwicke right away and knew I wanted to spend a lot of time with her.
Q: What were your goals and intentions in this book, and how well do you feel you achieved them?
RC: I wanted Fractured Lives to be a more emotional, personalized story for Hardwicke, wrapped up in a larger, complex mystery, while continuing to expand the world building. I'm really happy with the way it turned out.
Q: Anything you would like to say to your readers and fans?
A: I appreciate your enthusiasm for Angela Hardwicke! Lots more to come!
Q: What did you enjoy most about writing this book?
A: Fractured Lives challenged me to dig deeper into Hardwicke's backstory, which I've been noodling with for years. But knowing how much to include, what to leave out, and how to weave it into the larger narrative was tricky, but I think I pulled it off.
Q: Can you tell us a little bit about your next books or what you have planned for the future?
RC: For the next few years at least it'll be all Hardwicke all the time, with a few side projects sprinkled in here and there. I'm currently writing the third book in the Hardwicke series, which will be out fall of 2022. My plan is to write at least five Hardwicke books in a row, and then, depending on fan reaction, I'll either keep going, or dive into a new series I have in mind.
Q: How long have you been writing?
RC: Since I was a kid. But I've been on 'book tour' for about a dozen years, with no intention of slowing down.
Q: Can you tell us a little bit about the characters in FRACTURED LIVES?
RC: Angela Hardwicke is an intergalactic, hardboiled private eye, in my mind a combination of Doctor Who, Blade Runner, and Philip Marlowe. Her home 'turf' is Eternity, the cosmic real responsible for the design, construction, and maintenance of the Universe. Hardwicke takes cases at ground level—extortion, corporate espionage, unsolved murders, kidnappings, and the like—but also those involving shapeshifters, AIs, time travel, alternate dimensions, and other mind- and time-bending scenarios. Hardwicke is in her mid-30s, and a single mother with a unique child. By the nature of the cases she takes, she often finds herself in dangerous situations that a run-of-the-mill PI wouldn't know how to handle.
Eric Whistler is Hardwicke's protégé. He's ten years her junior, smart, loyal, and clever, but inexperienced. Part of each book is watching the two of them forge a partnership, but it doesn't always go smoothly. Hardwicke is used to being a 'lone wolf' actor without having to explain why she does what she does or teaching someone how to do it, while Whistler is sometimes overeager to prove himself.
Q: If you could spend the day with one of the characters from FRACTURED LIVES, who would it be? Please tell us why you chose this particular character, where you would go and what you would do.
RC: I'm partial to an android I wrote in a short story called "Jarlo's Missing Treasure", which is a bonus story I included in Crackle and Fire. I love Jarlo and hope to bring him back some day. I won't want say more because I don't want to spoil the surprise!
About the Author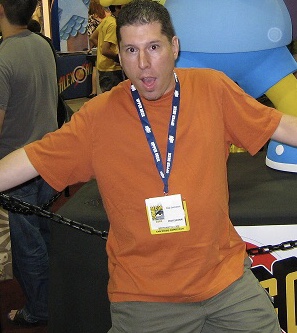 Russ Colchamiro is author of the Sci-Fi mystery Crackle and Fire the first novel in his ongoing series featuring intergalactic private eye Angela Hardwicke. Russ is also the author of the rollicking time travel/space adventure, Crossline, the SF/F backpacking comedy series Finders Keepers: The Definitive Edition, Genius de Milo, and Astropalooza, is editor of the Sci-Fi mystery anthology Love, Murder & Mayhem, and co-author of the noir anthology Murder in Montague Falls.
Russ has also contributed to several other anthologies, including Tales of the Crimson Keep, Pangaea, Altered States of the Union, Agents of the Abyss, Camelot 13, TV Gods 2, They Keep Killing Glenn, Thrilling Adventure Yarns, Camelot 13, Footprints in the Stars, Devilish and Divine, Badass Moms, and Brave New Girls.
Russ is a member of the Mystery Writers Association and Crazy 8 Press, and hosts Russ's Rockin' Rollercoaster podcast, where he interviews best-selling and up-and-coming scifi, fantasy, crime, mystery, and horror authors.
For more on and Russ's books and his podcast, you can visit www.russcolchamiro.com, and follow him on Facebook, as well as Twitter and Instagram @AuthorDudeRuss.
He lives in New Jersey with his wife, two ninjas, and black lab, Jinx.
Contact Links
Facebook: Russ Colchamiro
Twitter: @AuthorDudeRuss
Instagram: @AuthorDudeRuss
Purchase Link