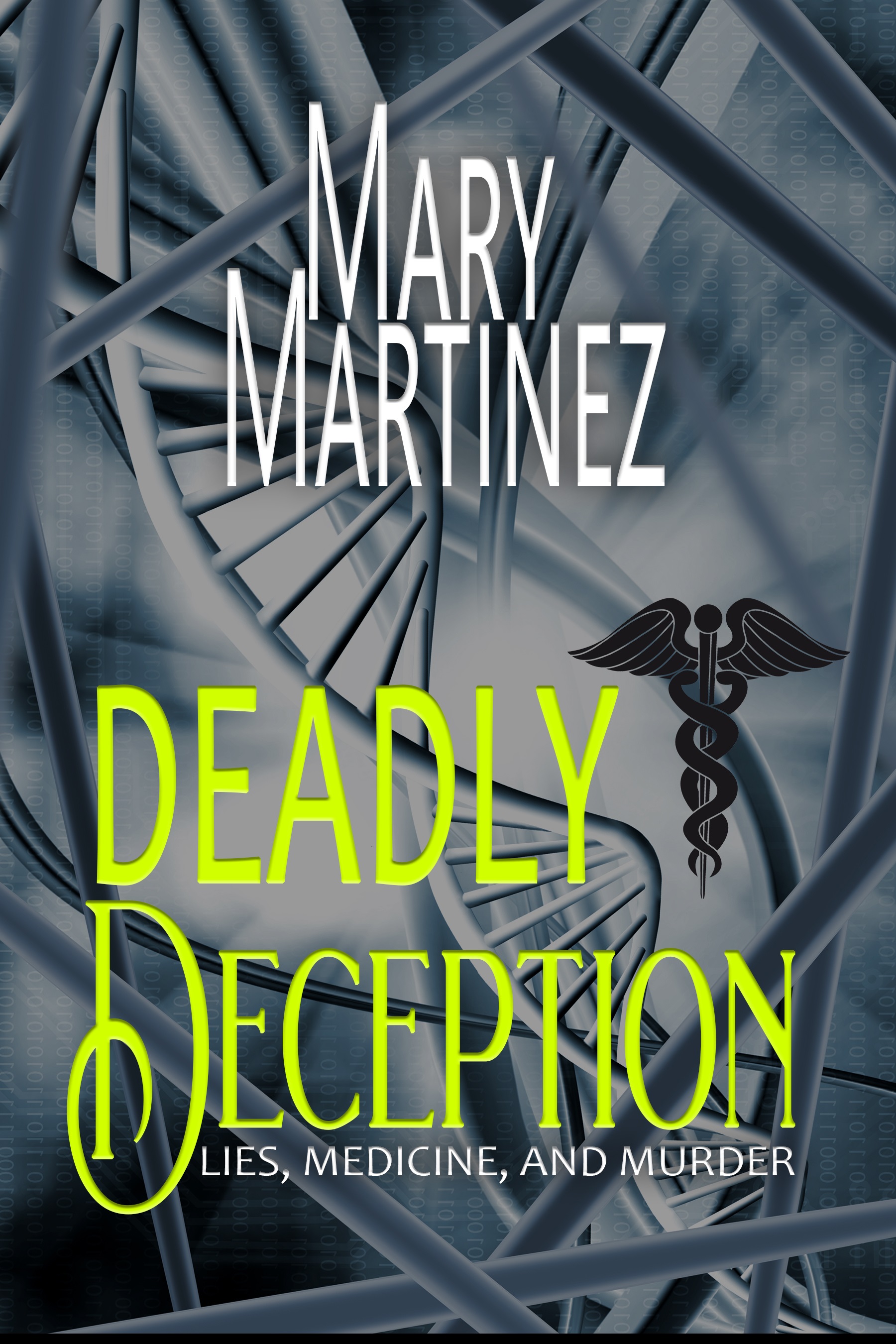 Suspense
Date Published: 06-01-2022
A blink of an eye. That's all it took for her life to change forever. After two years, Marcie Faraday still doesn't believe the crash that took her family was an accident. She is determined to find the answers, even if the truth puts her in danger.
Detectives Booker Dixson and Lashelle Valentine must deliver the news to Jonas Faraday's widow which is the worst part of their job. Neither believes it should have been ruled an accident.
Booker and Lashelle uncover a connection between Marcie's late husband and her father's medical clinical trial. Coincidence or ploy? Booker Dixson does not believe in coincidence.
Deadly Deception is a thrilling journey to uncover the secrets that threaten to shatter the perfect picture of Marcie and her family.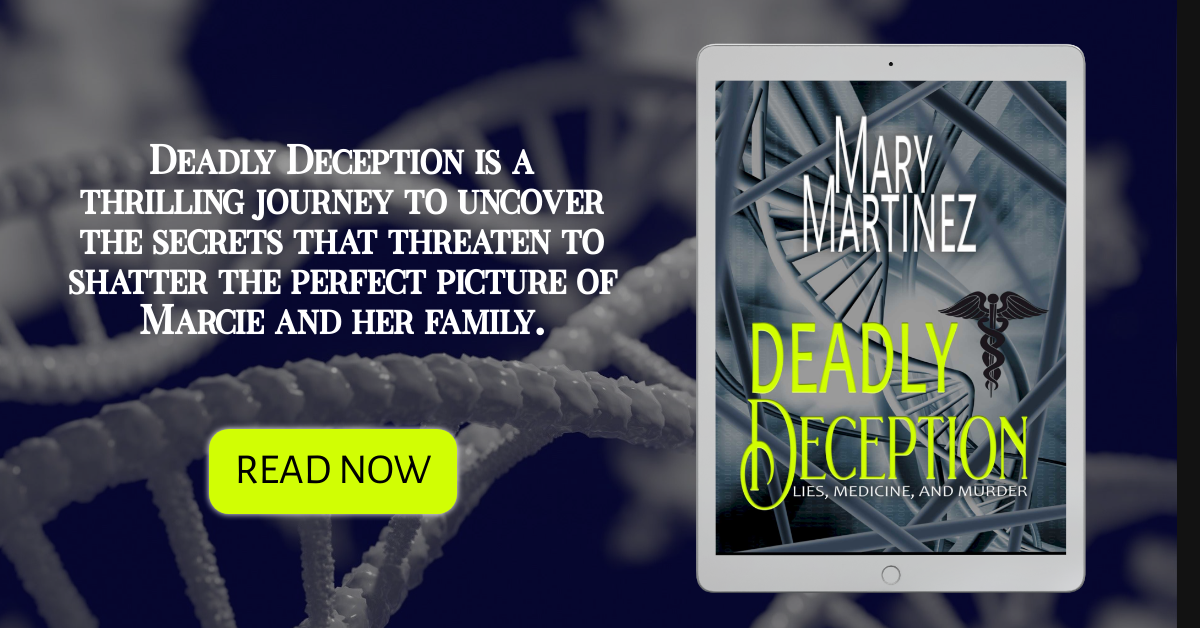 Interview with Mary Martinez
How did you become involved with the subject or theme of your book?

I'm trying to remember, I have a day job, so it takes awhile to write. I live in a small town, so we have a small-town celebration for July 4th every year. I have this story I want to write called Breach of Contract. And every time I start to write it, it morphs into another story. My idea for this story is a small-town lawyer who lost her husband and daughter. And a big city doctor brings his daughter to the small town because of its family values. And as I wrote it turned into a small-town attorney who moved to NY to become a big-time lawyer and the characters took it from there.
What were your goals and intentions in this book, and how well do you feel you achieved them?

My attentions were to have it be a women's fiction about a woman's challenge to let go of the past and rebuild her life. And it turned into a suspense. But Marcie, the woman who lost her loved ones had to resolve the mystery surrounding her husband's death and in the process saved her father. I believe I still achieved my goal as far as at the end she was free to rebuild her life.




I am a pantster. (I am never sure how to spell that word. I've seen it spelled so many ways.) Which means I write by the seat of my pants. I do try to do an outline, but the more detailed the more it hinders me. So, I usually write a very small outline with about 10 bullets points that give me a goal from start to finish. And my characters are left free to zigzag their way to the end.
What was the hardest part of writing this book?

Letting go of the Breach of Contract story line and let it form naturally into the suspense it turned out to be.
What did you enjoy most about writing this book?

The area and the research. I love New York City and Brooklyn. I've been there several times. When our son lived in Brooklyn we visited at least once a year. I also went with my friend several times. The village most of it takes place in, is a fictional one, but based on several village in the area, around the capitol of NY, Albany. Such as the Colonie Village in Albany County with a population (as of 2020) 7,781.
Where there alternate endings you considered?

Several. But if I go into them, I'll give away my surprise at the end. But I had so many ways to go. And I did have it going one way only to change my mind and I go another.
Can you share some stories about people you met while researching this book?

As I said our son lived in Brooklyn. I had the opportunity to explore the neighborhoods and take notes. I have another series that most of the books are in NYC and Brooklyn.




In Deadly Deception there is a character named Gordon, his apartment is in the building our son lived in, Fort Greene. And there is no elevator, so you have to take the stairs and it is a steep climb. The apartment is within walking distance of the Fort Greene Park. Where our son walked his dogs. Many times, we walked to the park for the Saturday Farmers Market, which may be the opening scene for my next suspense.




When visiting with my friend. I always did some sort of research of the area for my Beckett series, we visited Bryant Park where my friend videoed me for my 'Visit with the Beckett's' which can be seen on YouTube: https://youtu.be/1Be1ER_u-Ns




As you can see I have a lot of fun stories from my research, I could go on and on. When I research I take a lot of notes or save web sites and information, even if it doesn't help me with the story I'm working on, it may and most likely will on a future story.
What genre of books do you enjoy reading?

That's easy, pretty much everything. Not a big fan of the historical books written during the period of 1900 to 1950's. Anything before that and after I like. Romance, Suspense, Women's Fiction, Young Adult, Horror, and probably genre's I don't know about. HaHa. I have read erotica, and if the story is good and it's NOT all about the sex, I can muddle through, but not a fan. And on the other side of that, while I like romance, I'm not a big of fan of real sweet romance, gives me a toothache. My favorite authors are, not that you asked, but sharing anyway, Stephen King, Nora Roberts, RaeAnne Thayne, Stanalei Fletcher, Judy Baker/Anna Sugg, KyAnn Waters, Marie Higgins, Brenda Novak, and Sara Fitzgerald. I know a LOT! But I always have a go to author, right?




PS. I have a Goodreads giveaway for Deadly Deception;

https://www.goodreads.com/giveaway/enter_kindle_giveaway/346866




Thank you for listening! Mary.
About the Author
Mary lives in Magna, a little town west of Salt Lake City, Utah. Together with her husband, she has six grown children, six wonderful grandsons, and five beautiful granddaughters. She loves to spend time with family and friends--she includes good books as friends!
Mary and her husband love to travel, especially to the Caribbean for relaxing, and Italy for the wine. And most recently she discovered she was Irish and Scottish, of course, they had to visit Ireland and Scotland. Mary fell in love with both, but the green hills of Ireland felt like home. With the experience from the exotic places she has visited, she is able to fill her books with colorful descriptions of cities, painting a colorful backdrop for her characters. One of her favorite US destinations is New York/Brooklyn, where her beloved Beckett's live. When she visits, she can wander their neighborhoods, favorite parks, and visit their favorite pub, Putnum's.
They are avid concert 'Ho's'! Yes, they pretty much want to do them all. They love outdoor amphitheaters the best and attend as many during the warmer months as possible.
Mary writes mostly romantic suspense, romance, women's fiction, and she has just begun to dabble in young adult mystery. During her writing career she has been a conference coordinator, workshop presenter, and chapter president for the Utah Chapter of RWA. In 2007 she was presented with the Utah RWA service award in acknowledgment and appreciation for outstanding service. Mary has participated in numerous library panels on writing and co-presented a workshop on writing a series at the League of Utah Writers conference. She was awarded the 2021 N. N. Light Book Award winner for best book in two categories; Four Sisters for Women's fiction and Celtic Myst by M. L. Foxx for Fantasy.
Mary also writes as ML Foxx. This is her first jaunt into Fantasy and Sci-Fi, she loves it. It gives her freedom of choice. In her ML persona she also loves to go to the movies and you got it… Watch the Avengers, Dead Pool, among others. Something her hubby doesn't really enjoy but humors her fantasy side. You'll see more books soon…
Mary and her husband are also enthusiastic college football fans. They have season tickets to the UTES, University of Utah Football and they tailgate every game. They love tailgating so much, that they were married at a tailgating in 1999.
GO UTES!
Contact Links
Purchase Links