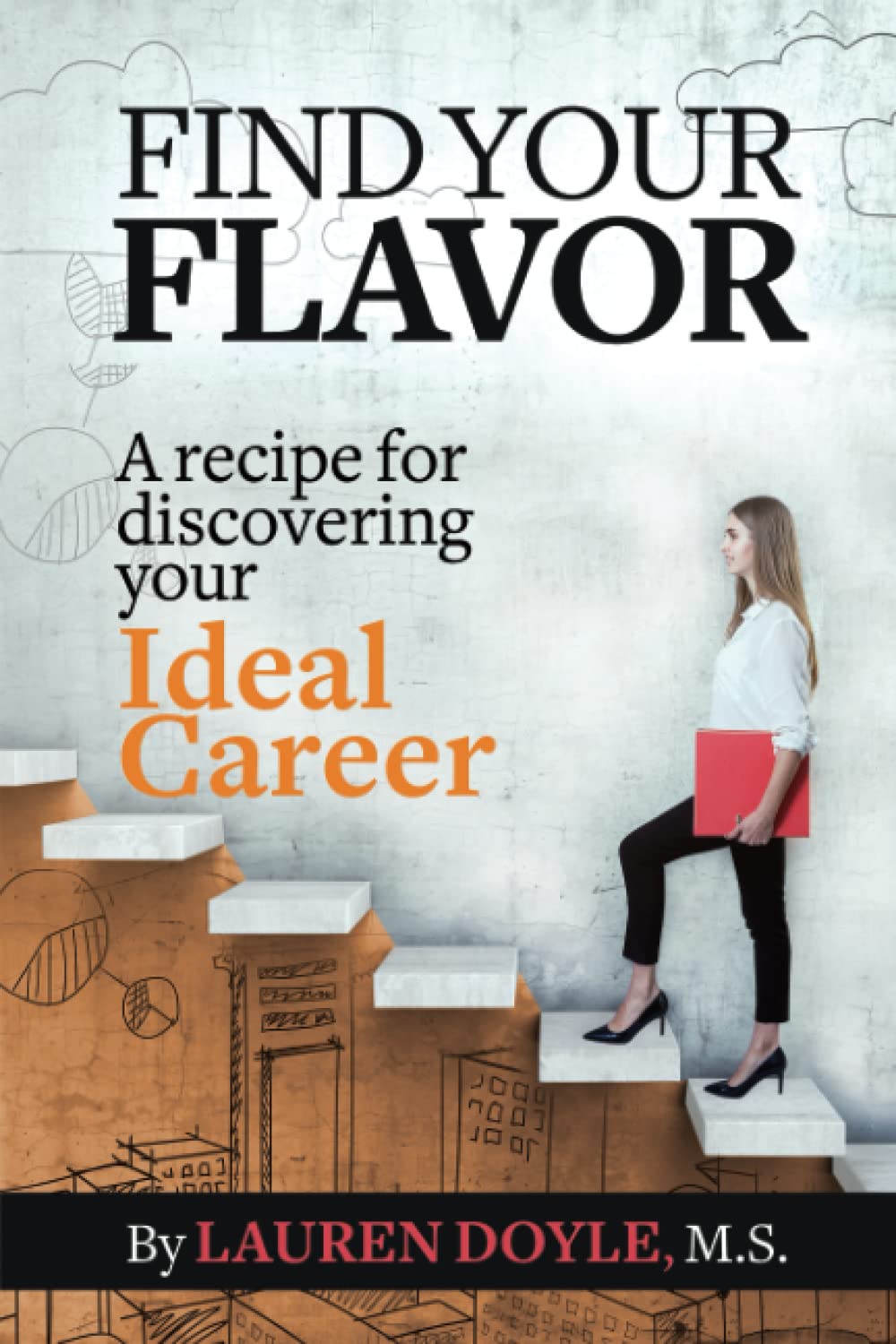 A Recipe for Discovering Your Ideal Career
Nonfiction / Career
Date Published: March 30, 2022
Publisher: ‎Getting Results Inc
What do you want to be when you grow up?
That may have been fun or easy to answer years ago, but for teens and young adults, it's a question that can be disconcerting at best... and sometimes downright frightening now that the question has become real.
Career choice is a huge decision with layers of consequence.
In Find Your Flavor, Lauren Doyle walks readers through the step-by-step process she uses with the young adult clients she works with which include:
Integrating your interests, strengths, and lifestyle desires to create the recipe for the ultimate career success.
The importance of playing, experimenting, and sampling with potential ingredients to be included in your career recipe.
How to distinguish between enduring intrigue v.s. hobby-like interests.
Better understanding and mastering your own mind for more successful life outcomes.
Guidance on how to get your foot in the door (or on the ladder).
Learn to use existing social networks to help you land a position in your chosen field.
She offers specific exercises that help readers put these critical, but often 'invisible' concepts to work to uncover the perfect recipe for choosing the ideal career. Whether you are a teen considering a college major or a young adult about to launch into a professional role, you'll definitely want to read this book and 'find your flavor' that will put you on the path to success and life-long fulfillment.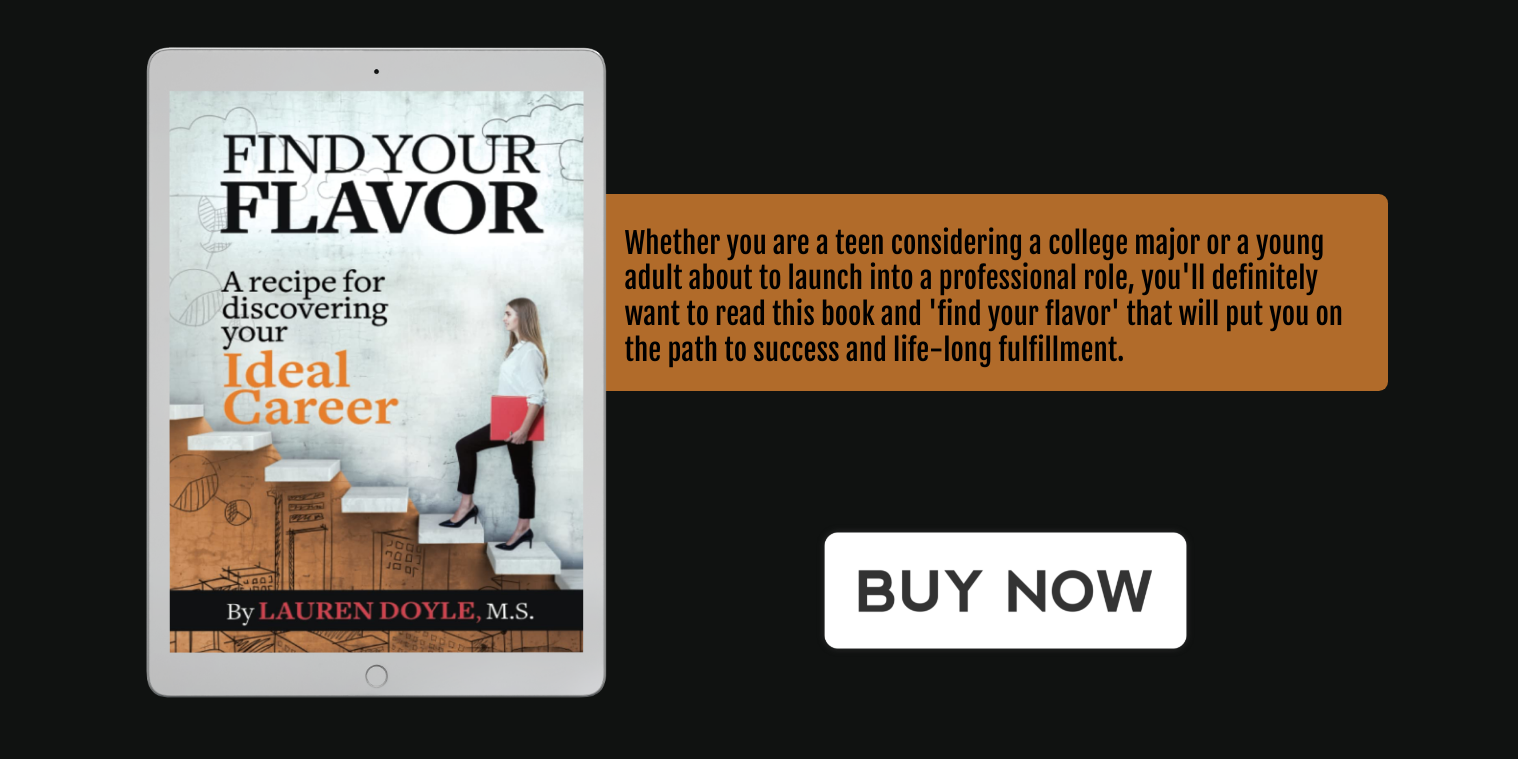 Turning your Mind from an Enemy to an Ally
You don't know what you don't know and you can't see what you can't see. Either way you experience the effects.
The mind is a powerful tool when used consciously well. Most don't exercise their mind enough to be able to use their mind consciously. I admit, this is a weird concept. However, it is one of the most powerful skillsets to practice.
One of the differentiators between happy, successful people and everyone else is that the majority of people in the former category work out their minds as much as they work out their bodies. They do this through various mindfulness practices such as meditation, visualization and personal development activities.
Why is this important?
You have a default way of operating; so default that you don't think much about your mind – you just operate – day by day – activity by activity. Your mind is at the mercy of every little thing that happens (or doesn't happen) to you every day. Get cut off in traffic – your mind gets taken. Big win at the office – your mind gets taken. The majority of the time, you are simply a passenger in the vehicle called your life and you let various people take the wheel as life happens.
If others are in the driver's seat, how are you supposed to dictate where you are going?
Most of us understand that our personalities, many of our expectations of how we should live and our perception of the world is formed as young children. If you grow up in an affluent family, a middle-class family or a poor family you likely expect that you will continue to live a similar lifestyle. Any other way of life is an exception – but certainly not impossible. In order to create a vastly different way of life, you need to reconstruct the mental blueprint of how you see your life turning out.
To change the outcome of your life from how you grew up into something totally different, requires a mental renovation, if you will.
I'll give you an analogy… I have renovated several homes in my life. I almost always have to deconstruct parts of the house in order to rebuild it to how I want it to turn out. I can't simply take what has been in place for thirty years and just build over it – that would be messy. I have gone into houses that have had their fair share of remodel on top of remodel without fully dismantling what was formerly there and there are times that it feels impossible to make it better.
The surest way to get to my ideal end product is to demolish what was there, save only the desired elements and work with a cleaner foundation from which to build from. We need to do the same for our minds when we set out to accomplish bigger goals for ourselves.
Our mental foundations are filled with how we perceive ourselves in the world. Start by taking inventory of what beliefs you have of yourself. Do you believe you can be the CEO of the company you work for? Can you envision yourself owning homes in the locations you've always wanted to live? Do you imagine you can affect the lives of millions of people they way Steve Jobs, Elon Musk or Tony Robbins has? Can you see your name amongst that list?
I'm not saying that you ought to see your name there, but can you even begin to consider it there?
The point is that each one of us already has a mental construct of who we believe ourselves to be or what we believe we can become. Whatever that construct is has either a limiting effect or an accelerating effect. Regardless, shooting for the moon, whether literally or figuratively, all starts from the reconstructing the framework of your mind.
As coaches, we often see way more possibility for our clients then they do for themselves. This helped me recognize the importance of first reworking the construct of the mind from the ground up – using what valuable elements that currently exist and renovating the ones that interfere with their desired outcomes. Without deconstructing the useless elements first, we'd persist in a frustrating pattern that only serves to reinforce the limitations of the current construct.
Start with renovating your mind, then decorate it with career and life goals to achieve.
Lauren Doyle is the founder and CEO of Getting Results Inc, a business and professional coaching and development company that serves North America. If you'd like to learn more about their coaching program, visit: www.GettingResultsInc.com or LaurenDoyle.com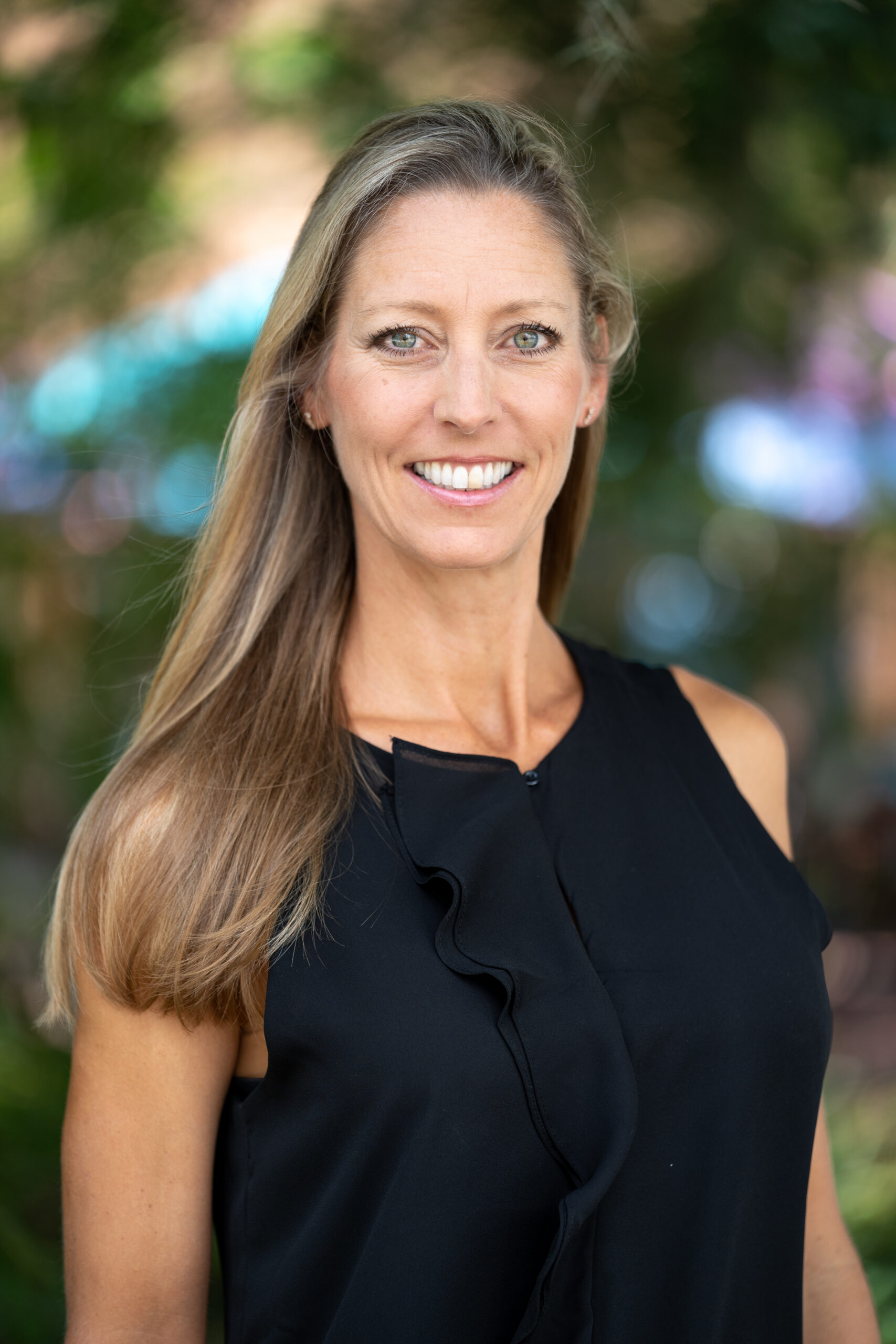 Lauren Doyle has been helping professionals make more money and have more fun the majority of her career as a business coach. Due to the fact that her background is diverse and includes a Master's degree in Marriage and Family Therapy, she has had the opportunity to help many of her clients' adult children navigate the daunting challenge of choosing a career they love and to set them up for untold success. Her skillset is an unusual talent that allows her to connect with this younger population and relate to them through her own personal successes.
This book was written for you because she wanted to codify what has helped her and her clients achieve a life and career by design. Maybe it is her love of puzzles that allow her to help her clients put together the challenging puzzle of choosing a career that will marry each client's unique talent with their enduring passions to cook up the perfect recipe for choosing a rewarding career ideal for them.
Her 'outside the box' thinking she helps her clients and herself live a fulfilling business. She truly practices what she preaches. The concepts she shares has allowed her to: live on the beach in San Diego, become a snowbird in her 30's spending ½ the year on a lake in Michigan and the other ½ in beautiful Sarasota, Florida. She has been able to do this while achieving financial freedom as a result of cooking up her own recipe of creating a national business coaching firm, buying and selling millions of dollars of real estate and being a great Mom and wife.
She sat in your place once and has uncovered the formula that will help you ultimately determine yours. Her practical approach makes her style relatable and the steps easy to implement.
She has a passion for renovating all things to make them better; from countless properties to hundreds of lives and businesses, she seems to have mastered the art of putting the right pieces in place to create the desired experience.
In addition to this book, Ms. Doyle has also written The Hijacker: Overcome Self-sabotaging Behavior, a book that takes a deeper dive into the impact of understanding Human Operating Systems.
With her Psychology and business background gives her a unique perspective that is most helpful in writing the ultimate recipe for career success.
Contact Link
Purchase Link