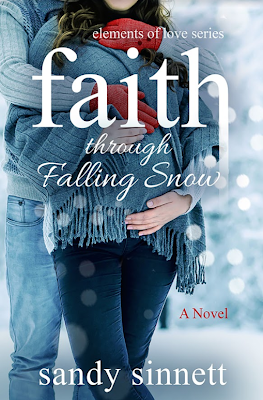 Publisher: 5 PRINCE PUBLISHING
With Laci and Mitch anxiously awaiting the arrival of a new baby, they are surrounded by the turmoil of discovering Mama's illness while their two sons fight over the love of a woman.
A white Christmas brings a moment of joy, but Laci's faith is tested again when their baby clings to life.
Together the Young family must lean on each other and the only One who can truly give them strength.
Will they find the faith they need…even through the snow?
Interview with Sandy Sinnett
As a writer, what would you choose as your mascot/avatar/spirit animal?
Squirrel…I get distracted easily lol. Always racing around from one thing to the next. Even in my writing.
How many hours a day do you put into your writing?
Depends on day. During week? Maybe 30 min. Weekend? Up to 4-8
Do you read your book reviews?
Sometimes…depends on my mood
Do you leave hidden messages in your books that only a few people will find?
Yes!
Can you tell us a little bit about the characters in Faith Through Falling Snow?
·
Laci Young (formerly Laci Kramer) is 40 something woman that is breast cancer survivor and recently married to her new husband of 2 years – Mitch Young. (First book 'Hope in the Rain' introduces characters before they met and while they dated through her cancer.) Laci loves the rain and thinks good things happen after it rains, or storms, or snows. She believes God has a plan for everything…just not sure about the plan all the time as it conflicts with her plan a lot. She loves to write, and plan events. She wears her heart on her sleeve.
·
Mitch Young – wine maker, first wife passed of breast cancer. Opened a winery just before he met Laci.
·
Maggie (Margaret) – Mitch's mom. She has a Love/Hate relationship with Laci since she married Mitch, but she is in her 70's, feisty, full of life, spunky, etc.
·
Richard – Maggie's long-time friend and new love interest. Also in his 70s, distinguished, caring man. Reliable and always been in love with Maggie.
·
Evan – Laci's oldest son. Evan is stubborn, independent, a little 'rough around edges'. Loves coffee and working hard. Loves the outdoors. This story revolves around Evan coming back home from college and falling in love.
·
Caleb - Mitch's son. Caleb is leaving for culinary school. He's complete opposite of Evan. He's smart and creative, but more scholastic/refined and less 'rough-around-edges'.
·
Jenny – Caleb's ex girlfriend and Evan's new love interest who works at coffee shop. Jenny is quirky, smart, independent, soft hearted, yet outspoken and confident. She's also a home town girl.
·
Brad – Mitch's obnoxious fun-loving brother, also recently married to his long ago love, Hannah. Their love story is featured in book 2 – Grace after the Storm
Can you tell us a little bit about your next books or what you have planned for the future?
a.
My new book is called the Coffee Shop Diaries. It will be the journey of a 40 something women, post-divorce, and all her dating adventures as she looks for a new love, family challenges, and running a coffee shop/wine bar. Has a lot more 'spice' to it than others.
Do you allow yourself a certain number of hours to write or do you write as long as the words come?
Write as long as the words come unless life dictates otherwise.
Do you have a certain number of words or pages you write per day? No
What inspires you to write?
Life experiences, people, my mood, music helps a ton!
Would you rather
Read fiction or non-fiction?
Fiction
Read series or stand-alone?
Depends. Mostly I like stand alone.
Read Science fiction or horror?
Sci Fi
Read Stephen King or Dean Koontz
If I did, it would be King and it would be Tommyknockers.
Read the book or watch the movie?
Both. Sometimes book first is better, but sometimes its worse. I judge the movie too much if I read book first and takes all the fun out of it lol.
Read an ebook or paperback?
Paperback unless on a plane.
Be trapped alone for one month in a library with no computer or a room with a computer and Wi-Fi only?
Computer and Wifi only
Do a cross-country book store tour or blog tour online?
Cross country! MEET THE PEOPLE is always better.
About the Author
Sandy lives in her hometown of Mt. Vernon, IL enjoying life with her two youngest kids, and works full time for a local hospital as a health consultant. Most mornings she can be found at her local bookstore-coffee shop among friends, looking for inspiration and writing her next novel.
a Rafflecopter giveaway