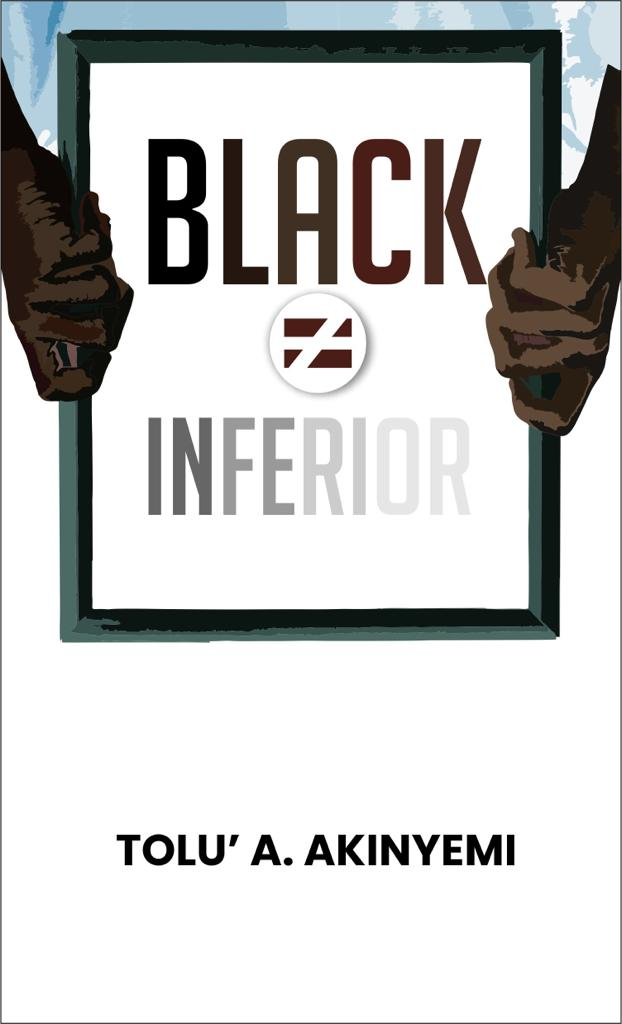 Poetry
Date Published: January 1 2021
Publisher: The Roaring Lion Newcastle LTD
Black ≠ Inferior is a collection of poems divided into 2 parts. The first part is a collection of thematically linked poems exploring Blackness and the myriads of issues it attracts. The second part oscillates themes— talking about consent, a query of death, a celebration of love among others. In his usual stylistic, this collection deals with weighty matters like race and colourism with simple and clear language.
In Black ≠ Inferior, we see Tolu' Akinyemi reacting in response to the world, to issues that affect Black people. Here, we see a poet shedding off his burdens through his poems; hence, the beauty of this collection is in the issues it attempts to address. In this collection, Tolu' wears a coat of many colours – he is a preacher, a prophet, a doctor and a teacher.
We see Tolu' the preacher in these lines:
'I wish you can rise through the squalor of poverty
and voices that watercolour you as under-represented.
I wish you can emblaze your name in gold,
and swim against every wave of hate.'
This is a collection of poems fit for the present narrative as any (Black) person who reads this collection should beam with confidence at the end. This is what the poet sets out to achieve with his oeuvre.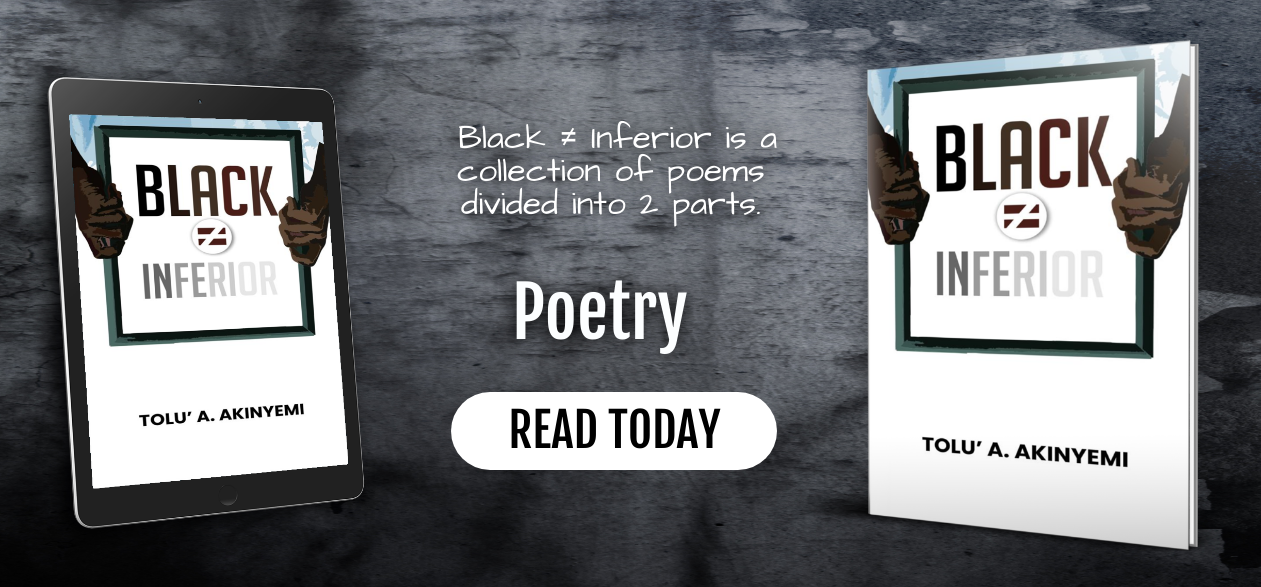 Interview with Tolu' A. Akinyemi
What was the hardest scene from your book to write?
Ans: I think the hardest part to write was on race relations. Writing about race issues is quite complex and intricate, so I had to be very intentional about every word in this part of the book.
Why did you choose to write in your particular field or genre?
Ans: Even though, I have written a collection of short stories titled "Inferno of Silence" where I had a story titled 'Black Lives Matter' I felt there was a need to explore deeper and complex issues which poetry gives me the ability to do.
I felt writing a collection of poems was a great outlet to convey the emotions I felt after the horrific incident of the past year.
If you write in more than one genre, how do you balance them?
Ans: As a seasoned poet who has written a collection of essays 'Unravel Your Hidden Gems' and a collection of short stories 'Inferno of Silence', it's pardonable if some of my language could be poetic considering I have authored seven poetry collections.
However, the way by which I balance them is to understand that different genre requires a different type of writing technique. That is the blueprint I follow, which has worked thus far.
What did you enjoy most about writing this book?
Ans: The most enjoyable part of writing the book was 'writing the book'. It felt more like a liberation of some sort. I never knew it would be widely accepted at the time I was writing the book but there was an inner peace that felt like a release of years of hurt, pain and emotional baggage, not just on a personal note, but for my kin and kindred.
What book that you have read has most influenced your life?
Ans: I have read so many books from a literary standpoint that made me appreciate the power of the written word. However, the purpose driven life by Rick Warren was that one book which stirred an awakening within me to give life to the giant within.
Tell us a little about yourself? Perhaps something not many people know?
Ans: I'm from Ekiti State in South-west Nigeria (Also known as the Fountain of Knowledge). I come from a lineage of greatness; a people renowned for their intellectual prowess.
Can you tell us something about your book that is not in the summary?
Ans: There was no poem that was removed on the account of inflammatory language or that could cause racial tensions. I wrote the book from a place of celebrating black culture and also beaming a light on some challenging subjects that black people face around the world.
About the Author
Tolu' A. Akinyemi hails from Nigeria and lives in the UK where he has been endorsed by the Arts Council England as a writer with "exceptional talent".
Tolu is the author of seven outstanding books which includes, Dead Lions Don't Roar (Poetry, 2017) Unravel your Hidden Gems (Essays, 2018) Dead Dogs Don't Bark (Poetry, 2018) Dead Cats Don't Meow (Poetry, 2019) Never Play Games With The Devil (Poetry, 2019) Inferno of Silence (Short Stories, 2020) A Booktiful Love (Poetry, 2020). Two poetry collections, "Black ≠ Inferior" and "Never Marry a Writer" are scheduled for publication in early 2021.
A former headline act at Great Northern Slam, Crossing The Tyne Festival, Feltonbury Arts and Music Festival, and featured in various Poetry Festivals, Open Slam, Poetry Slam, Spoken Word and Open Mic events in and outside the United Kingdom.
His poems have appeared in the 57th issue (Volume 15, no 1) of the Wilderness House Literary Review, The Writers Cafe Magazine- Issue 18, GN Books, Lion and Lilac and elsewhere.
His books are based on a deep reality and often reflect relationships, life and features people he has met in his journey as a writer. His books have instilled many people to improve their performance and/or their circumstances. Tolu' has taken his poetry to the stage, performing his written word at many events. Through his writing and these performances, he supports business leaders, other aspiring authors and people of all ages interested in reading and writing. Sales of the books have allowed Tolu' donate to charity, allowing him to make a difference where he feels important, showing that he lives by the words he puts to page.
Contact Links
Purchase Links