Middle grade/Y/A Mystery
Date Published: 6/25/21
Publisher: Covefe Press
Brothers Kyle and Corey Holley (15 and 12) live Brothers Kyle and Corey Holley live in Fairly Springs, a small southern beach town. Kyle is a budding engineer; Corey is impetuous, funny, and baseball-crazy. Like most brothers, they fight often, but they also solve crimes. When the town experiences a rash of home robberies, Kyle and Corey decide to investigate. They learn that in each robbery, the thieves stole a high-end desktop computer.
Why? What are they looking for? And how soon till they find it? Other complications include Corey's wheelchair-bound math tutor, Kyle's after-school job in a local video-game store and a revolutionary new video game launching soon. Kyle and Corey: Brothers. Best Friends. Detectives. They don't go looking for trouble; it has them on speed dial!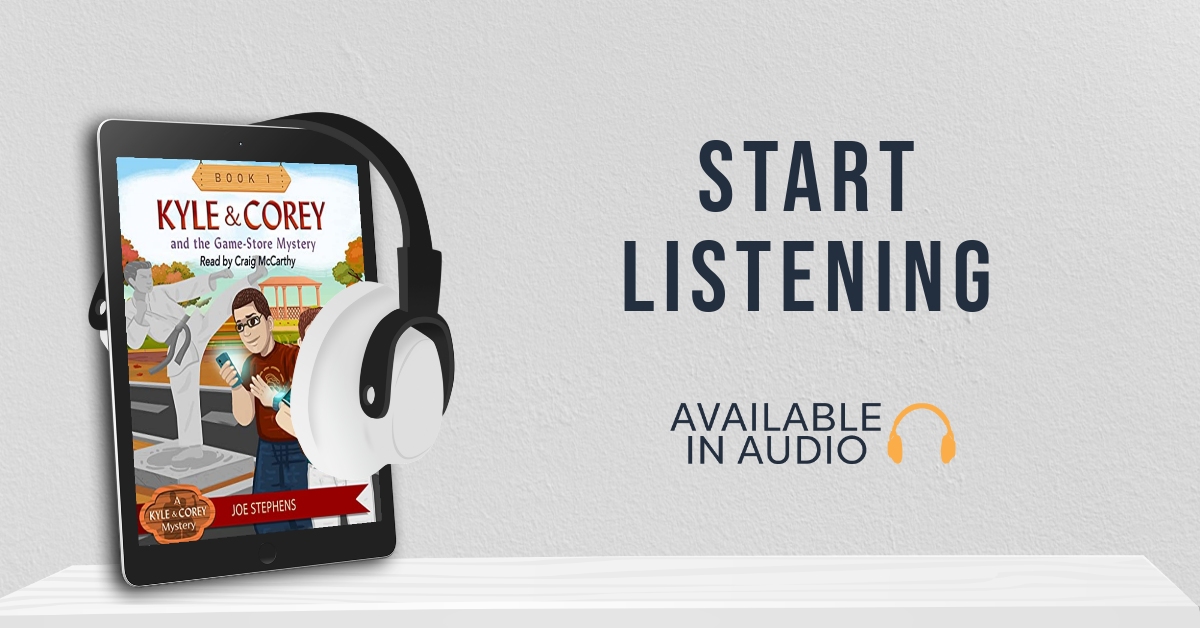 Interview with Joe Stephens
For those interested in exploring the subject or theme of your book, where should they start?

My book is the first in a series of boys' mysteries about two teen brothers, Kyle & Corey Holley, who live in a small southern town and solve crimes together.
How did you become involved with the subject or theme of your book?

Actually, I've loved kids' series books my whole life, and I wanted to write a series based on some kids I knew personally, with the same traits and personalities as Kyle and Corey. So I took both ideas—the old series books I loved and these kids I wanted to write about—and combined them into books about these smart, clued-in kids who love working together and catching the bad guys.
What were your goals and intentions in this book, and how well do you feel you achieved them?

What I wanted was to imitate the old Stratmeyer Syndicate—the group that developed and wrote THE HARDY BOYS and NANCY DREW and all those series we all loved growing up. In the sense of how I wrote the book, I think it's a pretty good imitation; I try to have cliffhangers at the end of most chapters and keep the action moving, so readers (and listeners) stay interested.
Anything you would like to say to your readers and fans?

Thank you for reading (or listening to) my book! I love putting stories out there for you to enjoy and comment on, and I do hope you'll comment freely during this tour!
What did you enjoy most about writing this book?

Without a doubt, it was playing with the characters of Kyle & Corey. I had such fun developing them, because they have to continue through several books, so I wanted to create characters people would like and want to read about, so they're willing to come back for the next book!
Can you tell us a little bit about your next books or what you have planned for the future?

KYLE & COREY Book 2 is already in the works and should be finished soon. In Book 2, the boys are already settled into their new working partnership, but a lot of new developments have come along, so their Christmas season (the story takes place in December) is more hectic and exciting than they originally thought it would be. Lots going on in this one!
How long have you been writing?

Pretty much from the time I was a kid. I started actually writing stories when I was about eight, and of course, my first stories were pretty much like the series books I was reading at the time! I never really stopped writing, but I got more disciplined about it over the years!
Can you tell us a little bit about the characters in KYLE & COREY AND THE GAME-STORE MYSTERY?

The characters are Kyle (15) and Corey (12). Kyle is really smart, far ahead of his classmates and somewhat nerdy, and he suffers a bit in school from this. Corey is popular and funny and not nearly as academic; he loves sports and focuses on them almost exclusively. Where Kyle likes to research and experiment to get his information, Corey relies mostly on his people smarts. They're a good working team.

Matthew is a local kid who becomes Corey's math tutor. He's also really smart and nerdy, and he's around a lot in this book. There are also the twins, Janice and Julie, who hang around the game store where Kyle gets an after-school job. Janice is horrible, but Julie is nice, and Kyle starts to develop feelings for her.
If you could spend the day with one of the characters from KYLE & COREY AND THE GAME-STORE MYSTERY who would it be? Please tell us why you chose this particular character, where you would go and what you would do.

While there are other characters in KYLE & COREY Book 1, I would spend my day with the boys, hanging out in their small southern town, Fairly Springs, which always seemed to me would be great fun. I'd go with them on their adventures and hope we didn't run into any super bad guys along the way, but since Kyle & Corey always seem to find a way, I wouldn't worry too much about anything bad happening!
About the Author
JOE STEPHENS has been a fan of boys' adventure books all his life, and in this, his first series book, he's created two boys as memorable as Frank and Joe Hardy. He has a background in education and has also visited more than thirty countries while pursuing his passion for scuba diving. He lives in Georgetown with his growing family and three thoroughly spoiled cats.
Contact Links
Purchase Links